I'm excited to bring y'all a guest post on a topic near and dear to my heart, gender inequality in healthcare. Caitlin Hoff has shared some disturbing problems regarding women in healthcare.
Caitlin works as a Consumer Advocate specializing in areas of drug safety, consumer news, and legal cases surrounding problematic consumer products, drugs, and medical devices. Caitlin works diligently to educate consumers on topics of prevention and safety.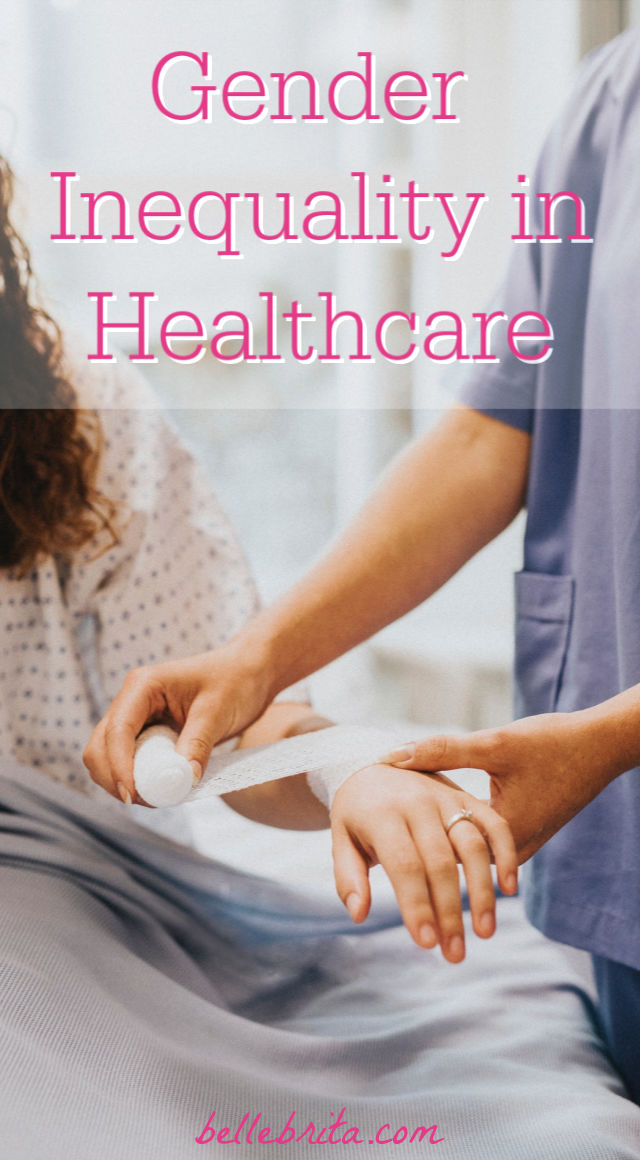 Note: for the sake of clarity, this guest blog post refers to cisgender women as women. The studies cited looked at cisgender women. However, transgender people and intersex people are also underrepresented in healthcare. Neither Caitlin nor I are doctors. Speak to a doctor if you have any questions about your health and the best treatments for you.
The modern woman holds a great many expectations on her shoulders. Juggling the demands of children, a household, and a full-time career is no small feat.
And yet, if 2018 has taught us anything, it's that many women don't receive the credit, respect, or consideration that they deserve. In nearly every industry, women have to shoulder society's expectations and persevere through major obstacles in their path.
Even our modern healthcare poses obstacles for women to dodge, with many women receiving less than equal care or consideration to that of men. Let's review a few examples of gender inequalities within our healthcare system.
Inequality in Healthcare
Clinical Trials
Between 1997 and 2001, eight out of ten prescription drugs pulled from the U.S. market "posed greater health risks for women" than men, according to a report from the U.S. Government Accountability Office (GAO). While many might assume this is merely an unfortunate coincidence, historically, women have been underrepresented in clinical trials. This lack of representation has put many women at a greater risk of adverse drug events. In fact, this exclusion of women may have set the medical community back. What cures and breakthroughs might we have if clinical studies took all demographics into account?
In the last several decades, the lack of female test subjects has been recognized as a major issue in the medical world. The GAO released a report in 1992 encouraging the U.S. Food and Drug Administration (FDA) to make studying gender differences a greater priority in prescription drug testing. Congress followed suit by passing the National Institutes of Health Revitalization Act of 1993.
While these actions acted as a catalyst for inclusion, the problem hasn't been solved completely.
In 2015, the GAO released another report looking at women's enrollment in National Institutes of Health (NIH) studies and the way that the studies review gender differences. The GAO recommended that more data be collected surrounding the female test subjects and for studies to take a greater look at the gender differences in the study to glean better insights.
Medical Device Industry
Aside from clinical trial representation, women have also had to combat prejudices when reporting side effects for drugs or medical devices. Consider Essure, for example, a permanent female sterilization device that recently made headlines when it was removed from the U.S. market. Between its approval in 2002 and its removal at the end of 2018, the Essure device racked up more than 26,000 complaints by women who suffered from complications with the device. Many of these women and their families have taken legal action against the device's manufacturer. Essure caused so much devastation for women that it was featured in a Netflix documentary highlighting medical devices that caused significant harm to patients.
It took sixteen years of women speaking up against this device for significant change to happen. Even then, the manufacturer removed the device from the market, not the FDA. If an equivalent device would have affected men on the same scale, would it have taken so long to see action?
Maternal Health
As if the former concerns aren't enough, another unsettling topic surrounding women's health is the appalling maternal mortality rate in the United States. Touted as one of the greatest nations in the developed world, America witnesses 700 to 900 maternal deaths each year. While considerable efforts have been enacted to reduce the country's infant mortality rate, our maternal mortality rate has risen significantly in recent decades. In fact, it's one of the worst among developed nations.
Even worse, many of these deaths and injuries from childbirth are preventable. New mothers are dying from birthing complications like loss of blood and high blood pressure – two extremely treatable conditions.
Fortunately, there is a silver lining for prospective mothers. Thanks to investigative journalists, advocates, and members of the medical community, progress is being made to reduce the country's maternal mortality rate. Last December, the Preventing Maternal Deaths Act was signed into law, allocating federal funds and resources to every state to combat the issue of maternal mortality. Essentially each state will create a Maternal Mortality Review Committee (MMRC) to study maternal health across the state and to make recommendations using insights garnered from the initial review.
With all the expectations that society places on the modern woman, she could easily be called Wonder Woman.
But it is NOT okay for her to receive inadequate care or consideration in the healthcare space. Women deal with enough, and they deserve equal care and attention.
While our country is making strides toward healthcare equality through the work of advocacy programs and legislation, more change and awareness of these issues are needed.
Progress is female, and it can't and shouldn't be stopped!