Dan and I spent a wonderful two weeks in Paris, Saint Germain-en-laye, and London back in 2016. And yes, I'm still blogging about our European vacation simply because there is so much to tell! But before offering a standard vacation recap, I want to help any would-be travelers plan their own Paris itinerary.
This trip was actually my third time planning a Paris itinerary. I have an advantage that most travelers lack: I used to live in the suburbs of Paris. And that's not counting when I studied abroad in Versailles, also a suburb of Paris! These opportunities allowed me to explore Paris as an expat, not as a tourist, and to discover less popular attractions.
How to Plan a Paris Itinerary Based on Your Interests
Your perfect Paris itinerary really depends on your personal interests. While many people think of art when they think of Paris, the amount of art to see in Paris is staggering. Luckily you really can find much more to do in Paris than the Louvre!
Note: I use the French names of all the Parisian tourist attractions. Whether or not I choose to use an article (le/la, "the") is based on my casual Franglais with other speakers who know both French and English.
Art
Of course, if you do enjoy art, you will love Paris. That said, even the most enthusiastic art aficionado can feel overwhelmed by the museums in Paris. Depending on how long you have in Paris, prioritize your museums.
Musée d'Orsay and le Louvre should top your list.
Then add Musée Rodin, l'Orangerie, Musée national du Moyen Âge (Musée de Cluny), and Centre Pompidou.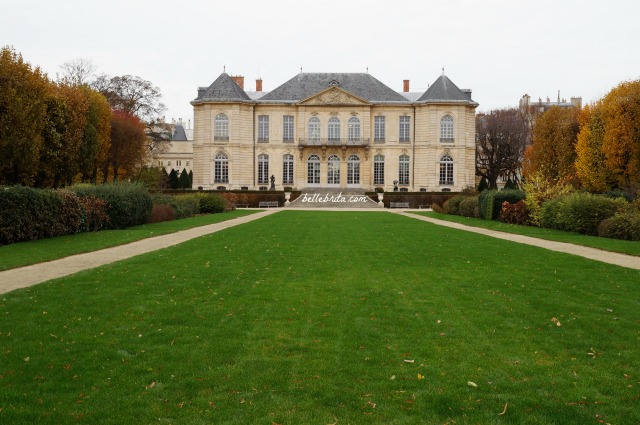 Next check out Musée Marmottan Monet and Musée Picasso.
If you still have time after those, take your pick of:
Musée d'Art et d'Histoire du Judaïsme
Musée national des Arts asiatiques
Musée du quai Branly
l'Institut du Monde Arabe
Musée des Arts Décoratifs
Musée Nisssim de Camondo
Musée Delacroix
Musée national Gustave Moreau
Even if you have a full two weeks to spend in Paris, don't force yourself to see everything. Good art is like fine wine, meant to be sipped and savored. Take a few minutes to rest your aching feet and admire your favorite painting.
History
You could do nothing but walk through Paris and still immerse yourself in history. The city is just that old. How many historical buildings you visit again depends on how many days you spend in Paris.
Le Louvre again tops the list as a former royal residence and Napoleonic residence. (Although the glass pyramid pictured below is not that historic!) Of equal importance is Cathédrale Notre Dame de Paris.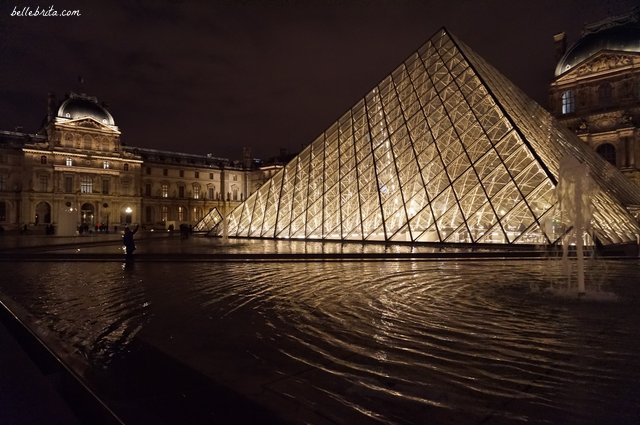 Then add Crypte archéologique, la Conciergerie, Sainte-Chapelle, Musée national du Moyen Âge (Musée de Cluny), Place de la Concorde, and Arc de Triomphe.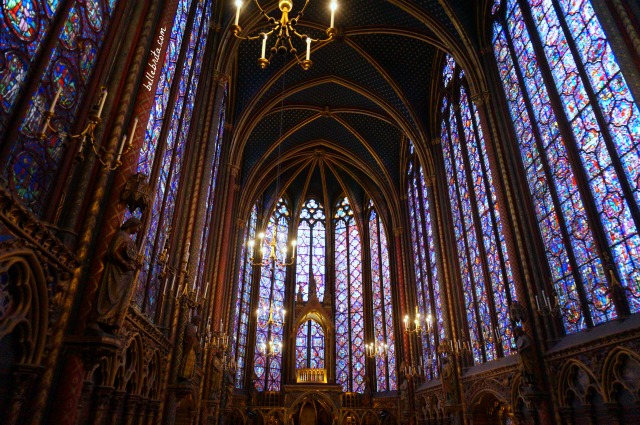 If you're still not tired of French history, choose from the following.
Tour Eiffel
Catacombes
Les Invalides
Place de la Bastille
Église Saint Germain des Prés
Musée d'Orsay
Musée d'Art et d'Histoire du Judaïsme
And don't forget a romantic stroll across Pont Neuf and Pont Alexandre III!
Outdoors
Paris is beautiful throughout the year, even in the winter. But the outdoors spaces in Paris truly shine from late spring to early fall, when the weather is glorious. If you enjoy lush green spaces and well-designed parks, you will love Paris!
In all the parks in Paris, Parc des Buttes-Chaumont is my absolute favorite. Dating back to the 1870s, this park covers 61 acres in the 19th arrondissement. Features include the Temple de la Sibylle, a grotto and waterfalls, and a variety of trees and flowers.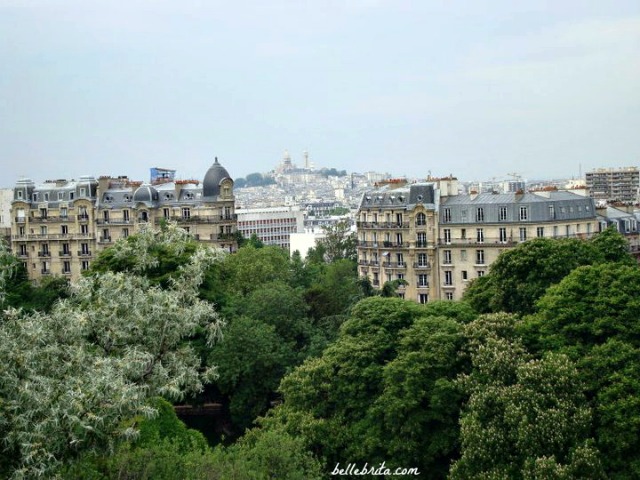 Le Jardin des Tuileries is a beautiful formal garden located between le Louvre and la Place de la Concorde.
Le Jardin du Luxembourg includes fountains, sculptures, and plenty of outdoor seating–just stay off the grass!
There's nothing quite like picnicking by la Tour Eiffel, in le Champ de Mars. This is great to do both day and night.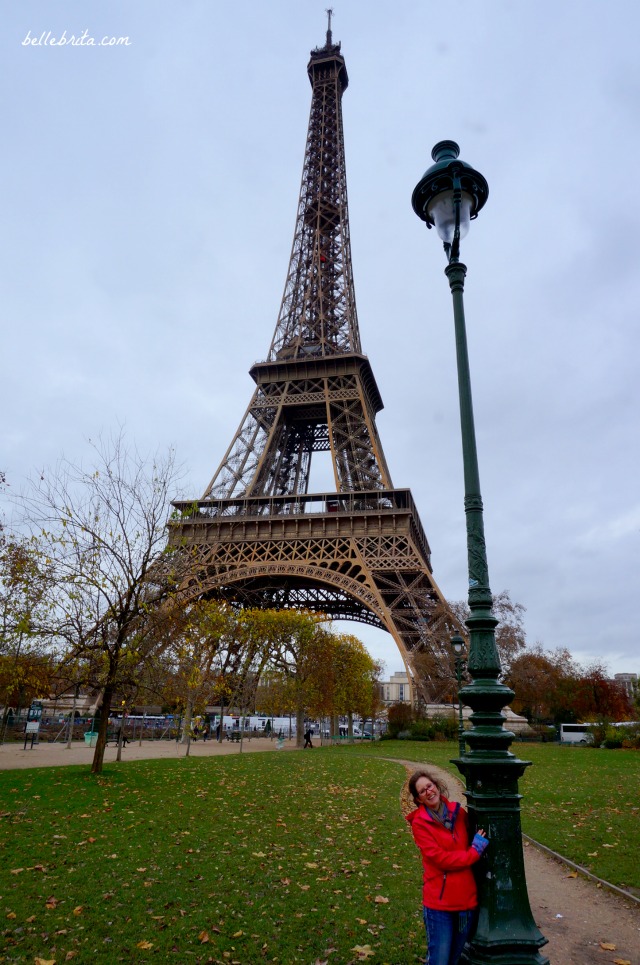 Other charming outdoor spaces include:
Parc Monceau
Jardin des Plantes
Parc de Belleville
Bois de Boulogne
Parc de la Villette
Budget-Friendly
When I lived in France, I followed a stringent budget. As a student, I depended financially on my parents. Later I earned very little money, first as an au pair and second as a teaching assistant. I couldn't afford fancy dinners and expensive shows–but I still greatly enjoyed exploring Paris on a budget.
While most of my readers are American, I do want to give a few tips for young Europeans, or young expats with European visas. Europe offers many great discounts to residents under the age of 26. All French museums are free to residents under the age of 26. This applied to me as an au pair and as a teaching assistant since my visa gave me residency.
My favorite low-cost activity in Paris is enjoying a picnic. As I mentioned above, Paris has a variety of beautiful outdoor spaces that are perfect for picnics. Go to an outdoor market to buy fresh produce and cheese. Stop by a boulangerie for a baguette. Grab a bottle of water and a bottle of wine at the supermarket. Voila! A delicious picnic for only a few euros per person.
As a tourist, you can purchase a pass that grants admission to a certain list of attractions for a certain number of days. I prefer the Paris Museum Pass, but the Paris Pass is another option. Do the math first to make sure you'll save money before purchasing one of these passes.
Free Tourist Attractions in Paris
The following museums and churches are free to all visitors.
Cathédrale Notre Dame de Paris
Maison de Victor Hugo
Sacré Coeur
Cimetière du Père Lachaise
Petit Palais – Musée des Beaux-Arts de la ville de Paris
Must-See Paris Tourist Attractions
Regardless of your specific interests, there are some attractions in Paris that you should prioritize. Paris is filled with so many incredible things to see and to do. To get a sampling of the diverse Paris attractions, visit the following.
La Tour Eiffel is practically synonymous with Paris. Even if you decide to skip climbing (or taking the elevator) to the top, you absolutely must visit la Tour Eiffel. For the best views, take Metro line 6 or 9 and get off at Trocadéro. This isn't the closest Metro station, but you'll be able to take the best photos of la Tour Eiffel. It's only a 15-minute walk from there, and the walk is also scenic, with more photo opportunities.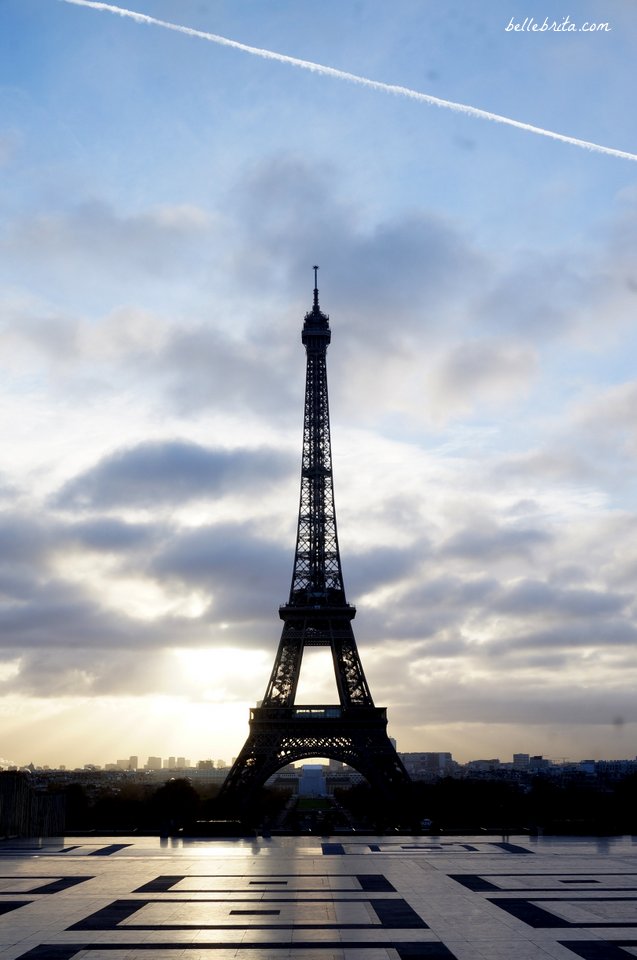 Le Louvre might be more famous, but if you only visit one art museum, choose Musée d'Orsay. It's my absolute favorite art museum, so I am a little biased, but hear me out. The museum itself is a former train station built between 1898 and 1900. It's one of the largest art museums in Europe, but the collection isn't nearly as overwhelming as le Louvre. Plus, it features all the great Impressionist artists!
Cathédrale Notre-Dame de Paris is another must-see Paris attraction. Yes, it's beautiful and historic, a stunning work of French Gothic architecture dating back to the 14th century. But if you skip climbing to the top (which costs extra), you can see all of Notre-Dame in a relatively short period of time. Like an hour. Two hours if you're really into old Catholic cathedrals. And it's free.
La Basilique du Sacré Coeur ends my list of must-see Paris attractions for similar reasons. Stylistically, it's completely different from Notre-Dame, with construction finishing in 1914. These two churches are also in completely different parts of Paris, so you get to experience more of the city by visiting them both. Sacré Coeur also feels less touristy. You're not supposed to take photos or videos inside the church, nor are you allowed to speak. It's also free to visit, and you can see the whole church in a relatively short period of time.
One-Day Paris Itinerary
If you only have one day in Paris, this is how I recommend you spend your day. In fact, this one-day Paris itinerary is almost identical to the first full day Dan and I spent together in Paris!
This Paris itinerary includes the best of the city. Paris isn't just a city of tourist attractions to check off a bucket list. Paris is a city meant for wandering. It's best enjoyed slowly, even if you only have one day to soak it all in.
La Tour Eiffel
Start your morning with the most beautifully quintessential view of Paris: la Tour Eiffel. Like I mentioned before, take Metro line 6 or 9 and get off at Trocadéro. In the summer, opening time is 9am. The rest of the year, it opens at 9:30am. Aim to arrive at least an hour in advance. You want plenty of time to take photos and walk towards la Tour Eiffel without feeling rushed.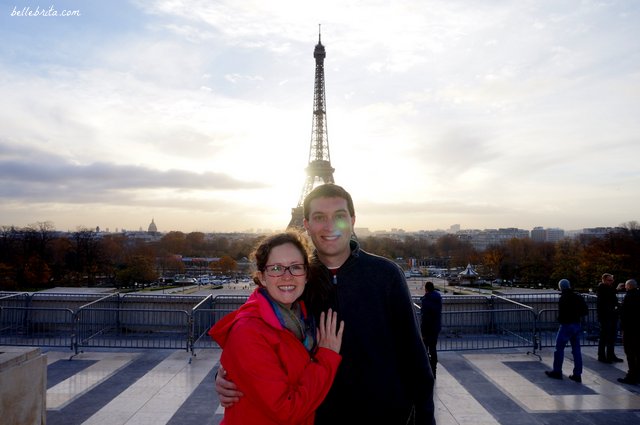 While it is cheaper to take the stairs, I recommend paying extra money for an elevator ticket. The time (and energy) you save is worth the extra cost. If you're visiting during peak season, buy your tickets online in advance. This will save a great deal of time.
Plan to spend at least two hours at la Tour Eiffel itself, not counting the time spent walking to it from the metro station.
Lunch
If the weather is nice, you can enjoy a picnic along Champs de Mars. Meander over to Rue Cler to shop the open air market (closed Mondays & Sunday afternoons) and artisanal stores. Pick up a baguette, some cheese, and a bottle of wine. Don't forget a corkscrew! Take your goodies and find a spot on the Champs de Mars. Enjoy your picnic while admiring the beauty of la Tour Eiffel.
Otherwise, Rue Cler is also home to bistros and cafés. Paris By Mouth also has a list of recommendations of where to eat near le Tour Eiffel.
Give yourself one to two hours for lunch, especially if you're in Paris during peak season.
Musée d'Orsay
To get to Musée d'Orsay from la Tour Eiffel, you can take public transportation or walk. At the RER station Champs de Mars/Tour Eiffel, take the RER C train to the station Musée d'Orsay. This takes about 20 minutes.
The walk is about 1.5 miles and takes about 30 minutes. You can choose from multiple routes, like along the Seine or along Rue Dominique.
As mentioned above, Musée d'Orsay is my absolute favorite museum. When I worked as an au pair, I visited this museum multiple times per month. Sometimes I would sit in front of my favorite painting for an hour, just admiring it.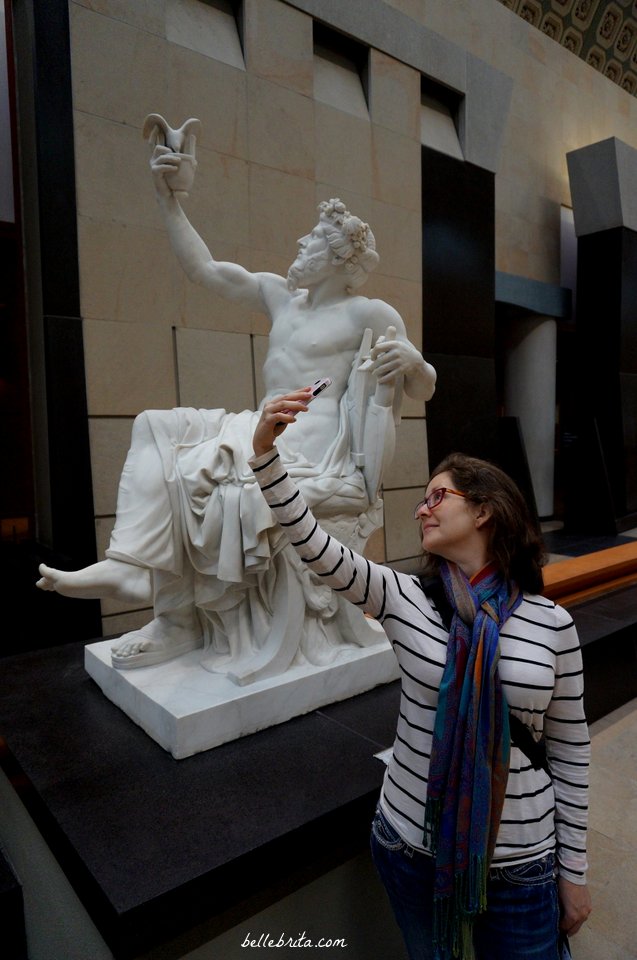 You can buy your tickets online in advance which allows you to wait in a shorter line to get through security. Find the side entrance marked C if you already have tickets.
Depending on how much you love art, you can easily spend two to five hours in Musée d'Orsay.
La Basilique du Sacré Coeur
To get to Sacré Coeur from Musée d'Orsay, go to Metro station Assemblée Nationale and take Metro line 12 to station Abbesses. This will take about 30 minutes.
Sacré Coeur accepts visitors much later than Notré-Dame, which is why I recommend it out of the two churches. If you do the rest of this one-day Paris itinerary quickly, then you can squeeze in a visit to Notré-Dame before going to Sacré Coeur.
Or if your one day in Paris is a Thursday, when Musée d'Orsay is open late, you could visit Notré-Dame after lunch, then visit Musée d'Orsay.
Regardless, Sacré Coeur is simply stunning at night, with a beautiful view of Paris.
Dinner
Sacré Coeur is in Montmartre, a touristy–but fun–neighborhood in Paris. Avoid over-paying for mediocre food by doing a bit of research first.
That is how I would spend a single day in Paris! Of course, I recommend considering considerably more time there, but I realize not everyone is as enthralled with Paris as I am.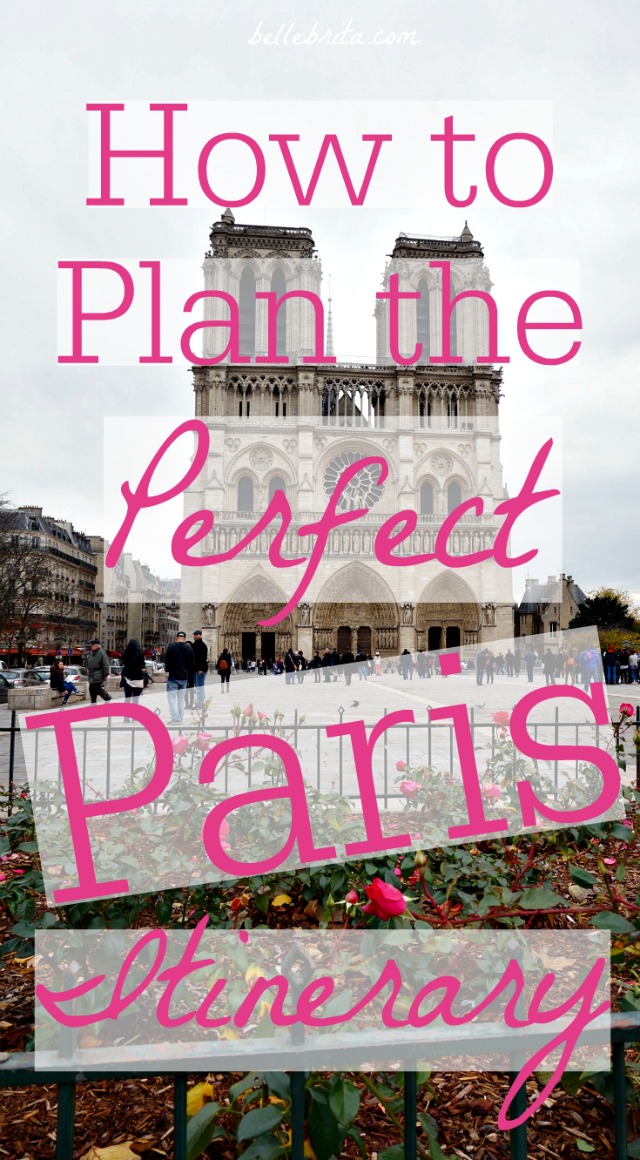 Have you ever been to Paris? If so, how long did you stay, and what did you do?
If not, do you plan to visit Paris one day? Would you be interested in a four-day Paris itinerary? This post took a great deal of work, but if anyone would like my suggestions for a four-day Paris itinerary, I can blog a sequel!