Everyone wants tickets to Hamilton, the wildly-popular hip-hop musical by Lin-Manuel Miranda. Certainly I've wanted Hamilton tickets for about two years now! So when I found out Hamilton was coming to the Fox Theatre in Atlanta, I knew I needed to learn everything I could about how to get tickets to Hamilton.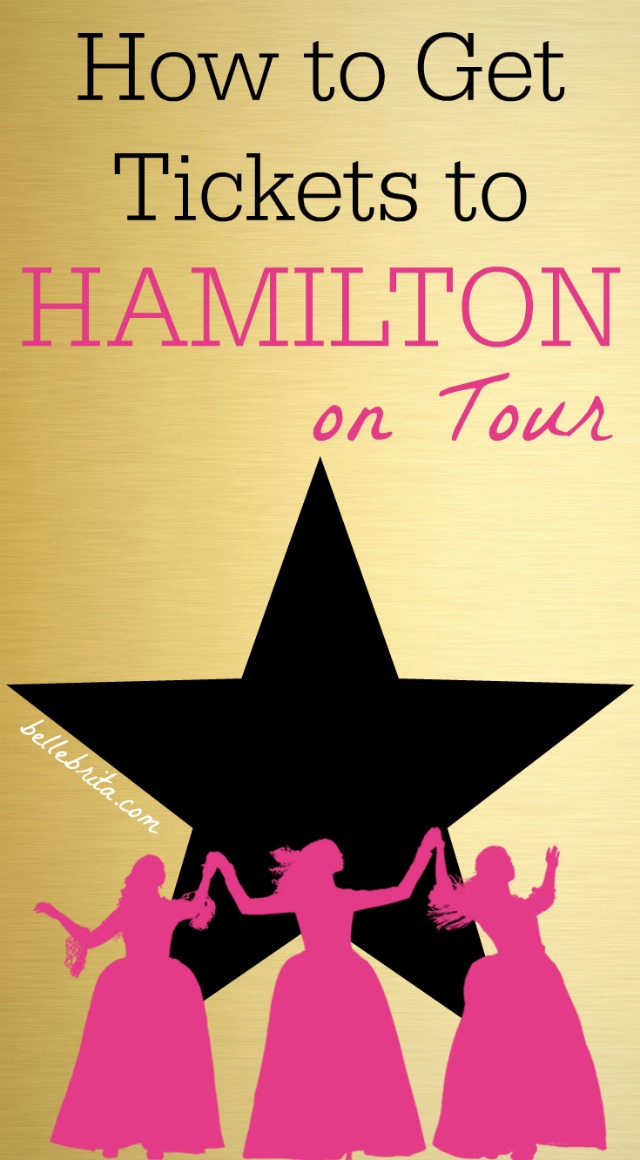 I kid you not–I spent about six months researching how to get tickets to Hamilton. Specifically, I researched how to get tickets to the U.S. tour of Hamilton, which is a little different than getting Broadway tickets.
And all that research paid off! After waiting in five virtual lines on four computers for two hours, Dan and I snagged two tickets to the U.S. tour of Hamilton.
8 Tips to Buy Hamilton Tour Tickets
Most guides on getting tickets to Hamilton focus on the Broadway performances in New York City. However, not everyone can afford both the cost of Hamilton tickets and the travel costs to another state. The U.S. tour of Hamilton gives more Americans an opportunity to see the hit Broadway show.
Plus, I did successfully manage to buy tickets to Hamilton on tour! Now I want to share all my secrets so you can buy your own Hamilton tickets.
Buy season tickets
The absolute best way to get guaranteed Hamilton tickets when it comes to your city? Buy season tickets as soon as the season is announced.
Two of my friends bought season tickets at the Fox Theatre for the 2017-2018 season just so they could get guaranteed tickets to Hamilton. Season ticket holders also sometimes get the first opportunity to buy extra tickets to a performance. This could give you the chance to buy Hamilton tickets for other friends or family.
If you love Broadway musicals, and you can afford it, buy season tickets NOW, even if Hamilton isn't part of the 2018-2019 season. Then you get priority to buy 2019-2020 season tickets when the Hamilton tour finally comes to your town.
This might sound extreme, but the Fox Theatre actually sold out of season ticket subscriptions for the 2017-2018 season. This has never happened before. Based on the announcements I read for the Peace Center in Greenville, SC, I'm pretty sure they sold out of season ticket subscriptions for the 2018-2019 season. Hamilton is coming to Greenville in December this year.
Hamilton tour tickets, 2019-2020 season
The following cities are all currently listed on the Hamilton tour website as part of the 2019-2020 season.
Appleton, WI
Fort Meyers, FL
Grand Rapids, MI
Indianapolis, IN
Jacksonville, FL
Madison, WI
Miami, FL
Milwaukee, WI
Naples, FL
Nashville, TN
Norfolk, VA
Ottawa, Canada
Richmond, VA
St. Louis, MO
Toronto, Canada
West Palm Beach, FL
Make a donation
Is money not an obstacle in buying Hamilton tickets? Then make a donation through Care-Tix, a program run by Broadway Cares/Equity Fights AIDS. These tickets are $650 apiece, which includes a tax-deductible donation of $421.
You can learn more about the program on the BC/EFA website. However, to buy tickets for the Chicago production or a touring production of Hamilton, you won't be able to submit a request online. Instead you should email [email protected] for details.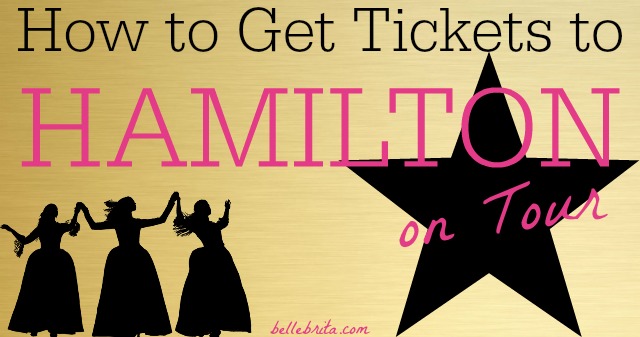 Sign up for all the Broadway mailing lists
Which theatre or performing arts center is hosting Hamilton in your city? Sign up for that mailing list.
Sign up for the official Hamilton email list.
Join the free eCLUB with Broadway Across America.
Between these three email lists, you will be the very first to know when you can buy Hamilton tickets in your city.
Sign up for Ticketmaster Verified Fan
Some Hamilton performances work with Ticketmaster to sell a select number of tickets during a presale as part of Ticketmaster's Verified Fan program.
If you don't already have an account with Ticketmaster, sign up. Then you can select favorite artists and get alerts if they collaborate with the Verified Fan program.
You should also follow Ticketmaster on Twitter for the latest updates about Verified Fan participation.
If the Hamilton tour in your city participates in the Verified Fan program, you will then need to sign up specifically for that event.
Apply for a platinum American Express card
On several separate occasions so far, American Express has offered Hamilton presale tickets to platinum cardholders. These offers have been for select performances in New York City, Los Angeles, and Chicago.
It's entirely possible American Express will once again give cardholders priority access to Hamilton tickets.
Once you have a platinum card, sign up for the "Ticket Access Newsletter." (This website walks you through the steps). This will put you on a mailing list for all the entertainment offers from American Express.
If you have an American Express card that's not platinum (or Centurian), sign up for this mailing list anyway, just in case. American Express might later offer presales to all cardholders.
Try multiple ways to buy tickets
Team up with a friend or a spouse to buy Hamilton tickets. Once you know when tickets go on sale, make a plan. One of you should try online while the other visits the box office in person.
Enter the #Ham4Ham Lottery
$10 tickets are available for every Hamilton performance. You can enter the lottery online or through the app. According to the website:
The lottery opens at 11am two days prior to the performance and closes at 9am the day before. Notifications will be sent at approximately 11am, and the purchase window for tickets will be from 11:01am – 4pm the day prior to the performance.

The digital lottery is randomized and the order of entry has no effect on your chances of winning. Winners will be notified via email shortly after the lottery closes with a link to purchase the tickets. Winners will have until 4pm to pay for their tickets with a credit card online. Tickets not claimed in this manner will be forfeited and used as the box office sees fit. Winners must pick up their tickets at the box office with a valid photo ID that matches the name drawn. There is a limit of one entry per person, and each winner can purchase two tickets.
These are really good seats, so it's worth entering even if you manage to buy other tickets! Don't depend on getting tickets through the #Ham4Ham Lottery, though, because each performance only has a few seats reserved for lottery winners.
Visit the box office for cancellations
First call your local theatre or performing arts center to see what their policy is regarding cancellations. Is there a cancellation line for day-of tickets? If you have lots of free time, you might be able to score last-minute Hamilton tickets at face-value by waiting a few hours outside the physical box office.
How I Bought Hamilton Tour Tickets
I signed up for every possibly relevant email list I could find. I didn't want to throw away my shot to buy Hamilton tickets at Atlanta's Fox Theatre.
And it worked. I knew exactly when Hamilton tickets would go on sale. Dan and I were ready five minutes before tickets were released. We pulled up the Fox Theatre website on two computers each–me downstairs, him upstairs. Dan also had the foresight to use an extra browser on one of his computers.
Fox Theatre used a third-party application to assign computers–and browsers–to a digital line. Each person trying to buy Hamilton tickets at the precise moment of sale was randomly assigned a spot in line. Anyone who accessed the website later was also randomly assigned a spot in line, but that spot was after everyone else.
Dan and I spent two hours in our digital lines. Slowly we watched the messages on the screen change, telling us certain dates were sold out and other dates were low on availability.
Finally, after two hours, one of my computers was in! I had the chance to buy tickets! A few minutes later, one of Dan's computers was also in!
The two of us raced to find two tickets, any two tickets, any night. We hollered at each other about which dates we'd checked. Finally, Dan found two seats together. He put them in his cart and asked if they were okay. Of course I said yes, and he immediately checked out.
Buying Hamilton tickets was a lot of work, and a lot of money… But it was totally worth it. Hamilton was everything I could have wanted and more in a Broadway show.
Getting tickets to Hamilton is not as impossible as it might seem. Follow my advice, and you'll be rocking out with the Founding Fathers in no time.
Have you seen Hamilton yet? How did you buy your tickets?