I received two complimentary media passes to LEGOLAND Florida Resort in exchange for blog and Instagram coverage. All opinions are my own. This post contains Amazon affiliate links. Also, I have written permission from LEGOLAND Florida Resort to use photography of their park in this blog post, and the fine print on their website also indicates that by attending the park, you consent to your image being used in promotional materials. So yeah, random other people appear in some photos.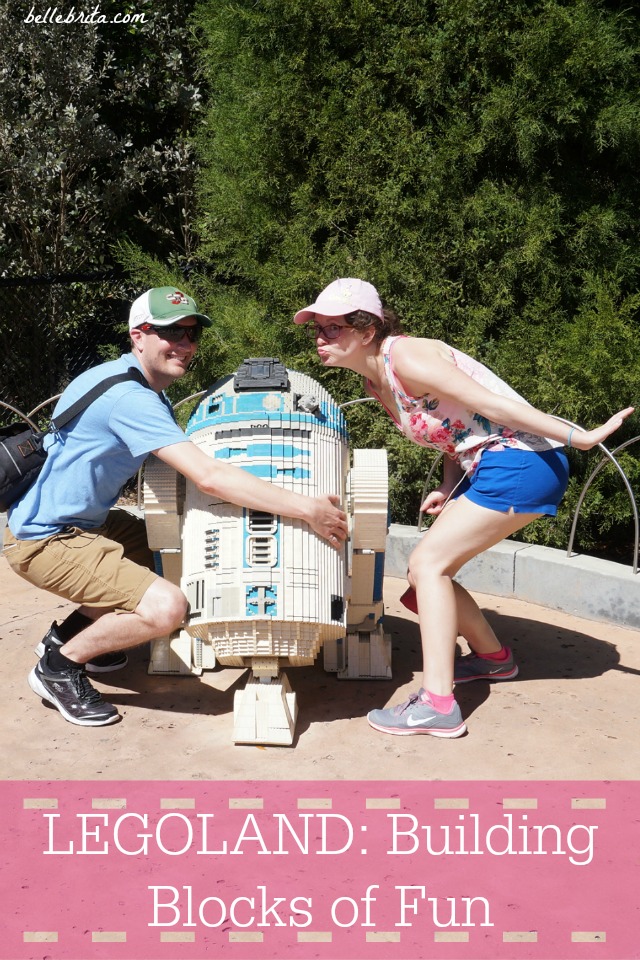 Dan and I recently spent a long weekend in Tampa visiting our friends Lee and Ashleigh. Obviously I can't go to Florida without going to at least one theme park. LEGOLAND Florida Resort is in Winter Haven, about 45 minutes away from Tampa, but we decided a day of LEGOs would be worth the drive.
I did not play with LEGOs as a kid. In fact, I still played with DUPLOs way past the target age. Hey, they made great two-story houses for my Troll dolls! However, my twin brother loved LEGOs, so we had tons of them at home.
Dan didn't just enjoy LEGOs as a kid. He still plays with them! This past year I surprised him with an early Christmas present: the LEGO Star Wars advent calendar. He had so much fun building a small little toy each day.
Our friends Lee and Ashleigh hadn't yet visited LEGOLAND, so they were happy to accompany us for a day at the park. Normally Dan and I like to arrive early at theme parks, but I wanted to sleep in a little that morning. We still arrived at LEGOLAND shortly after the park opened.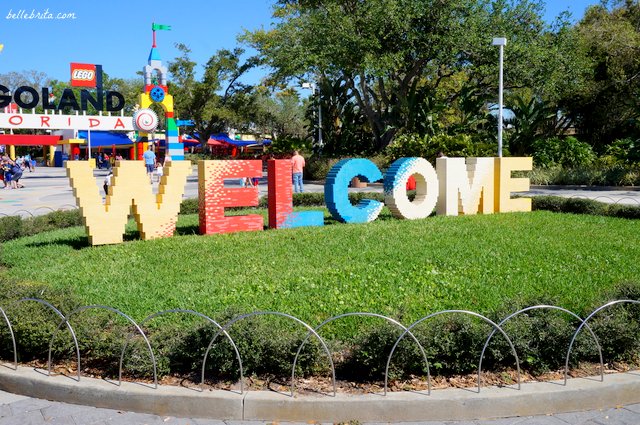 One Day in LEGOLAND
LEGOLAND is a surprisingly large park. However, several of the rides are limited to kids. If you have kids, you might want to spend more than one day at LEGOLAND, because there is so much for kids to do. If you and your friends are just kids at heart, one day at LEGOLAND is enough time to see and do everything.
15 Lands to Explore
LEGOLAND features 15 somewhat distinctive lands. By "somewhat," I mean that some lands are smaller than others, only featuring one ride or attraction each. Still, I love the diverse themes, especially the use of LEGOS in all the decor.
The 15 lands are:
The Beginning
Fun Town
MINILAND USA
DUPLO Valley
LEGO Kingdoms
Land of Adventure
LEGO City
Imagination Zone
LEGO Technic
Pirates' Cove
Cypress Gardens
Heartlake City
The LEGO World of Chima
LEGO NINJAGO WORLD
LEGOLAND Water Park
Since we visited the theme park in February, the water park was closed. Also the World of Chima was closed for renovations. Finally, I don't remember if we went through LEGO Technic or not, since the roller coaster Project X was closed. We might have walked through it and just not paid attention since the roller coaster wasn't operating. I honestly don't remember.
Although we walked through almost every open land, we didn't spend much time in Imagination Zone, Heartlake City, or DUPLO Valley (for little kids).
The Beginning
Believe it or not, The Beginning is… the opening to the park. Wild, I know.
Basically, you can find all the different guest services in The Beginning. Plus you can find the biggest shop of souvenirs (Big Shop).
The only ride here is Island in the Sky, which we sadly missed. When we first arrived at LEGOLAND, I was so excited about MINILAND USA that we zipped through The Beginning. As we left the park (before closing), I noticed Island in the Sky had closed early for the day.
MINILAND USA
Like I wrote above, we started our day in MINILAND USA. I honestly lost track of time here. All the little cities and incredible details mesmerized me. The miniature states/cities/lands include:
California
Daytona International Speedway
Florida
Kennedy Space Center
Las Vegas
LEGO STAR WARS
New York
Pirate's Shores
Washington D.C.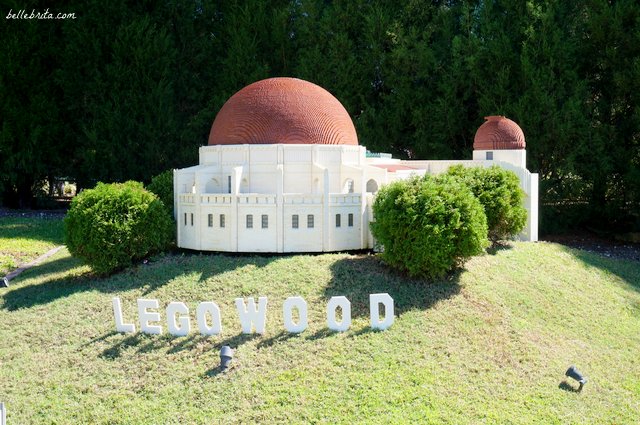 Each miniature area featured buttons to amuse children. Hit a button and watch a hippie play guitar, a marching band perform, or a pirate ship shoot a water cannon. Some of the animatronic details were a little dated, but I enjoyed them all the same.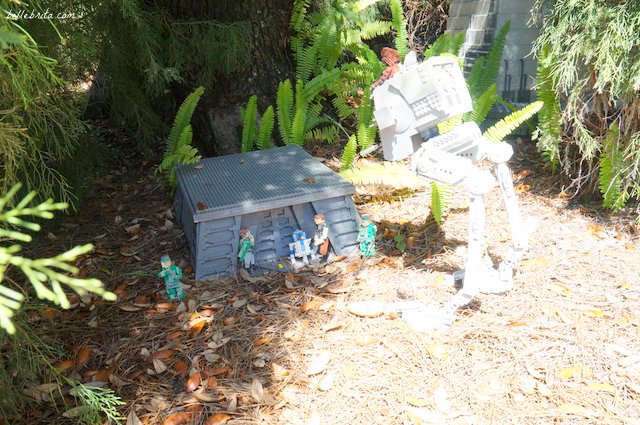 I did think it was weird that Florida didn't include anything Disney. I know LEGO has licensing deals with Disney since I hope to buy Cinderella's Castle one day. Maybe MINILAND USA predates the licensing deal.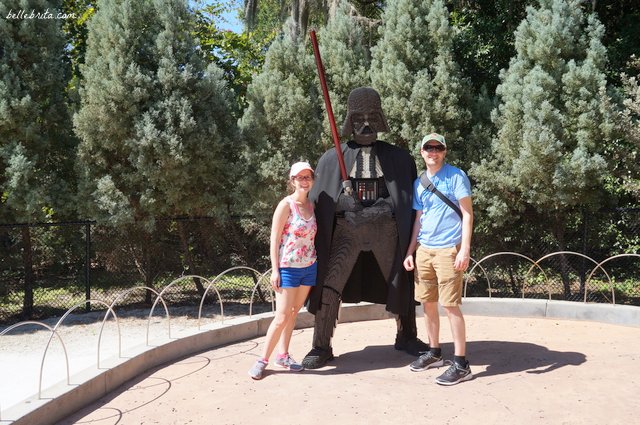 Land of Adventure
Due to long waits, we only did one ride in Land of Adventure. We enjoyed Coastersaurus, a surprisingly smooth roller coaster considering it's wooden. We rode Coastersaurus after exploring MINILAND USA.
If you visit LEGOLAND with kids, many ride lines, including this one, feature a separate LEGO building section for kids. They play with LEGOs during the wait while adults stay in line!
I wish we could have gone on Safari Trek, not because a slow-moving car ride is exciting, but because I wanted to see all the LEGO animals. Luckily we could spot a few LEGO animals on the outskirts of the ride.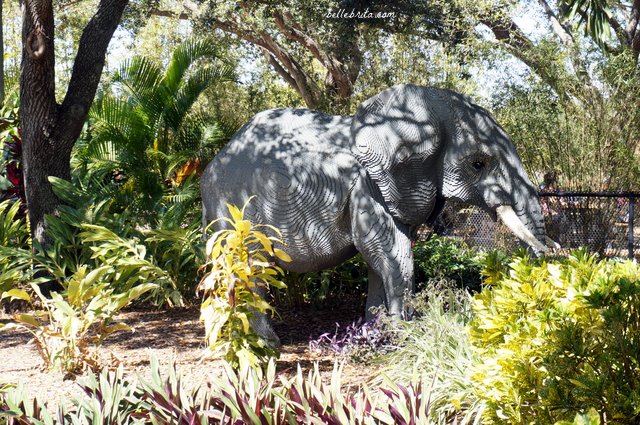 LEGO City
After riding Coastersaurus, we stopped for lunch in LEGO City at Burger Kitchen. Dan and I split a large combo with a bacon cheeseburger, fries, and a drink. This is definitely theme park food, not very good. However, we did get free refills on our drink, which rarely happens in amusement parks!
LEGO City includes several rides, but they're mostly for kids.
(I know, I know. Who woulda thunk a theme park for kids would have rides just for kids?)
LEGO City's rides are:
Boating School
Flying School
Ford Driving School, for kids ages 6-13
Ford Jr. Driving School, for kids ages 3-5
Rescue Academy
After lunch, we walked through LEGO City and looked at everything on our way to Flying School. It's a roller coaster that was unfortunately quite jerky in its movements.
We found an overlook to watch Ford Driving School. Watching the kids drive terribly, often in the wrong direction, completely cracked us up.
Rescue Academy looked really fun. Each team gets to be firefighters, moving the firetruck to the fire, putting out the fire with the hose, and then moving the firetruck back to the start. We watched a group of teams from start to finish. We opted not to try it for ourselves. Teams could be as few as two people, and if I remember correctly, only three teams competed at a time. I didn't time the competition, but it lasted about five minutes. Combine all those factors, and you end up with an unnecessarily long wait time.
Boating School was my favorite ride in LEGO City, although I steered the boat terribly. Dan took over driving, and I took over snapping photos for this blog post.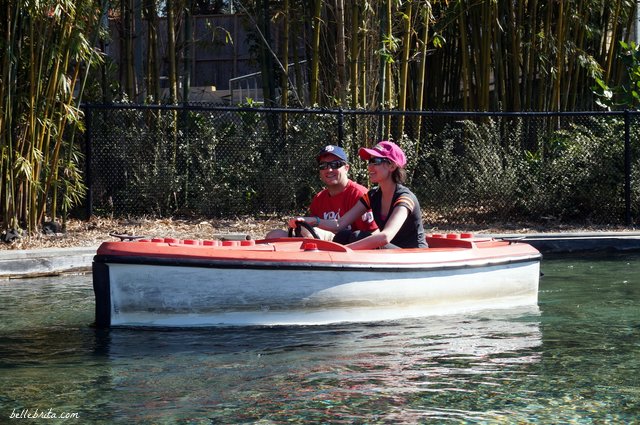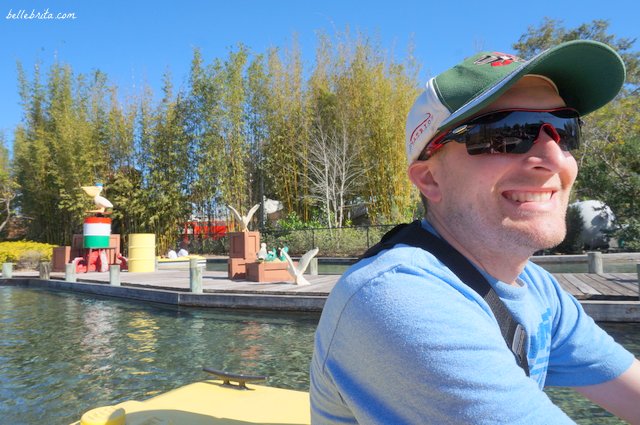 LEGO NINJAGO WORLD
After lunch, but before we explored the rest of LEGO City, we quickly walked through LEGO NINJAGO WORLD. The wait time for the ride was 45 minutes, so we skipped it. However, Dan and Lee both added LEGOs to an interactive LEGO structure. I wonder if an employee undoes all the extra LEGO building when the park closes each night!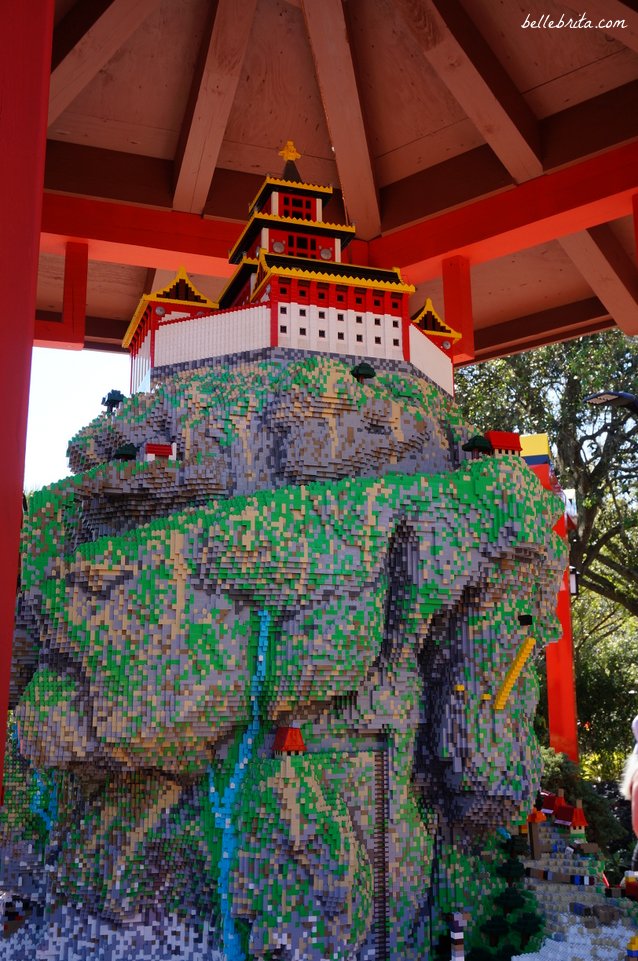 I have to admit, the whole NINJAGO franchise makes me uncomfortable. It definitely feels like cultural appropriation. But apparently no one is writing about this possibility online, since I only found one forum thread on the topic.
Cypress Gardens
LEGOLAND and Cypress Gardens share a long, convoluted history. The short version? This theme park dates back to 1936, when it opened just as botanical gardens. Over the years, ownership of the property passed hands multiple times. Merlin Entertainments bought the property in 2010 and opened LEGOLAND Florida Resort in 2011.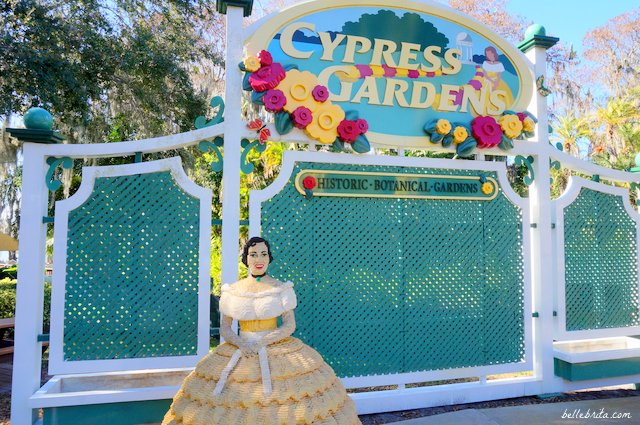 In today's LEGOLAND, Cypress Gardens refers to the botanical gardens still preserved, including an incredible Banyan tree planted in 1939.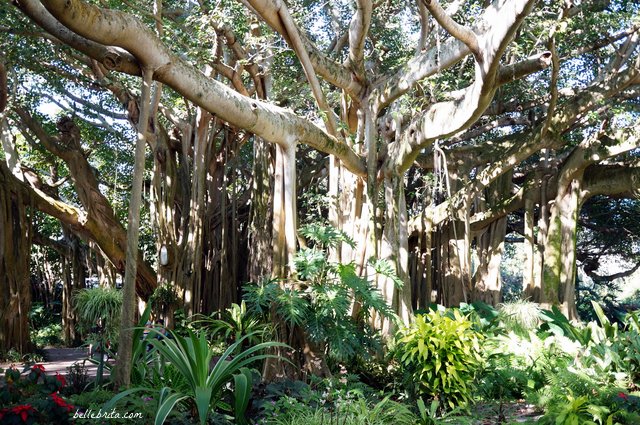 I admit, I can't totally pass judgment on the state of Cypress Gardens considering we visited in February. Possibly the gardens look better in the spring. However, as a long-time fan of gardens and occasional visitor to botanical gardens all over America, I was not impressed by Cypress Gardens. They honestly felt neglected.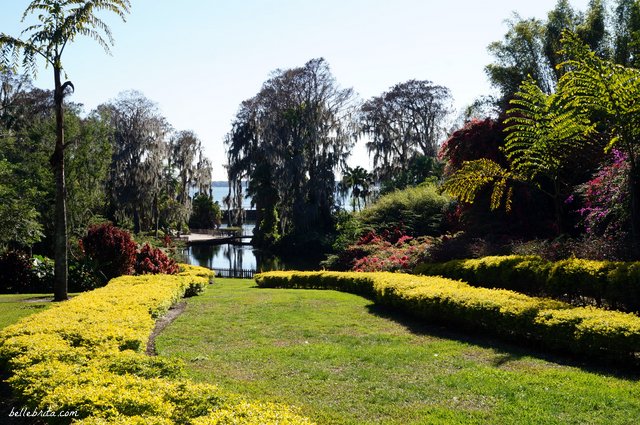 Also, I felt conflicted by LEGOLAND's nod to the original Cypress Gardens, which featured women dressed in antebellum-style dresses. The new Cypress Gardens feature LEGO women in antebellum-style dresses.
On the one hand, I understand the desire to pay tribute to the original park. On the other hand, I'm so over glamorizing SLAVE OWNERS. Because yeah, any southern woman wearing an antebellum dress either owned slaves herself, or was connected to a male slave owner.
Pirate's Cove
After walking around Cypress Gardens, it was time for my second-favorite part of the whole day: Pirates' Cove Live Water Ski Show!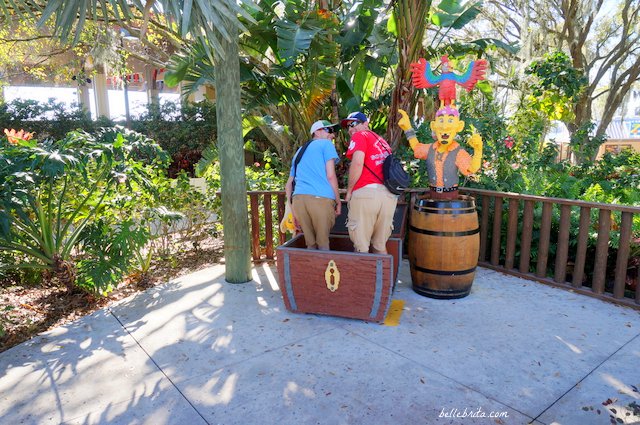 I cannot adequately express the entertainment value of this show. While the tricks in the water truly impressed me, I also loved the humor and action on land. The first pirate arrived from behind the audience, stealthily joining us. He totally hammed it up and posed for us when he noticed Dan taking a photo!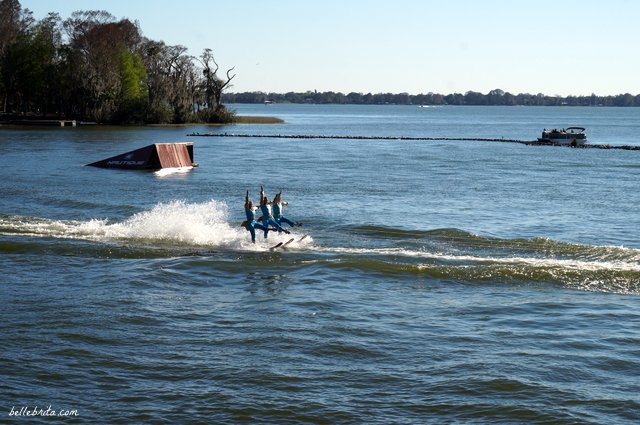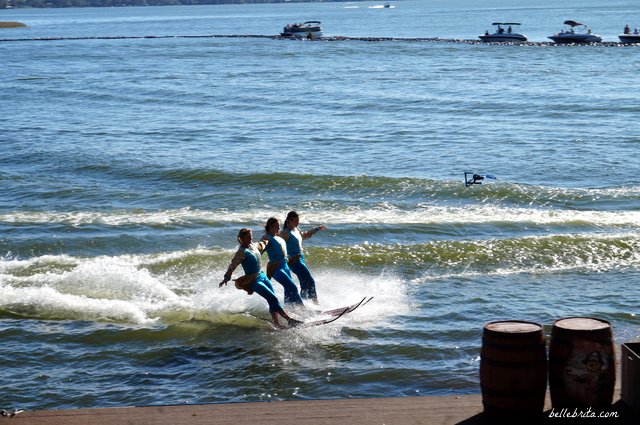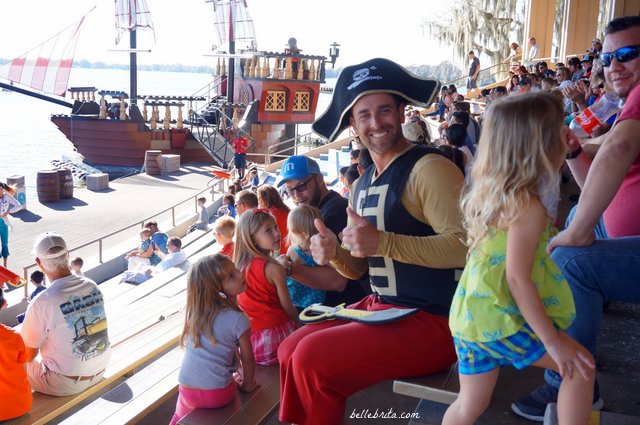 Plus, if you don't mind getting wet, you can sit in the the splash zone and use water cannons to fight the pirates!
LEGO Kingdoms
LEGO Kingdoms has the best roller coaster in the whole park: The Dragon. Not only was the coaster itself both thrilling and smooth, but the ride started inside a castle with magical LEGO animatronic scenes. I only wish we could have taken photos during the ride.
This was our last ride of the day. We definitely ended on a high note!
LEGO Kingdoms also has a kiddie coaster, Merlin's Challenge, and a kids-only ride, Royal Joust.
Fun Town
Fun Town features one ride (a carousel) and one attraction (a 4D theatre). Otherwise, this land is all about shopping and dining!
We ended our day in Fun Town with the most delectable snack of Granny's Apple Fries. They come with whipped cream for dipping, and I paid a little extra for warm caramel sauce. Seriously, you absolutely must try the apple fries.
Blogger fail: I ate my apple fries before thinking to ask Dan to photograph them.
Plan Your LEGOLAND Trip
If you want to visit LEGOLAND Florida Resort, spend some time on their website before booking your trip. Opening hours vary by day of week and month. You also save money on tickets by buying them at least two days in advance. Finally, some areas are closed during certain times of year. If you want to do everything, confirm the whole park will be open during your intended visit.
LEGOLAND Opening Hours
I went through the entire calendar for 2017 on their website. The park always opens at 10am. Closing times vary wildly, however. LEGOLAND closes as early as 5pm and as late as 9pm. While LEGOLAND remains open year-round, it closes some weekdays in the fall and winter.
LEGOLAND Calendar and Hours 2017
LEGOLAND Ticket Prices
Dan and I obviously love amusement parks, even those marketed towards children. Usually we still find plenty to do at theme parks. LEGOLAND is really for kids, not so much for adults.
Primarily for that reason, Dan and I both feel LEGOLAND is overpriced. This is coming from two people who spent three days at Disney World and two days at Universal Studios back in 2015. We aren't opposed to paying high admission prices for theme parks. However, between the limited opening hours, the lack of thrilling roller coasters, and the unnecessarily long wait times, the $73-93 ticket prices are too much.
As of 03/14/2017, these ticket prices are accurate.
If you buy a basic ticket at least two days in advance, the prices are:
Children (3-12): $73 plus tax
Seniors (60+): $73 plus tax
Adults (13+): $79 plus tax
If you buy a basic ticket the day before your visit, or at the gate, the prices are:
Children (3-12): $86 plus tax
Seniors (60+): $86 plus tax
Adults (13+): $93 plus tax
Military: 10% off with military ID
Military families can also buy discounted tickets at your Military ITT offices on bases.
Should Adults Visit LEGOLAND without Kids?
Maybe.
If you love LEGOs, if you already plan on going to Florida, if you can afford the ticket prices, then yes. Even without kids, LEGO-loving adults should visit LEGOLAND Florida Resort just once. I just wouldn't make a special trip to Florida solely for LEGOLAND.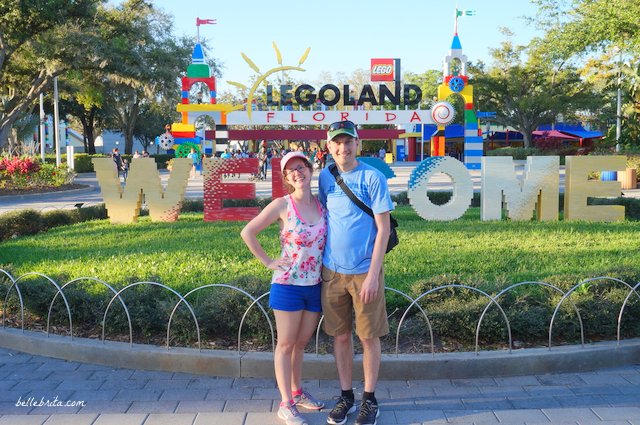 Will Dan and I ever go back? Once we have kids, probably. I certainly think our nephew would love DUPLO Valley.
Plus any kids that Dan and I spawn will likely be the most adorkable little tykes that you ever did see, the kind of children thrilled by a day at LEGOLAND.
Are you a fan of LEGOs? Have you ever been to LEGOLAND? Share your thoughts with me in the comments!