Honestly, part of me wants to skip over a beginner's series on SEO and jump straight into advanced SEO for lifestyle bloggers. I've easily read over two dozen blog posts by fellow lifestyle bloggers on SEO. Not a single one of them has taught me something I don't already know.
But I was a beginner blogger once upon a time. Even then, I was lucky.
When I started Belle Brita in July 2014, I had already worked freelance for a digital marketing agency for about a year and a half. I managed our SEO clients. Each morning I spoke with our senior SEO expert about our clients and their progress. I edited metadata titles and descriptions for clarity. Besides doing a little SEO copywriting myself, I created keyword-rich content ideas and assigned them to my team of copywriters. Plus I routinely tested target keywords to see how our clients ranked.
I applied all of this knowledge to Belle Brita, but something was still missing.
After some trial and error, I discovered differences between SEO for lifestyle blogs and SEO for businesses.
Before I blog about SEO basics, I want to share my #1 secret for having good SEO in a lifestyle blog.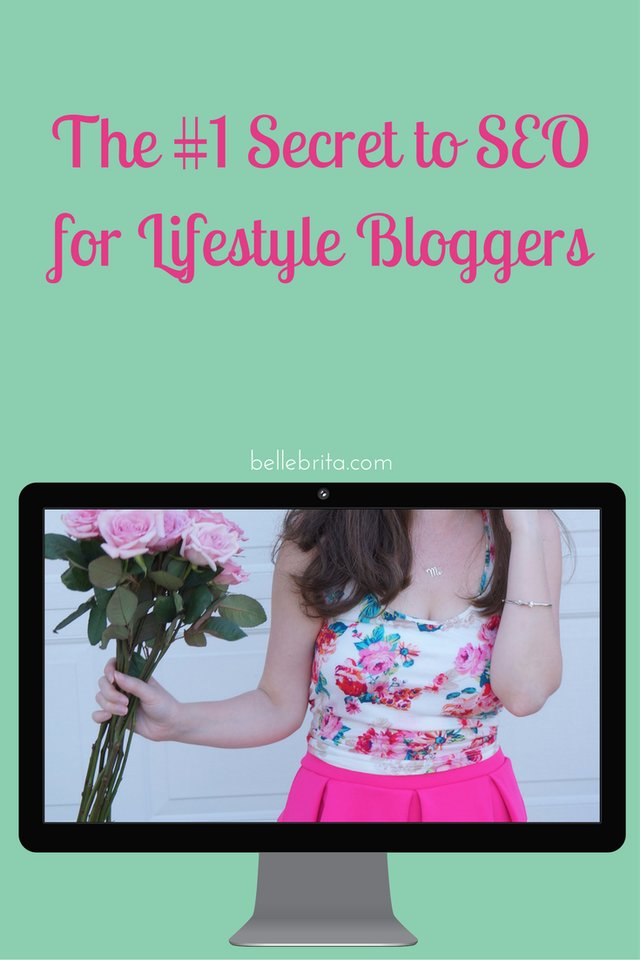 Not all lifestyle blog posts should be optimized for search engines.
Does that go against everything you've ever learned about SEO?
Possibly.
But hear me out.
Look at my 10 all-time most popular blog posts. Ignore my home page and my about page.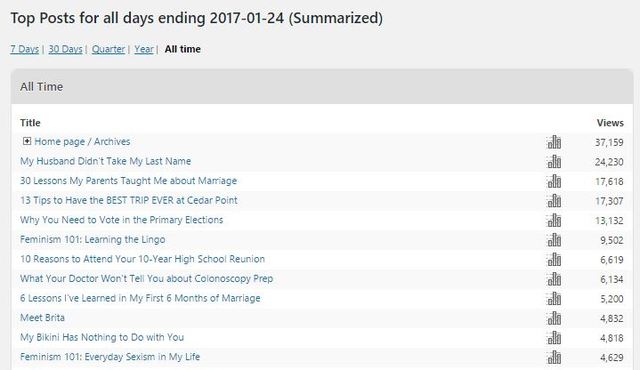 7 of those blog posts rank on page 1 of Google.
But 2 of those blog posts, including my all-time most popular blog post, don't rank for any related keywords. So why are they so popular?
I tackled "controversial" topics with my own authentic voice.
In "My Husband Didn't Take My Last Name," I shared a satirical take on what people say about me since I didn't change my last name upon marriage.
In "My Bikini Has Nothing to Do with You," I challenged the Christian bloggers who pop up every summer to say Christian women shouldn't wear bikinis.
My blog titles immediately challenge the reader, but they have nothing to do with keywords.
I even did something good for traffic and terrible for SEO with these two posts! I cross-posted shortened versions to The Huffington Post, which linked back to my original posts. While their audience brought traffic to my blog, the cross-posting to a bigger site means the HuffPo version might rank higher in Google search results.
As for the 10th post? I linked to it in my all-time most popular blog post. It's just piggy-backing off the other's success.
So how do you know which posts to optimize for search, and which ones to write authentically?
(That's a trick question, since all of your posts should be authentic!)
If your post is Pinterest-worthy, your post deserves good SEO.
Spend some time on Pinterest. What appeals to you?
Top 20 Whatever
How to Do Something New
Topic 101
Basically, informative posts do well on Pinterest. Take a look at my Pinterest analytics. Notice anything?

There's an overlap between my popular posts on Pinterest and my all-time most popular posts. (There's more of an overlap if looking at a longer list of pins).
Certainly I get decent Pinterest traffic, but my #1 traffic source is search engines. (#2 is Facebook, and #3 is Pinterest, but it only barely beats out The Huffington Post for all-time traffic).
Posts that do well on Pinterest do well in search.
In fact, "30 Lessons My Parents Taught Me about Marriage" has at least 1500 saves on Pinterest, and possibly more.
So when you're making your perfectly pinnable image for a blog post, don't forget to implement SEO in your blog post. Unsure of what that means? I have tons of future posts on this topic, so stay tuned!
Which lifestyle blog posts do NOT need SEO?
When you're telling an amazing story from your life, you probably don't need to worry about SEO. If you're an incredible writer, or if your core blog audience includes a lot of friends and family, those blog posts can still be successful! But trying to jam in keywords will negatively affect your authentic writing, for no reason at all.
How do I know this?
From my major SEO fail in my first month of blogging.
Here was my SEO keyword phrase: guy from OKCupid.
Yeah.
Who is searching for that?
(No one).
But I wanted to tell the story of my first date with my husband, and I thought I needed to optimize every single lifestyle blog post for search.
I totally awkwardly wedged in "guy from OKCupid" throughout my blog post. I'm lucky it doesn't read too terribly, but the effort was so unnecessary!
Considering the badly cropped photos with ugly text overlays, and the blog title that doesn't really grab your attention, this blog post still has a respectable 800+ page views. It was even in my top 10 most popular blog posts of 2014.
So why did a blog post with bad SEO still perform well at the time?
Because I wrote a personal story that friends and family wanted to read.
I still do a few blog posts each month that I know won't be popular overall, but that my core readers have told me they enjoy.
And sometimes a personal, controversial story becomes a surprise hit! No SEO necessary!
What is your #1 question about SEO for lifestyle bloggers?
What do you already know about SEO? What completely befuddles you? I want to answer YOUR SEO questions! Obviously I'll go over the basics, but I'm eager to share advanced SEO tips for lifestyle bloggers.
P.S. I recently became the SEO mentor for Blog Boss Babe (affiliate link) with Helene Sula of Helene in Between! Check it out!