Technically, Six Flags Over Georgia did not require that I blog about their bloggers' night last Friday, a PR event for this year's Fright Fest. Dan and I received free admission, meal vouchers, and a swag bag. I also have two additional complimentary tickets that I can use by the end of October. All opinions are my own.
This past weekend, Dan and I enjoyed not just a Date Night, but an entire Date Weekend. Friday night we attended Fright Fest Blogger Night at Six Flags Over Georgia. Saturday night we attended Sippin' Safari at Zoo Atlanta. Sunday morning we played Pokémon Go at a new-to-us park. Sunday afternoon we explored downtown Norcross and played Pokémon Go.
All in all, Dan and I shared a wonderful weekend together!
I am so grateful to the opportunities blogging gives me. An invitation to Fright Fest Blogger Night thrilled me! Dan and I are also going back to Six Flags this weekend.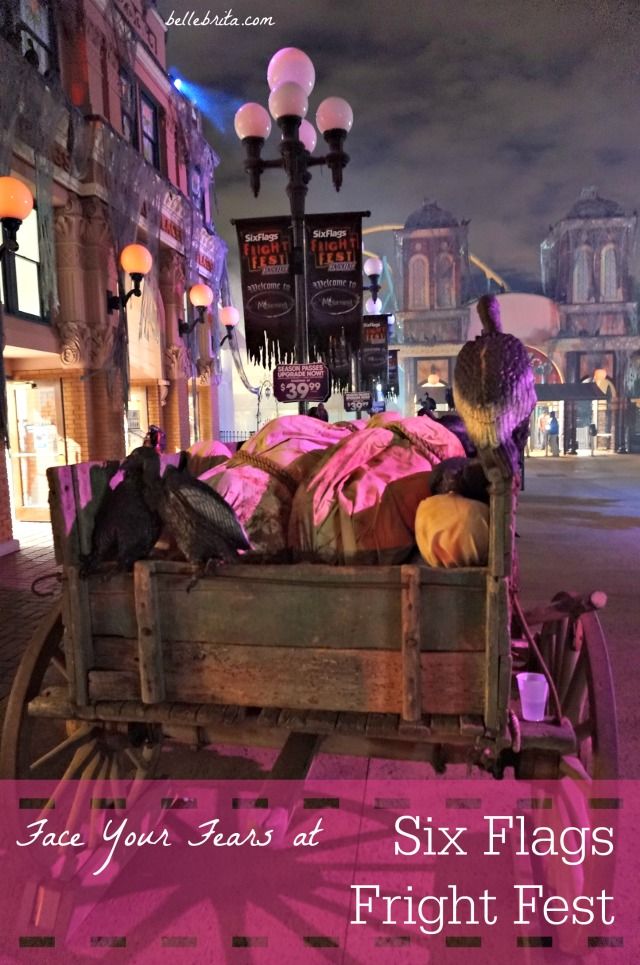 Fright Fest Blogger Night
Dan and I arrived at Six Flags about an hour before the park opened. We checked in at a table near the front gates to receive our VIP lanyards, meal vouchers, swag bag, and Fright Fest wristbands. Our VIP lanyards included a schedule for the evening. While we weren't required to follow it, I wanted to attend the special events set up for us.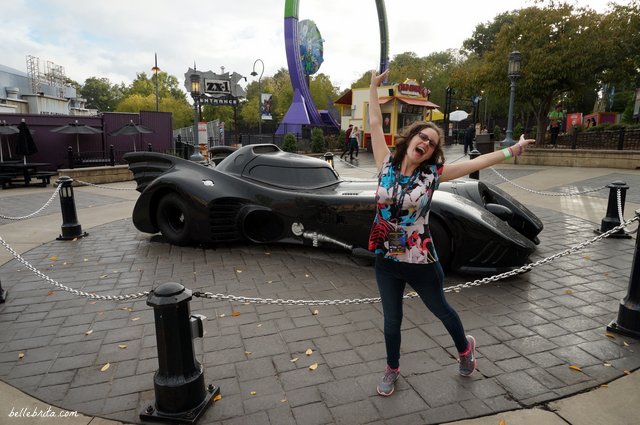 Fright Fest Blogger Night Itinerary
5:30pm: Registration and Check-In
6:00pm: Park Opens
7:00pm: The Uprising Show at the Dare Devil Dive Stage
7:30pm – 8:15pm: Behind-the-Scenes Make-Up Tour
8:30pm: Dr. Fright's Dead Man's Party Show with Reserved Seats at the Crystal Pistol Music Hall
9:00pm – Midnight: Roam and Explore the Twisted Evil of Fright Fest
Midnight: Park Closes
I am not really into scary stuff, but I love anything behind-the-scenes. I'm also a huge fan of theme park shows. The singing, dancing, and costumes are incredible! Dan and I followed the suggested itinerary, but we left the park early, around 9:30pm.
The Uprising
I had no idea what to expect from The Uprising. The description on the Six Flags website is vaguely ominous.
An evil army is stirring, and these tortured souls answer only to one master: Baron Von Vile.

As he makes his nightly call to his denizens of the dark and declares war on more innocent souls to add to his evil army, an Uprising is on the horizon and the Baron may be in for a fight of his own.

There are terrible creatures of the night who answer to one master: Baron Von Vile. The Baron claims these souls of the dead as they unwillingly must obey his each and every command. Tortured by an eternity of no rest or peace, these monsters bring terror among the living.

As he makes his nightly call to his denizens of the dark and declares war on more innocent souls to add to his evil army, an Uprising is on the horizon and the Baron may be in for a fight of his own. Beware of this undead army, because they are always looking for new recruits.
I don't know if what Dan and I saw is what usually happens with The Uprising, or if the scare actor who plays Baron Von Vile was out sick.
We showed up at the Dare Devil Dive Stage a little before 7pm. The show opened with a terrible rap song about Halloween. I loved the dancing, though. Then evil clowns arrived and "killed" the rap artist. They announced CarnEvil, and the main evil clown gave a little speech about evil creatures.
Suddenly I heard people screaming behind me. I turned around and saw an incredible variety of scare actors. They wandered around for a bit, scaring park guests who wanted to be scared, and ignoring those of us intently focused on our phones and park maps.
Pro tip for The Uprising
The scare actors go for the guests who react the most. However, they are not allowed to touch park guests. That said, I did see scare actors technically touching park guests when the guests requested photos. I assume that's permitted.
Only one scare actor startled me, when he walked down the aisle to the left of where I was sitting. My bench had room for more people next to me, so he was able to walk near the bench without touching anyone. I had been looking at Dan on my right, so I jumped in my seat when I turned to my left and saw a frightening creature!
I assume the evil clown doesn't usually announce The Uprising. CarnEvil is one of the featured shows, but it wasn't on the schedule until 7:15pm. The rap performance, the arrival of the evil clowns, and The Uprising all occurred before 7:15pm.
Behind-the-Scenes Make-Up Tour
I was most excited for the special blogger-only make-up tour. I shared so many videos to my Instagram story!
Six Flags employees escorted us bloggers to Hurricane Harbor, the water park closed for the season. The cabanas were transformed into make-up and prosthetic stations! The head make-up artist explained his history with Fright Fest (he started as a scare actor). He and his colleague showed us masks and prosthetic pieces, many of them completely custom.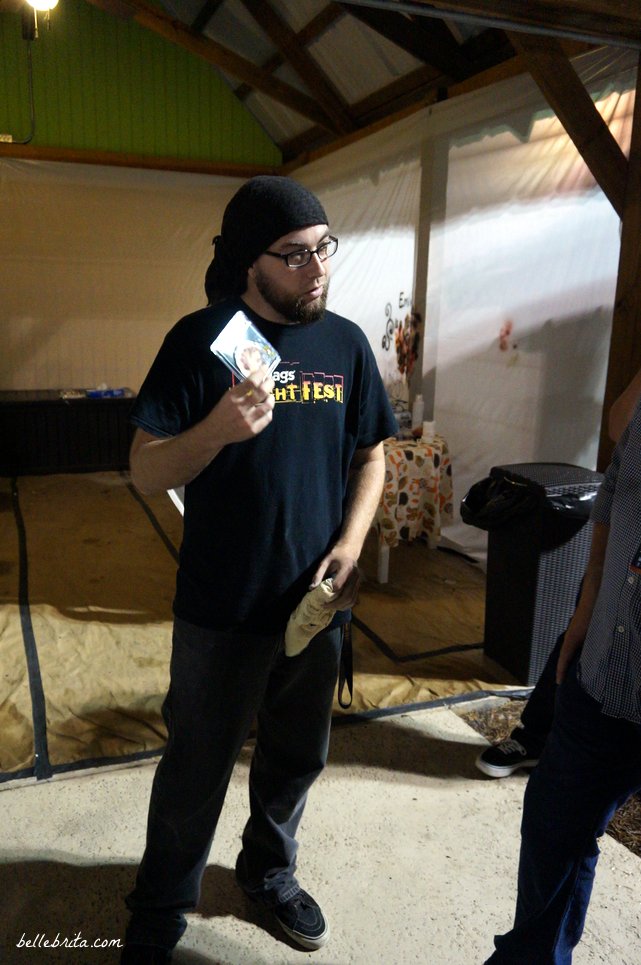 Each scare actor plays the same part, with the same hair/make-up/costume, each night at Fright Fest. This both allows the actors to be comfortable with the part and speeds up the prep. Each make-up cabana only works on certain scary types, based on the scare zones around the park.
Most of the Fright Fest employees are seasonal. However, at least two employees work year-round. (The two men pictured in the photos above). They devote most of the year to Fright Fest, but they're also in charge of the hair/make-up/costumes for the special Christmas program.
Dr. Fright's Dead Man's Party Show
I assumed the behind-the-scenes tour would be my highlight of Fright Fest. Not only did I eagerly anticipate it, but the tour exceeded my expectations.
Dr. Fright's Dead Man's Party Show was even better.
The set, the lighting, and the special effects were phenomenal. Not over-the-top or distracting from the performers; just right.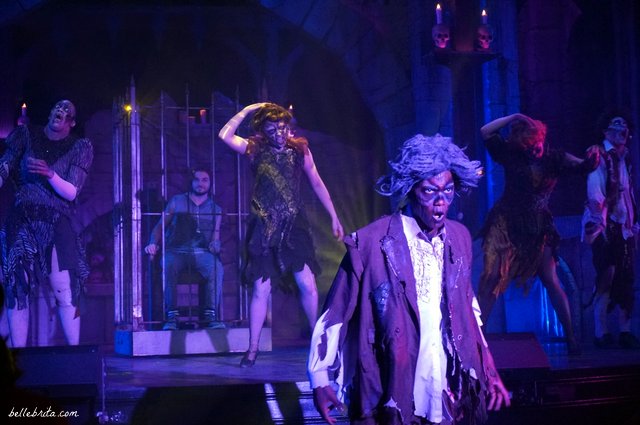 The performers amazed me. They sang and danced and dazzled to appropriate songs like "The Phantom of the Opera" and "Bad to the Bone."
Don't judge me, but I totally fangirled over the zombie crooning "Bad to the Bone." Who knew a zombie could be so sexy?!
Speaking of sexy, this show did have more sexual undertones than I would have expected from a Halloween song and dance performance. However, the Six Flags website doesn't recommend Fright Fest for children under 13. If you follow that, Dr. Fright's Dead Man's Party Show is fine.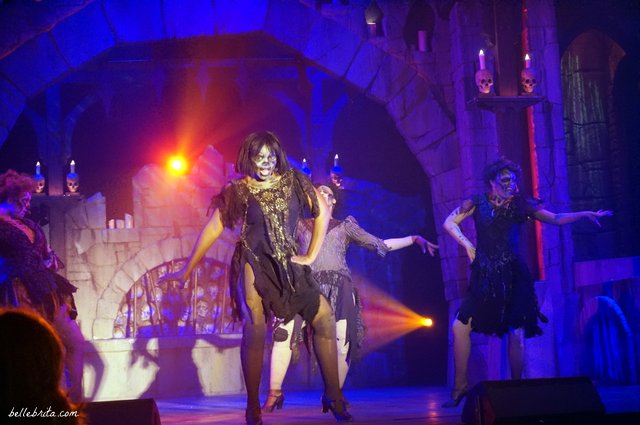 Oh, and remember how scare actors aren't supposed to touch park guests? These scare performers occasionally touched audience members, usually not in a scary way, but in a suggestive way.
Other Fright Fest Attractions
For the most part, Dan and I skipped the scary stuff at Fright Fest. Too much horror is just not for me. But if you enjoy a good scare, check out what else Fright Fest offers. The Haunted House Pass costs extra and grants admission to the haunted mazes.
Scare Zones
Fear Riders
Big Top Terror
The Mourning
Southern Cemetery
Tunnel of Blood
Cage Maze
Subterrestrial
Curtain Chaos
Lost Souls
Demon District
Rage of the Gargoyles Virtual Reality
Dark Harvest
The Witching Hour
Mazes Included with Haunted House Pass
Mummy's Curse
Bayou Bloodlust
Dr. Fright's Frightorium 3D
The Last Ride
Terror Train
ZX-1
Six Flags Swag Bag Giveaway!
Six Flags gave me an orange knapsack with an assortment of Halloween and Six Flags goodies, including a frame, a pen, a keychain, a skull, and a dancing skeleton. While I appreciate the swag bag, Dan and I decided that we don't need anything I received. I thought one of my readers might enjoy these fun things! I'm also throwing in some of my favorite Instagram props and a few other surprises.
I will verify all entries myself before contacting the winner. Open to US residents only, although I love my international readers. Good luck!!!
a Rafflecopter giveaway
Do you enjoy scary thrills, or do you stick with tame terror like I do? Have you ever been to a haunted house or maze, or to Fright Fest at Six Flags? Share your thoughts in the comments!