Last weekend, my dad treated Dan and me to dinner and a show. Our local community theatre performed Disney's A Little Mermaid, the stage musical. As always, the talent of Greenwood's local performers amazed me.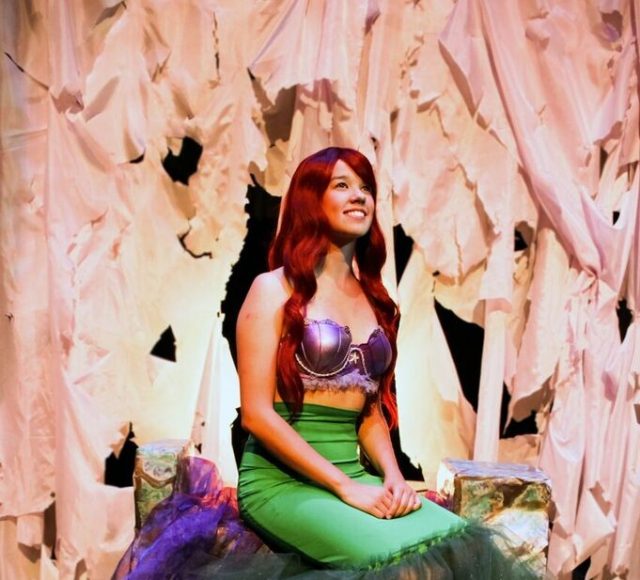 If you've never seen the stage version of the show, it differs in a few ways from the film. For example, Flounder noticeably has a crush on Ariel in the stage show, whereas they're just best friends in the movie. Many of the supporting characters and even minor characters are fleshed out. I was most interested in Ursula.
Ursula has a few great musical numbers which really explain her background. She's the older sister of King Triton, and she originally ruled the seas after she killed off all of her sisters to inherit their parents' kingdom. But when her baby brother came of age, thanks to the super-awesome patriarchal tradition of primogeniture, he became king and banished her. With plucky perseverance, Ursula channeled her ambition into entrepreneurship and started her own business of helping "Poor Unfortunate Souls."
And now I'm obsessed with Ursula and think someone needs to give her the Wicked treatment of retelling her story. After all, do we really think a story that glorifies selling your voice to impress a boy is an unbiased perspective?
Ursula has clearly been unfairly maligned.
From my feminist viewpoint, she didn't actually kill off her sisters. Either they all married foreign princes and abdicated their thrones, or they were all younger and thus not the heir. Or maybe she just didn't have any sisters. She ruled fairly for many years and brought stability to the ocean kingdom.
But then her baby brother Triton came of age. The ocean kingdom followed the laws of primogeniture. He assumed the throne, and out of jealousy or spite, banished her to the darkest corner of the sea, along with all of her royal advisers.
Distrustful of Ursula's magic, a womanly magic passed down from mother to daughter, Triton labeled her a sea witch and engaged in a propaganda campaign against her. Slowly Triton outlawed the practice of magic among women, leaving behind only magic that could be wielded by spears. coughpenismetaphorcough
Ursula continued to practice magic secretly, helping those in need, for a reasonable fee. Tales of her prowess spread in whispers across the kingdom. While she was technically responsible for a few mysterious disappearances, those few individuals wished to leave the sea, and consulted with Ursula secretly.
One day a young mermaid approached Ursula. Ursula immediately recognized Ariel, for the young mermaid was the spitting image of her mother.
Ariel wanted to become human. Her father was already trying to arrange a marriage for her, but she wanted to marry for love. There was a sailor whose life she had saved, and she thought maybe she could love him. He obviously loved the sea, and she'd noticed his kindness to animals on the beach.
Ursula reluctantly agreed to help Ariel. But transforming a mermaid into a human was complex magic. Ariel would need to add her own magic to the spell for it to work. Alas, the little mermaid had no knowledge of her power as a result of Triton's laws.
So Ursula did the only thing possible. She told Ariel to sing her heart's desire. But first, a warning.
Ariel had three days to love and be loved by another human. Only then would her soul become human, and she would be able to remain human, as the soul and body were closely connected. Any kind of love would do, but romantic love would be easier to recognize. At sunset on the third day, if Ariel's soul wasn't human, her body would become a mermaid again.
Ariel accepted the risk. She sang her heart's desire while Ursula chanted the spell.
The little mermaid became human, met her sailor, and fell in love. Her soul became human as well.
Triton was furious when he found out and caused a maelstrom. He and Ursula battled for control of the sea. Just when Ursula thought she would be defeated, she heard singing. First just one voice, then dozens of voices, as all the mermaids channeled their power for her. Ursula triumphed over Triton, and the women rejoiced.
Ursula banished Triton and reclaimed the throne. Everyone lived happily ever after.
---
But that's just me.
Now I really want to write this story for real.
Anyway, these were a few of my thoughts after watching Disney's A Little Mermaid last weekend. Ursula seems unfairly cast as a villain for being a woman with power and business savvy.
Inspiration credit goes to Dan. I asked him what feminist topic I should write about today, and he said I should give The Little Mermaid "the Wicked treatment."
What beloved story or movie would you like to retell? What would you change? Share your creative comments below!