I love blogging.
I love having my own platform to share my feelings, my experiences, my opinions, and anything else that inspires me to write.
I love connecting with other bloggers. I love reading and commenting on other blogs. I love reading and replying to your comments on my blog. I love keeping up with other bloggers on social media too. It's just one more way to stay connected!
I try to be authentic on my blog and on social media. (There's that blogging buzzword again!)
I write about Crohn's Disease. Seriously, I have a detailed post about colonoscopies already scheduled for Thursday.
I write about my grief, about my mom. I frequently cry while writing, but it's therapeutic for me.
But no matter how vulnerable my writing is, I still only post beautiful photos and graphics. This is doubly true for my Instagram feed.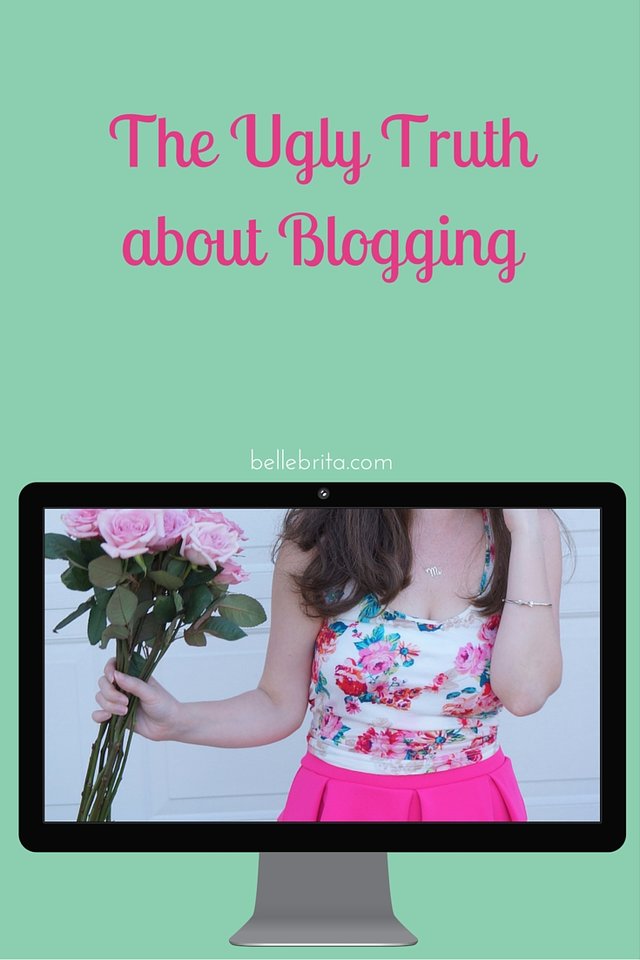 People don't follow me on Instagram to see blurry, unedited photos of my life. As much praise as I receive for my honest writing, I'm cynical enough to know I would lose some followers if I blasted my staph infection all over Instagram.
And that's the ugly truth about blogging, and about social media.
Being pretty matters.
Yes, I frequently post photos of me without makeup or with just a smidgen of lipstick. But my willingness to be "real" with my "natural" looks still relies on having a reasonably attractive face.
I chopped off all of my hair two weeks ago. My new haircut is super-cute. And I refuse to take photos until my staph infection clears up. I have ugly red spots on my face that are now dry and flaking as they heal.
If I could get away with it, I would just stay home and not see anyone until I'm completely healed. I'm so embarrassed by how I look right now. I can't remember the last time I felt this insecure about my appearance.
If anything, this temporary staph infection has really opened my eyes to pretty privilege. I'm not saying that I'm drop-dead gorgeous, or that men hit on me, or that I turn heads wherever I go. But I'm at least cute, with good hair, a nice smile, and great boobs. And that goes far both online and offline.
Successful blogging takes hard work. So is being successful on your social media platform of choice. I'm not up to over 8,000 followers on Instagram from sheer luck alone. But I'm cynical enough to think that companies would be less than pleased if I were to post pictures of me wearing their pretty things with an ugly red rash all over my body. That's not an image that anyone wants to sell, except maybe a pharmaceutical company.
And that's the ugly truth about blogging.
As much as I love authenticity in blogging, I'm still selling a branded version of myself. And that branded image can't be ugly.