Sometimes bloggers need a break. A blogging break might last a week, or a month, or even longer.
Taking a blogging break can help prevent blogger burnout. A blogging break is also a good chance to work on the technical side of your website, like switching to WordPress or installing a new theme.
What are a few signs or circumstances that indicate you might need a blogging break?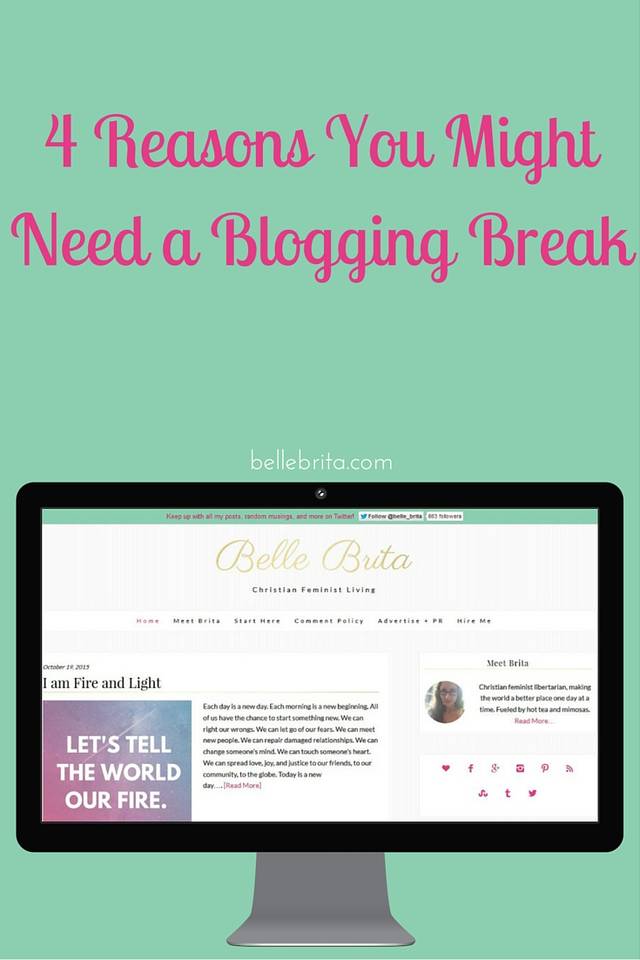 You might need a blogging break if…
You experience a major life change
Betsy of Heavens to Betsy recently got married. Yay! Understandably, she took a brief blogging break in the few weeks leading up to the wedding and then for her honeymoon. During Betsy's blogging break, she lined up several fellow bloggers to guest-post for her.
Madison from The Wetherills Say I Do recently had a baby. Yay! And she did that right after moving across the country. Wow! During her move, Madison invited a few bloggers to guest-post for her as well.
For us bloggers, sometimes blogging feels like our entire life. I love blogging. I love networking. I love social media marketing. I love everything about blogging and the blogging community.
But real life is important too. Moving, starting a new job, studying abroad, getting married, or having a baby are all way more important than maintaining a consistent blogging schedule. All of these life events require time and attention. A blogging break might be just what you need to focus on a major life change.
Your creativity is zapped
Take a blogging break before you hit blogger burnout. Sometimes you just need a week or even a month to live your life outside of your blog. After all, especially for us lifestyle bloggers, we write about our lives. If you spend too much time online, you might run out of inspiration for blog posts. Take a break! Be a tourist in your own town!
If you need more tips to avoid blogger burnout, check out the following blog posts.
5 Ways to Prevent Blog Burnout
5 Ways to Overcome Blogging Burnout
You go on vacation
Even with the best of intentions, bloggers don't always prepare for a blogging absence. Like, they might try to line up guest posts or schedule fresh blog posts in advance, but then they might run out of time. And by "they," I mean "me."
Dan and I vacationed in Orlando last week. It was amazing. I wrote one blog post. I did not get others scheduled in advance like I'd intended. I could have chosen to blog each night after a full day in Disney World or Universal Studios, but I focused on fully enjoying my vacation instead.
I needed a blogging break. I didn't even realize it until I was in Orlando. Taking a week off refreshed me. It turns out, I needed a mental break along with our physical vacation.
You want to rebrand
Taking a break from blogging regularly opens up time to focus on other blogging details. Do you want to update your blog theme? Do you want to change up your blogging categories? Do you want to update your past blog posts with rebranded graphics?
Finding the time to do all this while keeping up a normal blog schedule can be a challenge. If you need to focus on a blog rebrand, taking a blogging break might be the best option.
---
Have you ever taken a blogging break? Share the details in the comments!