This post contains affiliate links.
Since finding out the news about my mom, I've been fortunate enough to spend most of this time at my parents' house in Greenwood. For this week's installment of White Tee Tuesday, my sweet husband took photos of me in my mom's garden.
The first few pictures are by the rain barrel Dan bought for my mom for Christmas last year. The others are up by the pool house, in the Monkey Garden. See if you can figure out why my mom gave it that name!
If you're new to my blog or to this summer series, White Tee Tuesday is all about the many different ways to style a plain white t-shirt.
I own quite the collection of straw hats. My white straw hat is possibly the most versatile, matching all of my bikinis and all of my sundresses. With my fair skin, a hat is a must-have accessory during the summer to protect my face from the sun. I bought this white straw hat on clearance from JC Penney several summers ago.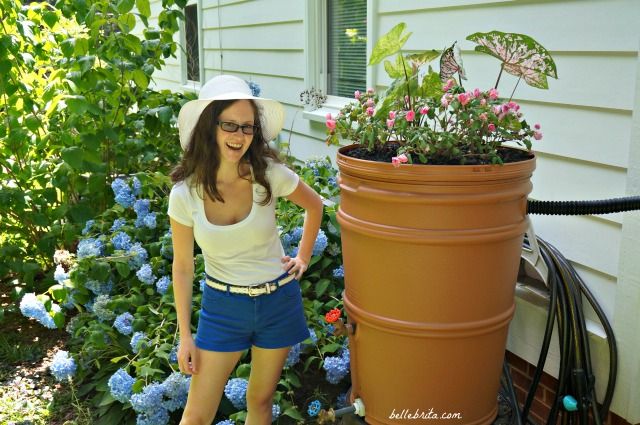 During hot southern summer days, jewelry is an afterthought, or even nonexistent. I hate sweating while wearing pretty delicate necklaces or bracelets! Luckily a belt is an easy way to dress up an outfit, even in the heat. This white belt bordered in rainbow stitching is one of the oldest accessories I own. I bought it at a yard sale when I was in elementary school.
Yes, you read that correctly. At 28, I can wear a belt that I purchased at age 9 or 10. I was puffed up on prednisone back then, and I'm underweight now. Those factors combined make it possible for me to still wear this belt.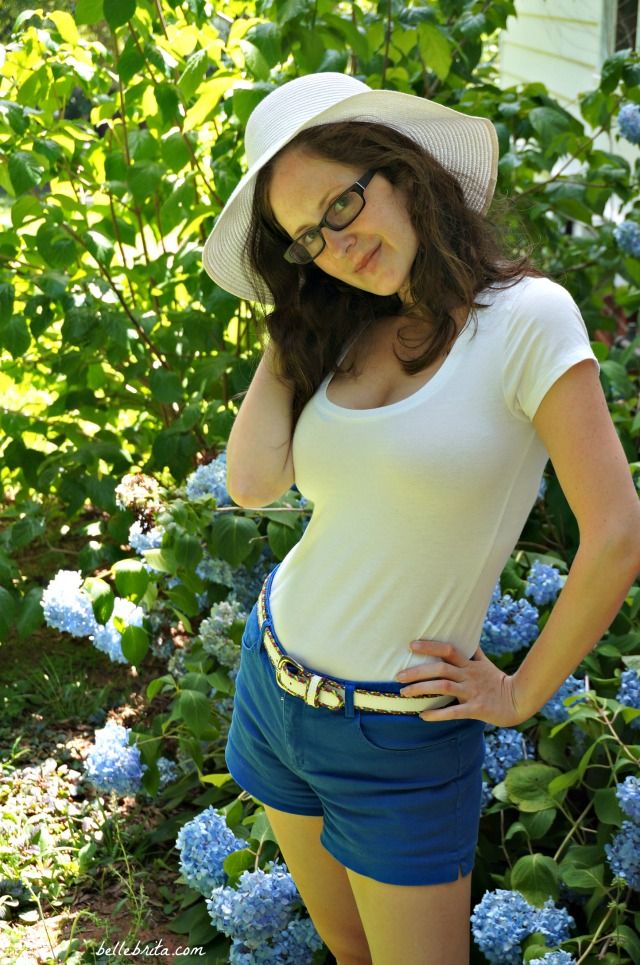 I bought these royal blue shorts from H&M back in 2012, when I lived in Toronto. My year as an au pair in New York and in Toronto is the last time I healthily lost weight.
It's amazing what happens when you go from drinking 2-3 alcoholic beverages per NIGHT and suddenly only drink 1-2 alcoholic beverages per MONTH. Plus I cooked amazingly delicious and ridiculously healthy meals for the kids and me five nights a week, with fresh ingredients that I didn't have to buy myself.
Anyway, so when spring finally arrived in Toronto, I needed new shorts. We lived near an excellent mall with a huge H&M. While I'm a little more wary of the store's ethical practices now, I was ignorant back then about the working conditions in clothing factories. Retroactively getting rid of my "fast fashion" won't help anyone, so I still own pieces made under questionable conditions.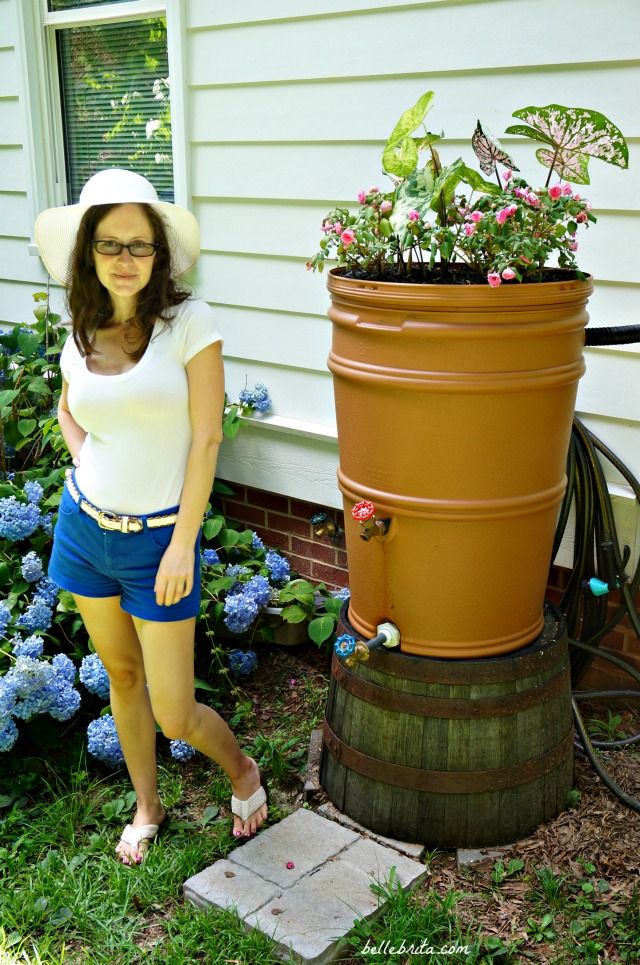 My flip-flops were a spontaneous purchase in Montreal recently. On the first day of our trip, my trusty Kappa flip-flops broke. Dan tied my strap back together until we could find a shoe store. I bought these comfy flip-flops at Payless.
Overall, this is another easy outfit featuring a basic white tee! Take a few neutrals, and add a pop of color. Voila! Easy, breezy summer ensemble with your plain white t-shirt.
---
Four weeks down, five weeks to go! I should probably do laundry this week, or my next photo shoot will feature a dirty white t-shirt.
Have you found any inspiration yet for your own wardrobe? What's your favorite way to wear your white t-shirt? Leave me a comment!