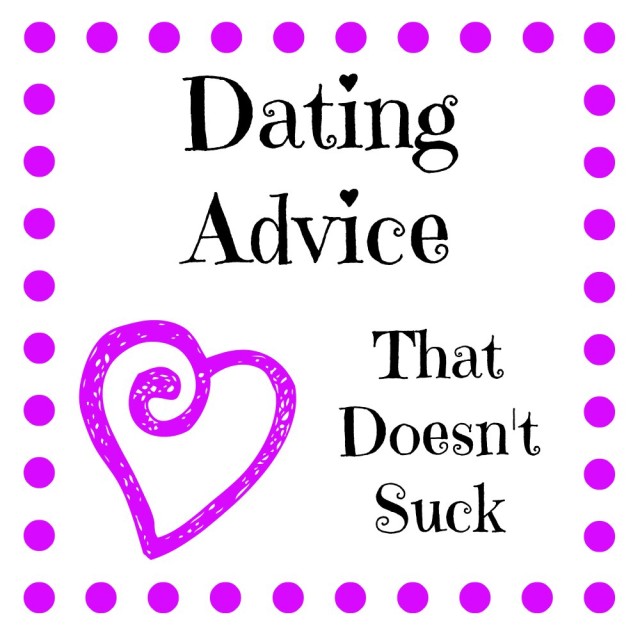 I loved all of your comments on my blog post "Stop Sharing Horrible Dating Advice." I promised to follow up with good dating advice, and I always keep my promises!
General Dating Advice
Your relationship status does not define your self-worth.
There is nothing wrong with being single. There is a lot more to life than finding a significant other. I love being married, but meeting Dan is not my greatest accomplishment in life.
Be the best version of yourself.
This is actually combined advice, from "be yourself" and "improve yourself." I definitely advocate being true to yourself while dating, but a little self-improvement is good for everyone. For example, in regards to appearance on a first date, it's easy to dress one level above your comfort level. For me, this means putting on a comfortable dress or skirt and top with low heels or wedges, and applying a smidgen of make-up. This is a step above my jeans/shorts and sweater/tank with boots/flip-flops and no make-up. For Dan, this looks like nice jeans and a collared shirt.
You also might choose to expand your interests. This does NOT mean forcing yourself to do an activity you hate, but instead, taking the time to discover something new or to engage more with a hobby you already enjoy. If you enjoy doodling, try taking an art class. If you've always wanted to travel, start reading up on foreign countries.
You never want to be someone you're not, especially not to impress a man or woman. That said, you can still put your best foot forward when dating. You need to have something to offer!
Set reasonable expectations.
Supposedly the rise in online dating has ruined dating and relationships because we think we can always find someone better. Dan and I met on OKCupid, so that trope certainly didn't apply to us.
No one is perfect. Not me, not Dan, not anyone reading this (except for Jesus, who is totally reading my blog). You can't expect anyone you date to be perfect either.
But don't compromise on what really matters.
Only date someone who respects you, someone who is kind to you. Figure out your other priorities, and don't compromise on those. Like if you don't want kids, you probably shouldn't date someone who wants six of them. If you're super-duper Catholic, you probably should only date other really devout Catholics.
Not everyone wants to date exactly like you prefer, and that's okay.
I've noticed an unsettling tendency for women (and to a lesser extent, men) to rant about how the other gender has "ruined" dating. Men have ruined dating because they won't ask out women directly. Women have ruined dating because they're interested in casual sex. Men have ruined dating because they don't want to pay for a first date. Women have ruined dating because they ask out men themselves.
Seriously. Stop whining.
People are individuals. That means people have individual needs and preferences, and that includes how they want to date. If you're looking for a relationship, don't go out with the person interested in casual sex. If you prefer good old-fashioned courtship, don't date outside of your conservative church.
And if you still date someone totally incompatible with your dating style, don't blame that person when everything blows up in your face.
Dating Advice for First Dates
(and the Second and Third)
Lunch, coffee, or drinks make for a great first date.
It's a short time commitment, with the opportunity for more. If the date is awful, you can end it after an hour or two. If the date is awesome, it's easy to extend it.
A first date is an audition for a second date, not for marriage.
Unless you're following extremely conservative courtship rituals, a first date is not a declaration for marriage. At the end of a first date, ask yourself if you're interested in a second date, NOT if you can see yourself married to that person.
No one owes you sex.
You got all dolled up and you're wearing your best lingerie? Your date still doesn't owe you sex.
You brought flowers and paid for dinner? Your date still doesn't owe you sex.
Enthusiastic consent should always be your standard for sex.
Ready for a first kiss? Go 90% and let your date close that 10% gap.
Even for kissing someone, you need consent. If your date is giving you flirty cues, that could be a sign of nonverbal consent. If you're uncomfortable asking for permission to kiss your date, then lean in for a kiss, but give your date the chance to go for it too. Or, in case your date isn't ready, give your date a chance to turn away or withdraw.
Yes, ladies, you can make the first move too.
I totally initiated mine and Dan's first kiss, at the end of our second date. Not everyone will be comfortable doing this, but if you are, go for it! Just go for it 90%.
---
What did I miss? I tried to be thorough without writing a novel on dating advice. Now it's YOUR turn to spill! Share your best dating advice in the comments!