Post contains Amazon Affiliate links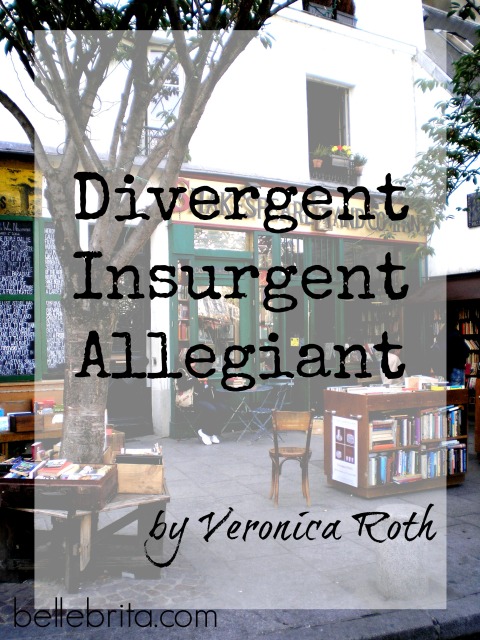 I finally got around to reading the latest craze in Young Adult dystopian literature: Divergent, Insurgent, and Allegiant by Veronica Roth. Not to go all hipster on y'all, but I've been reading dystopian novels since before Hollywood cared about the genre. While I don't normally jump on the movie adaptation bandwagon, I had outside encouragement to finally pick up Veronica Roth's trilogy. Megan's Summer Book Challenge included three categories easily fulfilled by Divergent, Insurgent, and Allegiant. Who am I to refuse an easy way to meet three book requirements?
Note: It is near-impossible for me to review Allegiant without spoiling Insurgent, or to review Insurgent without spoiling Divergent. I will try to avoid spoiling too many specifics, but just be forewarned that if you choose to keep reading, you will find spoilers for Divergent, Insurgent, and Allegiant.
Divergent
One choice can transform you. Beatrice Prior's society is divided into five factions—Candor (the honest), Abnegation (the selfless), Dauntless (the brave), Amity (the peaceful), and Erudite (the intelligent). Beatrice must choose between staying with her Abnegation family and transferring factions. Her choice will shock her community and herself. But the newly christened Tris also has a secret, one she's determined to keep hidden, because in this world, what makes you different makes you dangerous.
Thoughts
Divergent is an action-packed, fast-paced novel with a large cast of well-developed characters. In fact, it's a little too fast-paced, and considering how many characters eventually die, I wish more of them had been stock characters. Beatrice joins Dauntless, and their initiation starts immediately, with some of the failures not just ending up factionless, but dead. I realize this is a dystopian universe, and the point of dystopian literature is to create a futuristic or alternate universe that is peaceful on the surface, but actually deeply flawed. And usually the author makes subtle or not-so-subtle social commentary on present-day reality.
But the action is so fast-paced that Tris doesn't start to question Dauntless or their initiation until well after other transfers die. Spoiler alert: a lot of people die in this trilogy, and the first people who die aren't part of the aforementioned large cast of well-developed characters. They're transfer initiates (born into a faction other than Dauntless) who can't succeed with the very beginning of the initiation and die. And Tris spends like a paragraph thinking about it before moving on.
Other than that, I love the way the plot unfolds. The reader learns more about the factions, about Dauntless, and about being Divergent along with Tris. The romance between Tris and Four emerges slowly and feels natural, not forced. I also love that it's never the central plot, although it is a catalyst for action.
The ending is basically a cliffhanger. If I had read Divergent when it first debuted, this would have annoyed me. I think books should feel complete on their own, even if the reader knows another book comes next in the series. But since I was able to fairly easily check all of these out from the library (having access to multiple digital libraries in the country helps), the ending just made me eager to read Insurgent.
Insurgent
One choice can transform you—or it can destroy you. But every choice has consequences, and as unrest surges in the factions all around her, Tris Prior must continue trying to save those she loves—and herself—while grappling with haunting questions of grief and forgiveness, identity and loyalty, politics and love.
Tris's initiation day should have been marked by celebration and victory with her chosen faction; instead, the day ended with unspeakable horrors. War now looms as conflict between the factions and their ideologies grows. And in times of war, sides must be chosen, secrets will emerge, and choices will become even more irrevocable—and even more powerful.
Transformed by her own decisions but also by haunting grief and guilt, radical new discoveries, and shifting relationships, Tris must fully embrace her Divergence, even if she does not know what she may lose by doing so.
Thoughts
Insurgent is necessarily darker than Divergent, which was already a fairly dark novel. Although not labeled as such, Tris suffers from PTSD from the violent confrontation in the previous novel and can no longer handle a gun. This adds some gritty realism to her almost super-human, divergent abilities.
While the plot continues to be intriguing and exciting, the best part of Roth's writing is her examination of humanity, the difficult choices we make under great pressure, and how different individuals grapple with moral shades of gray. While some of the characters carried over from Divergent to Insurgent are clearly the good guys, and others are clearly the bad guys, several of the key players fall somewhere quite uncomfortably in-between. How do you judge the actions of a character making brave, selfless decisions, from a thirst for revenge? Or the actions of a character making brave, selfish decisions, because he's incapable of being in debt to another? If nothing else, Insurgent will make you think.
And, just like the book before it, Insurgent ends on a cliffhanger, making you desperate to read Allegiant.
Allegiant
What if your whole world was a lie? What if a single revelation—like a single choice—changed everything? What if love and loyalty made you do things you never expected?
Thoughts
Everything is turned upside-down in Allegiant. I know things were a little crazy in Divergent–like discovering the concept of Divergence, and Jeanine's crazy, evil mass murder. And Insurgent was pretty crazy too, with the betrayals and secrets and discovery of the outside world. But Allegiant is totally different.
First of all, the narrative structure is different, alternating POVs between Tris and Four. I loved learning more about Four's motivations and his complex feelings about his parents.
But the biggest revelation is the outside world and the genetic meaning behind the Factions and Divergence. In a way, the dystopian Chicago society is a dystopia within a dystopia. At first, the outside world seems like a sanctuary, a safe haven, a peaceful and organized society that's completely different than the world Tris escaped. But quickly these illusions fall apart.
The illusions fall apart, and basically everyone dies.
The ending couldn't have been more of a punch to the gut than if a comet had hit the Earth and literally killed everyone.
Dan came home from work to find me yelling and crying after finishing Allegiant. I can't remember the last time I was this upset finishing a book.
Should you read Divergent, Insurgent, and Allegiant?
If you enjoy dystopian literature, don't mind crying, and have the time to read a long trilogy (plus a companion book that I haven't picked up yet), then YES, you should read Divergent, Insurgent, and Allegiant. Or if you are trying to bond with teenagers over books they enjoy, this trilogy is incredibly popular and can definitely spark many good discussions with others who have read it.
I would ask y'all what I should read next, but I already have a list about a mile long. What have you read lately? Did you read the Divergent trilogy? What are your thoughts on the dystopian genre?