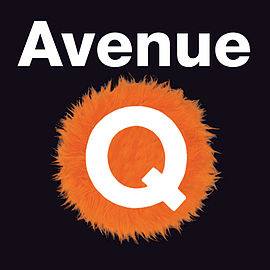 While I'm not a HUGE musical theatre nerd, I'm definitely a medium-sized musical theatre nerd. In middle school and in high school, I performed in many productions at the Greenwood Community Theatre. Even when I wasn't in the show, my family and I used our season passes to attend all the plays. Now I live in Findlay, Ohio, where Dan has introduced me to the Fort Findlay Playhouse. Thursday night, we attended Opening Night of Avenue Q, the off-color and satirical musical with puppets. This was both my first time attending a local production at the Fort Findlay Playhouse and my first time seeing Avenue Q.
Avenue Q Plot Summary
Describing plots as "coming of age" is so cliche at this point, but narratives of personal growth continue to be among my favorites. Avenue Q tells the story of the residents in a New York neighborhood–Avenue Q–over the course of a year. All of them are trying to find their purpose in life while wrestling with life's big problems: relationships, sexuality, unemployment, racism, homelessness, and more. Princeton is a recent college graduate and the newest resident of Avenue Q. He rents an apartment from Gary Coleman (yes, the character is based on the late actor) and becomes romantically involved with Kate Monster.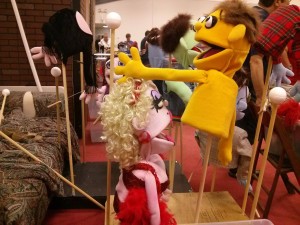 Thoughts on Findlay's Production of Avenue Q
As a theatre veteran, I tend to avoid Opening Night because it's prone to technical errors. Our friends Ginny and Stobbs invited us to join them Thursday, so we attended Opening Night with them. The timing of the set transitions was great, I didn't notice any errors in lighting, and the cast only had one noticeable gaffe near the end. Rarely do local theatres put on such a great performance on Opening Night.
The set for Avenue Q was amazing. I loved all of the little details, like the community bulletin board with posters to "Occupy Sesame Street" and ads for the latest Muppets movie. During the group musical numbers, which took advantage of the entire stage, parts of the set moved in time to the music, like the fire hydrant and a trash can. With good lighting and clever props, the show portrayed different settings, even while the main background stayed unchanged.
The entire Findlay cast of Avenue Q gave strong singing and acting performances. That said, I still noticed a few standout performers and a few areas that need improvement. Samantha Henry (Kate Monster) completely wowed me with her singing voice, her facial expressions and movement, and her acting ability. Avenue Q is a musical that is almost all songs, with very little dialogue that isn't sung. Acting while singing takes incredible talent, and Samantha totally has it. Wes Taylor (Nicky) nailed his puppet's voice. Think about how distinctive the puppet voices are in Sesame Street or any Muppets film. They're a comedic blend of human and cartoon. Wes does that perfectly.
The Fort Findlay Playhouse is a small theatre, so I didn't expect any problems hearing the performers. Unfortunately, some of the cast members didn't project their voices very well. I know this is hard–I spent hours practicing my two solos as Kelsi in High School Musical: On-Stage so I could sound both good AND loud. But if I can do that in the Greenwood Community Theatre, which is 2-3 times as big as the Fort Findlay Playhouse, then the actors here should be able to do that too.
Thoughts on Avenue Q Itself
Avenue Q markets itself as smart, edgy, realistic, satirical, etc. And I will be honest–I spent the entire two hours laughing loudly, and I elbowed Dan more than once at my favorite moments.
But…
"Ironic" racism and "hipster" sexism are still fucking problematic.
SPOILERS BELOW
Racism in Avenue Q
One of the characters is a Japanese immigrant named Christmas Eve. She is almost every single racist stereotype imaginable for any Asian immigrant all rolled into one. I don't fault the Findlay actress for being white, since I realize a small-town production would have trouble casting an actual Japanese woman. I fault the creators for writing such a cringe-worthy stereotype. At one point, Christmas Eve is offended when her fiancé/husband calls her Oriental, which I think is supposed to be a wink and nod that the racism is ironic? But instead of coming off as a condemnation of racism, the irony falls flat into just regular racism.
On the surface, the catchy song "Everyone's a Little Bit Racist" spreads a good message. It forces people to acknowledge they're racist, even when they think they're not. But the actual lyrics express a more problematic message. Not only do they equate individual prejudices of white people with individual prejudices of people of color (POC), the lyrics also suggest that since we're "all" a little bit racist, we should just accept it. No call to improve ourselves. No condemnation of racist attitudes. No acknowledgement of white supremacy or historic oppression of POC.
From The Angry Black Woman:
The core flaw of the song lies in its unquestioned flattening of the power structure of racism. It equates racist jokes with acts of historical discrimination; the attitudes of an oppressed group with the attitudes of its oppressors; and doesn't address the continuing systemic aspects of racism at all. Racism, this song suggests, is just about people's ordinary dislike for others who are different from them, and if we'd all just relax and let it all hang out, we'd get over it.
Are we all a little bit prejudiced? Yeah. But that doesn't mean that our prejudices come from the same history, nor does it mean that our prejudices will have the same effect or power on others.
Sexism in Avenue Q
Kate Monster needs a boyfriend to feel happy and fulfilled. Princeton needs a purpose in life to feel happy and fulfilled. And at the end, Princeton essentially "saves the day" and "rescues" Kate.
Lucy the Slut is a sexy singer in control of her own sexuality, so clearly she's a bad character. Her character's name is slut. Literally the rest of the cast sings about using the Internet for porn, portraying porn as totally normal and not at all demonized. And when Princeton has sex with Lucy the Slut, he's just a naive guy who made a mistake, but she's an evil temptress.
In summary: Kate has very little agency over her own plot. What little agency she does have is tied up in getting a boyfriend. Lucy the Slut DOES have agency, but is the show's villain for it.
Is the Sex Scene Consensual?
My number-one problem with Avenue Q is when Princeton and Kate Monster have sex. I giggled throughout the number, which is a bunch of puppets singing about how it's okay to be loud during sex. Who wouldn't laugh at two naked puppets having sex on stage?
But the set-up for the sex scene implies that Kate Monster is completely wasted. In the scene before, the Bad Idea Bears convince Kate Monster and Princeton to have several strong drinks. Then the Bad Idea Bears split up with Kate Monster and Princeton, one getting Kate Monster drunker and the other persuading Princeton to have sex with Kate Monster because she's drunk.
I realize that in the context of this show, we are supposed to assume that Princeton and Kate Monster, while drunk, are aware enough to consent to sex. Princeton asks Kate to be his girlfriend after, and they're all cute and lovey-dovey in bed. After all, the show's plot has been building to this exact moment! Even I was swept away in the cute-but-awkward (and inappropriate) romance of it all.
I couldn't ask for a better example of rape culture. This show romanticizes a guy getting a girl wasted so she'll say yes to sex. In real life, when a person intentionally plies another person with alcohol for sex, knowing that person would say no to sex if sober, that is rape.
Should You Go See Avenue Q at the Fort Findlay Playhouse?
Yes, absolutely. While the writing is problematic, it's hilarious. And Findlay's production of it is wonderful.
Yes, you can like things that are problematic. Great resources here and here.