While I didn't meet my Goodreads goal of 36 (new) books, I still challenged myself as a reader in 2019. I also accomplished my overall goal of working through books I already owned, which is easier said than done! Most importantly, I had fun reading, which should be the primary goal anyway.
I did slack off last year in my book reviews. While I wrote brief reviews on Goodreads and in my Monthly Goals posts, I didn't do any book review blog posts. This post will make up for that!
So what did I read in 2019?
Inspiration for this annual book review comes from The Perpetual Page-Turner!
Note: This post includes Amazon affiliate links.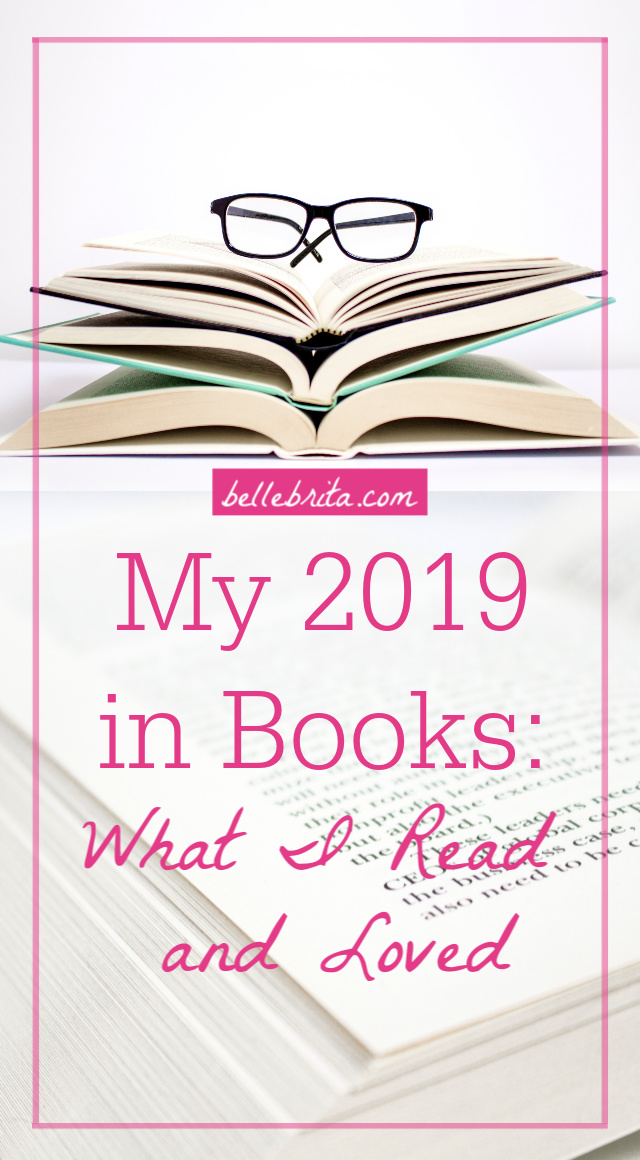 2019 Reading Stats
Number of New (to You) Books You Read: 29
Number of Re-Reads: 12 (I think)
Genre You Read The Most From: Definitely fantasy this year, with a heavy dose of Young Adult. And quite a bit of Young Adult Fantasy.
Number of Fictional New Books: 27
Number of Non-Fictional New Books: 2
Shortest New Book: Almost Too Far by A.O. Peart, 130 pages
Longest New Book: The School for Good and Evil by Soman Chainani, 544 pages
Breakdown of New Books by Gender: 24 books by women, 5 by men. My rereads (that I remember) were all written by women.
Notable Diverse Authors: I definitely broadened my horizons this year! While I always read a great deal of books by women, they tend to be straight, white women. I read more books this year by queer authors and authors of color.
2019 Belle Brita Book Awards
I read so many great books this year that I can't choose just a single favorite. These are mostly the same categories I used last year. I've also shared summaries copied from Amazon along with my own brief reviews.
Best Book You Read in 2019?
The Impostor Queen by Sarah Fine
Sixteen-year-old Elli was a small child when the Elders of Kupari chose her to succeed the Valtia, the queen who wields infinitely powerful ice and fire magic. Since then, Elli has lived in the temple, surrounded by luxury and tutored by priests, as she prepares for the day when the Valtia perishes and the magic finds a new home in her. Elli is destined to be the most powerful Valtia to ever rule.

But when the queen dies defending the kingdom from invading warriors, the magic doesn't enter Elli. It's nowhere to be found.

Disgraced, Elli flees to the outlands, the home of banished criminals—some who would love to see the temple burn with all its priests inside. As she finds her footing in this new world, Elli uncovers devastating new information about the Kupari magic, those who wield it, and the prophecy that foretold her destiny. Torn between the love she has for her people and her growing loyalty to the banished, Elli struggles to understand the true role she was meant to play. But as war looms, she must align with the right side—before the kingdom and its magic are completely destroyed.
Where do I even begin?
creative and complex world-building
great character development
moral ambiguity with some characters
fascinating plot
awesome reveals near the end
Oh, and one last thing…
A bisexual protagonist, except her sexual orientation is not a central part of the plot or her character development. It only affects her potential relationships, and those relationships (obviously) affect her character development. Otherwise, it's just part of who she is, and not a big, horrible THING.
THIS IS THE FANTASY PROTAGONIST I'VE WANTED MY ENTIRE LIFE.
I'm not crying you're crying.
Most surprising (in a good way or bad way) book you read?
Sisters First: Stories from Our Wild and Wonderful Life by Jenna and Barbara Bush
Born into a political dynasty, Jenna and Barbara Bush grew up in the public eye. As small children, they watched their grandfather become president; just twelve years later they stood by their father's side when he took the same oath. They spent their college years watched over by Secret Service agents and became fodder for the tabloids, with teenage mistakes making national headlines.

But the tabloids didn't tell the whole story. In SISTERS FIRST, Jenna and Barbara take readers on a revealing, thoughtful, and deeply personal tour behind the scenes of their lives, as they share stories about their family, their unexpected adventures, their loves and losses, and the sisterly bond that means everything to them.
I didn't expect to like this book as much as I did. I was also humbled by realizing how many of my assumptions about the Bush sisters were wrong. It was a good reminder not to judge people based on their family!
Best series you started in 2019?
The Impostor Queen trilogy by Sarah Fine
While the first book is my favorite of the three, the whole trilogy was sooooo good.
Most action-packed/thrilling/unputdownable book of the year?
Big Little Lies by Liane Moriarty
A murder…A tragic accident…Or just parents behaving badly? What's indisputable is that someone is dead.

Madeline is a force to be reckoned with. She's funny, biting, and passionate; she remembers everything and forgives no one. Celeste is the kind of beautiful woman who makes the world stop and stare but she is paying a price for the illusion of perfection. New to town, single mom Jane is so young that another mother mistakes her for a nanny. She comes with a mysterious past and a sadness beyond her years. These three women are at different crossroads, but they will all wind up in the same shocking place.

Big Little Lies is a brilliant take on ex-husbands and second wives, mothers and daughters, schoolyard scandal, and the little lies that can turn lethal.
This was SUCH a page-turner. I couldn't put it down. I also enjoyed watching the HBO mini-series.
Favorite cover of a book you read in 2019?
This is the third book in The Impostor Queen trilogy. I'm not sharing the summary since it reveals spoilers for the first two books. All of the three books have gorgeous covers, but this one is my favorite!
Book you can't believe you waited UNTIL 2019 to finally read?
A Thousand Splendid Suns by Khaled Hosseini
Born a generation apart and with very different ideas about love and family, Mariam and Laila are two women brought jarringly together by war, by loss and by fate. As they endure the ever escalating dangers around them-in their home as well as in the streets of Kabul-they come to form a bond that makes them both sisters and mother-daughter to each other, and that will ultimately alter the course not just of their own lives but of the next generation. With heart-wrenching power and suspense, Hosseini shows how a woman's love for her family can move her to shocking and heroic acts of self-sacrifice, and that in the end it is love, or even the memory of love, that is often the key to survival.

A stunning accomplishment, A Thousand Splendid Suns is a haunting, heartbreaking, compelling story of an unforgiving time, an unlikely friendship, and an indestructible love.
This has been sitting on my bookcase for too long. I'm glad I finally picked it up! It was heartbreaking in so many ways, but an absolutely beautiful story of friendship and heroism.
Most Unique Book You Read in 2019?
All the Birds in the Sky by Charlie Anders
An ancient society of witches and a hipster technological startup go to war in order to prevent the world from tearing itself apart. To further complicate things, each of the groups' most promising followers (Patricia, a brilliant witch and Laurence, an engineering "wunderkind") may just be in love with each other.

As the battle between magic and science wages in San Francisco against the backdrop of international chaos, Laurence and Patricia are forced to choose sides. But their choices will determine the fate of the planet and all mankind.

In a fashion unique to Charlie Jane Anders, All the Birds in the Sky offers a humorous and, at times, heart-breaking exploration of growing up extraordinary in world filled with cruelty, scientific ingenuity, and magic.
This was the most unique in a good way. The magic. The science. And then the way they intermingle. I loved it all!
Best Book from a Genre You Don't Typically Read?
A Thousand Splendid Suns by Khaled Hosseini
I don't often read books set outside the United States or Europe. This is the first book I ever read set in Afghanistan. I highly recommend it!
Most Thought-Provoking/ Life-Changing Book of 2019?
The Hate U Give by Angie Thomas
Sixteen-year-old Starr Carter moves between two worlds: the poor neighborhood where she lives and the fancy suburban prep school she attends. The uneasy balance between these worlds is shattered when Starr witnesses the fatal shooting of her childhood best friend Khalil at the hands of a police officer. Khalil was unarmed.

Soon afterward, his death is a national headline. Some are calling him a thug, maybe even a drug dealer and a gangbanger. Protesters are taking to the streets in Khalil's name. Some cops and the local drug lord try to intimidate Starr and her family. What everyone wants to know is: what really went down that night? And the only person alive who can answer that is Starr.

But what Starr does—or does not—say could upend her community. It could also endanger her life.
I heard so many amazing things about this book so it was at the top of my list to read in 2019. It absolutely lived up to the hype. You will laugh, you will cry, and you will definitely think.
Other Notable Books I Read in 2019
I was fortunate to receive many review copies of books this year! In fact, I had to stop accepting books because my stack of books just kept piling up. I received all of the following books from book publishers in exchange for my review. All opinions are my own!
In Croswald, the only thing more powerful than dark magic is one secret…

For sixteen years Ivy Lovely has been hidden behind an enchanted boundary that separates the mundane from the magical. When Ivy crosses the border, her powers awaken. Curiosity leads her crashing through a series of adventures at the Halls of Ivy, a school where students learn to master their magical blood and the power of Croswald's mysterious gems. When Ivy's magic––and her life––is threatened by the Dark Queen, she scrambles to unearth her history and save Croswald before the truth is swept away forever.
I loved the world-building, the characters, the intrigue. Some of the world-building was a little much. Like, there was just SO much to absorb that it was hard to keep track of all the details. Overall, I really enjoyed this book and can't wait for the next one!
Caleb Swift knows he's a complicated guy. He sees the unseeable: winged beings that haunt both his dreams and his waking visions. He knows the unknowable: horrifying visions of countless unspeakable futures he feels powerless to prevent. And if that weren't bad enough, these potent revelations might be driving him insane.

Who needs that kind of trouble?

Not Caleb. He's doing his best to live a totally uncomplicated life, to ignore the visions of doom that hound him relentlessly. But no matter what he does, one particular vision still plagues him. The one with the girl. The girl who's in mortal danger (or will be soon). The girl only he can save.

Now Caleb has a choice. To ignore his gift, to live the ordinary life he so desperately desires, even if it means letting her die…

Or to act. To interfere. To become extraordinary. And let one girl's future turn his present completely upside-down.
I appreciated the overall premise, the lore, and the characters. My main criticism is a lack of realistic emotion surrounding a traumatic event. This is the first in a series, and I look forward to reading more!
You do magic once, and it sticks to you like glitter glue… When Johnny and his best friend, Alison, pass their summer holidays dabbling in magic, they never expect it to have consequences. Sure, it'd be great if they could banish bullies or change their lives for the better, and what harm could come from lighting a few candles and chanting a few spells? They get their answer in the form of an earthquake unleashed at their behest, which draws the attention of the Marduk Institute, an age-old organization dedicated to fostering the talents of young wizards. Whisked away to the institute and told they can never return to their old lives, Johnny and Alison must quickly adapt to a new world shimmering with monsters, fraternities, and cute boys like Hunter and Blake. But when they're pulled into a dark, supernatural fight that could cost them their lives, they'll have to find strength they never knew they had as they battle for love, acceptance, and their own happy endings — all with the help of a little bit of magic.
This is one of the most creative books I've read in a long time. Almost everything about this book delighted me, and so much of it delighted me in completely new and surprising ways.
Author Santoni also does this wonderful writing through Johnny's POV that mingles the real world, the dream world, and metaphors so that you're not sure at first if things are actually happening or just imagined. This is all the more brilliant the more the reader learns about the power of dreams and imagination for wizards.
The book doesn't quite end on a cliffhanger, even though there are unanswered questions. The book still feels complete by itself, while still leaving the reader wanting more.
Overall, this is an incredible debut novel, and I'm so grateful that I had the opportunity to read an ARC! I can't wait to see what Santoni writes next.
Griffin Tomlin is dead. And Clara's sister killed him…

Four months after the murder, the entire town of Shiloh is still in shock. For Clara Portfield, the normal world has crumbled around her in a million chaotic pieces. Now Clara lives in a new reality, where her sister awaits trial for murder, her mother obsessively digs in a dead, frozen garden, and her father lives and breathes denial. At school, Clara is haunted by her classmates' morbid curiosity—and all of the unspoken questions they won't ask.

But none of them knows what she knows…

Now Clara's sister wants something from her—the one thing in all of this that Clara isn't ready to face: the truth about what really happened that night. Because this story didn't die with Griffin Tomlin. There's another story that needs to be told. And sometimes, the lies we're told are nowhere near as deadly as the lies we tell ourselves…
Little by little the mystery–and the truth–unfold. The storytelling is beautifully done, with flashbacks and the present coming together to tell the full story. Nothing is quite what it seems. A really great book. If you liked Gone Girl and Big Little Secrets, you'll enjoy this book.
Jack Carlson is dreading a class presentation when he suddenly finds himself transported to the Hadley Academy, a secret institution that tracks teens with unlikely gifts and trains them to protect the world from an unseen squad of killers. But Jack isn't the only one who doesn't know what he's doing at Hadley. Despite indications that he is the one prophesied to end the ancient Reaper War, Jack appears to have no extraordinary abilities.

So when dark, mysterious forces grow, Hadley is in a confused panic. Much to everyone's dismay, humanity seems to depend on Jack and his new teammates. Can Hadley's rawest recruits push past personal struggles and enormous doubts, develop their dormant powers, and stop the spreading evil? And are they willing to commit to Hadley's motto, "One Life for Many," and make the ultimate sacrifice? The Hadley Academy for the Improbably Gifted might be just the place for Jack after all.
This is one of the most creative and innovative works of YA fantasy that I've read in a long time. The characters, the world-building, the magic-as-science, everything. This novel completely captivated me from beginning to end.
While this book is probably the first in a series, it still felt complete at the end. Not all books in a series manage to do this. I appreciate when a book in a series still feels like a satisfying standalone novel.
Some of the twists completely blew me away, although I did predict one twist.
I hope the author writes a sequel soon!
Nestled within an enchanted forest is the Grove, a community where witches and warlocks practice natural magic, brew mystical potions, and lock their cellars against beer thieving gnomes. Life is quiet and uneventful. Well, except when Hazel's long-lost father uses necromancy to trap her dead mother's soul.

That simply won't do. Necromancy is forbidden in the Grove, and for good reason too. Nobody wants filthy corpses shambling around, mussing up one's garden. Hazel is determined to find her father and undo his treachery.

But despite Hazel's plans of becoming a one-woman army, she can't do everything alone. It's not until wild sister Holly convinces her to leave the house for once and go to a party that Hazel finds a pair of unlikely allies in two bickering warlock brothers.

Together, the four of them go on a journey that takes them out of the Grove and into a world where necromancy reigns and the dead won't respectfully stay in the grave. Hazel will do whatever it takes to stop her father and save her mother's soul. Even if it means turning to necromancy. Even if it means losing her friends. Because they would never help a necromancer. Would they?
I love the world-building, the magic, the characters. The plot gets a little convoluted at times, but the overall story is a coming-of-age novel centered around family and friendship.
---
I don't have any big reading goals for 2020. I want to read more of what I already own, plus read more nonfiction. Most of all, I just want to read for fun.
What did you read in 2019? Do you have an recommendations for what I should read this year?