If you follow me on Twitter, then you probably know that I work from home, managing social media, writing press releases, and more for Cynexis Media. And while some business people advocate for professional dress even in a home office, I do not. Even when I do go into the office in Columbus, I wear jeans with a hoodie, or shorts with a tank top. At home, I usually rock pajamas or sweats since no one ever sees me. While I'm normally quite happy wearing comfortable, casual clothes, I take the time to put together cute outfits when Dan and I go out.
Several weeks ago, our friend Angela visited for several days while Dan was out-of-town for work. Dan came back in time for our weekly Game Night, when we share in a potluck dinner with a bunch of friends and play board games. Decked out in black and white stripes, I asked Angela to take a few pictures of me before we met up with our group.
Excited to see @belle_brita – we are going to have so much fun! pic.twitter.com/LTtRHxnUSd

— Angela Brown (@hnybrown18) July 22, 2014
I enjoy modeling in the backyard, but I feel guilty asking Dan to take pictures of me all the time. It was nice convincing someone else to be my photographer for the evening!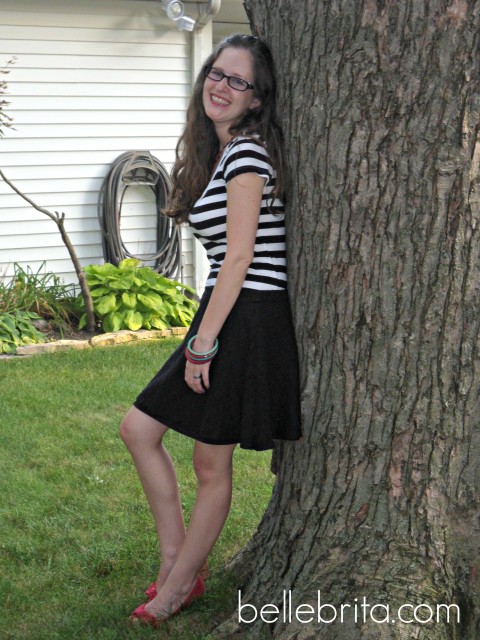 Fun story. I own these wedges in red and in black. At the time, I resisted buying them in white and in brown, because I was also buying gold wedges for a wedding. The three pairs together were already about $100. But they are the absolute best wedges, and I really wish I had them in every color imaginable.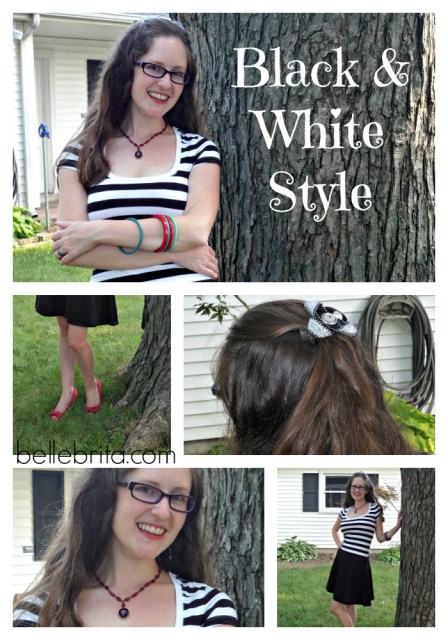 I've had this necklace for over a decade. I bought it at a store long-forgotten on a trip to California to visit my childhood best friend Gabrielle. My bow is a custom-made piece from my friend Meagan, owner of Rainshine Stitches. I bought the bangles from a vintage store in downtown Greenville when I was a student at Furman.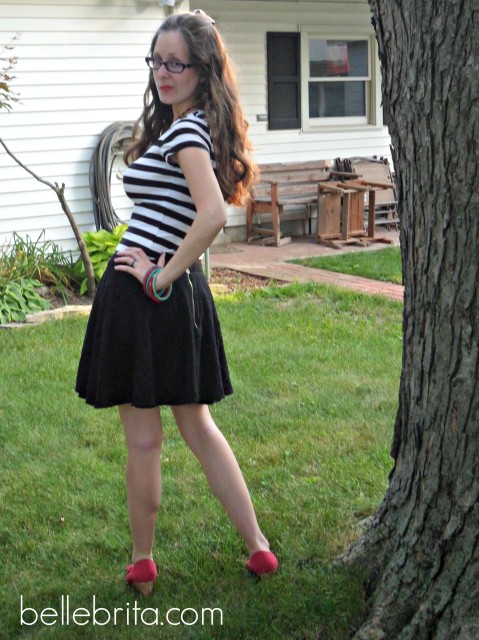 I love this scoop-neck tee by a.n.a. petites so much that when I was still working at JCP, I bought it in four colors. Keep an eye out in future posts for this shirt in white, black, and hot pink.
My skirt is actually from the Juniors department at JCP. After being mistaken for a high school student on multiple occasions while working there last year, I finally decided that if I looked young, I could dress young. This black skirt was on clearance, and I had a $10 reward to redeem as well. With my discount, the skirt was basically free.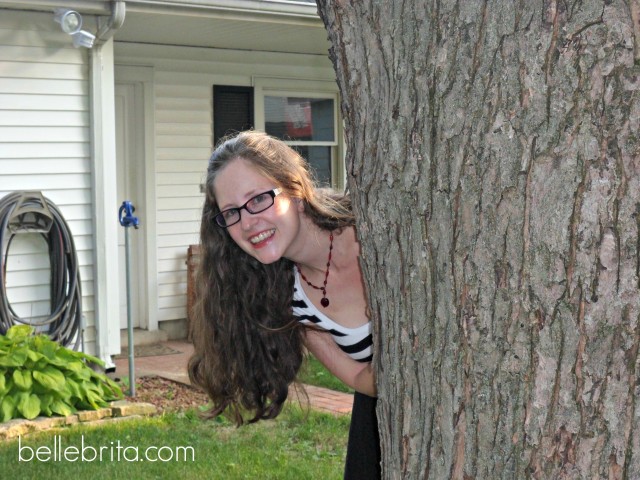 Where do you like to shop? What bargains have you scored recently? Let me know in the comments!