On March 10, 2022, I received an unexpected email from LinkedIn.
Normally Gmail sorts these into my Social tab, which I clear out a few times a week. But this email made it into my regular inbox… And the subject line intrigued me.
"SEO Copywriter & Content Optimization Manager for Top 3 in Industry"
I opened the email. It was from a recruiter. This is what it said.
I saw that you were in the job market and I wanted to speak with you about our opening at Insight Global for an SEO Copywriter & Content Optimization Manager.

I have included some quick notes on the role below, do you have 5 minutes to connect on a call today?
My schedule was full that day, but I replied back with my availability for the next day, and we set up a time to talk.
Before I go further, I need to give a brief overview of my health and my career over the last few years.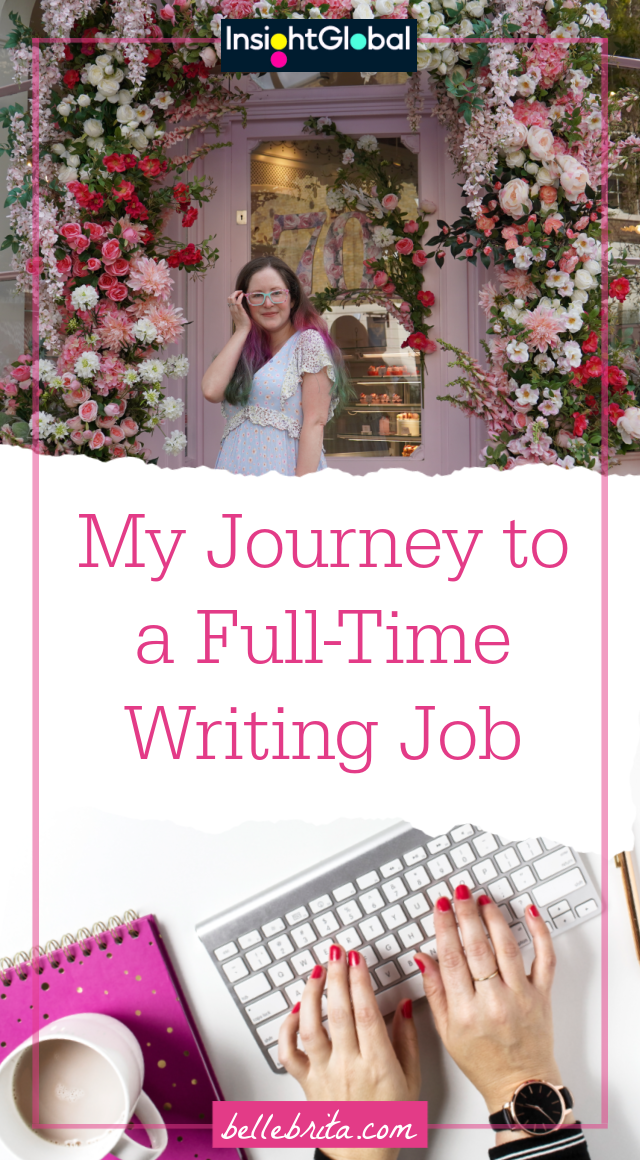 Life as a Struggling Freelancer
I started Belle Brita on July 4, 2014–almost exactly 8 years ago!
In February 2015, my blog went viral with my satirical blog post "My Husband Didn't Take My Last Name." Shortly after, my early SEO efforts started paying off, and my overall blog traffic was enough to apply to a few ad networks.
Even with my ongoing health problems, and the challenges of moving from Ohio to Georgia, I started dedicating all of my free time to Belle Brita.
In May 2015, after months of discussion with my husband, I quit my "full-time" job working for a digital marketing agency. (I was illegally classified as an independent contractor, and I was underpaid). The plan was to pursue blogging and freelance writing full-time.
Not long after my last day at my job, my family received the hard news that my mom had entered hospice care. I moved back home almost full-time to be with her before she died, only returning to Georgia for medical appointments.
At one of those medical appointments, my new gastroenterologist gave me the hard news that my Crohn's had gotten bad enough to need biologics, a type of treatment I had successfully avoided for over 15 years. I immediately started Remicade, an infusion (treatment given via IV) that took hours each time.
With my physical health and my mental health both shot, my blogging goals vanished. My motivation plummeted.
I honestly never fully recovered.
I never regained the focus I had as a blogger before my mom entered hospice care.
Getting Sidetracked
I was feeling better on Remicade. I reached a healthy weight. With newfound energy, I even started working out periodically.
My grief was still raw, but I gave myself permission to practice self-care on bad days. I started blogging about grief, and over the years, I've helped other people cope with the early death of a parent.
For awhile I was in an okay groove of blogging and learning. My page views were growing, my social media followers were growing, and I was starting to work with brands. My friend Kelly gave me a free blog makeover. I hosted my own blogging challenge that created some of my most-popular blog posts, and–more importantly–established some of my lasting blogging friendships.
And then I started getting distracted.
First, I became a blogging course junkie. I am entirely embarrassed to admit how many books on blogging and courses on blogging and worksheets on social media and workshops on marketing I have purchased.
The only guides I ever read from start to finish, AND implemented extremely well, were the guides from The Social Media Posse. (affiliate link)
Which led me to my next distraction: becoming a social media influencer.
At one point, I had over 35,000 followers on Instagram. But between algorithm changes and a massive Instagram hack that permanently screwed up my account, the stress became too much for me.
Meanwhile, my next (and best!) distraction arrived: becoming a Harry Potter influencer.
Wizards Unite
In 2017, I was making a small, but steady amount of money every month through affiliate marketing and brand partnerships. Obviously this was great, but it meant that my blog and Instagram were both 90% work, 10% creative outlet. When Niantic and WB Games announced the development of Harry Potter: Wizards Unite, I found my new creative outlet: a Wizards Unite YouTube channel.
That led me to writing (unpaid) for Wizards Unite Hub, which quickly led to me becoming the (unpaid) editor-in-chief of Wizards Unite Hub.
My YouTube channel also introduced me to fellow Wizards Unite YouTubers, many of whom are now among my closest friends.
A month or so after the game finally came out, the owner of Wizards Unite Hub started paying me (below market rates) for my writing and my editing. He also gave me the freedom to use affiliate marketing, to sell merch, and to start a Patreon.
It was around this time when I officially stopped being an Instagram influencer in order to prioritize my mental health. My affiliate income on Belle Brita had dropped, and I wasn't getting sponsored Instagram posts anymore. Luckily, my income from Wizards Unite Hub replaced my lost Belle Brita income.
An Interlude on My Health
I continued to struggle with my Crohn's Disease. Treatments that once worked stopped working. I also spent a lot of time battling health insurance.
I probably developed full-blown depression around August/September 2016, when my gastroenterologist told me I was still too sick for a safe pregnancy. That news, which I couldn't discuss with my mom, broke me, but it took me another year to seek professional help and get an actual diagnosis.
I got shingles in March 2019, which possibly led to long-term chronic fatigue. With a chronic illness, it's hard to single out an exact cause of new symptoms. All I know is that months after my shingles had faded, I was still sleeping 10-11 hours most nights. I struggled on any day if I only got 9 hours of sleep. Only in the past year have I gotten back to the point of being okay with 8-9 hours of sleep each night.
I knew that I was struggling with the focus and the organization necessary to succeed as a full-time blogger and freelance writer. Periodically I looked for jobs in writing, editing, or marketing, but I couldn't find anything local. With my chronic fatigue, I couldn't handle a daily commute.
Then the pandemic happened.
Applying for Remote Work
If there's a silver lining to the pandemic that has ravaged the world and killed over 6 million people, it's the increased availability of remote work and hybrid schedules.
With my new gaming connections and my new experience in gaming marketing, I first started applying for jobs at WB Games. They did not select me for an interview for the first few positions, but I was holding out hope for my dream job as the Community Manager for Hogwarts Legacy.
As the months dragged on without a word, I started applying for other jobs in writing, editing, and marketing.
And then I got the email.
The email asking me to set up a phone interview for the Hogwarts Legacy job.
I had a phone interview, and a video interview, and then another video interview…
Only to lose out to someone with "more relevant experience." (Read: console gaming experience, not Harry Potter mobile gaming experience).
I was completely devastated. I gave myself time to mourn, and then I started applying for jobs again.
Surgery and Travels
On December 2, 2021, I had major surgery to help with my Crohn's. During the long healing process, I obviously paused my job search.
Wizards Unite ended in January, so I also threw myself into the community during those final months, savoring every last moment.
Then Dan and I booked our dream vacation to Europe.
Four weeks, seven countries including Monaco, roughly ten cities without counting each small town in Norway and in France.
I assumed no one would be interested in hiring me with a long and immediate vacation already scheduled, so I planned on resuming my job search in July. That is, right now.
But instead, a recruiter emailed me in March, and now I'm starting a new job, next week, on July 11, 2022.
The Unexpected Job
"I'm going to Europe for four weeks this spring. Everything is already booked, so that's non-negotiable for me. I don't know your timeline for this job, so if that's going to be a problem, I don't want to waste your time."
That's essentially what I said to the recruiter at the beginning of our phone call.
He said my trip wouldn't be an issue, so we continued. We touched on my relevant experience, he described the overall role to me, and he shared the salary range for the job. I expressed my interest, so he sent me the official listing for the job, and I responded back with my resume and my writing samples.
The following week, I had a video interview with my new boss, who was fascinated by my work as a Harry Potter influencer, and who wanted to know my itinerary for Europe.
Side note: You know the interview is going well when the interviewer is visibly smiling and nodding in response to your answers!
The week after, I had another video interview with two other team members. They sold me on the company culture when I asked them if the values stated on the company website are actually seen in the workplace.
A few days later, the recruiter called me with a verbal offer I couldn't refuse.
The Perfect Job Offer
The team was SO impressed with both me and the other candidate that they couldn't decide between us… But my boss had an epiphany.
I was about to head to Europe. The other candidate could start within a few weeks. Why not hire him immediately, and then create a second position for me, with a start date in July?
Honestly, it was perfect. It gave me time to adjust my life for a full-time job. I could go to Europe without using up all of my PTO immediately. I celebrated my dad's 70th birthday at the beach, and I'm writing this from Ohio, where I've enjoyed snuggling my new niece.
My written offer came through literally a week before Dan and I left for Europe. My lawyer *coughmydadcough* looked it over and approved it. I signed it and sent it off. In between loads of laundry, I filled out all of the legal paperwork for my new job, finishing just a few days before we left.
An hour before we left for the airport, I received my "welcome box" in the mail: a box full of goodies to welcome me to the company!
Over the last few weeks, I've heard from my recruiter, my boss, and the onboarding team who oversee Welcome Week.
Yes, part of me feels like an eager college freshman preparing for orientation–I'm okay with that!
The Future of Belle Brita
I'm not going anywhere, but I don't see myself returning to a frequent posting schedule. That went away when Wizards Unite debuted. Even when the game ended earlier this year, I chose to focus my writing on Muddling Through Together.
I created Muddling Through Together in 2017 in honor of my mom. I envisioned a blog and community for Christian women, by Christian women–a place where we could learn from each other and grow in faith together. All of those aforementioned distractions and health issues kept me from prioritizing Muddling Through Together until last year.
In 2021, I published 14 new blog posts, including one submission for a contributor. So far in 2022, I've already published 12 of my own blog posts, and I've talked to two new women about becoming contributors. Considering I've only published 46 total posts since July 2017, I'm really happy with my consistency over the past two years.
I also plan on continuing my Harry Potter YouTube channel, simply because it's a hobby that brings me joy. I'm no longer trying to use my content and my connections to get a job at WB Games, so that alleviates some of the pressure of constant creation.
Finally, I also started a new gaming news website with my friend Mark. Once we really get this up and going, I hope to continue in a mostly editorial role. For now, I plan on writing articles there too.
My Content Goals
With a new full-time job, and a commute for the in-person days, I will have considerably less free time. However, I love writing, I love connecting with people, and I love creating gaming content. I'm just downgrading my content creation from "struggling freelancer" to "creative outlets."
These are my initial monthly goals for my hobbies, starting in August or September.
Write 2 blog posts for Muddling Through Together.
Edit 1 blog post submission for Muddling Through Together.
Publish 3 videos on The Pink Ravenclaw.
Write 1 blog post for Belle Brita.
Write 2 articles for Magical Gamers.
Edit 6 articles for Magical Gamers.
Obviously, I'll have to see how things go with my new job, my energy levels, and my free time. However, with my new income, our budget can accommodate a housecleaner, so that will help a lot! Dan and I will also learn more slow cooker meals and Instant Pot meals.
Plus, I'm taking what I've learned over the last few years about managing my time and prioritizing my interests.
My Plan
Two things helped me reclaim some of my blogging focus for my faith-based website.
I started building a consistent quiet time routine. While I started off slowly and inconsistently in 2019, as I spent more time with God, I wanted to spend more time with God.
I started working through Blog By Number, the absolute best blogging course I have purchased. (affiliate link) I've finally stopped buying other courses, and I just work through the different ones offered through Start a Mom Blog.
Blog By Number is a step-by-step process on creating and growing a blog. I'll keep using these principles to focus on tasks that matter most (writing, building community on Facebook and through my mailing list, promoting on Pinterest) and to let go of shiny distractions. (I'm looking at you, Instagram).
On days when I have to commute, my quiet time will be a podcast. I will also keep a book of short devotionals in the car for me to read once I park. On days when I work from home, I'll still wake up early enough for my current quiet time routine.
Final Thoughts
If you read this whole post, thanks!
I'm really excited to return to full-time work, even though I'll miss the flexibility of blogging and freelancing. Getting paid to write has always been my dream. I'm excited to write for a company that actually lives out its values, values that align with my own.
I am so incredibly grateful to Dan who has supported us financially since 2015. I quit my job to pursue creative work full-time, but I ended up needing these years to improve my physical and mental health.
Dan has also been my biggest cheerleader, reading most of my blog posts and watching most of my videos. My sweet dad has been my other biggest cheerleader, also consuming most of my content and liking all of my posts on Facebook.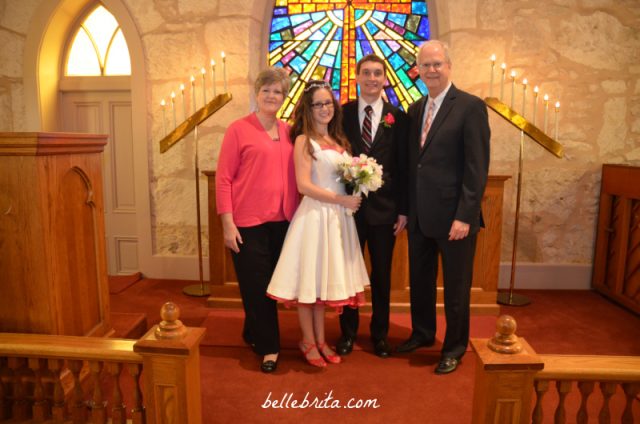 Thank you to everyone who has supported my creative work over the years! Your comments, social shares, purchases through my affiliate links, Kofi donations, and more have truly meant so much to me.
My mom was so proud of my blog. She told everyone who would listen that The Huffington Post picked up my article. I don't know how heaven works, but I believe she's out there somewhere, still proud of me.