It's the last month of the No Buy Style Challenge! This has been a fun fashion blogging collaboration with three of my friends over the last several months. Each month, one of us shares an outfit for inspiration. Then the rest of us create our own ensembles using clothing and accessories we already own!
Over the last few years, I have learned more about sustainability. How can I produce less waste? How can I minimize my negative effect on the environment?
The easiest way to get started with a sustainable lifestyle is by using what you already own and buying less stuff overall. This mindset inspired the No Buy Style Challenge!
I'm here to share my own perspective, not to judge anyone for making their own difficult choices in a capitalist society. That said, the one thing that really turns me off from fashion blogging as an industry is the Buy Buy Buy More More More culture.
I use affiliate links myself.
I completely understand that advertising products is a great way to earn money as a blogger.
But for me personally (because I have financial stability provided by my husband) I can't in good conscience push new clothes on a regular basis. No haul videos. Any try-on videos will revolve around clothing I already own. When I do review new clothing, I'm always careful to encourage my readers to buy something new only if it's truly necessary.
Related: Pact Organic Cotton Leggings Review
Doing the No Buy Style Challenge with my friends has been so much fun. I love seeing how each of us take inspiration from one outfit to create something new. With people still staying at home most of the time, I also hope that our outfits inspire you to shop your closet! Be creative with your existing wardrobe.
For our final month, Callie from Hot Pink and Glitter shared the inspiration photo. When she emailed us, she described this outfit as "Something a little wild and a little Lisa Frank inspired LOL."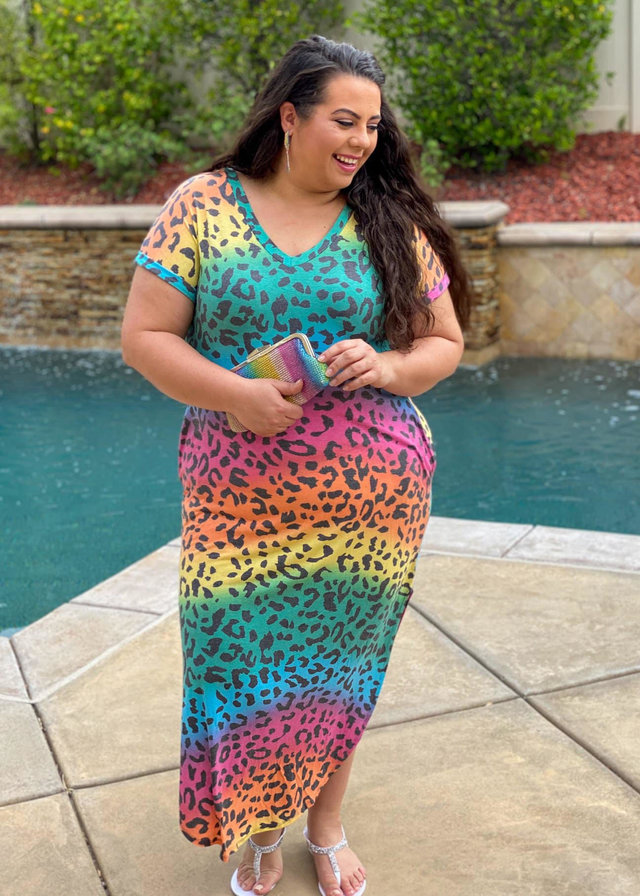 Bold Prints for Summer
Once again, I was not at home when I took my photos for the No Buy Style Challenge. This just added to the challenge of styling an outfit from my suitcase!
To put together my own colorful ensemble, I focused on four elements from Callie's outfit.
Sunglasses (not shown in the photo above–check out her post for more pictures!)
Sparkly sandals
A bold and colorful print
A maxi dress
Bonus: my hair pulled back with a clip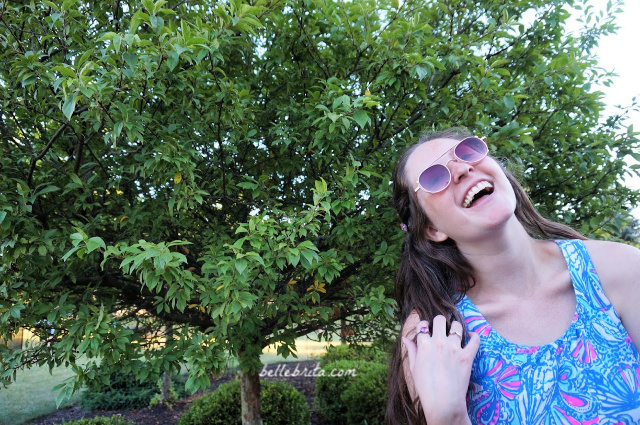 Let's talk about my sunglasses. Long story short, I backed a crowdfunding campaign to buy prescription glasses with clips. Well, it turns out that the style I liked on the computer I don't love on my face… At least not as glasses. I do like the look with the sunglasses clips. I just don't switch between my regular glasses and my sunglasses very often.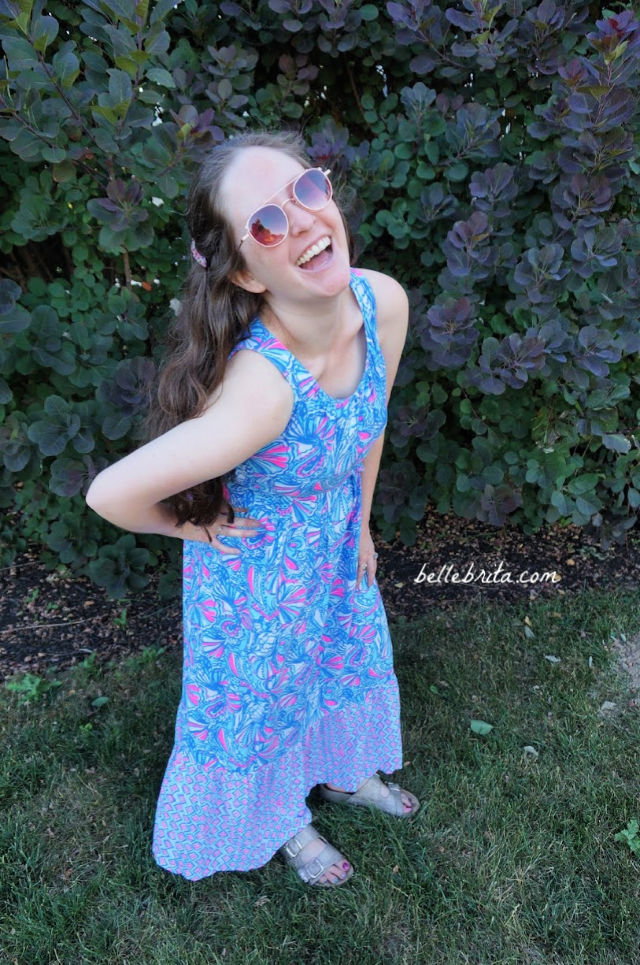 If these sparkly sandals look familiar, that's because I wore them for the No Buy Style Challenge back in May! They're ridiculously comfortable, I get compliments every time I wear them, and I only paid $10 for them on clearance.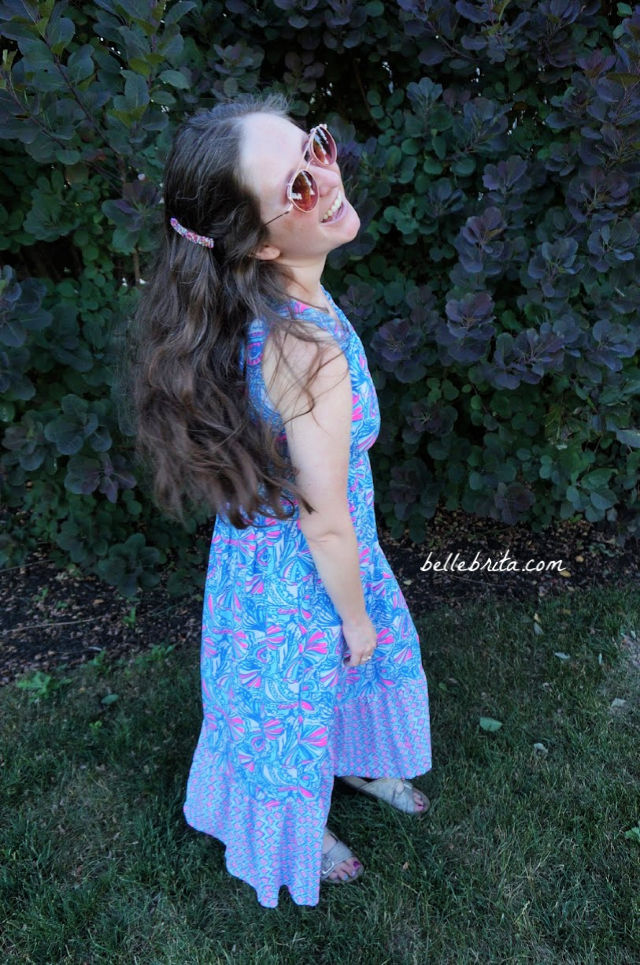 I'm loving my long hair right now, even if it's a little hot for summer. For this outfit, I pulled it back with a colorful beaded hair clip. I'm pretty sure I bought this hair clip in high school, maybe in college.
Colorful Maxi Dresses for Summer
Believe it or not, I actually had three maxi dresses with colorful prints in my suitcase! They're a stable in my summer wardrobe. While one dress featured a rainbow print, I decided to focus on the bold pattern rather than the exact colors of Callie's dress. You can actually see both alternate dresses on Instagram. I really do wear colorful maxi dresses all summer long.
I bought this particular maxi dress last summer. It's from Target's 20th Anniversary Collection, which brought back collaborations with different designers. This is obviously Lilly Pulitzer…
But it's not-so-obviously a child's dress! Yes, my bold print maxi dress is actually a girls' XL. It fits me better than any maxi dress designed for an adult woman. #petiteprobz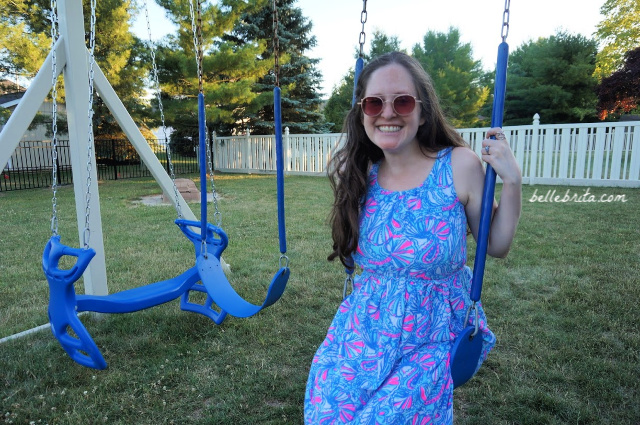 I wear this dress all summer long. It's so comfortable!
No Buy Style Challenge
To see the results from the fourth No Buy Style Challenge, visit my fellow bloggers! Callie provided today's outfit inspiration, but check out her post for more colorful photos.
Callie at Hot Pink and Glitter
Charlene at Enduring All Things
Look for our posts on Instagram with the hashtag #NoBuyStyleChallenge. If you decide to try the challenge for yourself, please post your outfits on Instagram so we can see!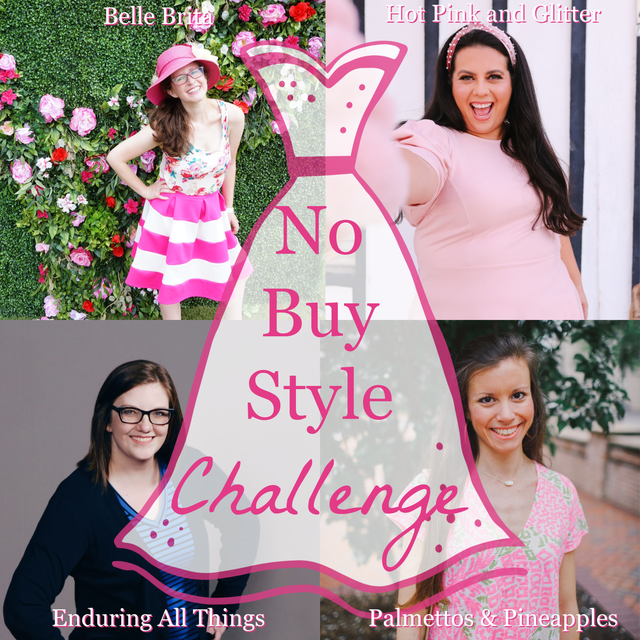 No Buy Style Challenge Rules
Writing out rules for the No Buy Style Challenge is basically absurd because the concept is so simple. But if you want a few guidelines to do your own No Buy Style Challenge, here they are!
Find an outfit online for inspiration. You can use Callie's outfit this month if you really want to join the fun, but any outfit is fine.
Shop your closet to put together your own outfit based on the outfit inspiration. Be creative!
Don't buy anything new for this outfit.
Post a photo of your outfit online! You can also post the outfit inspiration. (Tag the original person model/stylist for credit). If it's on Instagram, tag me @bellebrita and use the hashtag #NoBuyStyleChallenge
And that's it. Easiest style challenge ever. Don't buy anything new. That's the only real rule.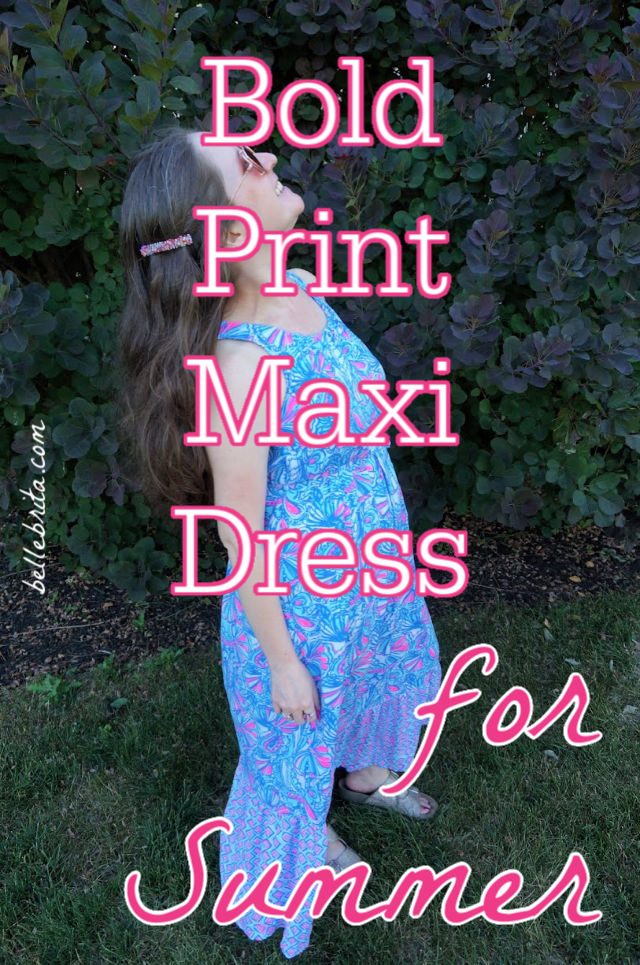 What's your go-to summer outfit? Do you love colorful maxi dresses like I do? Share your thoughts in the comments!
This is the last planned post for the No Buy Style Challenge, but my friends and I might turn this into a quarterly challenge. Stay tuned as we figure that out!