This is a sponsored post in collaboration with Minted. This post contains affiliate links. As always, all opinions are my own. I really do love Minted's personalized wedding gifts!
I have an embarrassing history of giving gift cards as wedding gifts… a year or more after my friends get married. I'm trying to become a better (and more timely) wedding gift giver. While it's easy to buy a gift card and scribble a few heartfelt words to the newlyweds, I want to do more.
It's been four years since my own wedding, and I still cherish some of the thoughtful personalized wedding gifts my husband and I received. Don't get me wrong–we certainly didn't complain about cash, checks, and gift cards! But some gifts stand out, like our Paris mugs and fleur-de-lis wine charms.
Choosing personalized wedding gifts doesn't need to cost a lot of money either. When I first started attending weddings without my parents, I could afford about $20 for a wedding present. That doesn't go very far, but I always tried to put together an assortment of small, related gifts that I thought the young couple would appreciate. Now I can spend more money on wedding gifts, but I've lost that personal touch.
Minted inspires me to choose personal wedding gifts for friends. Their website is filled with beautiful art, paper goods, and custom gifts. By shopping at Minted, you can find the absolutely best personalized wedding gifts, no matter your budget.
Personalized Photo Gifts at Minted
Minted sells the most beautiful photo art. Take any photo of your newlywed friends and turn it into a collectible piece of art. I'm particularly fond of their real foil options. Here are just a few of my favorites that feature a single photo with a foil overlay.
Much Love: a foil overlay that reads "so much love" followed by hearts
Love Line: a foil overlay that reads "love" with a whimsical line
Mom Love: a foil overlay in the shape of a heart; under the photo is text that reads "you are my everything"
But if I had to choose just one framed piece of personalized art as a wedding gift, I would pick the photo maps.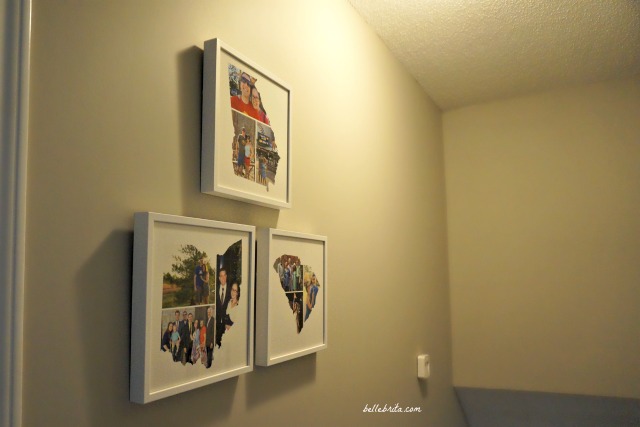 Choose any state. This could be the state where the couple met, where the wedding takes place, or where they're living after the wedding.
Select high-quality photos and arrange them in the collage. Minted makes it easy to try out different photos. Due to the irregular shape of states, it might take a few tries to get right.
Choose a frame.
Voila! Minted does all the rest.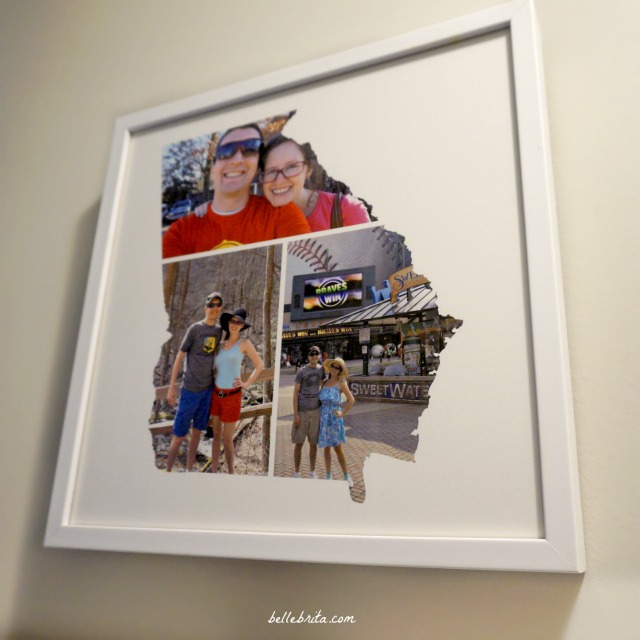 You might need to ask your friends to send you a few of their best digital photos to make this happen. Just say it's for a surprise. You don't need to tell them about your personalized wedding gift plans!
Dan and I ordered three 11″ x 11″ photo maps: Ohio, South Carolina, and Georgia. I chose photos that we took in each of those states. We hung our custom framed art in the hallway upstairs.
This is just one custom art idea offered by Minted. You can choose from so many personalized wedding gifts!
Personalized Wedding Gifts of All Colors
If custom art isn't the right wedding gift for your friends, you have other options. Think outside the wedding gift box! I actually like Minted's wedding favors–which normally the happy couple would buy for their bridal party or guests. But why not buy colorful wedding gifts for the bride and groom? (Or bride and bride, or groom and groom).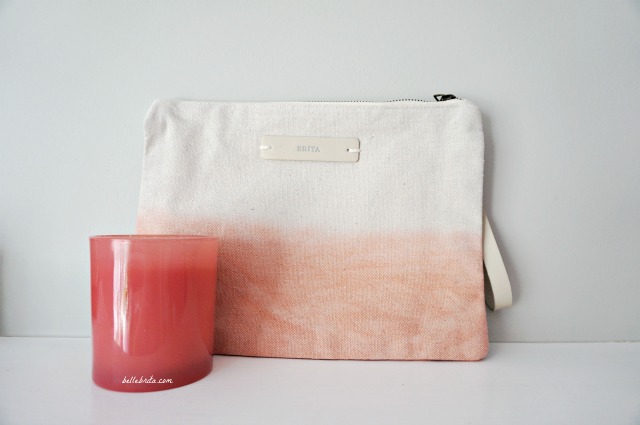 What are the wedding colors? Minted Weddings Color Library offers multiple gorgeous colors, one of which probably matches the wedding colors.
Merlot
Rose
Blush
Lemon
Seafoam
Moss
Navy
Provincial Blue
Lavender
Warm Gray
In all these colors, you can buy the following products:
Dip-Dyed Pouch
Votive Candle with Dip-Dyed Pouch
Dip-Dyed Canvas Clutch
Dip-Dyed Canvas Tote
Glass Candle
Glass Deco Bottle
Dip-Dyed Favor Box
While these gifts alone don't make a personalized wedding gift, they're a great place to start. Here are a few ideas.
Bride Emergency Kit
Give this to the bride before the wedding! Fill the dip-dyed canvas clutch with essential items to help her on the big day.
breath mints
tweezers
blotting papers
clear nail polish
tissues
hair spray
fashion tape
pain reliever
bandages
hand sanitizer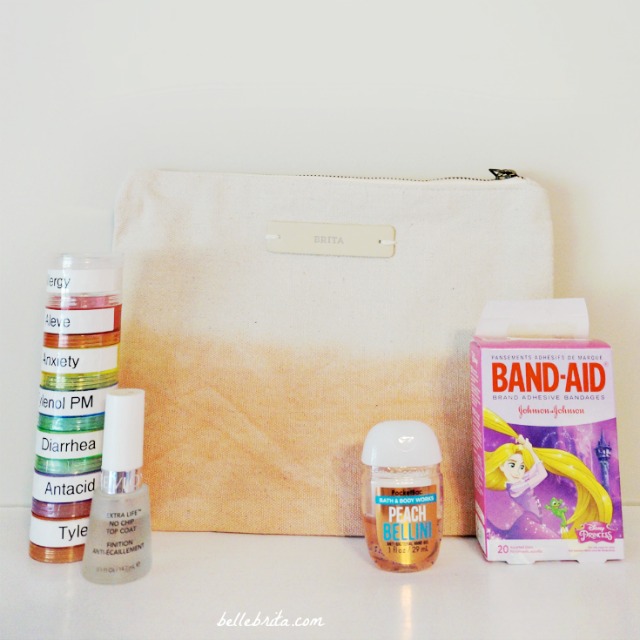 You can customize the dip-dyed canvas clutch in the wedding colors, plus with a custom name tag. The bride's name or just the word "bride" is the perfect little touch.
Honeymoon Relaxation Kit
You can certainly be a little playful or naughty with this gift, but these suggestions are all gifts the newlyweds can open in front of their grandparents! Help them enjoy their honeymoon with a few essentials.
Start by getting either the dip-dyed canvas clutch or tote for both the bride and groom. Customize the canvas bags with embossed name tags. Add products to help the happy couple relax during their honeymoon, especially if they have a flight first.
votive candle with dip-dyed pouch
sleep mask
ear plugs
pain reliever
bandages
hand sanitizer
hand lotion
bath salts
small snacks/candy
Personalized Stationery from Minted
Minted is best-known for their quality paper products. From luxurious wedding invitations to whimsical holiday cards, Minted offers every type of stationery you could ever want.
Related: Celebrating Valentine's Day with Minted
Newlyweds need a LOT of stationery to send out all their thank-you notes. My parents actually surprised my husband and me with a beautiful set of personalized stationery after our wedding.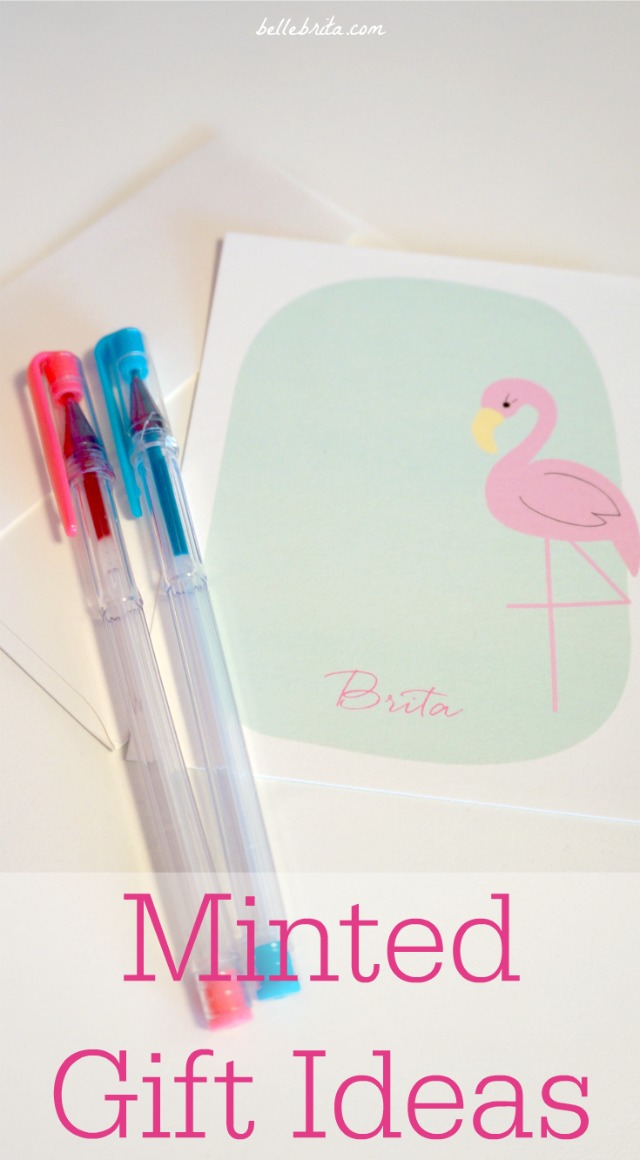 Minted sells a beautiful selection of thank-you cards for newlyweds. I love all the foil designs! Here are just a few of my favorite thank-you notes from their wedding collection.
For most stationery styles, you can personalize the font type, font size, and font color, in addition to changing the text itself.
Thank-you notes aren't the only personalized stationery gifts available. You could also just buy plain stationery that the newlyweds can use for thank-you notes or any other type of correspondence.
I ordered myself children's stationery because I am young at heart. The note cards and envelopes come in beautiful cardboard boxes that I can use to store my stationery set at my desk.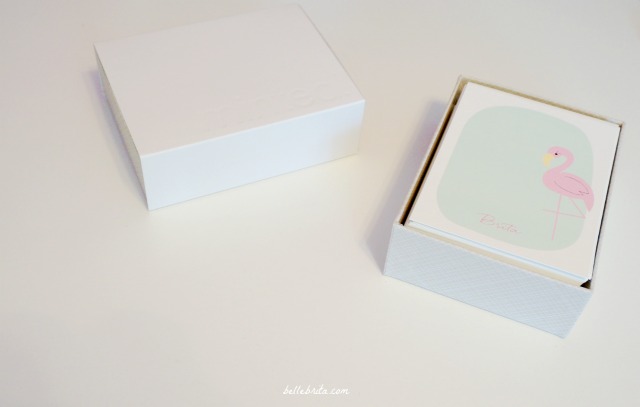 One last paper idea for a personalized wedding gift. Holiday supplies! You can order custom wrapping paper or personalized gift tags for the newlyweds.
This year for Christmas, everyone is receiving a gilded gift tag on their presents from Dan and me.
---
Have you ever shopped at Minted? What's the best personalized wedding gift you've ever given (or received)?