I made my very first purchase from Grove Collaborative back in June 2016, which included my very first Grove Collaborative free gift. Since then, I've made a total of 26 purchases from Grove Collaborative, spending over $400. Certainly enough to prove my genuine love of Grove Collaborative! And yet also a completely reasonable amount of money to spend on household supplies over 3 years.
Note: I am part of Grove Collaborative's affiliate program. This post contains affiliate links. I've also received some free products to review over the last year. However, I am truly a fan of Grove Collaborative! All opinions are my own.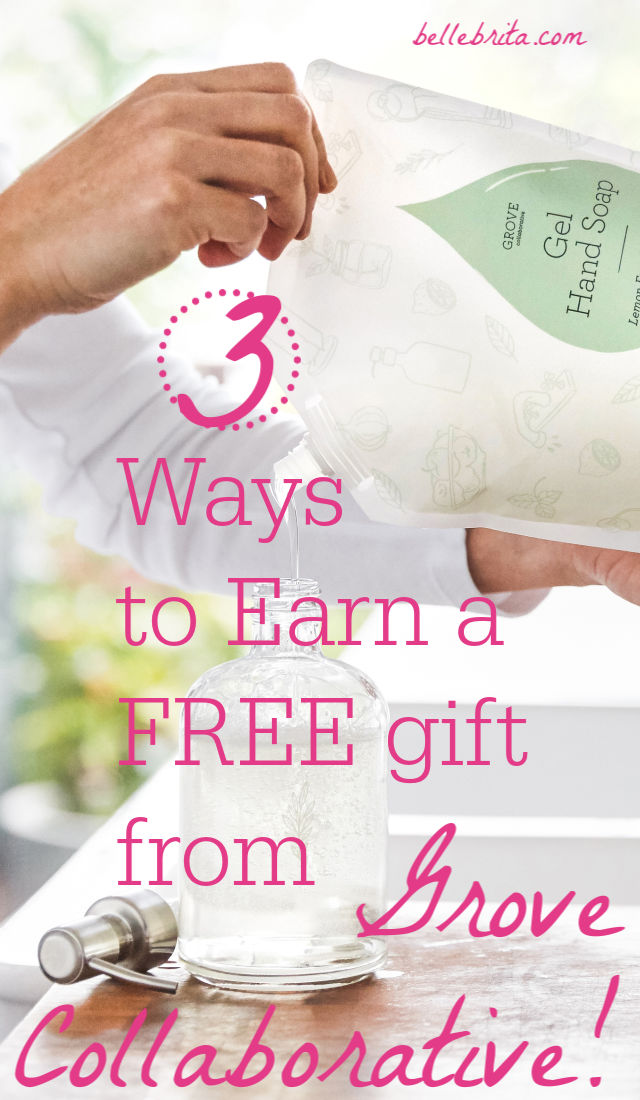 There's a good chance you're reading this blog post because you want to learn more about earning a Grove Collaborative free gift. It almost seems like a scam! However, I can tell you that I absolutely earned a free gift with my first order from Grove Collaborative. I've also earned free gifts as a VIP member of Grove Collaborative. Plus you can earn a free gift as an existing customer if you place a minimum order.
Related: Grove Collaborative Review: Is the Free Gift Worth It?
Free Gift for New Customers of Grove Collaborative
The best way to earn a free gift is to be a new customer! So yes, this gift only comes once. Still, it's a great introduction to Grove Collaborative.
New Customer Free Gift Options
You can actually choose your free gift as a new customer. Grove Collaborative is currently offering the following free gift bundles with your first purchase of $20 or more. You can only choose one free gift, so choose wisely! Gift set values are based on current prices listed on the Grove Collaborative website.
This gift set includes the following:
Mrs. Meyer's Hand Soap
Mrs. Meyer's Dish Soap
Mrs. Meyer's Multi-Surface Spray
Grove Walnut Scrubber Sponges
Free Shipping & VIP Trial
Right now, Grove Collaborative offers multiple Mrs. Meyer's fall scents. I recently switched my dish soap from Peony to Apple Cider! In my downstairs bathroom, I swapped out the Grove gel soap I usually use for Mrs. Meyer's Hand Soap in Pumpkin.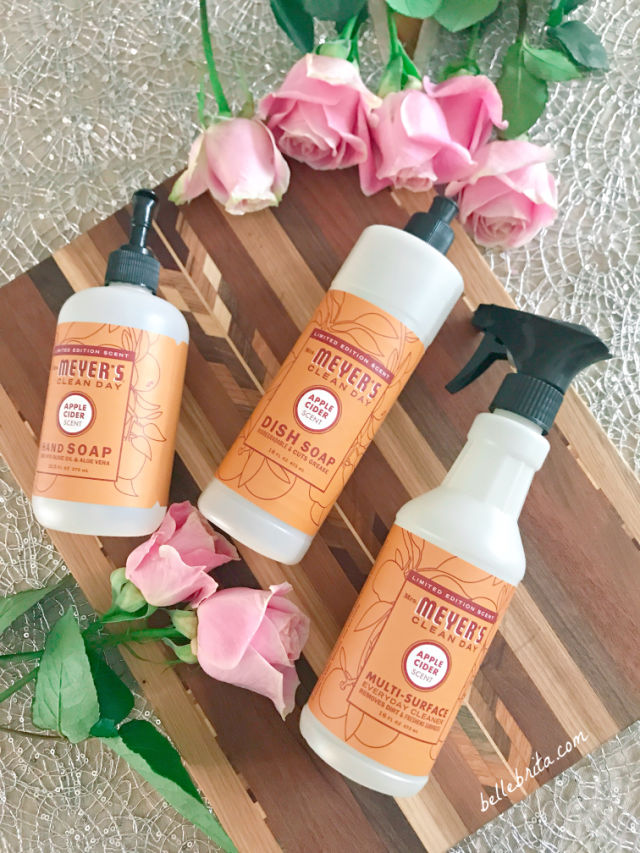 I really like Mrs. Meyer's products, but in terms of value, this free gift isn't the best. You can buy all of these products from Grove for less than $20.
This gift set includes the following:
Yes To Brightening Facial Wipes
Yes To Glow-Boosting Mask Stick
Yes To Charcoal Detoxifying Paper Mask
Grove Loofah
Grove Konjac Sponge
Grove Hydrating Bar Soap
Free Shipping & VIP Trial
The Grove Loofah is the only one of these products I've tried for myself. I like that it's made from recycled plastic. Otherwise, it's just a standard loofah that holds up well and gets the job done.
This gift set is valued at over $30.
This gift set includes the following:
Grove Collaborative's All Purpose Cleaner Concentrate
Grove Collaborative's Glass Spray Bottle
Seedling by Grove Bath Tissue (3 Packs of 4 Rolls)
Seedling by Grove Paper Towels (2 Packs of 2 Rolls)
Seedling by Grove Facial Tissue (2 Boxes)
Seedling by Grove Pocket Tissues (1 Set of 8)
Free Shipping & VIP Trial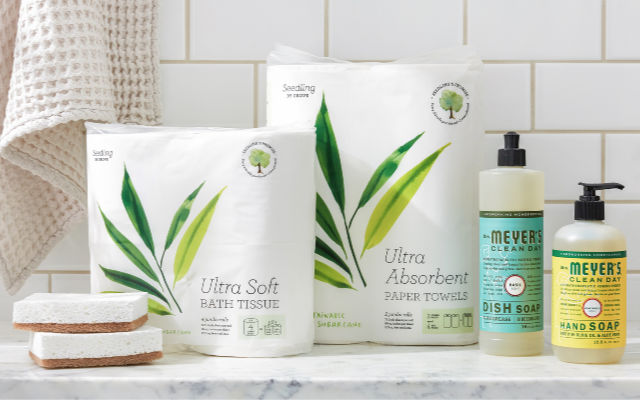 Earlier this year, Grove Collaborative sent me a pack of the Seedling Bath Tissue and a pack of the Seedling Paper Towels to try out for myself. If you're looking for tree-free paper products, try out Seedling. The toilet paper is reasonably soft (says the woman with Crohn's Disease), albeit not that strong. The paper towels are reasonably absorbent and strong.
This gift set is valued at over $40.
This gift set includes the following:
Rooted Beauty Purifying Facial Cleanser
Rooted Beauty Purifying Daily Moisturizer
Rooted Beauty Purifying Facial Towelettes
Grove Konjac Sponge
Grove Hydrating Bar Soap
Free Shipping & VIP Trial
I have not used any of these products myself. This gift set is valued at over $40.
This gift set includes the following:
Babyganics Bubble Bath
Burt's Bees Nourishing Baby Oil
Grove Co. Hydrating Bar Soap
WaterWipes Pure Water Wipes
Free Shipping & VIP Trial
I have not used any of these products myself. I cannot find WaterWipes on the website, but the rest of the gift set is valued at over $20.
How to Spend $20 at Grove Collaborative
Before you can earn your free gift, you first need to spend $20 or more at Grove Collaborative. What's the best way to do that? I've put together a few bundle ideas of the best ways to spend $20 to $30 at Grove Collaborative!
Mrs. Meyer's Bundle
While the Mrs. Meyer's gift set isn't that great, you can easily spend $20 on Mrs. Meyer's products and then choose another free gift! These are a few of my favorites:
hand soap
gel hand soap refill
dish soap
multi-surface cleaner
surface scrub
One of each of these products all combined will cost just over $20 at current prices.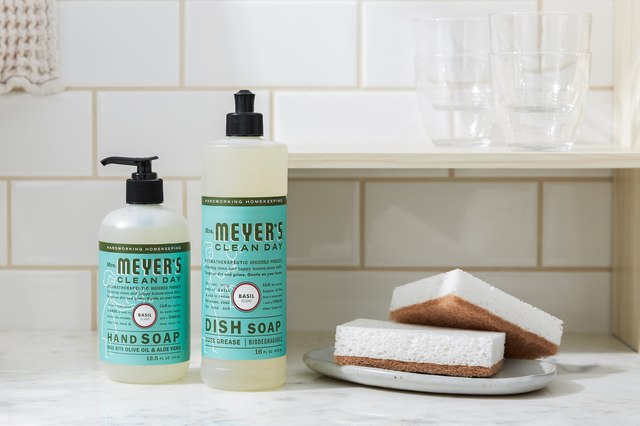 I own every single thing included in the Ultimate Sink Side Cleaning Kit. This bundle is a great deal at $39.99, with a savings of 26% over purchasing each item individually.
I use everything except for the Glass Dish Soap Dispenser. I have used the Gel Dish Soap before, but I'm currently using Mrs. Meyer's dish soap. The Glass Dish Soap Dispenser is really nice, but I previously used a built-in dispenser in my sink for the Gel Dish Soap. Now that I'm enjoying seasonal scents by Mrs. Meyer's, I just use the bottle.
Gel Dish Soap*
Glass Dish Soap Dispenser*
Stoneware Tray**
Sink Caddy
Dish Brush with Replaceable Head
Walnut Scrubber Sponge, Set of 2
*I received these products to review. **This was a free gift as VIP member of Grove.
Seventh Generation Cleaning Products
I buy exactly two products from Seventh Generation:
I love these two products. I've used them exclusively to clean my toilets and run my dishwasher for the last three years. One 45-count of dishwasher detergent packs and two toilet cleaners will almost exactly reach $20.
I have both received this to review and purchased these products on my own. This set comes with two products:
Glass Hand Soap Dispenser
Gel Hand Soap Pouch
While I'm using up Mrs. Meyer's hand soaps with seasonal scents, I primarily use these Gel Soap Refills at all the sinks in my house. I've tried all of the regular scents: Free & Clear, Lavender & Thyme, and Lemon, Eucalyptus & Mint.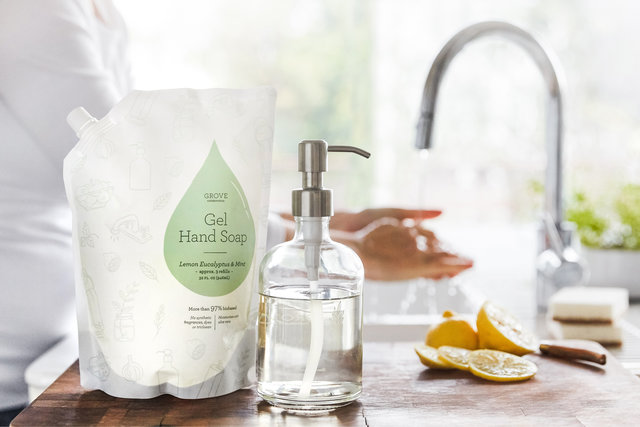 Last year I also splurged on the seasonal scent, Pomegranate & Red Currant. I'm still waiting on delivery of the latest seasonal scent, Autumn Fig.
You need to buy two of these sets to reach the $20 threshold. Or you can buy one set along with a few other suggested products.
Grove Collaborative Free Gift for VIP Members
I've received multiple free gifts from Grove Collaborative over the last three years as a VIP member. These are all of the free gifts I've received. Some are definitely better than others because I haven't personally needed all of them.
Acure Organics – Foaming Shaving Gel
Hand Cream – Bergamot Orange
Glass Spray Bottle
Acure Organics – Brightening Facial Scrub
Stoneware Tray
Bubble Up Dish Brush Set
8 oz Castile Soap Lavender
Walnut Scrubber Sponge, Set of 2
Limited Edition Spices Flour Sack Towel
Organic Tea English Breakfast
Rooted Beauty – Facial Cleansing Towelettes
VIP members of Grove Collaborative receive four free gifts every year, roughly one per season. VIP membership costs $19.99 per year. The free gifts aren't the only perk, but they're definitely a good one!
Free Gift with a Minimum Purchase from Grove Collaborative
With every Grove Collaborative order, you have the opportunity to earn a free gift with a minimum purchase. Right now, Grove Collaborative has changed its free gift policy to give customers the chance to choose their own free gift.
Right now, you have three choices of free gifts.
Bamboo Soap Saver & Bar Soap Set (minimum $35)
Reusable Sandwich Bags, Set of 2 (minimum $59)
Makeup Remover Towel (minimum $35)
Only once have I spent enough money to earn a free gift. I just don't need that many products in a single order–and I usually don't even place an order every month.
You could choose to stock up with one big order, especially if the free gift is enticing.
I hope this blog post clears up any questions you might have about earning a free gift from Grove Collaborative! If you're looking for more information about this subscription service, check out my extensive Grove Collaborative review.
If you have any questions about Grove Collaborative, please let me know!