I'm not saying I went all the way to Tokyo just to visit the Disney parks… But they were near the top of my Japanese bucket list! My favorite Disney blog considers Tokyo DisneySea to be the best Disney park in the world–obviously Dan and I had to visit! We spent one full day at Tokyo DisneySea and one full day at Tokyo Disneyland. There was so much to see and to do that this is just my Tokyo DisneySea review! I will write a separate post about Tokyo Disneyland.
Dan and I were lucky enough to visit the Tokyo parks during both the Easter celebration and the 35th anniversary celebration for Tokyo Disneyland. This only added to the magic!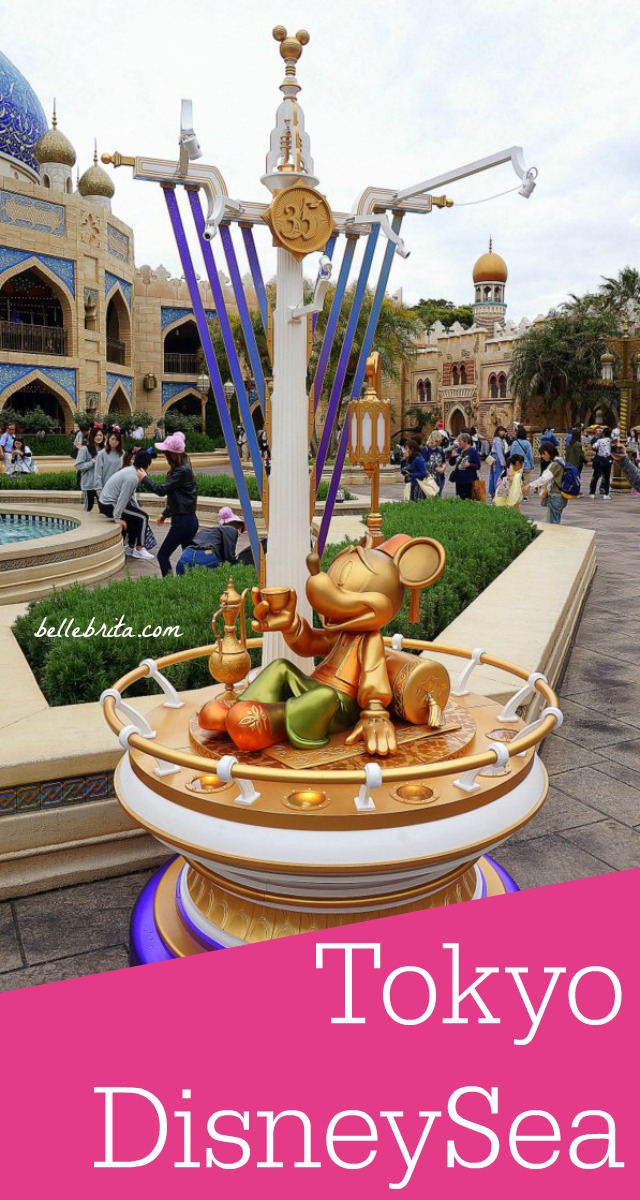 Based on all my advanced research, I was a little nervous about the crowds. Japanese Disney fans are among the most dedicated and passionate in the world. Luckily crowds were fairly mild! We visited Tokyo DisneySea on a Tuesday and Tokyo Disneyland on a Wednesday. Generally speaking, weekdays are less crowded than weekends. The weather was gray and partly rainy during our visit, which probably helped.
Also, a non-disclosure disclosure! Dan and I paid for our own tickets to both Tokyo DisneySea and Tokyo Disneyland. Certainly I requested media tickets, but the Tokyo Disney parks don't work with digital media representatives. My enthusiasm for Disney parks is always completely genuine, regardless of whether or not I pay my own way. On to the full Tokyo DisneySea review!
The Magic of Tokyo DisneySea
With an overall nautical theme, Tokyo DisneySea is completely different from all other Disney parks. Seven themed areas (ports) make up the park. These ports represent both famous ports around the world and famous ports in mythology and literature.
Mediterranean Harbor
American Waterfront
Lost River Delta
Port Discovery
Mermaid Lagoon
Arabian Coast
Mysterious Island
The theming and ambiance of Tokyo DisneySea is beyond beautiful. Simply unreal. Imagine your absolute favorite part of your favorite Disney park. All of Tokyo DisneySea matches (or surpasses) the best creative detail of any Imagineering of any other Disney park.
While kids can certainly still enjoy Tokyo DisneySea, its design is more geared towards adult Disney fans. Everything is just a bit more sophisticated, from the park design to the food options.
Dan and I had a wonderful day exploring Tokyo DisneySea. Since the park wasn't as crowded as we had expected, we could take the time to meander, soak up the ambiance, and take lots of pictures.
My Tokyo DisneySea review is thematic, rather than chronological.
We started our day by getting FastPasses for Tower of Terror before heading over to  Journey to the Center of the Earth, our first ride of the day!
Mysterious Island
If you like the Jules Verne theming of Discoveryland in Disneyland Paris, then you'll love Mysterious Island. This port pays tribute to three Verne novels.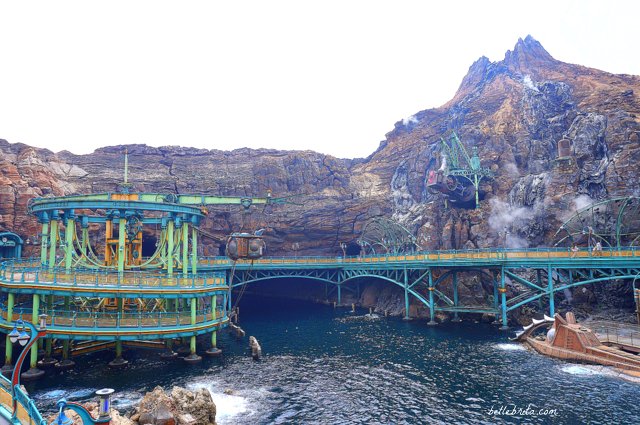 Our first ride of the day was Journey to the Center of the Earth, Tokyo DisneySea's flagship attraction. This combination dark ride/thrill ride is absolutely incredible. Stunning theming. A thrilling conclusion. Absolutely a great start to the day. Oh, and the queue is pretty detailed. The line moved very quickly since we were so early, and I almost wish we'd had more time just to look around!
We wanted to ride 20,000 Leagues Under the Sea next, but it was closed. We came back later in the day to ride it. The illusion of moving through water is incredibly realistic. The underwater plants and creatures are beautiful. I wish we could have ridden this twice. There's so much to see, and depending on where you sit in the vehicle, you have a slightly different view.
I don't know how much all the food carts change in the park, so I can't guarantee you'll find the same snacks that we did. Mysterious Island had potato churros which were absolutely delicious. This was a nice savory alternative to the usual sweet dough churros.
Lost River Delta
Lost River Delta looks like an archaeological site in a tropical rainforest of Central America in the 1930s. It's straight out of an Indiana Jones movie!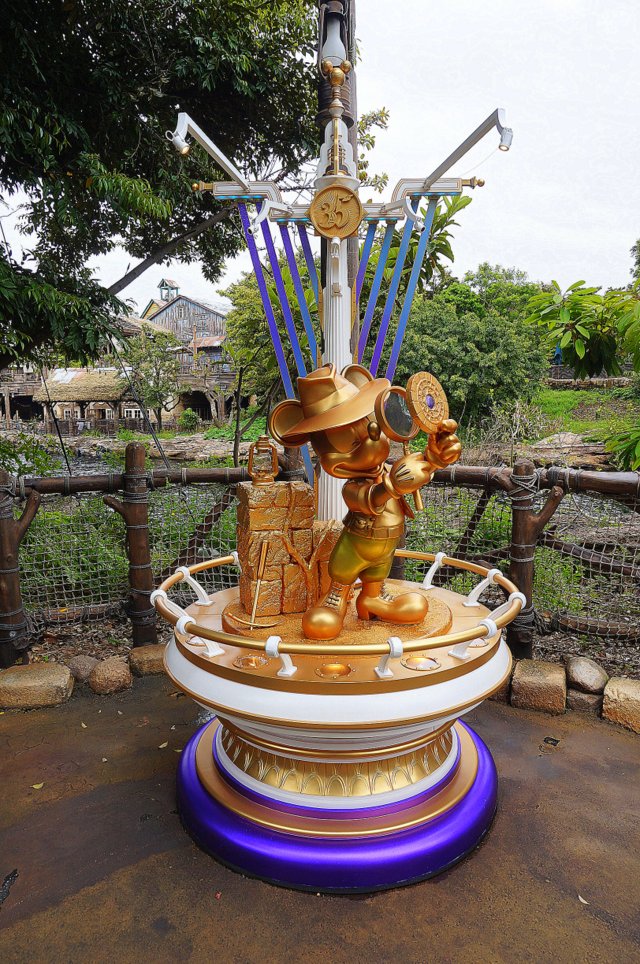 Hidden inside an ancient Aztec pyramid is the exciting dark ride Indiana Jones Adventure: Temple of the Crystal Skull. This is very similar to the ride in Disneyland in California. This was closed last year when Dan and I were in California, so I can't describe the differences. Regardless, the Tokyo version was a lot of fun! Yes, it's all in Japanese, but you don't need to understand the dialogue to follow the thrilling story.
Dan and I waited in the Single Rider line for the Indiana Jones ride. Japanese tourists don't usually wait in this line, so the wait time is considerably shorter. However, this also means the cast members aren't really efficient with filling cars from the Single Rider line. Multiple cars left only partially-filled while Dan and I still waited. Even so, I still recommend the Single Rider line because the wait is still considerably shorter.
Dan intended to ride the roller coaster, Raging Spirits. According to reviews, it's similar to the Indiana Jones roller coaster in Disneyland Paris, which I hated. The stated wait time wasn't that long, but Dan said the line didn't move at all. He eventually gave up waiting and came to find me in Mermaid Lagoon.
Mermaid Lagoon
I am obviously a kid at heart, so it's no surprise that I absolutely love Mermaid Lagoon. Unlike the other ports, Mermaid Lagoon is almost completely indoors. The entire thing feels like actually being underwater with cool mood lighting and colorful decor.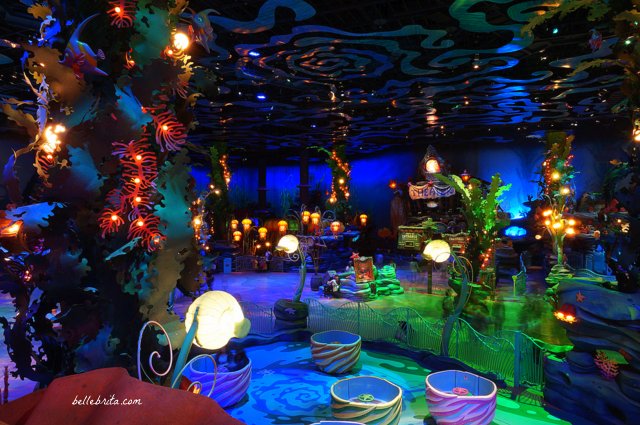 Literally all the rides are kiddie rides. They're cute to watch, though.
Dan and I ate lunch at Sebastian's Calypso Kitchen. I had the seafood pizza, and Dan ate the sausage pizza. Both were good–and not just "good for theme park food." Our pizzas were delicious and definitely affordable, especially for theme park food.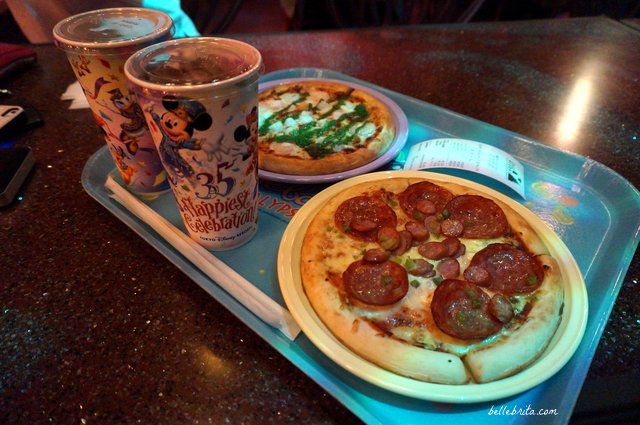 At some point when it started to rain, we came back to Mermaid Lagoon to watch King Triton's Concert. This is a cool show with puppets, video, lights, and an incredible Ariel hanging from wire, "swimming" while she sings. The dialogue is all in Japanese, but the songs are in English. There's not really much of a story to the show, but it's still fun. Ariel really is awesome.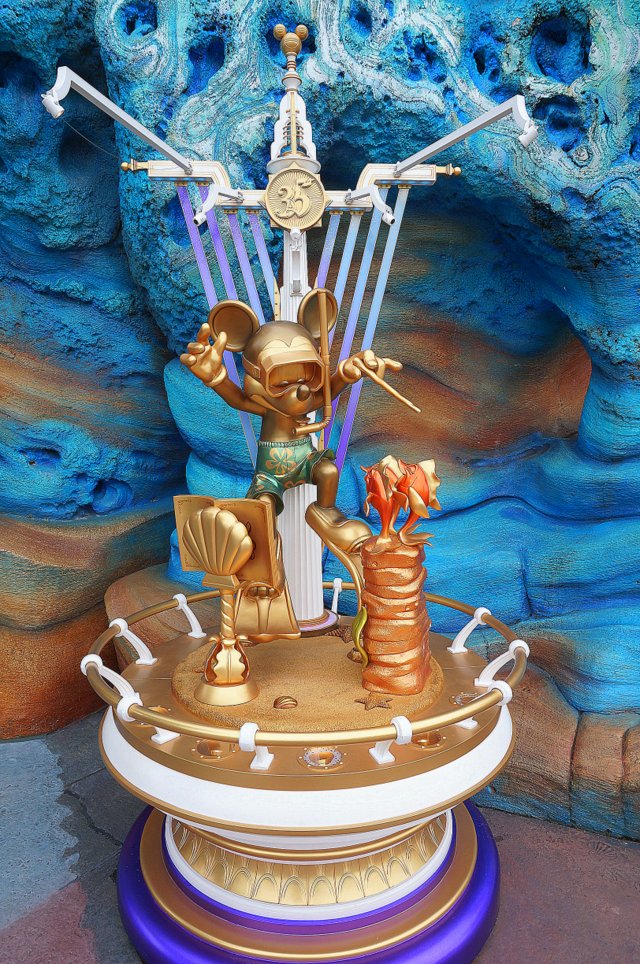 American Waterfront
The American Waterfront actually feels like two distinctive ports since it's divided into two areas, an Old Cape Cod section and a New York Harbor section.
Old Cape Cod is quite charming, but there's not much to do here. No rides. We didn't snack here. The main attraction is the chance to meet Duffy and friends, a uniquely Japanese set of furry characters. Dan and I rarely choose to wait in line to meet characters, so we skipped this.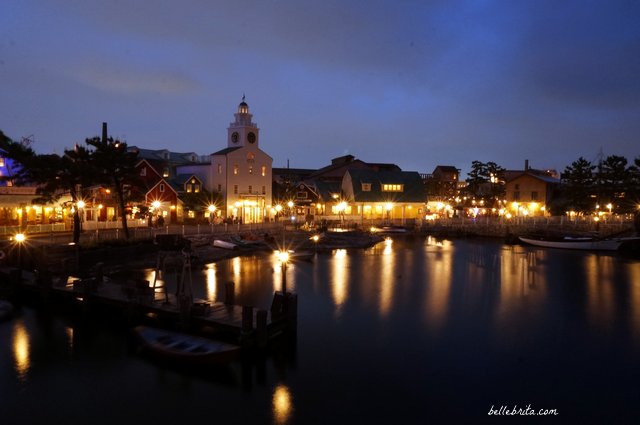 New York is a very Disney-fied vision of New York set during the 1910s. Imagine the most charming version of New York city–that's New York Harbor. Dan and I rode two of the three rides here, Tower of Terror and Toy Story Mania! We also took DisneySea Electric Railway over to Port Discovery (and back again). It was a great way to see the park.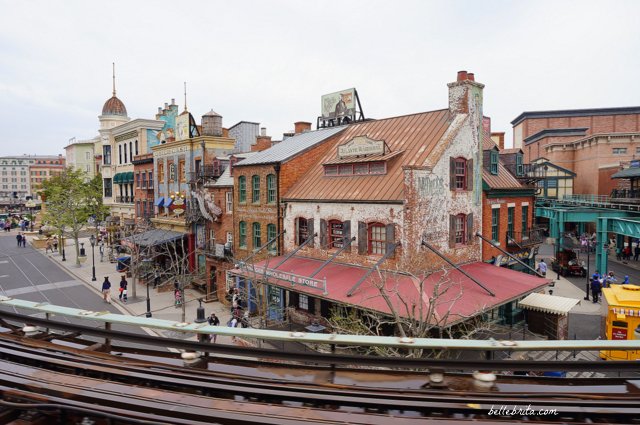 Tower of Terror Tokyo
Tower of Terror was our first FastPass of the day. Later in the day, the line wasn't too bad, so we rode it a second time. It has an elaborate backstory that's completely different from any of the other Tower of Terror rides. I loved walking through the queue which weaves through a hotel lobby.
There's a pre-show in Japanese, but you can get a lot of the backstory by reading various newspaper clippings. The pre-show includes an incredible special effect (I won't ruin the surprise for you!), and even knowing it was coming, I couldn't figure out how the trick worked the second time.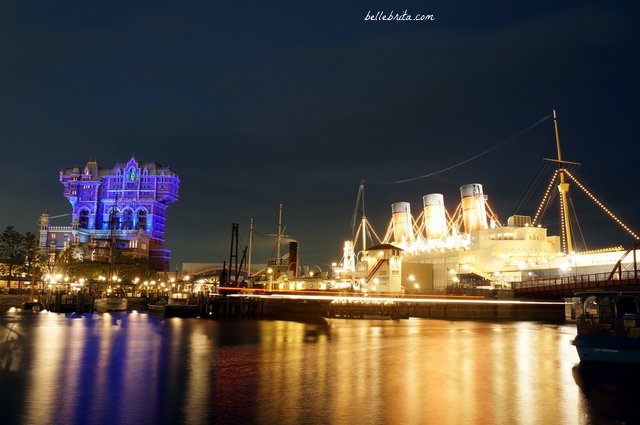 Toy Story Mania! Tokyo
Normally Toy Story Mania! is one of the most popular rides at Tokyo DisneySea, with wait times of well over an hour, sometimes two hours. Dan and I didn't expect the chance to ride it, but we were able to get a FastPass for late in the evening. We skipped Toy Story Mania! at both Hollywood Studios and California Adventure, so this was our first experience with the ride.
The queue was amazing. I really felt like I was toy-sized, hanging out in Andy's bedroom! The ride is a 3D dark ride that involves hitting targets for points. I was pretty terrible at hitting the targets, but Dan racked up an impressively high score. It was a lot of fun, and I understand why the ride is so popular, but it's definitely worth skipping if the wait is long.
The Teddy Roosevelt Lounge
During a rainy part of the day, Dan and I took refuge at the Teddy Roosevelt Lounge. This is a restaurant and bar inside the SS Columbia, a recreation of a 20th-century steam-powered ocean liner. The drink list was possibly the most extensive I've ever seen. Dan ended up ordering a Samuel Adams beer to stick with the American theme while I ordered my favorite cocktail, a kir royale. Dan's drink was about 300 or 400 yen. Mine was about 800 yen. (100 yen is roughly a dollar). Those prices are ridiculously good for alcohol, especially in a Disney theme park.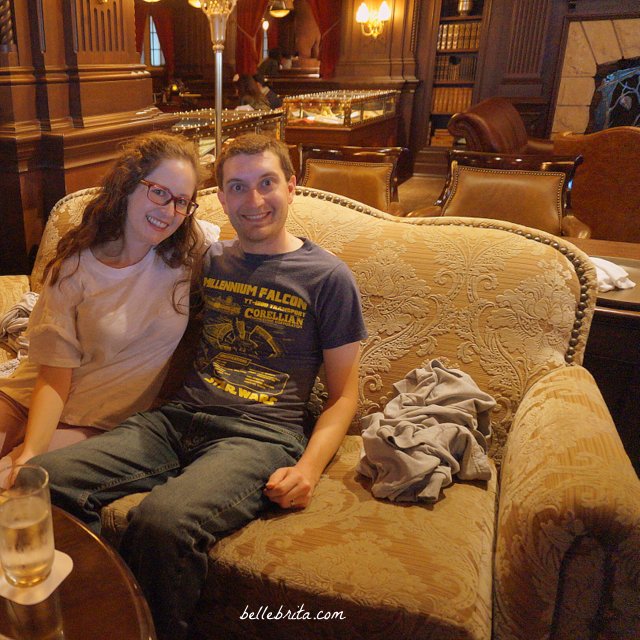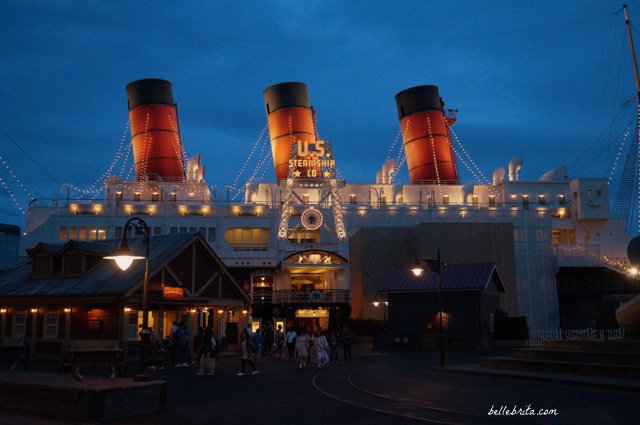 The drinks were fun, but the theming was the best. Imagine the most stereotypical manly-man, outdoorsy American-themed bar possible. Add a touch of whimsy, portraits of Teddy Roosevelt, and museum displays. That is the Teddy Roosevelt Lounge.
Port Discovery
Port Discovery is a fictional, futuristic port featuring the Marine Life Institute from Finding Dory. It has two main rides, both of which Dan and I tried.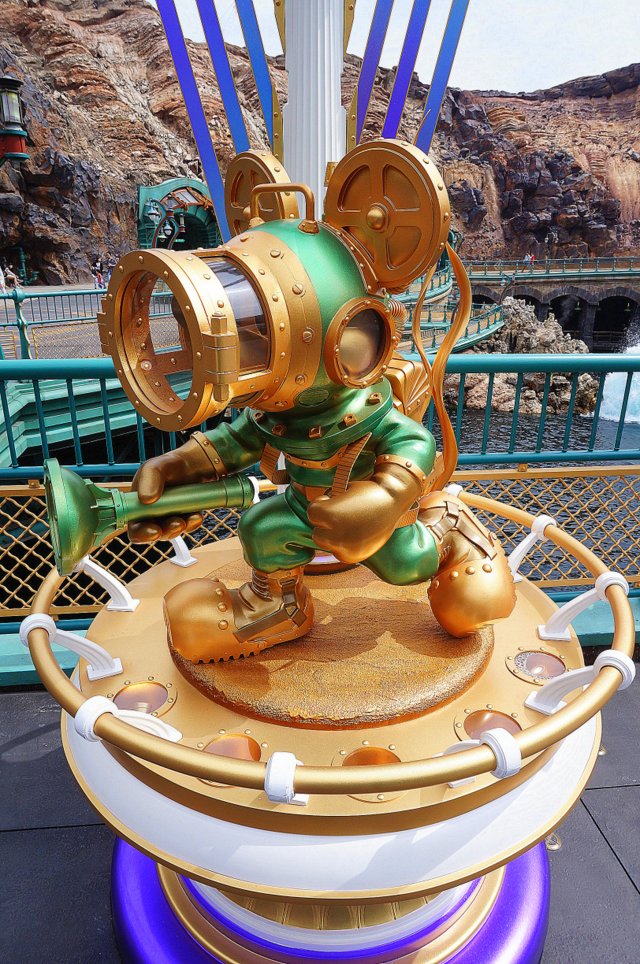 Nemo & Friends SeaRider was just okay. It definitely wasn't worth the long wait. It's a simulator ride during which guests are "shrunk" inside a fish-shaped submarine so we can swim around with all the characters from Finding Nemo and Finding Dory. Everything is in Japanese, without subtitles, but the animation is fun even without understanding the storyline.
Aquatopia is a way cooler ride, with a more reasonable wait time. It's a basic boat ride, except it's one of only five Disney rides worldwide on a trackless system. It's not an absolute must if you're short on time, but it's a fun ride if you can fit it in.
Arabian Coast
Arabian Coast is another gorgeous port with Middle-Eastern and Indian influences, inspired by Aladdin and 1001 Arabian Nights. Everything is beautiful and reminds me a bit of Morocco in EPCOT. Arabian Coast features four attractions:
Jasmine's Flying Carpets
The Magic Lamp Theater
Caravan Carousel
Sindbad's Storybook Voyage
Dan and I opted to skip everything except for Sindbad's Storybook Voyage, which we LOVED. Almost like a cross between It's a Small World and Pirates of the Caribbean, this is a slow-moving boat ride with singing animatronics. Dan and I greatly enjoyed creating our own over-the-top narration throughout the ride. The colorful animatronics are detailed enough that it's easy to follow the story, even without understanding Japanese. Dan and I liked this ride so much that we wanted to ride it a second time, but we ran out of energy later in the evening.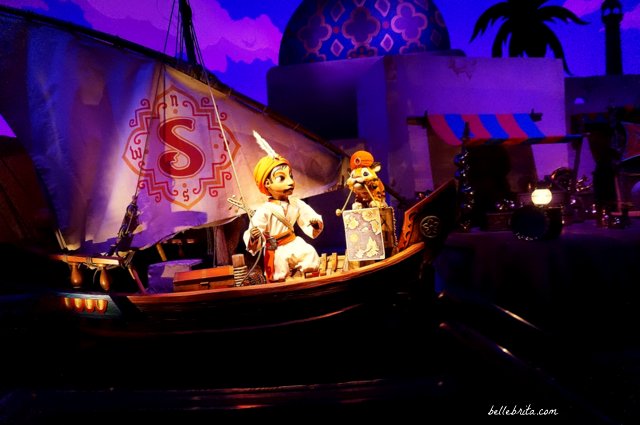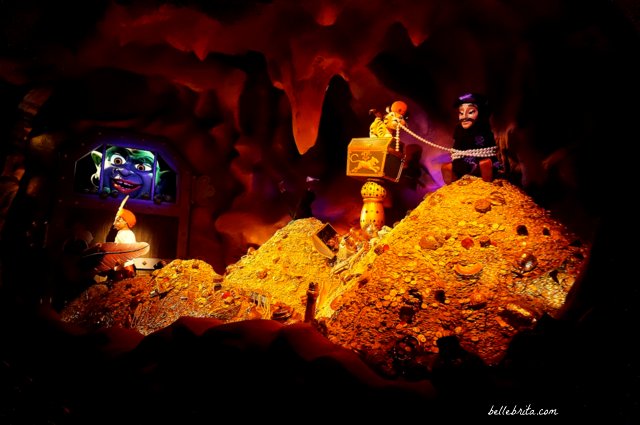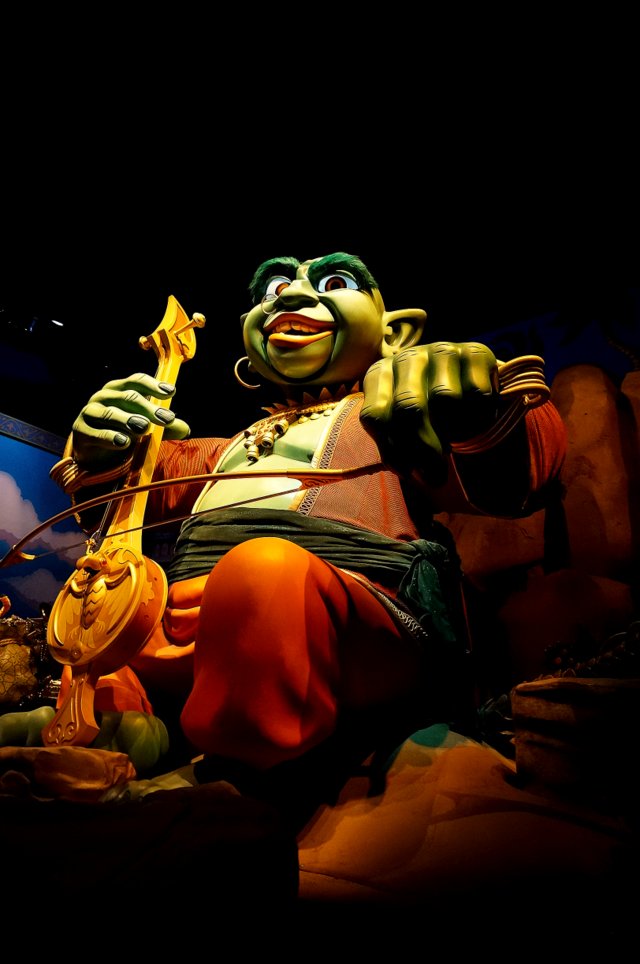 Dan and I had dinner at Casbah Food Court. It's not really a food court, since the different ordering stations all offer the same food, but at least the lines move quickly! Plus Casbah Food Court has multiple dining rooms and outdoor seating, so it was easy to find a table.
Dan and I split the curry sampler, rice, and naan. It was good, especially for theme park food, and it only cost about 1000 yen.
Mediterranean Harbor
Mediterranean Harbor is the entrance to Tokyo DisneySea. I've never been to Italy, but Mediterranean Harbor does feel distinctly European. Dan and I had hoped to ride the Venetian Gondolas, but sadly they were closed down when we checked out the ride.
Dan enjoyed a snack break for matcha gelato at Gondolier Snacks. I just enjoyed a break since they didn't have any dairy-free treats.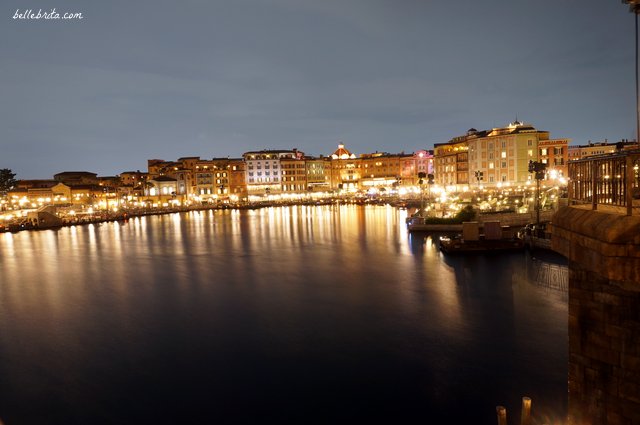 Special Events at Tokyo DisneySea
During our visit to Tokyo DisneySea, we hit the end of the Easter celebration and the beginning of the 35th anniversary celebration. It was a fun time to visit!
Tokyo DisneySea Easter Celebration
We were at Tokyo DisneySea a few weeks after Easter, but the Easter celebration was still ongoing. This mostly just looked like fun seasonal decor everywhere (PINK FLOWERS!) and golden Easter eggs all over the park with Mickey Mouse in different outfits.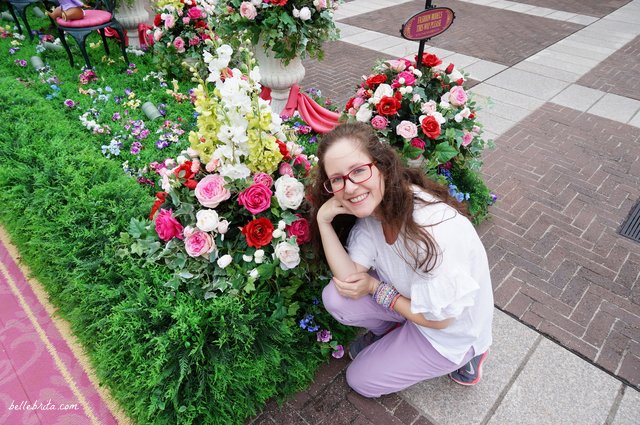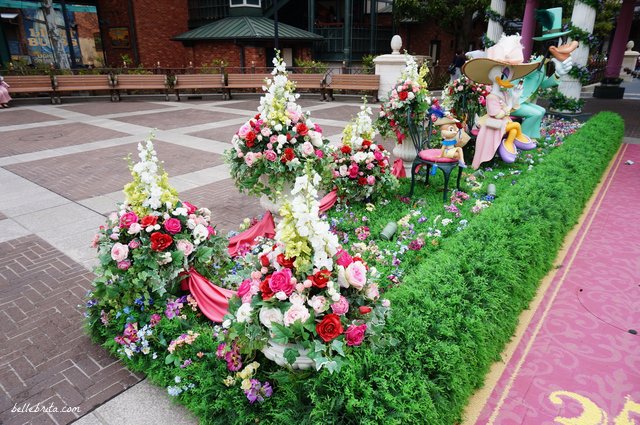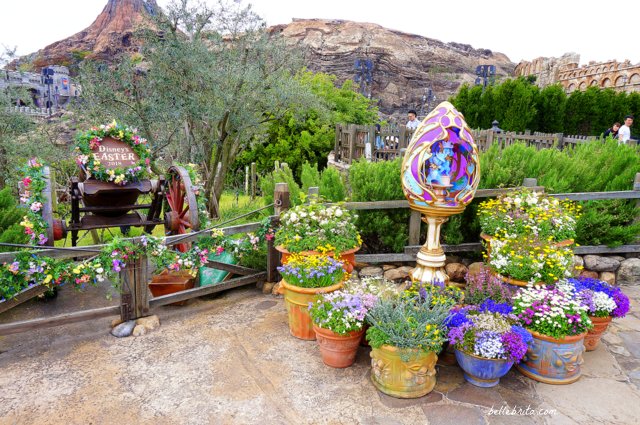 35th Happiest Celebration at Tokyo Disney
This exciting event is going on from April 15, 2018 to March 25, 2019. Most of the celebratory events are at Tokyo Disneyland, but Tokyo DisneySea includes special merchandise, unique decorations, and a special show, Happiest Celebration on the Sea. Dan and I didn't watch the show, but it was very popular with the Japanese guests. I enjoyed looking for all the golden Mickey Mouse statues around the park!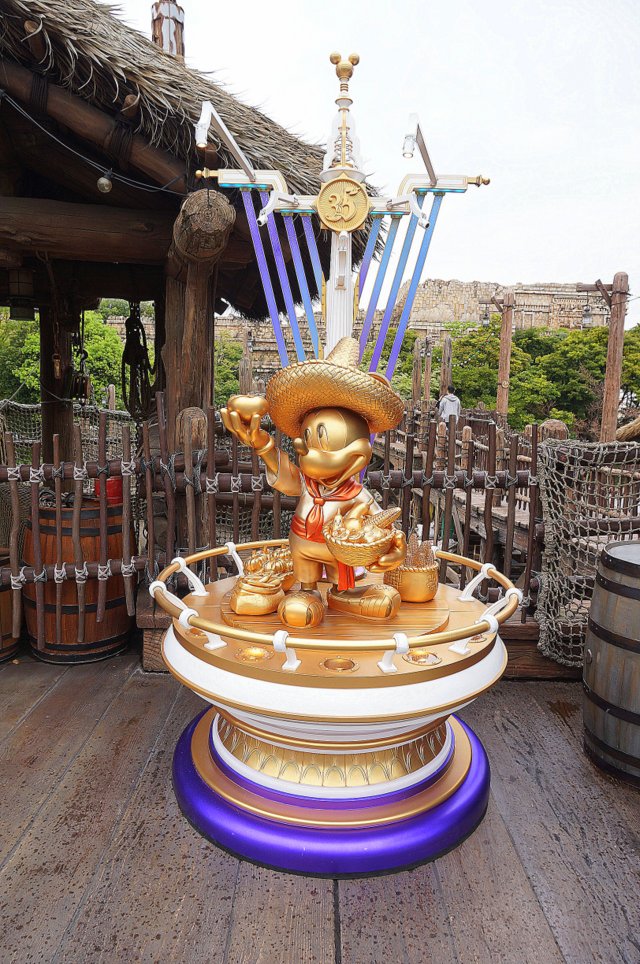 Throughout the park were churros (my favorite Disney snack) in different colors/flavors. I don't know if Tokyo DisneySea normally offers fun churros or if this was a special snack for the 35th Happiest Celebration. Dan and I split one at some point during the day–it was delicious!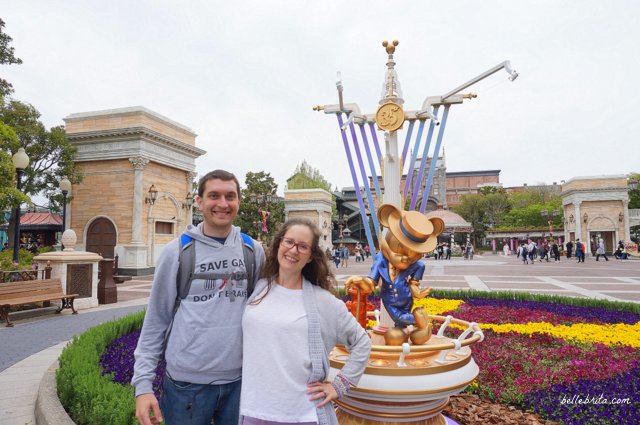 Tokyo DisneySea Tips
The two Tokyo Disney parks are among the most popular theme parks in the world. To make the most of your visit to Tokyo DisneySea, you need a plan.
Stay at a nearby hotel or airbnb so you don't waste time traveling in the morning. We stayed at Hilton Tokyo Bay.
Visit on a weekday. Avoid weekend crowds.
Wear layers, and pack a rain jacket. Weather can change quite a bit.
Pick your top two attractions in advance. Go to the first and get a FastPass. Go to the second and ride it first.

Note: The Tokyo Disney parks use the paper FastPass system. It's very similar to the California Disney parks. This means you can't make reservations in advance or get FastPasses on your phone.

Understand that cast members all speak basic English, but don't expect them to hold lengthy conversations with you as they might in the American parks.
Take the time to soak in the ambiance. This is more important than riding as many rides as possible!
If there's a short line for a snack you want to try, take advantage! Snack lines can be an hour or more, especially later in the day, so don't pass up the opportunity to grab a quick snack.
Are you planning a trip to Japan? I hope this Tokyo DisneySea review inspires you to spend a day or two in the Tokyo Disney parks!
Which Disney park is your favorite?