It's been a long few weeks. A long few months. Two incredibly long years since Donald Trump was elected to office.
I've been quiet on Instagram and on Facebook regarding this whole Brett Kavanaugh disaster.
Twitter, however, is a different story. Retweets make it easy to share my thoughts, my feelings, my befuddlement, my rage.
Using just one social platform, and not all of them, has been an attempt at self-care and balance while I also struggle hard with health problems. Like really hard. Like "sleeping 14 hours a day" hard for almost a week.
But now I'm taking the time to share it all here, a jumbled mess of words from a tired feminist.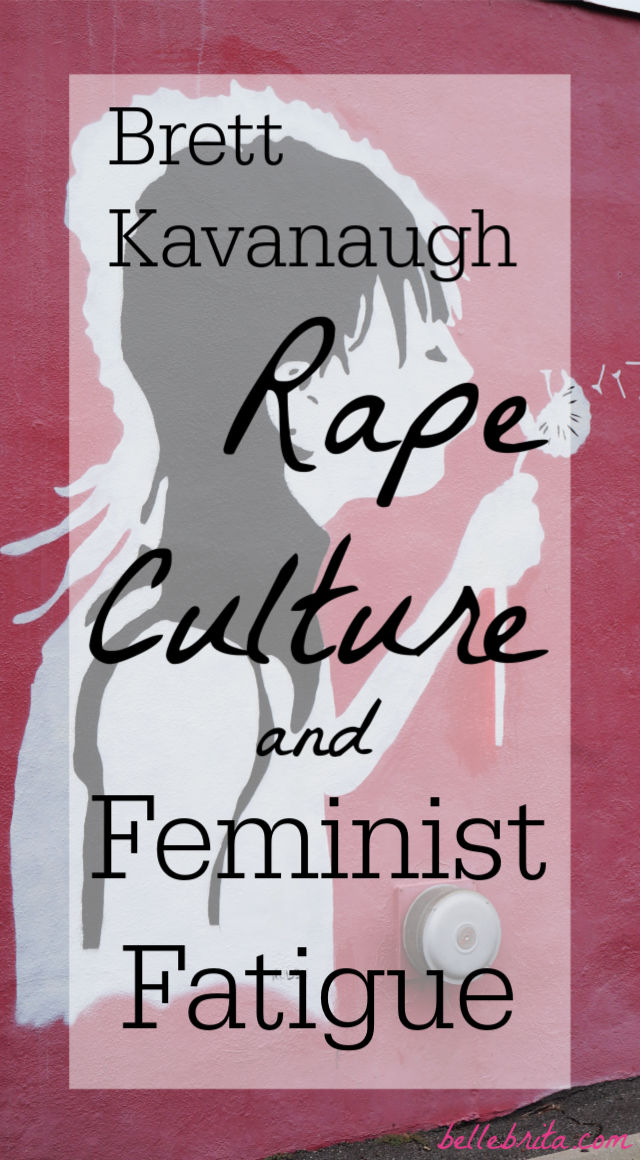 Brett Kavanaugh
If you're new to this blog, let me briefly introduce you to my politics. I'm a Christian feminist libertarian. In practice, this means I research every single candidate before every election, and I have never voted straight ticket in my entire life. I have voted for Republicans, for Democrats, for Libertarians, for Independents, and for Write-In Candidates.
I even attended a debate last year prior to a local special election to fill my district's state house seat. In that case, I ended up voting for the Democrat, but I attended the debate with a completely open mind after looking at all three candidate websites.
What does this have to do with Brett Kavanaugh? I didn't have strong feelings about him when he was first announced. In fact, I even posted the following on Facebook.
After reading through all the information provided, and talking to my personal attorney (my dad), I felt as though Kavanaugh met all the necessary legal and professional qualifications to serve on the Supreme Court. While his judicial record in abortion cases wasn't ideal, he didn't seem as likely to overturn Roe v. Wade as other potential Trump nominees. I didn't see any point in creating a lot of feminist fuss about him, and I figured his appointment would be relatively simple, with a Senate vote falling somewhat along party lines.
And then Christine Blasey Ford came forward, testifying that Kavanaugh had sexually assaulted her in high school.
Shortly thereafter, Deborah Ramirez came forward, saying that Kavanaugh had exposed his penis to her in college.
Finally, Julie Swetnick came forward with a sworn statement, alleging that Kavanaugh had displayed aggressive behavior towards girls at house parties in the 1980s. In this same statement, she alleges that she was a victim of gang rape at one of these parties. (She does not name Kavanaugh as one of her rapists).
Three separate women attested to sexual assault and sexual misconduct, as well as heavy drinking and belligerent behavior. Furthermore, Ford testified under oath in front of the Senate.
Kavanaugh testified as well–and he showed clear partisanship, with utter contempt for Democrats. Oh, and he lied, under oath. A judge in the highest court must be nonpartisan and truthful. Kavanaugh showed himself to be neither.
I believe Ford, Ramirez, and Swetnick.
But what I believe doesn't matter. The White House and Republican senators gave the FBI a week to "investigate" these claims… Except the FBI was limited in what they could do and who they could interview.
The FBI report was a sham, an excuse for Senators Jeff Flake, Susan Collins, and apparently Joe Manchin to vote to confirm Kavanaugh.
Rape Culture
I am weary. I can't believe I'm still dealing with this shit.
The allegations against Kavanaugh are bad enough. His confirmation is bad enough. And yet, there's also the reaction to it.
Two groups of people are defending Kavanaugh. The first are the usual deniers, the ones who think women routinely lie about sexual harassment and sexual assault. The second don't think it's a big deal for a teenage boy to try and remove a teenage girl's clothing while covering up her mouth to muffle her protests.
Believing that false allegations are common is a rape myth and contributes to denying justice for sexual assault survivors.
Minimizing the seriousness of sexual assault erases survivors and empowers perpetrators.
Both groups are disturbing. Both groups are an example of rape culture.
"Tell me. What boy hasn't done this in high school?" Source
Hello, female high school student here. I would just like to say that the emergence of this whole "teenage boys should get a pass because they're not mature enough to understand consent" narrative is probably one of the most unsettling things I have ever witnessed.

— Emma Th(e national debt🎃)atcher (@emmajthatcher) September 18, 2018
I wrote some words on twitter and @mickeyharmon turned them into art. I cried. It felt good to not cry about sociopaths this time. pic.twitter.com/KJbfP9DpYc

— feminist next door (@emrazz) October 4, 2018
I first wrote a Feminism 101 post on rape culture in 2015. I'm still having to explain it.
Rape culture is "a society in which rape is pervasive and normalized due to societal attitudes about gender, sex, and sexuality."
I'm so tired of living in a rape culture. I really am.
Feminist Fatigue
I've been dealing with physical and mental health problems, pretty seriously, for the last six weeks. Maybe I'll write a separate post on all of that soon. I barely have enough energy from day to day to take care of myself, let alone be a Good Feminist (TM) and smash the patriarchy.
I called my senators last week, but since I live in rural, Republican Georgia, I doubt my senators give a flying fuck what I think.
While I did write a detailed post on the midterm elections, it hasn't gained many page views. Are Facebook and Twitter even showing my links to my followers? Sometimes I wonder.
I feel like there's very little I can do right now to ignite real change and to encourage people to vote and to make the world a safer, more egalitarian place. The depressing current events just never stop, and I feel like a tiny twig attempting to dam a flood of hatred and bigotry.
So this is me right now.
These are my not-so-happy thoughts on the current world and my place in it.