I am so excited to introduce a new blog series and blogger collaboration! No Buy Style Challenge is an idea inspired by a blog series I read years ago called How We Wore It, but with a sustainable twist. Each month will feature a different outfit for inspiration, and then each participating blogger will create her own outfit from clothes she already owns. No new clothes or accessories!
Initially I came up with this idea for two basic reasons. 1) I wanted to collaborate with my blogger friends. 2) I wanted to do a sustainable fashion series on my blog.
But now this idea is even more relevant since most of us can't go to the store to buy new clothes. I hope our collective creativity inspires you to shop your closet and have fun with what you already own!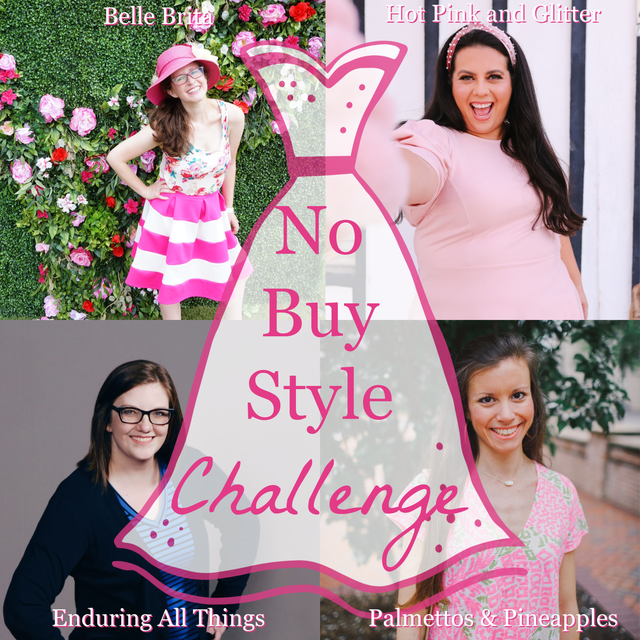 Since it's the very first month, I want to first introduce y'all to my blogging friends. Starting top-right corner, and working clockwise around:
Callie and I were both au pairs in France together. Hot Pink and Glitter is a plus size fashion and travel blog. She also owns a fashion boutique!
Liz and I went to Furman together. Palmettos & Pineapples is a southern lifestyle blog, with a strong focus on fashion.
Charlene has been my blogging bestie for over 4 years now. Enduring All Things is primarily focused on helping Christian wives with their marriages, but she does have a fashion tag!
Pink and Purple Pastels for Spring
For this first month, I provided the outfit that will inspire my blogging friends to create their own looks. All of these pictures were taken in March 2018 at Disney's Port Orleans Resort – Riverside. I did a full blog post about our one day visiting EPCOT and Animal Kingdom during that weekend, but I still haven't written about staying at the Riverside resort. Blogger fail.
First up is the original photo I sent my friends! It's hard to tell from the photo, but this skirt is actually blush pink.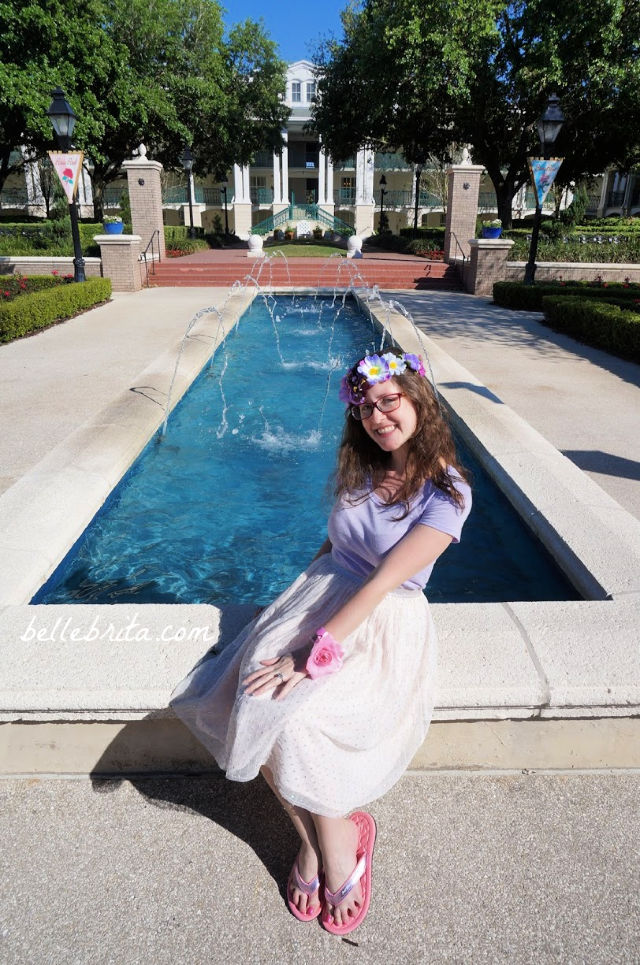 My purple floral headband was gifted (years ago) by Headbands for Hope. I've linked a few options below from Amazon, or you could make your own!
I do realize the irony of suggesting different ways to buy or make a flower crown in a blog post focused on not buying anything… However, I really love my flower crown, and if you really want one too, I want to provide some options!
I've had the pink floral hair accessory on my wrist for at least a decade, so I have no idea where I bought it!
My lavender t-shirt is from Kroger.
My blush pink tulle skirt is from Target in the kids' department.
I have no idea where I bought my pink flip-flops!
Two years after taking these photos, I can promise that I still wear everything in these photos!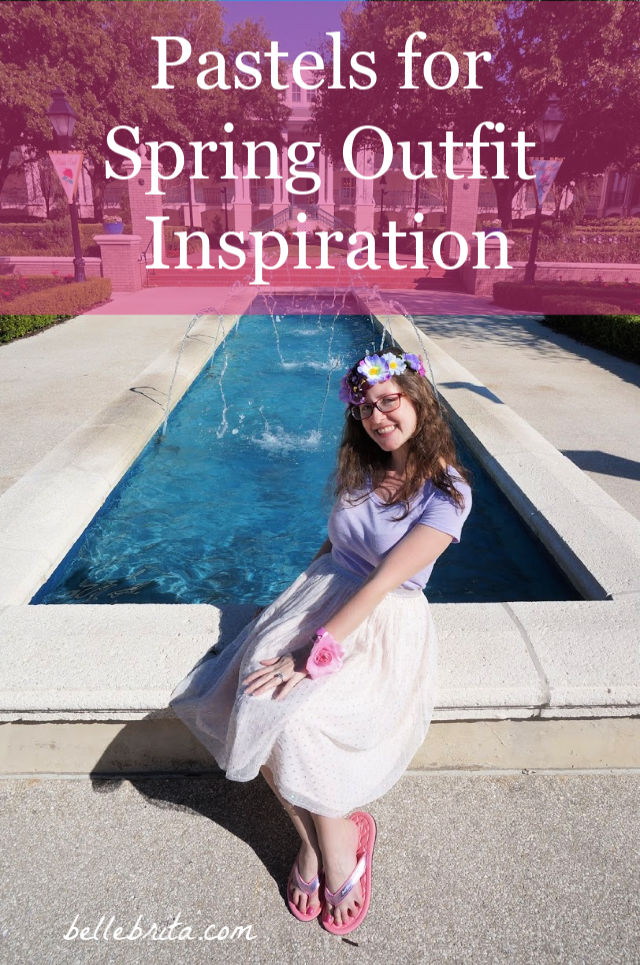 Disney Bounding Rapunzel
This was actually my Disney Bounding Rapunzel outfit. If you're not familiar with Disney Bounding, the idea is to wear a real outfit (not a costume) inspired by a Disney character. The whole idea started because adults can't wear costumes in Disney parks. I own a lot of pink and purple clothes, so Disney Bounding as Rapunzel was easy!
If you look carefully at the vertical photo above, you can see the chair and staircase featured in the horizontal photo below.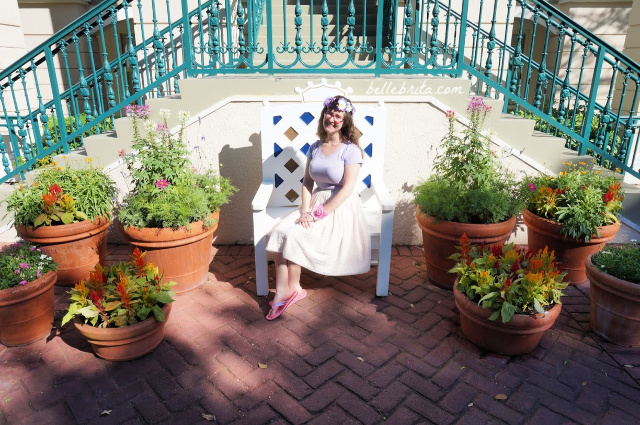 I honestly felt like such a Disney princess sitting in this whimsical white chair, surrounded by blooming flowers.
Dan and I didn't actually take a ton of pictures of me during this photoshoot because the lighting wasn't idea. You can see the problems we had with shadows in both of the photos above.
After dinner, we did find someone to take a photo of the two of us! Can you guess Dan's Disney Bounding character?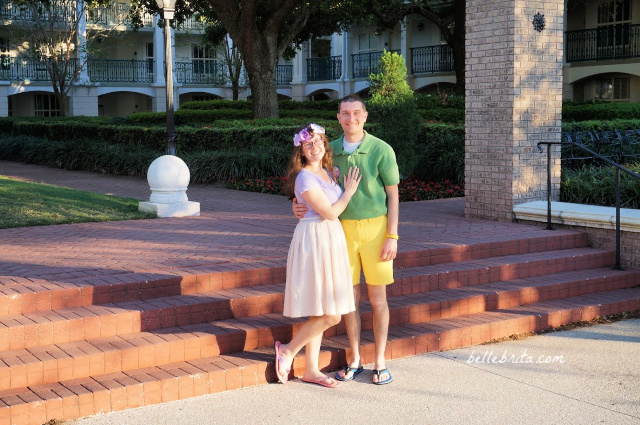 He's Pascal, Rapunzel's animal sidekick! I had so much fun Disney Bounding Tangled together. Dan tolerated it.
In fact, my Disney Bounding Challenge was similar to this No Buy Style Challenge. When choosing our outfits, my goal was to use clothes we already owned. That's not too hard when picking out a solo Disney Bounding outfit… However, Disney Bounding as a couple is a lot harder! Eventually we agreed upon Disney Bounding Rapunzel and Pascal for our relaxed at the resort. For our one day in the parks, we agreed upon Disney Bounding Anna and Olaf.
No Buy Style Challenge
To see the results from the first No Buy Style Challenge, visit my fellow bloggers!
Charlene at Enduring All Things
Callie at Hot Pink and Glitter
Each of them has a new post up with their own cute outfits. I've already previewed their individual takes on my pastel spring outfit, and their own versions are so cute!
I will also be posting on Instagram using the hashtag #NoBuyStyleChallenge. If you decide to try the challenge for yourself, please post your outfits on Instagram so we can see!
No Buy Style Challenge Rules
Putting together rules for the No Buy Style Challenge seems silly because it's so simple. But if you want guidelines to do your own No Buy Style Challenge, here they are!
Find an outfit online for inspiration. You can use my outfit above if you really want to join the fun, but any outfit is fine.
Shop your closet to put together your own outfit based on the outfit inspiration. Interpret however you like. Have fun with it!
Don't buy anything new for this outfit.
Post a photo of your outfit online! You can also post the outfit inspiration. (Tag the original person model/stylist for credit). If it's on Instagram, tag me @bellebrita and use the hashtag #NoBuyStyleChallenge
Literally that's it. Easiest style challenge ever. No new clothes or accessories. That's basically it.
If there's interest, we can turn this style challenge into a blog link-up. For this to work, all participating bloggers would create posts similar to what Charlene, Liz, and Callie all did today. Everyone would work off the same outfit inspiration and link to the blogger who provided that outfit. Then everyone would submit their links to a blog link-up, hosted on our four blogs. If you're interested in doing something like that, please comment below!