Over the last few years, I've become more and more interested in pursuing a sustainable lifestyle. I'm trying to be more intentional with my spending while buying less overall. A big change I've made is cutting back on single-use plastics. While I haven't been able to eliminate single-use plastics entirely from my life, I have slowly started accumulating single-use plastic alternatives. I'm able to use these again and again, making them both a financial and an environmental investment.
Related: 6 Simple Sustainable Changes to Try in 2020
I know not everyone can afford the upfront cost of some single-use plastic alternatives. There are also medical needs for many people to use single-use plastics.
For example, when my mom was in hospice care, she needed a bendy straw in order to drink. Half of her side was paralyzed, and the rest of her body was still incredibly weak. Someone would hold up a cup to her mouth and help position the straw so she could drink something. I love my reusable straws these days, but they wouldn't have worked for my mom in the weeks leading up to her death. Many people with certain disabilities also need plastic straws.
For these reasons and more, I oppose bans on single-use plastics. However, I do think we should all do our best to use single-use plastic alternatives whenever possible!
My Favorite Single-Use Plastic Alternatives
These are all the single-use plastic alternatives I use personally. I received some of these products in exchange for my review. The rest I purchased on my own. This post also contains affiliate links. As always, all opinions are my own. I only recommend products that I truly support.
Reusable Straws
I actually own three different types of reusable straws! I bought the glass straws. Grove Collaborative sent me their bamboo straws as part of their Plastic Swaps kit. A PR firm sent me the WonderSip straws to try.
To be honest, I am very inconsistent about taking my straws with me to restaurants. I frequently forget. In either case, I specifically request no straw from my server. If my server brings me a straw anyway, I hand it back.
My glass straws were my introduction to reusable straws, but I don't use them very often anymore. I prefer both my bamboo straws and my WonderSip straws.
At home, I do enjoy drinking my cold beverages through my reusable straws. The thick bamboo straws are especially good with smoothies. And they're dishwasher-safe!
Once we're able to travel and go out again, the WonderSip straws will become my favorite for traveling and dining out. You can open the straws to clean them. This makes them convenient on the go. After finishing your drink, dry your WonderSip straw on a napkin, and place it back in its carrying bag. The WonderSip straws are a really great alternative to other reusable straws on the market.
Easy to clean
Mildew resistant
Hot/Cold resistant
Odorless
Dishwasher-safe
ALSO they come in pretty colors, which is just an added bonus for fun.
Reusable Shopping Bags
I own a large number of canvas tote bags collected over the years from events and from friends. When I go shopping for new clothes or home goods, I bring some of these reusable shopping bags with me. It's an easy way to avoid more plastic bags. In a pinch you could use the same reusable bags you use at the grocery store, but I prefer having separate sets. I don't go shopping all that often anymore (true before the current situation), but I'm glad to have these bags when I do need to go out.
I also use my canvas bags when I visit the library. In fact, that was my first introduction to canvas bags many years ago! When I was a child, my parents bought my brothers and me each our own bag to take to the library and fill with books.
If you're looking for a new tote bag, Etsy has several great options that you can customize! These are just a few that I like. Plus, you're supporting small businesses when you shop on Etsy!
Bridesmaid Tote Bags (But you can totally just order one for yourself! This seller has so many different design and font options).
Girls Tote Bags (These are more expensive, but the fabrics are so fun and colorful!)
Reusable Grocery Bags
Luckily reusable grocery bags have been around for well over a decade. I used these in college, and yes, I graduated more than a decade ago. This is an easy way to avoid plastic bags.
That said, you need to wash your reusable grocery bags on a regular basis. You don't want to cause any cross-contamination from meat or unwashed produce.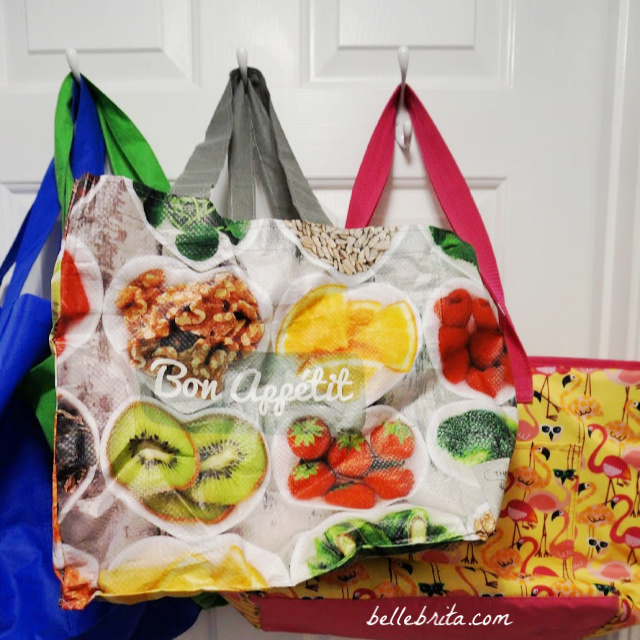 You can also get reusable produce bags! Dan and I have these. Admittedly, we are inconsistent with taking them to the store with us, even as we usually remember our reusable grocery bags. Still, every step forward helps! Some produce you can also just leave loose instead of using the plastic produce bags. Amazon has a few different options, like these mesh produce bags and these organic cotton produce bags.
Reusable Storage Bags
Confession: Dan and I still use one-use plastic baggies, BUT we only use them to freeze meat. We like to buy meat in bulk when it's a good price. Dan will then cut up the steaks, or the pork, or the chicken into dinner-sized servings and freeze those individually in plastic bags. However, even though those plastic bags are only used once, they are used for a fairly long time in the freezer. At any given moment, we have 5-20 dinner-sized servings of meat in the freezer. We just don't own that many reusable storage bags! Plus I'm concerned about effectively cleaning reusable storage bags if they contain raw meat.
All of that said, I do love our growing collection of reusable storage bags! I have received some as gifts from Grove Collaborative, including when they sent me their Plastic Swaps Kit to review. However, I have also purchased many of these reusable storage bags myself. We use these baggies to hold leftover meat slices and fancy cheese after an easy dinner of wine and cheese. They're also great for holding leftover bacon. I can't eat raw veggies anymore, but when I did, I would cut up multiple bell peppers at once and keep them in a reusable storage bag.
Grove's reusable storage bags are dishwasher safe on the top rack. You do have to place them just right to keep the bags open during the wash cycle. This is why I'm not comfortable using my reusable baggies for raw meat. I'm not sure if the inside corners get properly washed in the dishwasher, and I don't trust my thorough hand-washing of dishes when it comes to raw meat.
Reusable Water Bottles
Just say no to bottled water! That said, I understand there are a few occasional exceptions to this.
Once when I was in high school, my family was on vacation, and we couldn't tolerate the taste of the local tap water. So yes, we bought bottled water that was bottled elsewhere.
My husband and I also have a pack of bottled water in our emergency supplies. However, that's only for use in an emergency if the local water is shut off or not safe to drink. This has yet to happen to us, but when we lived in Ohio, it was an actual problem in a county where our friend lived.
Most of the time, Dan and I fill up our own water bottles and take those with us.
Beeswax Wrap
Even before I understood the environmental concerns of single-use plastics, I hated plastic wrap. It never clings the way it should, and I always struggled to tear it in a clean line. Luckily I've rearranged my food storage so that I rarely need any sort of wrap product. Most of the time I just put leftovers into reusable plastic containers!
However, sometimes I do need to cover food, like a loaf of homemade banana bread or half of a fresh watermelon. In those circumstances, I use beeswax wrap. I purchased this 3-pack of beeswax wrap from Grove Collaborative. It does leave my hands a little sticky after wrapping my fresh food, but I don't mind quickly washing my hands to get rid of the honey residue.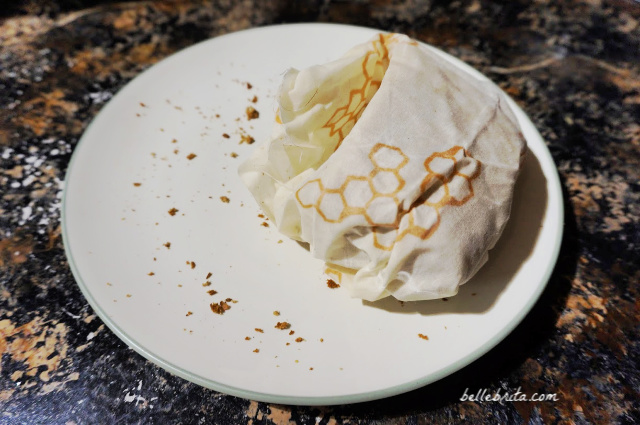 Other Plastic Alternatives
While single-use plastic alternatives are most important to reducing plastic consumption, it also helps to replace other plastic items in your life. If you're only using a plastic item for a short period of time before tossing it out, you're better off using a more sustainable version.
Eco-Friendly Cutlery
Plastic cutlery is entirely unnecessary! You have a few options to replace it.
If you're ordering takeout or delivery, specifically request no plastic cutlery. Then just use your regular cutlery at home! This is what I try to do.
If you're dining out, take your own cutlery with you. You can take disposable cutlery made of eco-friendly materials, or you can take regular cutlery that can be reused. Amazon has a few good options.
Always read labels carefully, though. Some disposable cutlery will claim to be compostable, but that usually means commercial composting, not home composting.
While eco-friendly cutlery is definitely a single-use plastic alternative, I didn't include it above because I have yet to take my own cutlery to food courts or fast food restaurants. I wanted to share this idea while still being honest about where I am in my sustainable lifestyle journey.
Glass Hand Soap Dispensers
Grove Collaborative sent me a glass hand soap dispenser as part of their Plastic Swaps kit, but I've also purchased one of their decorative glass hand soap dispensers on my own.
Growing up, my family typically bought hand soap refills. Even if our original hand soap dispensers were plastic, we kept refilling them. Today, a much better option is a glass or ceramic hand soap dispenser. My husband and I used a ceramic hand soap dispenser before we upgraded to the glass version from Grove.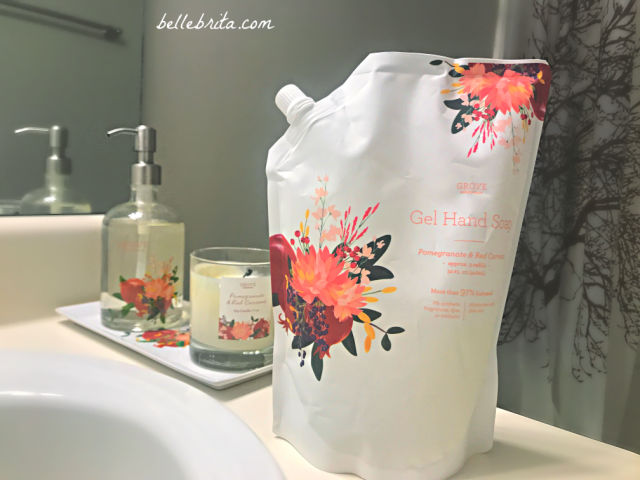 Hand Soap Refills
Of course, you need hand soap refills for your hand soap dispenser! Even if you already have plastic bottles of hand soap, you can keep refilling those with hand soap refills. I love the hand soap refills from Grove. The packaging contains less than 50% plastic than in a comparable soap refill container. I have purchased multiple hand soap refills from Grove, and they have also sent me several over the years to review. It's included in the Plastic Swaps kit.
Eco-Friendly Toothbrushes
Traditional toothbrushes are both made of plastic and come wrapped in single-use plastic. Luckily, you have multiple options to cut down on your plastic from toothbrushes.
Electric toothbrushes: If you get an electric toothbrush, then you only need to replace the head. This might still be plastic depending on the brand, but it's less plastic than replacing a full toothbrush. Create even less waste by using your own rechargeable batteries or by choosing a rechargeable electric toothbrush. I am currently researching electric toothbrushes, but I have yet to decide which one I want. Please share your recommendations!
Recycled plastic toothbrushes: Preserve makes a toothbrush from recycled materials! The nylon bristles are new, but everything else comes from recycled yogurt cups. Plus you can mail back your used Preserve toothbrushes to be recycled. I've used this toothbrush before, and it worked just as well as the ones given to me by my dentist.
Bamboo toothbrushes: Bamboo is a sustainable material that grows quickly and is naturally biodegradable. Right now, it's difficult to find a vegan alternative to nylon bristles, so most bamboo toothbrushes are not 100% biodegradable. Amazon has multiple great options for bamboo toothbrushes. These three all of have multiple 4-star and 5-star reviews!
In my research, I did come across one great bamboo toothbrush with natural vegan bristles! These are a bit more expensive, though. Still, I want to share with you all the possibilities of plastic alternatives!
Brush with Bamboo has created bristles from 100% Castor Bean Oil. Their website is incredibly transparent about the science, the certification–everything! They even tell customers exactly how to care for their bamboo toothbrushes and how to dispose of them properly. You can also find their earlier line of toothbrushes on Amazon, with bristles made from 62% castor bean oil. This is a cheaper option if you can't afford the latest version.
Try the Plastic Swaps Kit
The Plastic Swaps Kit from Grove Collaborative is a great way to start trying out single-use plastic alternatives.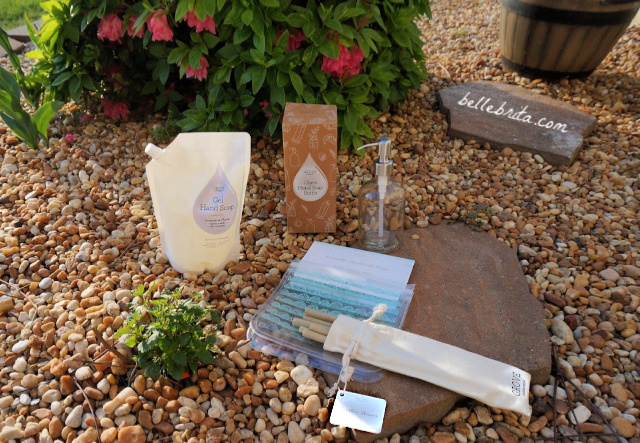 This kit comes with:
Sandwich bag set
Bamboo straws set
Large liquid hand soap refill
Glass hand soap dispenser
If you're a new customer with Grove Collaborative, you also earn a free gift with your initial purchase of $30 or more! The Plastic Swaps Kit is just under $25. Buy it plus 1-2 other items, and then choose from a variety of free gift bundles. I go into greater detail in my post on Grove Collaborative free gifts (recently updated), but these are some of the current options.
You can also read my full review of Grove Collaborative, originally written after 3 years as a VIP member. I've now been shopping there for over 4 years, and I still love it!
---
What are your favorite single-use plastic alternatives? How are you cutting down on plastic usage and plastic waste in your household? I'd love to hear your thoughts!
I know I have many more steps to take to reduce and eventually eliminate plastic waste in my own household. Please remember that every step forward counts. Sustainability is a journey, not an overnight change to perfection.