2018 has been a great year for my husband and me, but it's certainly been busy. I think we traveled more this year than any previous year in our relationship! Orlando, Japan, Denver, southern California, Austin, and multiple trips to both Ohio and South Carolina.
Dan and I love to travel, and our home reflects our passion! Maps hung in the living room indicate all the places we have either lived or visited thanks to a complex color-coded push pin system. Map-shaped photos of Dan and me hang in the hallway upstairs. Other maps are throughout the house as well as art and decorative souvenirs from all the places we've visited.
If you know a travel-loving couple or solo adventurer, this travel gift guide is for you! These gift ideas are perfect for anyone who loves to travel, from quick day trips to month-long treks. These practical gifts for travelers will delight your friends and family!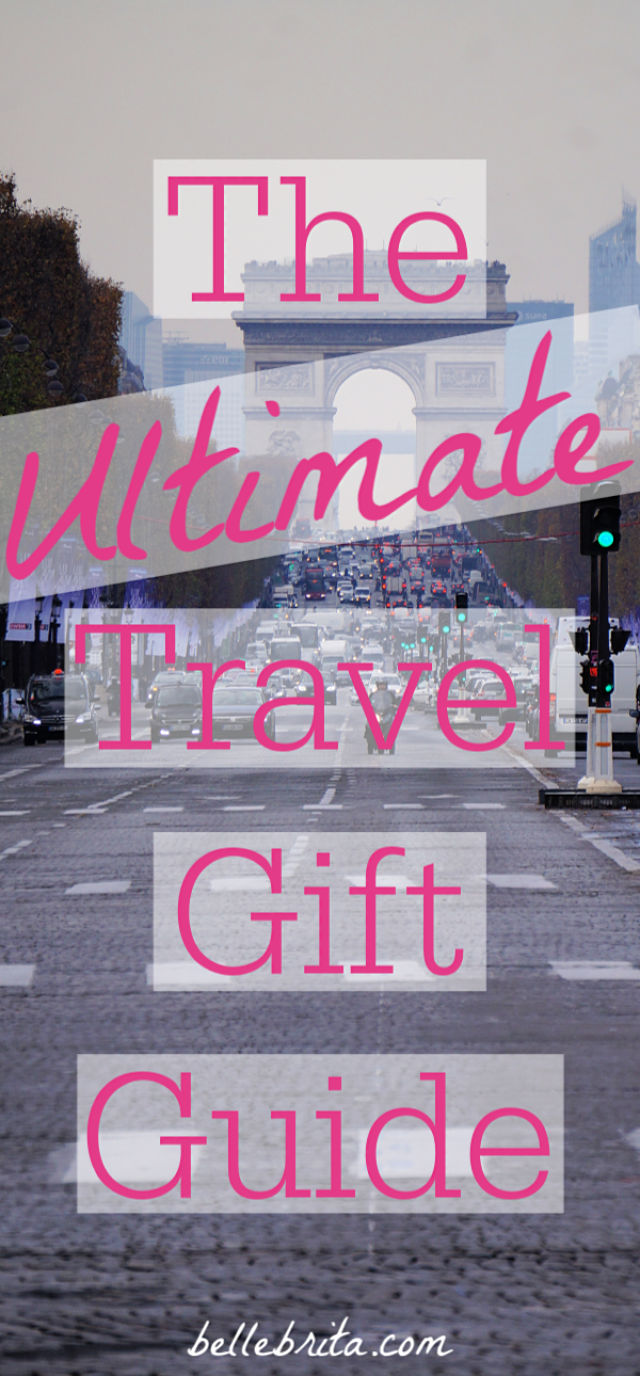 Note: I received many of these products to review. Anything marked with an * is a PR sample that I did not purchase myself. However, I'm only including products I genuinely like in this list! This post also contains affiliate links, which means I might earn a commission if you purchase something.
Best Travel Gift Ideas
I hope one of these travel gift ideas will help you with your holiday shopping! Or you can just buy a few fun travel presents for yourself.
Travel Packing Cubes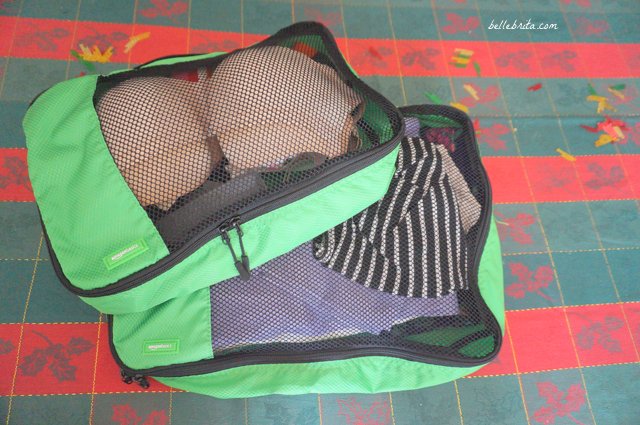 Dan and I have used travel packing cubes for over two years now. We started with just two sets in red and in blue, but we eventually bought a third set in green. They are so convenient for packing our suitcases, even when we're just visiting my dad for a weekend. We especially love using travel packing cubes for international trips.
Having travel packing cubes in different sizes makes it easy to pack efficiently for trips of any duration. Depending on the trip, I either separate my clothes into type or into days. For example, one packing cube might hold all my tops while another contains pants and shorts while a third packing cube holds socks and underwear.
Right now, while Dan and I are in Ohio for Thanksgiving, I packed by day. One packing cube holds outfits for four days while another has clothes for three days. A final packing cube has extra clothes that mix and match with the first week's worth of clothing–those will finish out the end of our trip.
The links above are the exact same travel packing cubes that Dan and I purchased for ourselves. We have been very happy with them! I've also shared a few more options below. All have 4 stars or more on Amazon, and all are available with Prime shipping.
Shacke Pak – 4 Set Packing Cubes – Travel Organizers with Laundry Bag
Bagail 6 Set Packing Cubes, 3 Various Sizes Travel Luggage Packing Organizers
OEE 7 Pieces Luggage Packing Organizers Packing Cubes Set for Travel
YAMIU Packing Cubes 7 Pieces Travel Organizer Accessories with Shoe Bag & 2 Toiletry Bags
If you don't want to shop on Amazon, look for travel packing cubes in department stores and luggage stores.
*Large Travel Makeup Bag Organizer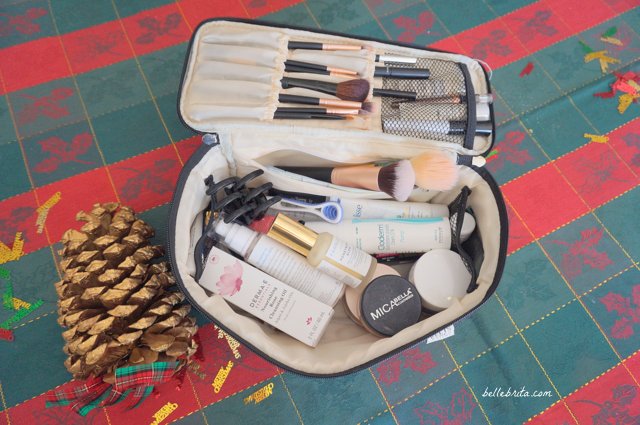 I received this beautiful quilted cosmetics case about 10 months ago. I've used it on every single trip ever since! It holds all my makeup and skincare products. Thin compartments are perfect for makeup brushes and eyeliners. Other pockets keep small products separated.
A high-quality cosmetics case is the perfect practical gift for women who travel. Or anyone who uses skincare products, regardless of gender!
Ellis James Designs is available on Amazon. If you're looking for a cosmetics case in stores, check out department stores or Target. Look at the materials and the construction of the makeup bag to evaluate its quality.
*Travel Jewelry Organizer Bag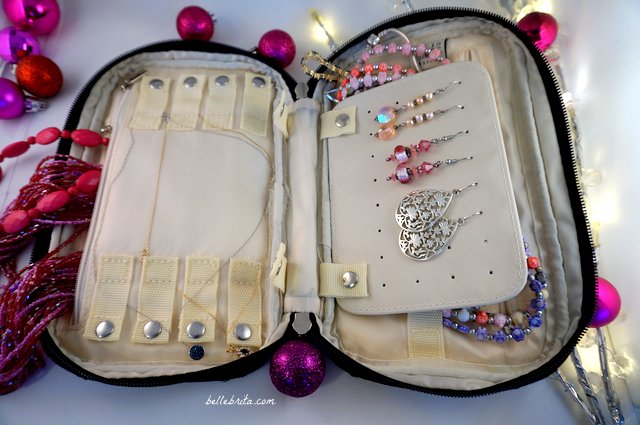 I included this gorgeous quilted travel jewelry case by Ellis James Designs in last year's gift guide! It's another travel organizer that I now use for all of my trips. It features two zippered pouches, necklace straps, and a bracelet strap. In the center is a removable earring carrier plus a removable zippered pouch (not pictured above). This travel jewelry organizer holds all my jewelry and hair accessories when I travel!
Ellis James Designs is available on Amazon. If you're looking for a travel jewelry case in stores, check out department stores or home goods stores. Look at the materials and the construction of the travel jewelry organizer to evaluate its quality.
*Protective Smart Phone Case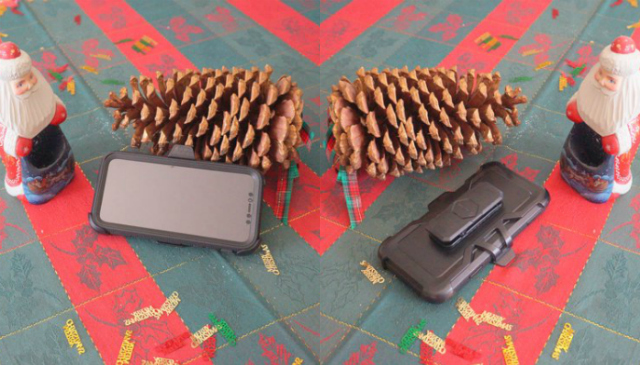 My iPhone is invaluable when I travel. I use it to look up hotel reservations, find the best routes on public transit, search restaurant reviews, and take photos for Instagram.
My refurbished iPhone 7 was more affordable than a new iPhone X, but it was still a pricey birthday present. I protect it with a screen cover and case. Travelers with new phones need protective cases!
i-Blason is a local Georgia company that creates a wide variety of phone cases. They have sent me several protective phone cases to review, including this heavy-duty iPhone X Armorbox Full-Body Holster Case. It features a no-slip grip, drop defense, and a detachable belt clip, perfect for adventurous travelers!
Are any of your friends taking a cruise this winter or planning a beach vacation next summer? i-Blason also sells waterproof phone cases, ideal for taking videos underwater.
i-Blason carries a wide variety of phone and tablet cases. You're sure to find the perfect case for all your family and friends! This is another great stocking stuffer idea.
Use code BLACKFRIDAY to take 30% off everything in the i-Blason store through 11/26/2018.
*Menstrual Cups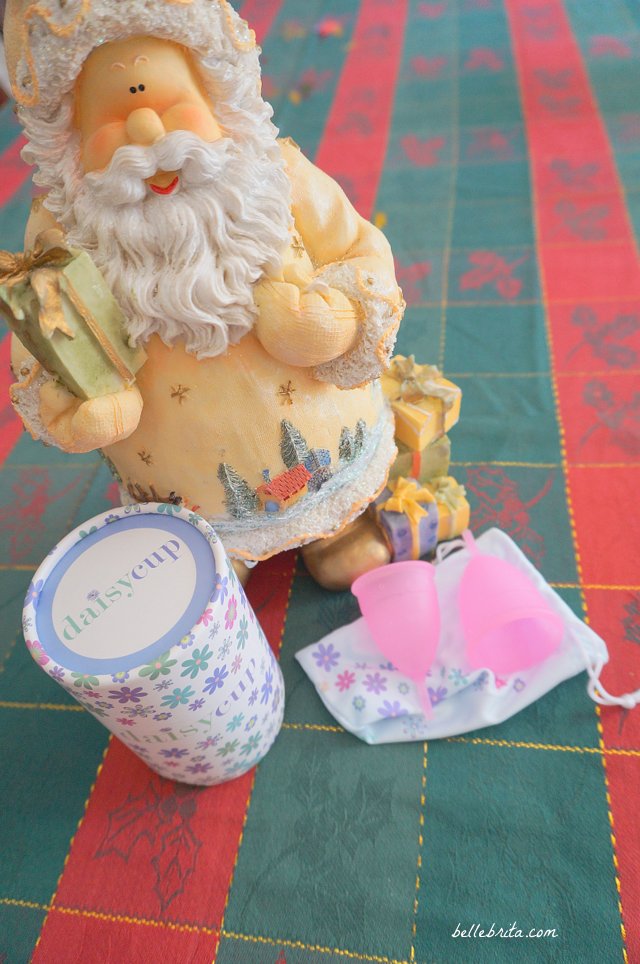 When you first think of gifts for travelers, you might not immediately put menstrual cups on your list. However, for anyone with a uterus, a menstrual cup can be a great Christmas present. This is a more personal type of gift, so you might want to buy this only for a very close friend or family member.
I recently tried a menstrual cup for the very first time when DaisyCup sent me The Daisy Double. This is ideal for someone who hasn't used menstrual cups before because it comes with both sizes, small and regular.
I started with the small one, which honestly fit quite well and felt comfortable. And by "felt" comfortable, I mean that I couldn't feel it at all! Since this was my first time trying a menstrual cup, I only used it at the end of my period when it was light. I'm looking forward to trying it again for my entire cycle.
That brief DaisyCup review done… Why is a menstrual cup good for travelers? For an adventurer who travels overseas for months at a time, a menstrual cup is good to have. You don't have to pack as many menstrual supplies or depend on the local shops to carry your preferred menstrual products. You can also empty it in any public restroom, even one that doesn't have trash cans, since all you need is a toilet. Menstrual cups hold more liquid than tampons or sanitary napkins, so you don't have to empty it as often.
Travel Mugs
Travel mugs are so handy! I love having a travel mug filled with hot tea at the start of a road trip. Then I can rinse my travel mug at the hotel and fill it again in the morning with more hot tea.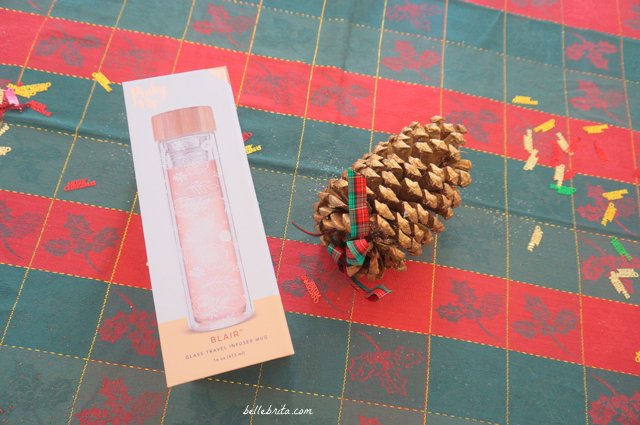 Pinky Up offers a variety of glass travel infuser mugs. These are perfect for tea snobs (like me) to infuse hot tea on the road. You can find these online at Pinky Up's website, on Amazon, and in select stores. I found mine at Kroger!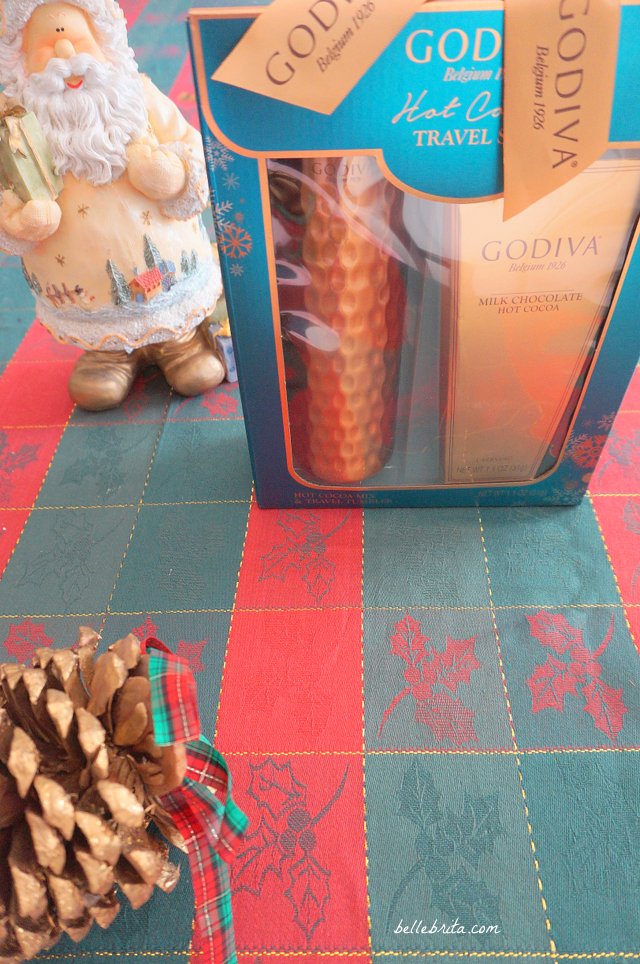 If your traveling friends prefer hot chocolate, they will love this beautiful gift set from Thoughtfully! I received this decadent Godiva hot cocoa travel set from Thoughtfully to review. I don't drink hot chocolate myself, but Dan does–he's a big fan of this gift set!
*Custom Foot Support
Dan and I walk a LOT when we travel. Our feet quickly become sore after just a few days. Both of us own supportive shoes, plus we use gel inserts. But you know what's even better?
Custom foot support.
My Wiivv sandals arrived the day I flew out for Ohio, so I can't review them yet, but I LOVE the concept. Using the Wiivv app, you upload pictures of your feet. Wiivv then creates either custom sandals or custom shoe inserts based on your feet.
Custom sandals and custom shoe inserts are a great gift for travelers!
Edit 12/04/2018: Dan and I bought custom insoles during Wiivv's Black Friday sale. We haven't received them yet, but I can't wait to try them out!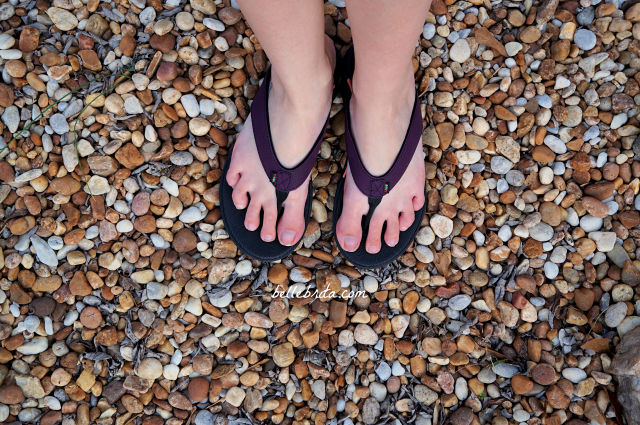 I wore my custom sandals to the zoo the other day. I'm still not entirely sure if I love them, but my feet felt fine during my two hours of walking. My one concern is the inside of my feet slightly rubbing up against the strap when I walk. Tightening the straps alleviated this quite a bit, but it's still a minor problem. This has been an issue with previous sandals, though, and once I broke in those flip-flops, everything was fine.
The style of my Wiivv sandals is great. Purple straps, black soles, coral accents. I like the color choices, even if pink isn't among the options!
The straps can be adjusted to three different fits. You can even buy new straps to change out the look!
Check out Wiivv online and order a gift card for your traveling loved ones.
*Custom Framed Photos
Travelers love to take photos. My husband takes hundreds of photos on every trip we take, even just a short weekend trip! In the age of Instagram and Facebook, real photos get forgotten. Minted wants to change that.
Minted offers amazing custom photo maps.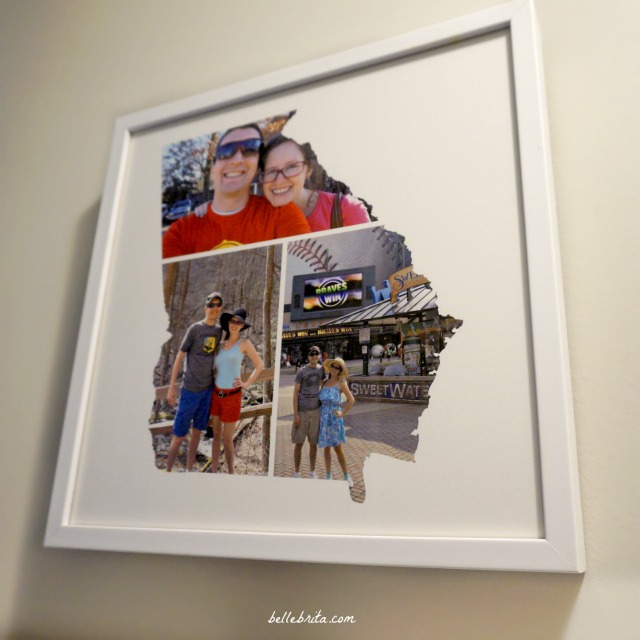 It's so easy to order a custom gift for a travel-loving friend or couple.
Select high-quality photos and arrange them in the collage. Minted makes it easy to try out different photos. Due to the irregular shape of states, it might take a few tries to get right.
Choose a frame.
Voila! Minted does all the rest.
Dan and I ordered three 11″ x 11″ photo maps: Ohio, South Carolina, and Georgia. I chose photos that we took in each of those states. We hung our custom framed art in the hallway upstairs. Our photo maps reflect the states that mean the most to us, but we could easily choose photo maps of all the places we've traveled instead.
*Global Cocktail Mixers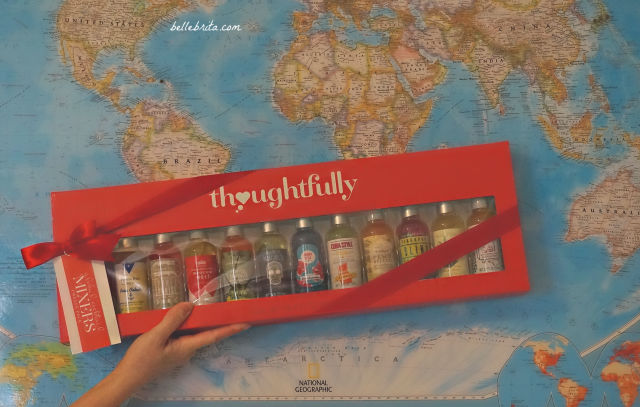 Thoughtfully creates the best gifts for everyone on your Christmas list. This 12-pack of Global Cocktail Mixers is the perfect Christmas gift for any travelers in your life. It's an opportunity to enjoy flavors from around the world. The following delightful mixers come in this gift set:
Appletini Cocktail Mixer
Blue Hawaiian Cocktail Mixer
Caipirinha Cocktail Mixer
Mai Tai Cocktail Mixer
Margarita Cocktail Mixer
Mojito Cocktail Mixer
Moscow Mule Cocktail Mixer
Peach Bellini Cocktial Mixer
Piña Colada Cocktail Mixer
Singapore Sling Cocktail Mixer
Sydney Sunrise Cocktail Mixer
Tropical Painkiller Cocktail Mixer
---
Thus ends my travel gift guide! If your loved ones enjoy traveling, they will greatly appreciate any of the travel gifts on this list.
What's on your holiday wish list?