I've been dreaming of receiving my very own Hogwarts letter ever since I first started reading the Harry Potter books in middle school.
On April 25th, that dream will come true with the release of Harry Potter: Hogwarts Mystery, an RPG for mobile devices. What is it? According to the website:
Harry Potter: Hogwarts Mystery is the first game in which players can create their own character and experience life as a Hogwarts student. The game will launch under Portkey Games, a new label dedicated to creating experiences inspired by the magic and adventures of J.K. Rowling's Wizarding World.
Portkey Games has partnered with Jam City to develop Hogwarts Mystery. Jam City is the creator of popular mobile games including Cookie Jam, Panda Pop, and Marvel Avengers Academy, plus many other games.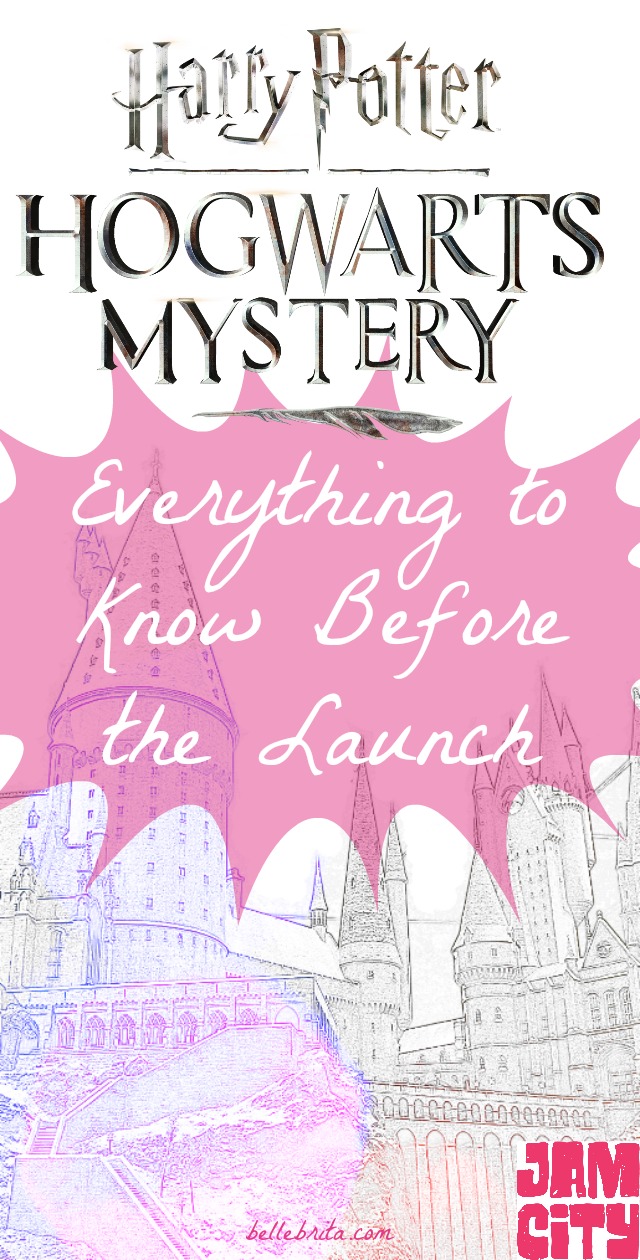 Players start the game in Diagon Alley, where you'll be introduced to your character's back story and make choices that affect your character traits and the plot trajectory. Once at Hogwarts, the Sorting Hat will ask you which house you want to join.
Hogwarts Mystery will be set in the 1980s, well before Harry Potter attends Hogwarts. But there will still be familiar faces! In fact, several of the actors from the Harry Potter films will reprise their roles as voice actors.
Dame Maggie Smith (Professor McGonagall)
Michael Gambon (Professor Dumbledore)
Warwick Davis (Professor Flitwick)
Sally Mortemore (Madam Irma Pince)
Gemma Jones (Madam Pomfrey)
Zoe Wanamaker (Madam Hooch)
Professors won't be the only familiar faces in Hogwarts Mystery. Get to know Bill Weasley, Charlie Weasley, and Nymphadora Tonks when they were students!
The Wiki article points out that other book characters might appear in Hogwarts Mystery based on when they were sorted.
Other students who were Sorted in the 1980s, were still attending Hogwarts in the books, and may appear depending on when the game is set, include Marcus Flint, (Sorted 1986) Penelope Clearwater, Percy Weasley, Oliver Wood (Sorted 1987). Roger Davies, Cedric Diggory, Angelina Johnson, Lee Jordan, Adrian Pucey, Alicia Spinnet, Patricia Stimpson, Kenneth Towler, Fred and George Weasley. (Sorted 1989), as well as other Quidditch players and Prefects in Harry's early years, like Terence Higgs and Robert Hilliard.
Personally, I'm thrilled to finally experience Hogwarts as a student. As a role-playing game, Hogwarts Mystery will allow players to feel like actual Hogwarts students, a different game-playing experience than the early computer games. While I enjoyed experiencing the books as Harry Potter, Ron Weasley, or Hermione Granger in the computer games, I was limited in the choices I could make as a player. In Hogwarts Mystery, I will have more choices to progress the game.
Interview with Jam City President Josh Yguado
Hardcore Gamer interviewed Josh Yguado about Hogwarts Mystery. Here's a bit of what they learned.
"Hogwarts Mystery has a really interesting game design – it's a combination of storytelling with RPG elements," Yguado said. "You get to live the life of a student experiencing Hogwarts for the first time. You get dropped in, you create your avatar, you start taking classes. As the narrative starts to unfold, you have to make decisions that affect the outcome of the story, and you have to make friends, build up attributes. Those attributes and spells you learn will help you when you have to dual, play quidditch, solve problems in the game and hopefully solve the Hogwarts Mystery."
I have played a little bit of an early beta version of Hogwarts Mystery. (Watch the first ten minutes of gameplay in the video above!) So far, the gameplay involves receiving tasks to complete, or quests. These include taking classes and talking with other students. Frequently you're faced with certain minor choices, like how to respond to a question. Like Yguado said, the choices you make affect the outcome of the story as well as build your attributes, like intelligence and empathy.
Perhaps more importantly, Hogwarts Mystery won't be a one-and-done experience and is planned to grow as time goes on. "It's more like a television show than a film," Yguado said. "We're going to be releasing content on a regular basis. There will be new stories, new chapters, new characters that you're constantly being introduced to. It will be an evolving property that we think is going to last for years and years."
Theoretically, the game should eventually contain enough material for players to attend a full seven years at Hogwarts. While the duration of Hogwarts sets a limit to the storytelling of the game, I still envision great possibilities. How much freedom will players have to explore Hogwarts? How many possible storylines can a player encounter? What's the extent of the impact of your choices in the game?
I imagine myself playing through from beginning to end at least four times, one time in each Hogwarts house. Theoretically, that alone should greatly change the game.
---
ALSO I've started a Harry Potter YouTube channel where I talk about the books, this game, and the upcoming game Harry Potter: Wizards Unite. If you love Harry Potter, please subscribe! I also have other social media channels for even more Harry Potter goodness.
YouTube: https://www.youtube.com/channel/UCb7a5p3nYM_LecuEUfURyuA/videos
Twitter: https://twitter.com/hpwitchesunite
Facebook: https://www.facebook.com/hpwitchesunite/
Instagram: https://www.instagram.com/hpwitchesunite/
Will you be playing Harry Potter: Hogwarts Mystery? Why or why not?