Greenwood, SC is my hometown, and I hope to live there again one day. Until that happens, I enjoy visiting my dad on a regular basis. He spoils me by taking me out to all the best restaurants in Greenwood, SC!
While we occasionally pick up dinner at chain restaurants like Chick-fil-A and Outback, my family most often enjoys the wide variety of local restaurants that Greenwood has to offer.
The Best Places to Eat in Greenwood, SC
This list is not ranked. I've dined at every restaurant on this list within the last 12 months. Obviously this is just my personal opinion of the best restaurants in Greenwood, although my husband agrees with me for a few of these choices!
For each restaurant, I've suggested a few favorite menu items to try. These are family favorites between my dad, my husband, and me.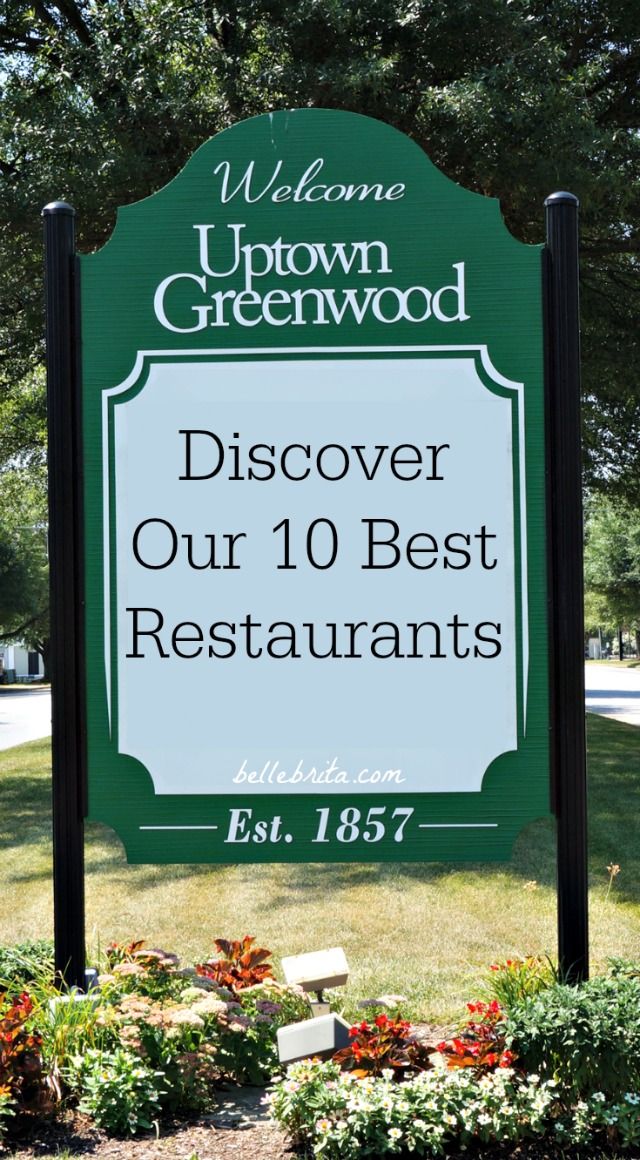 The Mill House
When Dan and I visit Greenwood for a weekend, we always dine at our favorite restaurant: The Mill House. This local restaurant serves some of the best pizza I've ever had. Plus, their beer selection is amazing. They even opened up their own brewery: Good Times Brewing.
Since starting as a small pizza and sandwich shop, we continually broaden our menu, cultivate a fine craft beer selection, host Sunday brunches and beer dinners, and keep the Good Times brews flowing from our on-site brewery. We support local farmers by using local produce and meats when possible, and our team takes pride in the quality of our work, the freshness of our ingredients, serving our patrons.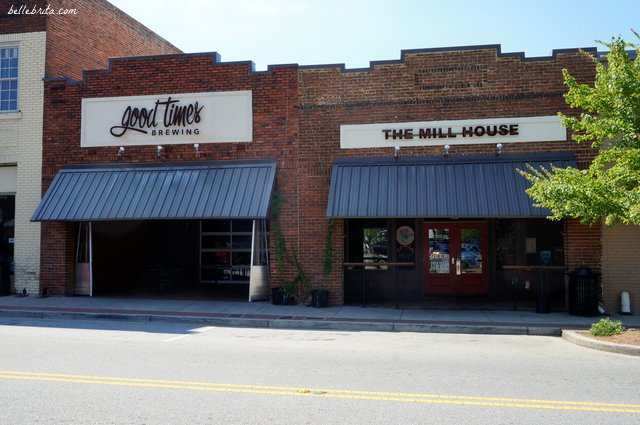 What to eat:
Pepperoni pizza with EVO sauce
The Chicken Choker
Jack Sparrow
Antipasto Salad with feta
Mill House Hearth Bread
Hearth Streusel Bread
Chicken and Waffles (Sunday brunch only)
What to drink:
The Baron (von Wiezen)
Drunkel Unkel
Quad
The Mill House also offers gluten-free pizza and a few ciders on tap in case you're avoiding gluten!
Howard's on Main
If I'm in town long enough to visit 2 restaurants, I always visit Howard's on Main. I've been ordering my favorite sandwich since it debuted on the original menu. The chips and dip are sinfully delicious!
While Howard's is open for dinner, I prefer grabbing lunch there and eating outside when the weather is nice. Howard's doubles as a local bar, which I've enjoyed visiting a few times in the evening. Enjoy live music on Friday nights!
The one downside to Howard's is an inconsistency in service. The owner is always working hard and helping customers. However, sometimes the servers never check on our table. Other times, they do appropriately check on us. Inconsistent service is a problem in most Greenwood restaurants, so I can't totally blame Howard's for this.
Howard's deli menu features fresh-baked breads and pastries, soups, sandwiches, salads and fabulous desserts. Our Backroom Bar is fully-stocked for you to sip craft beer, wine or mixed drinks while you enjoy live entertainment, karaoke, or trivia!
What to eat:
The Number 5
Grilled Chicken Salad
What to drink: I haven't been to the bar in about 2 years. However, Howard's usually offers a good selection of South Carolina beers. I like Son of a Peach.
Kickers Restaurant
I've been enjoying Kickers since it was a tiny hole-in-the-wall with one indoor table and counter service! Their menu is a delightful mix of American classics and international favorites. I always struggle to order when I visit because I want to try everything! In the winter, I always try all of their daily soups before ordering a cup of whichever I like best.
Starting in a small nook on Edgefield Street with only 8 barstools available for seating, Kickers' small restaurant and takeout business rapidly grew, leading to the new location just around the corner.
What to eat:
Ginger Pork Wrap
Samosa Indian Delight
Smokey Bacon Cheeseburger
Asian Fish Burger with Green Cabbage Slaw
Chicken Fingers
Inn on the Square
I've dined at Inn on the Square for four different types of meals: lunch, Sunday brunch, a dinner theatre fundraiser, and the Thanksgiving lunch buffet. I always like the food.
Their lunch menu offers a refreshing variety of salads and sandwiches. While the portions are smaller than a standard supersized American lunch, the prices are reasonable for the quality and the quantity. Unfortunately, we waited a long time for our food, even though it wasn't busy. And we frequently had to ask other servers for refills since our server didn't check on us often.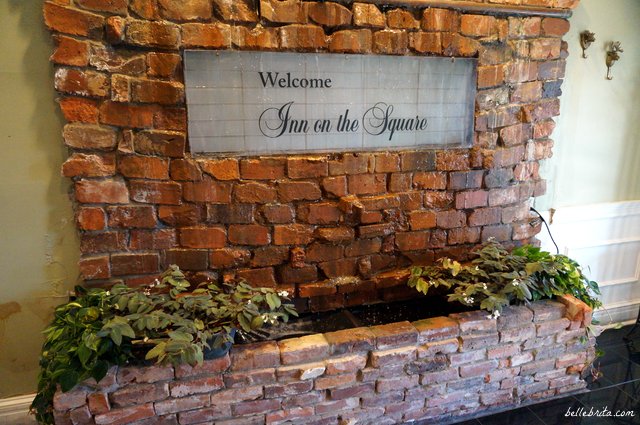 Sunday brunch at Inn on the Square is quite the treat. I've only done it once. My mouth is watering just thinking about all the food offered in the all-you-can-eat buffet. With a buffet, servers do less work for customers, but they still need to clear plates and offer drink refills. Our server did not check on us often.
The dinner theatre fundraiser featured an incredible multi-course gourmet meal. The food was impeccable. The service was the absolute best I've ever received in Greenwood. Each person at our table received the next course at the exact same time, with servers standing behind us, waiting for the cue to set down our plates.
Finally, the Thanksgiving buffet was phenomenal. The place was absolutely packed, so I'm glad my dad made a reservation in advance. It was similar to the Sunday brunch, but with all the Thanksgiving favorites you can imagine. Service was spotty, to the point that I started to refill my own unsweetened tea, and then our server scurried over, insisting I didn't have to do that. But I also don't think Inn on the Square anticipated the Thanksgiving buffet being that crowded, and I'm not sure they hired enough staff to manage everyone.
What to eat:
The Chinquapin
Seafood Bar (Sunday Brunch)
El Maya
El Maya is the newest restaurant on this list, located in Uptown Greenwood in a space that has hosted a few of my favorite restaurants over the last 20 years.
The salsa is phenomenal. Service is attentive and speedy. I have not ordered the tableside guacamole yet, but it looks good.
What to eat:
Grilled Chicken Salad
Tacos de Asado (steak)
Tacos de Camaron (shrimp)
Pascal's Cafe and Grill
Pascal's Cafe and Grill has been a family staple for special occasions for over a decade. My friends and I ate here before our junior prom. My family celebrated the high school graduation of my twin brother and me at Pascal's. We've also eaten here for holidays and for other special family celebrations.
Servers are attentive without being overbearing. The menu changes seasonally and features chef's specials. Everything is always delicious. I've ordered both of the recommendations below. The exact preparation or sides might change, but Pascal's always features filet mignon and shrimp & grits.
What to eat:
Shrimp and grits, smoked sausage, sweet Cajun gravy and Carolina grits
Filet of Beef Tenderloin Center Cut "Oscar Style" topped with blue crab, asparagus and Bearnaise
Fish speciality (sea bass)
What to drink: Pascal's offers an extensive wine list. I always order a glass of sparkling wine or a glass of red… Sometimes both!
The West End Cafe
The West End Cafe is within walking distance of my dad's house! Not that we walk all that often… They serve breakfast all day, but their lunch menu is delicious too. If you want a Saturday breakfast, arrive early! Several times we have arrived only to find all the tables completely full and people waiting to sit down.
Food is fast, yummy, and fairly cheap. It's a small location with mismatched chairs and tables. The servers are friendly and always top off your iced tea. Ask about their pimento cheese, which isn't listed on the menu.
What to eat:
One Homemade Pancake (ask for a side of fresh strawberry preserves instead of syrup)
The Lime Chicken (order with the house fries and ask for a side of lime pepper corn mayo as dip)
The chicken salad sandwich
Fat Daddy's BBQ of Greenwood
This is the newest addition to the list, replacing a restaurant that closed. Fat Daddy's BBQ of Greenwood is my new favorite barbecue restaurant. It's not cheap, but damn, the food is phenomenal.
I have yet to dine in the restaurant, but I've placed multiple to-go orders. Service is friendly, attentive, and speedy. And did I mention the food is mouth-watering good?
You can order baskets or plates, but my dad, my husband, and I usually just get a few bulk orders of meat and a few sides. It's easier for the three of us to split everything that way, plus have leftovers.
What to eat:
Pulled pork
Brisket
Ribs
Cole slaw
Hush puppies
Carolina Tavern
I have a love-hate relationship with sports bars. I love the food, but I hate the sports games on TV. Carolina Tavern is no exception. Their menu just bursts with fantastic bar food, but the dining room has TVs everywhere. I just want to eat my deep-fried food in peace!
Wear a sweater to Carolina Tavern, because it's always freezing inside. Also, the food does take a long time to come out, but it's worth the wait.
What to eat:
Pretzel Dippers
Buffalo Chicken Dip
Tavern Garlic Parmesan Fries
Tavern Ale Gravy Fries
Bleu Bacon Mushroom Burger
What to drink:
Mimosas (on Sundays)
Whatever is good on tap
Sports Break
Sports Break is another great sports bar in Greenwood. I also enjoy coming here in the evenings for drinks and loud music when my friends and I are all in town!
In addition to standard bar food, Sports Break offers a great "meat 'n' three" for lunch. For my non-southern readers, a "meat 'n' three" menu features a list of meats and sides. You pick your meat and 2-3 sides. It usually comes with rolls or cornbread too.
What to eat:
Country Fried Steak
Big Game Burger
Fried Green Beans
What to drink:
Arnold Palmer
Cosmopolitan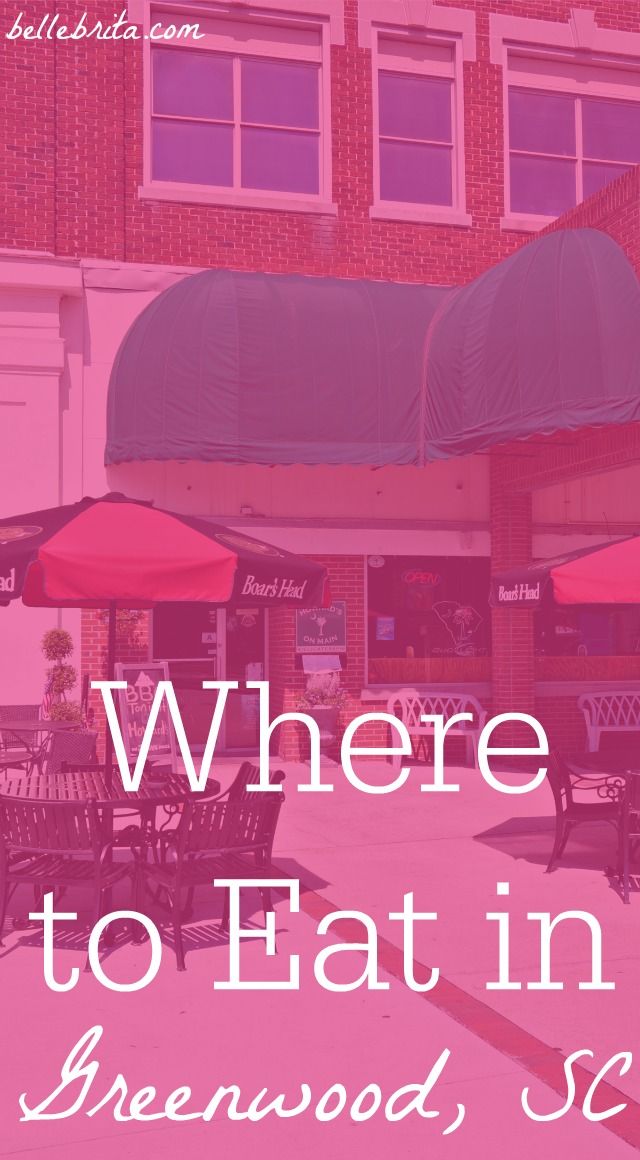 Other Restaurants in Greenwood, SC
Greenwood has so many great restaurants that I couldn't feature them all in my top 10. However, I have to include just a few more local Greenwood restaurants. Most of these restaurants I just haven't visited recently or frequently.
The Dixie Drive-In: A local favorite for burgers and fries
Burger Inn: Best corn dogs and chocolate milkshakes in town
Polo's Restaurant: A fancy establishment for special occasions
Montague's Restaurant: Another fancy establishment for special occasions
---
Now I'm hungry! It's been at least a month since I last visited any of my favorite restaurants in Greenwood, SC. Clearly I need to visit my dad again…
If you're from Greenwood, SC, what do you think of my list? Did I leave off your favorite local restaurant?
To the rest of my readers, I hope you'll visit my hometown and try our delicious dining options!