This is Part 3 in a short series exploring sexist attitudes in the Netflix original series 13 Reasons Why. If you haven't already, read Parts 1 and 2 first.
Related: 13 Reasons Why Teenagers Need Feminism (Part 1)
If you have not already seen 13 Reasons Why or read the novel, this post contains heavy spoilers. Even the subheadings contain spoilers.
Related: 13 Reasons Why Teenagers Need Feminism (Part 2)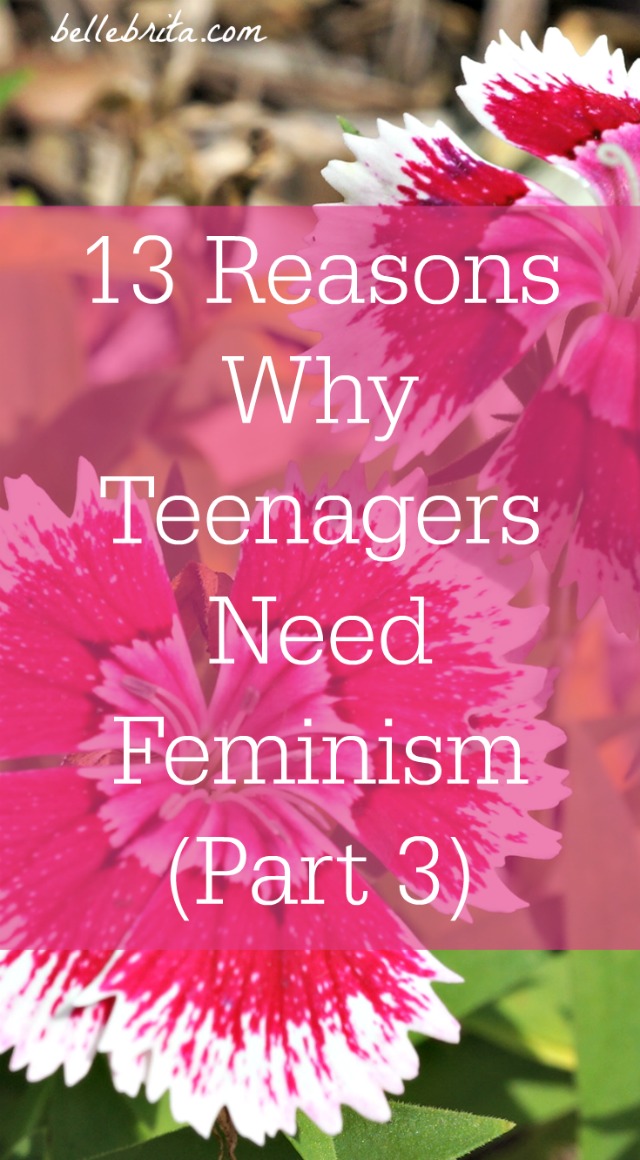 Rape Culture in Netflix Original Series 13 Reasons Why
Several of the episodes below started with content warnings before they aired. This post discusses rape, but not in a graphic manner. While I will not go into detail regarding the incidents of sexual violence, this blog post does focus on the attitudes and actions of the characters that contribute to rape culture.
Related: Feminism 101: Rape Culture
Tape 5, Side A: Girls Who Drink Too Much are Asking to be Raped
This tape reveals that Hannah witnessed Bryce rape an intoxicated and near-unconscious Jessica. Jessica's boyfriend, Justin, half-halfheartedly tried to stop Bryce, but it wasn't enough. Hannah felt frozen with fear and didn't intervene either.
Bryce feels entitled to sex with Jessica. He doesn't care that she's wasted or that she's passed out in her room. He doesn't even care that Jessica has a boyfriend–Justin, Bryce's best friend.
Bryce doesn't even try to hide the fact that he's going to rape Jessica (probably because he doesn't realize sex with an unconscious person is rape). He even makes a little comment to Justin about how they share everything before going into Jessica's room.
13 Reasons Why is a piece of fiction. But rapists attacking intoxicated, unconscious victims? That is all too true.
And then, all too often, the public blames the victim.
Does alcohol cause sexual assault?
From the article "Rape and the Intoxicated Victim" by Maggie Tennis:
The idea exists in our culture that if you allow yourself to get so drunk that you black out or pass out, then you are, in fact, inviting inappropriate conduct upon yourself, or that you are even complicit in your own rape. A perpetrator of sexual assault seizes advantage of an unfortunate presumption that a drunken individual has somehow consented to a sexual act simply by becoming black-out drunk. Or even that, by reaching such a state, the drunken individual has forfeited any right to give consent entirely. Armed with this reasoning, the perpetrator concludes that sexual advances on this person would not be considered rape.
Just this year, a judge in the UK insinuated that if women don't drink too much, they can protect themselves from rape. She also said, "if push comes to shove, a girl who has been drunk is less likely to be believed than one who is sober at the time. I beg girls and women to have this in mind." The judge made these remarks after sentencing a rapist to jail.
For more information on the connection between alcohol and rape, I highly recommend reading "Actually, The Link Between Sexual Assault And Alcohol Isn't As Clear As You Think." From the article:
National statistics dispel the direct correlation between alcohol and rape, too. The Department of Justice's National Crime Victimization Survey has found that the number of Americans who say they've been raped — regardless of whether they reported that crime to the authorities — has been declining since 1979. During that same time period, binge drinking has been steadily rising. As Slate's Amanda Hess points out, that suggests something else besides alcohol consumption is actually factoring into the nation's sexual assault rate. Indeed, research has found that intimate partner violence declines not as people drink less, but as society moves toward gender equality.
Tape 6, Side A: Rape Survivors Behave in a Predictable Way
Throughout the series, Jessica behaves more and more erratically. She misses cheerleading practice and shows up late to games. She sneaks alcohol at school, hides alcohol around her bed, and in one disturbing scene, plays with her father's gun.
These actions are all signs of Rape Trauma Syndrome. But Jessica does one thing that might confuse some viewers of 13 Reasons Why.
She continues to spend time with Bryce, even pursuing alone time with him.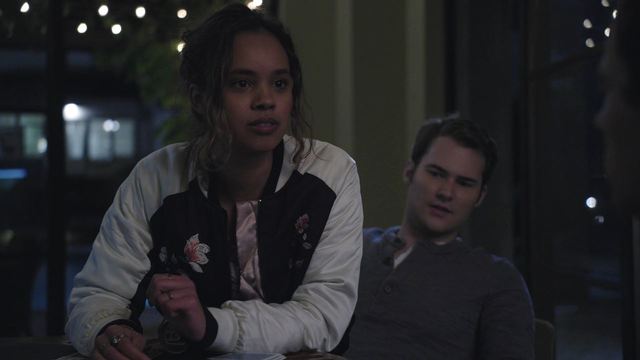 Why would any rape victim willingly spend more time with a rapist?
Jill Filipovic addresses this in an article on sexual assault misconceptions for Cosmopolitan. From the article (emphasis my own):
It's incredibly common for survivors to feel numb and come across as cold or unemotional, or even to make what feel like inappropriate jokes… for a victim to downplay what happened or be confused about it… for rape survivors to have sex again soon after the event, sometimes with the same person they later say raped them — it can be a way of reasserting control after control over their own bodies was just taken from them. The only universal truth about how rape victims act is that they rarely act 100 percent like characters on a TV drama.
Refinery 29 addresses this same question brought up by 13 Reasons Why (emphasis original):
Yet in many cases, a survivor tolerating their rapist at all — let alone engaging in friendship or a relationship — raises eyebrows. It becomes something that a doubter can cling to — how can you claim that you were raped by this person, when two weeks later you celebrated his birthday? When you went on a second date? When you texted him about the math homework?

That's why Jessica's story is important. It's clear from episode 1 that Jessica is struggling with something, though we don't yet know what that is. When we see her in present day, she is numbing herself with alcohol and partying — erratic behavior that doesn't match up with the Jessica we saw in Hannah's flashbacks. She also seeks out Bryce and hangs out with him alone, seemingly "flirting" with the person who we later learn raped her. It's not that Bryce didn't commit a serious crime, nor is it that Jessica has forgiven him for it. Yet by hanging out with Bryce, by pretending everything is "fine" between them, Jessica assumed, incorrectly, that it would be easier to move on.
Tape 6, Side B: Girls Who Attend Parties are Asking to be Raped
This tape reveals that while attending a party at Bryce's house, Hannah ends up alone with him in the hot tub, where he rapes her.
In the present-day, Clay tricks Bryce into confessing the rape. But even that confession indicates that Bryce literally thinks Hannah was asking for sex. He says:
She came to my party. Mine. She got in the hot tub with me, without a suit on. Right? And she fucking–she made eyes. I know that's hard for you to hear, that your crush wasn't pure and clean. She fucking wanted it…

She wanted it… Me. She was practically begging me to fuck her. If that's rape, then every girl at this school wants to be raped…

You wanna call it rape, call it rape. Same difference.
Again, 13 Reasons Why is a piece of fiction. But the public siding with the rapist? Blaming the victim for attending a party or drinking alcohol? That is all too true.
See Daisy Coleman. Despite a shocking amount of evidence (including video footage), the city dropped the charges against the rapists. And Daisy's entire family ended up driven out of town by harassment and victim-blaming.
See the Steubenville High School rape case. People blamed the victim for going to a party and getting drunk.
A study came out in 2016 that discovered a full 25% of comments on news articles about sexual assault and rape blame the victim.
Related: Donald Trump, Rape Culture, and Feminist Fatigue
Tape 7, Side A: Girls Lie about Rape
In many ways, this final tape upset me the most. At the beginning of the tape, Hannah admits she feels slightly better about her life after recording all the tapes. She wants to give life a chance–but she needs help. So she makes an appointment with the school counselor, Mr. Porter.
Side Note: School Counselors vs. Mental Health Professionals
I read a comment online criticizing the portrayal of Mr. Porter. It basically implied that 13 Reasons Why doesn't fairly paint mental health professionals.
I don't know what sort of fancy high school this person attended, but my high school guidance counselors were the farthest thing from mental health professionals with any sort of mental health training or education. Mr. Porter even mentions that his previous job involved guns and gang violence (this detail is from memory, so I might have it slightly wrong), leaving him unequipped to deal with verbal harassment and bullying.
While I've read legitimate criticisms of the series, it's unfair to assume Mr. Porter is supposed to be a trained mental health professional in any way, shape, or form.
An Absence of a No is Not Consent
In Hannah's meeting with Mr. Porter, she implies she has suicidal thoughts. While she backs away from suicide in their conversation, she continues to share feelings of pain and isolation.
Hannah refers to the list that started the harassment. She mentions that the latest repercussion of the list happened a week prior. Mr. Porter carefully asks questions–suggesting that Hannah regretted consenting to sexual activity. When she reacts strongly to that suggestion, he asks if someone forced himself on her.
When she hesitates while replying yes, Mr. Porter pounces on her hesitation. "Did you tell him to stop? Did you tell him no? Maybe you consented, and you changed your mind."
Hannah clearly objects to that last statement. Her pain is evident in her voice when asking Mr. Porter if he can guarantee her rapist will go to jail.
Understandably, Mr. Porter can't promise that, considering how many convicted rapists serve no jail time. But this is where he completely fails Hannah.
Rape Survivors Have Options
Mr. Porter tells Hannah that if she won't name her rapist, if she won't press charges, if she's not even sure she can press charges… Then she needs to move on.
He doesn't provide a suicide hotline for her to call. He doesn't recommend she visit a rape crisis center. Mr. Porter might not be a mental health professional himself, but at the the very least, he should refer students to outside resources. Such as an actual mental health professional.
Everyone on the 13 tapes fails Hannah in some way. Mr. Porter fails Hannah in the same way school administrators and police officers fail rape victims across the country (and world). With rape myth acceptance. By doubting rape victims. Questioning them with accusatory language and pouncing on any imperfect response.
And then by not providing any resources to help them with the trauma of rape. Rape survivors often experience Post-Traumatic Stress Disorder (PTSD) or Rape Trauma Syndrome (RTS). They need professional help–not empty advice to "move on."
Tape 7, Side B: Rapists Lurk in Alleys
There's not an episode for Tape 7, Side B. In the second-to-last episode of 13 Reasons Why, Clay makes one last tape–Bryce's confession. In the last episode, Clay gives all the tapes to Mr. Porter.
Bryce is a rapist.
But he's not a monster.
Bryce's character is so incredibly important in 13 Reasons Why. Yes, he's an arrogant jock who clearly feels entitled to women's bodies. He sends the photo of Hannah to the whole school. He grabs Hannah's ass in the convenience store.
But Bryce is friendly and outgoing at school. Even the teachers seem to like Bryce. He knows about Justin's terrible home life, so Bryce helps out Justin with material items. When Justin needs a place to stay, Bryce opens up his pool house.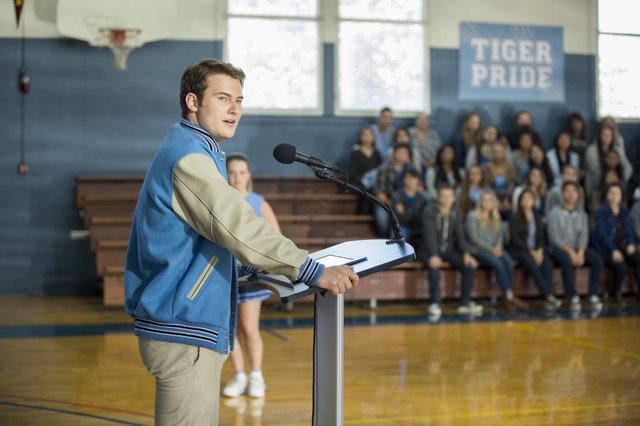 Bryce does not fit the stereotypical profile of a rapist… Unless you're a feminist deeply aware of rape culture and the actual statistics surrounding rape.
On Bustle, Samantha Rullo goes into this very point, quoting Justin Prentice, the actor who plays Bryce.
As a show aimed at teens, it's incredibly important that 13 Reasons Why demonstrate the very real risks of sexual assault and bullying. By making Bryce "a real high school kid," the series shows that being a good guy on the surface doesn't stop someone from being capable of rape.

"Most of these cases of sexual assault and violence aren't by people who were born with different brain wirings," Prentice says. "You know, they're not these Ted Bundys — I mean those cases do happen of course — but the majority of these cases are opportunistic sexual assaults." Indeed, in eight out of 10 rape cases, the victim knew their assailant, according to the National Sexual Violence Resource Center (NSVRC), and there have been multiple cases of convicted rapists' academic or athletic achievements affecting their defense.
Rape is about more than sex–it's about power and entitlement. Bryce has wealth and influence, and he feels entitled to whatever he wants, including sex with an unconscious girl and a girl trying to get away from him.
Bryce actually fits the profile of a rapist pretty perfectly.
---
The harsh reality is that rape culture kills teenage girls and women. Hannah is a fictional teen who dies by suicide after rape. Rehtaeh Parsons and Audrie Pott are real teenagers who killed themselves after rape.
Practicing kindness is too simplistic of a response to 13 Reasons Why.
All of us need to do more than just be kind.
We need to dismantle rape culture.
If this post resonates with you, please share on social media.
If you need immediate support regarding rape or sexual assault, you can reach your local RAINN affiliate at any time, 24/7, by calling the National Sexual Assault Hotline at 800.656.HOPE (4673). You can also look up local centers for rape and sexual assault survivors online. 
If you feel you are in crisis, please call the National Suicide Prevention Lifeline. It is a free, 24-hour hotline, at 1.800.273.TALK (8255). Your call will be connected to the crisis center nearest to you. If you are in an emergency, call 911 or go to your nearest emergency room.