This is Part 2 in a short series exploring sexist attitudes in the Netflix original series 13 Reasons Why. If you haven't already, read Part 1 first.
Related: 13 Reasons Why Teenagers Need Feminism (Part 1)
More Feminist Lessons in Netflix Original Series 13 Reasons Why
While I try to avoid specific spoilers, obviously there are some spoilers below for both the show 13 Reasons Why and the original novel Thirteen Reasons Why.
The series itself returns to several themes in many or even all episodes. In fact, several of the issues below come up in the first few episodes too.
Tape 3, Side A: Lesbians Exist for Male Gratification
Sexual attraction can be complicated. Like I wrote in my previous post, masturbation is a normal activity. I'm not entirely sure why so many heterosexual men are attracted to lesbian porn, but I accept that it's a thing.
The problem is applying porn plots to real life and expecting porn to portray realistic sexual relationships.
Women who are attracted to women, regardless of their sexual orientation, don't have that attraction for the sole purpose of gaining male attraction.
I used to make out with women. Because I'm bisexual. And the only time I even pretended I was kissing my girlfriends for male attention was after convincing a guy to buy us shots. I also wasn't out then. My internalized biphobia made it easier to perform my sexuality for the male gaze than to admit my sexuality existed in a very personal way.
A woman's sexuality is not a performance for men. You can think that lesbians and bisexual women are hot, but our sexuality is our own. It's not about you.
Tape 3, Side B: It's Okay to Punish Girls Who Say No
This is actually a theme that comes up throughout the series. When Jessica doesn't have sex with Alex, not only does he break up with her, but he humiliates her alongside Hannah. When Hannah asserts her boundaries with Marcus, he yells at her in public. And when Hannah refuses to go out with Zach? He punishes her as well.
All human beings should have both bodily autonomy and sexual agency.
Bodily autonomy is the right to control your own body. This is why I sign so many forms before getting a Remicade infusion or any Crohn's diagnostic test. I have the right to decline medical treatment.
Sexual agency is part of bodily autonomy. It's the right to choose when, where, with whom, and even how to have sex (or not). You have the right to say no just as much as you have the right to say yes–and so does your prospective partner(s).
And if your prospective partner says no, you must respect that. Even if your feelings are hurt. Even if she embarrasses you. It is not okay to lash out just because someone doesn't want to engage in sexual activity with you.
Tape 4, Side A: Boys Don't Have Feelings
Poor Zach.
Hints of his family life show a wealthy and loving family, including an adoring younger sister. He's a star basketball player. Considering his career goals, Zach probably receives good grades.
Almost everyone on the tapes has their own problems that contribute to their poor decisions. Unlike the other subjects, however, Zach has a good home life AND a good school life AND no deep dark secrets to maintain. So what's his problem?
Zach's problem isn't just that he doesn't know how to handle rejection, but that he doesn't have any positive outlet for his feelings. Popular teenage boys don't have feelings, right? Or at least not negative ones.
But Zach is obviously struggling with his own insecurities, without any way to deal with them in a healthy way. So when Hannah's rejection humiliates him, he punishes her by taking away the only small source of validation and comfort she still has in her life.
Emotions are not gendered. Insecurity is not gendered.
Tape 4, Side B: Gay Boys All Look and Act a Certain Way
Who else knew that Tony was gay?
I did.
I actually thought the foreshadowing was really obvious, but I couldn't tell what the show intended to do with the foreshadowing.
Tony coming out to Clay is a great scene. I don't know who is more surprised: Clay, that Tony is gay, or Tony, that Clay didn't know.
The whole series does paint Clay as both socially awkward and socially oblivious, so this scene provides great comic relief to the otherwise dark themes. Because of COURSE Clay has no idea Tony is gay.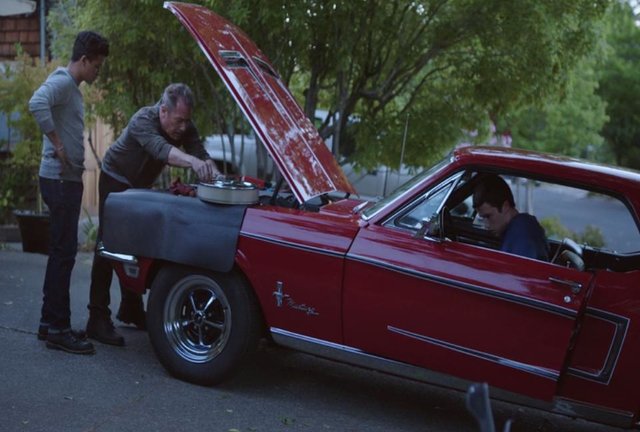 Why did Clay have no idea? Clay never says outright, but the implication is that he assumed gay boys looked or acted a certain way. Like dressing well and writing poetry, for example. Tony listens to cool music and drives a red Ford Mustang. How could he be gay?
Tape 5, Side B: Girls Cause Drama
Yes, I skipped a tape. Its theme better fits with the last few tapes. Tape 5, Side A will be in Part 3 of this blog series.
This episode is harder to connect directly to a sexist belief. A story line from Tape 5, Side A continues, with a character displaying erratic behavior and making risky decisions. A drunk-driving story line emerges, but it's not as simple as a dramatic PSA.
In the flashback, Clay lashes out at Hannah when she tries to talk to him about the car accident. He accuses her of being overly dramatic and making everything about her.
In this situation, I don't fault Clay for how he reacts. His friend just died, and he's understandably not taking it well. But his choice of words still reveals an underlying sexist attitude about girls, particularly teenage girls.
Side Note: Grief
As someone who has experienced multiple forms of grief, I understand that death affects people in unexpected ways.
I think often of three young women, all of whom were friends of mine once upon a time, but none of whom I would describe as more than an acquaintance when they died. These women all left a meaningful impact on my life, and I pray for their families often, even though I barely know one family, and I never met the other two.
I'm glad so many people miss my mom. Their grief is real, no matter how distant their relationship was to my mother.
Intense Feelings are Real
Without getting too scientific on you, the teenage brain undergoes a lot of changes. The result of those changes is intense–and very real–feelings. Teenagers are not overreacting–they're expressing their true emotions.
That said, adults shouldn't be quick to dismiss teenage feelings as just normal teenage moodiness. Teenagers can and do experience mental illness like depression and anxiety.
While teenagers of all genders can have their feelings dismissed or ignored, teenage girls tend to be the ones accused of causing drama or being dramatic. This article pinpoints just why this is problematic:
"Drama" is a performance done for someone else's benefit. When you call someone "dramatic," you are saying that their response to an event or person is not just more intense than is called for, but is done specifically to garner a reaction from people.
Honestly, this relates to the idea that girls are liars or girls are crazy. These misogynistic beliefs all feed upon each other, forcing girls and women into narrow roles of acceptable behavior and credibility.
---
This post is a little bit shorter than the first one, probably I shared shorter personal stories. Part 3 will be up next week, so stay tuned!
What do you think about these sexist myths? What can we do to combat misinformation?
If you feel you are in crisis, please call the National Suicide Prevention Lifeline. It is a free, 24-hour hotline, at 1.800.273.TALK (8255). Your call will be connected to the crisis center nearest to you. If you are in an emergency, call 911 or go to your nearest emergency room.