I worked with Experience Columbus to create a sponsored blog post several months ago. That said, I'm writing this post just because I want to share more details about the Columbus, Ohio art scene. All opinions are still my own and also rely upon when I lived in Columbus, Ohio. 
In 2016, Dan and I made it back to Ohio four times if you include our long weekend for New Year's Eve. While I always try to get in some quality time with my besties who live in Columbus, I don't always get the luxury of enjoying everything the city has to offer.
Like the Columbus, Ohio art scene.
But during my fall trip, I enjoyed a few luxurious days of playing tourist in my former home city. I soaked up as much art as I could during my two days of exploring the city. Some attractions I hadn't visited since my intern days in 2011. Others were brand-new to me!
Columbus, Ohio Art Museums
Columbus Museum of Art
Whenever I visit the Columbus Museum of Art, I get distracted by all the interactive opportunities. While some are more geared towards children, many of the hands-on activities are fun for all ages.
One year I designed a temporary mosaic. I let my Kappa love fly with a fleur-de-lis in light blue and dark blue.
On my most recent visit, I created my own abstract collage inspired by a piece hanging in the collection.
Whether you have artistic younguns or just a young art-heart, you'll find something to amuse you at the Columbus Museum of Art.
Programs including open studio hours and summer workshops
As a feminist, I particularly admire the museum's initiatives and exhibitions to recognize women artists. I really hope to get back to Columbus to see the upcoming exhibition A Dangerous Woman: Subversion and Surrealism in the Art of Honoré Sharrer. That is so obviously me. It opens February 10, 2017 and will stay on display until May 21, 2017.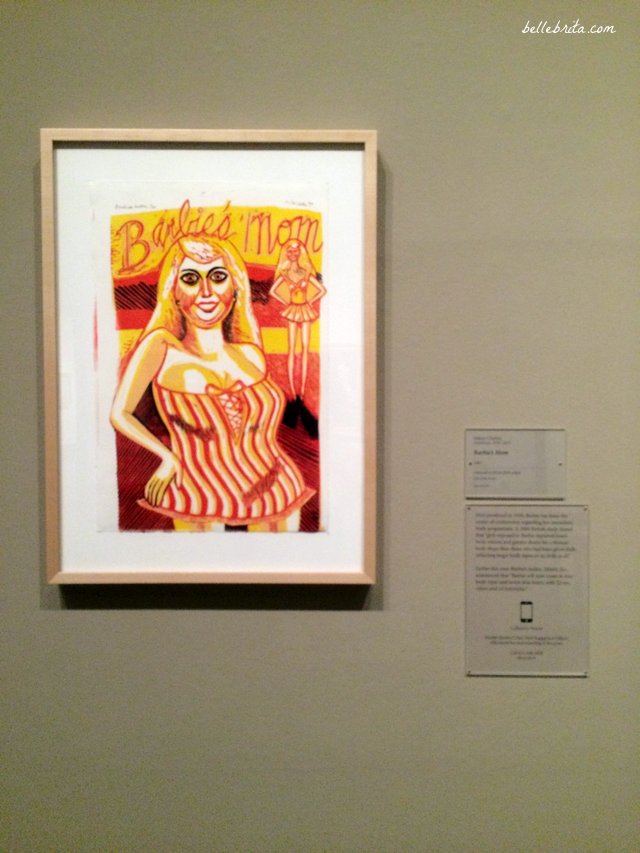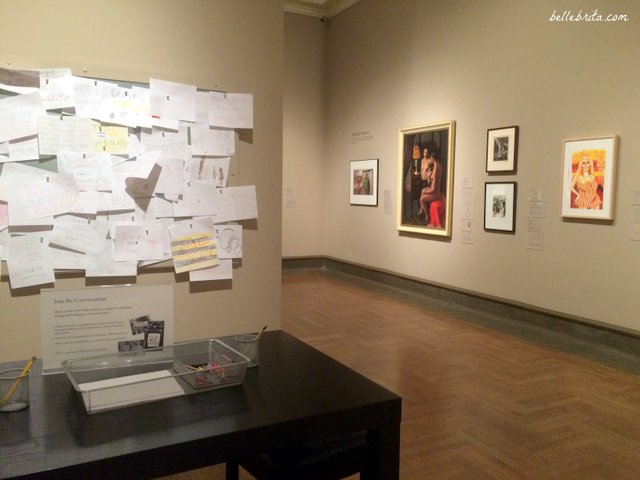 Last March,  the Columbus Museum of Art participated in #5womenartists, a national campaign to help people answer the question, "Can you name five women artists?" This took place during Women's History Month.
As part of the campaign, the museum added more interactive lessons to select pieces of art. Throughout the museum, you can find prompts on the placards to call a phone number. You might hear either the artist herself or another prominent woman in the art world discuss that piece of art.
Columbus Museum of Art Visitor Information
Ticket Prices:
Members: FREE
Adults: $14
Seniors (60+) and Students (18+): $8
Students (6-17): $5
Children (5 and under): FREE
Sundays: FREE
Thursdays (5:00 PM – 9:00 PM): Pay What You Want
Hours:
Monday: Closed
Tuesday to Wednesday: 10:00 AM – 5:00 PM
Thursday: 10:00 AM – 9:00 PM
Friday to Sunday: 10:00 AM – 5:00 PM
Check the website for holiday closures.
Contact:
614-221-6801
614-221-4848 (24-hr info)
[email protected]
480 E Broad St
Columbus, OH 43215
Pizzuti Collection
Columbus now has another small art museum, the Pizzuti Collection. I only visited this for the first time back in September.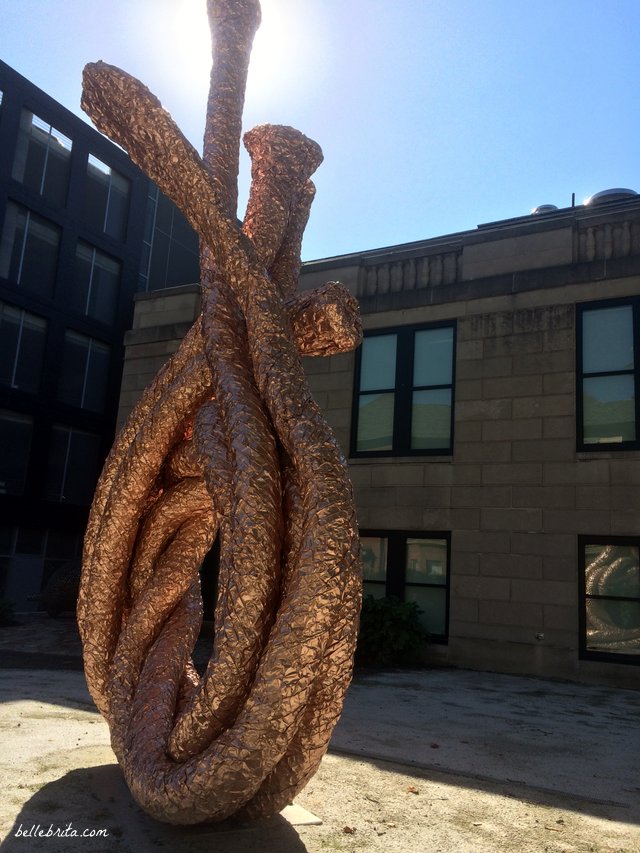 From their website:
The Pizzuti Collection is a 501( c)(3) nonprofit organization presenting temporary exhibitions of contemporary art from the collection of Ron and Ann Pizzuti. What started as a personal passion for the art itself has grown into a lifetime commitment of the Pizzuti's to bring world-class art and artists to Columbus, helping to enhance the cultural fabric of our community for generations to come.

Housed in an historic building located in the Short North Arts District, the Pizzutis graciously restored and transformed the 18,000 square foot space into several beautiful light-filled galleries, a sculpture garden, and public resource library. Upon completion, the Pizzutis gifted the building to the Pizzuti Collection. Each season we present an exciting range of exhibitions drawn from a collection of paintings, sculpture, film, photography, drawings, and prints that has been ranked as one of the top in the world. We also offer educational programs, lectures, artist talks, and special events throughout the year.
Can a city have too much art? I don't think so. The Pizzuti Collection definitely enhances the Columbus art scene.
During my visit, the exhibition was Cuban Forever Revisited. When the Pizzuti Collection first opened, their inaugural exhibition celebrated Cuban art. This inspired trips to Cuba and new Cuban art collections for other Columbus art collectors. While this new exhibition was a throwback to the original, it featured almost an entirely new collection of art.
Visions from India debuts on March 10, 2017 and will be up through October 28, 2017. The Pizzuti Collection will remain open during this transition, but some galleries may be closed.
Pizzuti Collection Visitor Information
Ticket Prices:
Members: FREE
Adults: $12
Seniors: $10
Students and Children: FREE
Hours:
Sunday and Monday: Closed
Tuesday and Saturday: 11:00 AM – 5:00 PM
Contact:
614-280-4004
[email protected]
632 North Park Street
Columbus, OH 43215
Users of wheelchairs can enter the Pizzuti Collection via Russell Street. Please call 614-280-4004 for details.
Art in Columbus, Ohio Gardens
I am my mother's daughter. I love a good garden. Beautiful gardens are transitive works of art in and of themselves, changing from season to season or with just the whim of the wind. Garden art in Columbus, however, offers something for even the most traditional of art lovers.
Franklin Park Conservatory
I've only had the privilege of visiting the Franklin Park Conservatory twice. One day, I hope to spend many more hours there enjoying not just the Conservatory, but the surrounding grounds.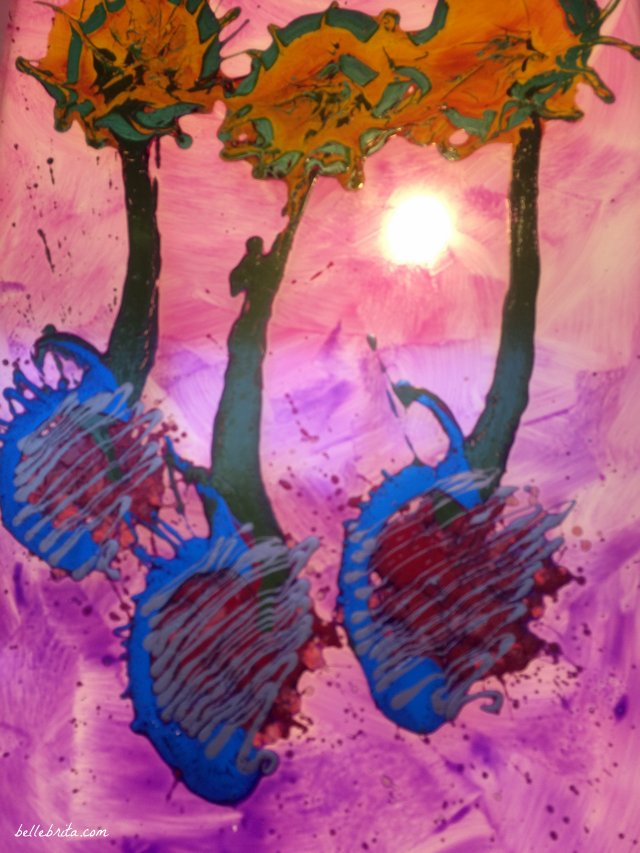 The Franklin Park Conservatory features several distinct garden sections.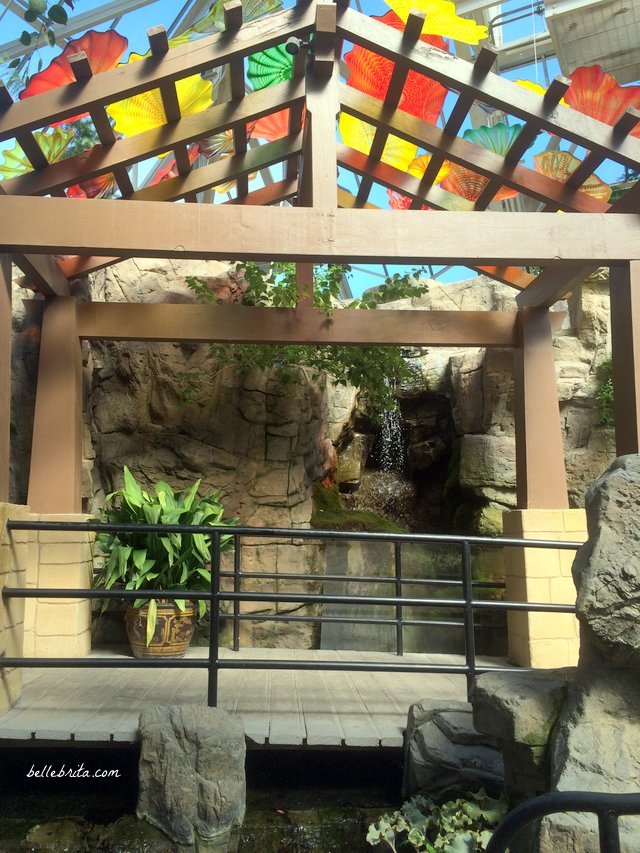 The Conservatory also features a stunning collection of Dale Chihuly's vibrant glass artwork. While the original exhibition was temporary, the popularity of Chihuly's gorgeous glass inspired a private, non-profit group, Friends of the Conservatory, to purchase most of the pieces as a permanent collection for the Conservatory.
Franklin Park Conservatory Visitor Information
Ticket Prices:
Members: FREE
Adults: $14
Seniors (60+) and College Students: $11
Children (3-17): $7
Children (2 and under): FREE
Hours:
Daily 10:00 AM – 5:00 PM
Contact:
614-715-8000
[email protected]
1777 E Broad St.
Columbus, OH 43203
The Topiary Park
I have many fond memories of Columbus's Topiary Park. It's within walking distance of Kappa's headquarters and museum, where I lived and worked for a summer. Libbi and I would go there to read and lay out.
When Dan and I still lived in Findlay, Kappa hosted a fantastic fundraiser called Wickets in Wonderland. They set up all sorts of fun Alice in Wonderland decorations in Topiary Park. Plus we played in a croquet tournament!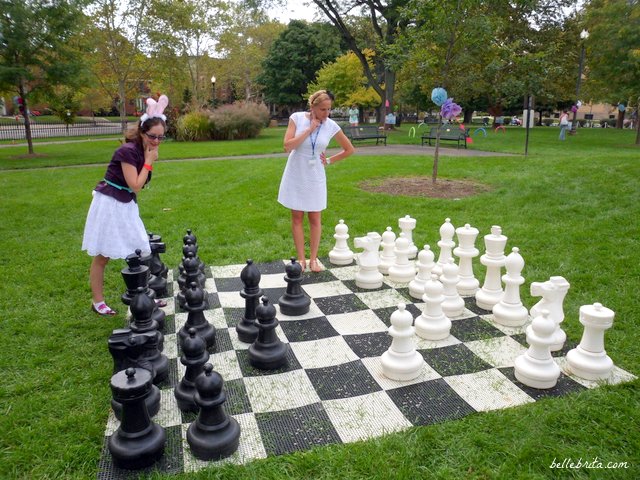 I just had to visit Topiary Park again during my brief tour of Columbus, Ohio art. And yes, this park totally counts as art. From their website:
"The Topiary Park is a landscape of a painting of a landscape. … If an artist can paint a picture of a landscape — art mimicking nature — then why not a sculptor creating a landscape of a work of art — nature mimicking art? The topiary garden is both a work of art and a work of nature. It plays upon the relationships between nature, art and life." -James T. Mason, sculptor and creator of the topiary interpretation of George Seurat's famous painting Un dimanche après-midi à l'Île de la Grande Jatte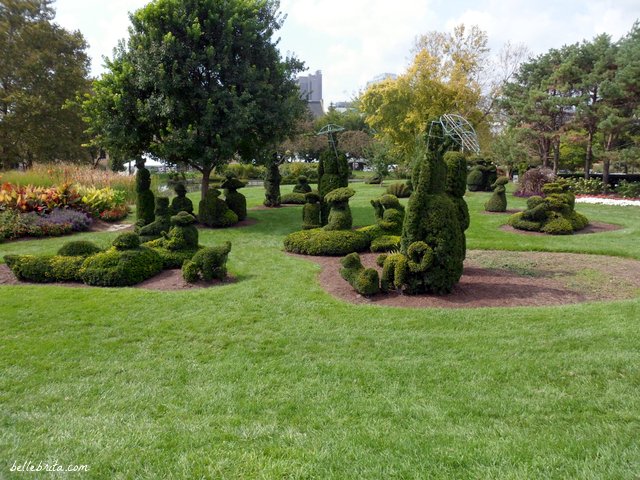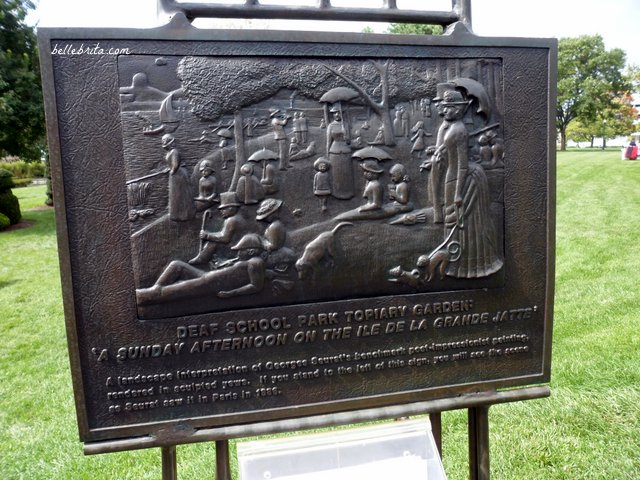 While I haven't seen the famous painting itself, I have seen the study Seurat created before painting the full masterpiece.
The Topiary Park Visitor Information
Located at Town Street and Washington Avenue, this is a free park open daily from sunrise to sundown.
Contact:
614-645-0197
[email protected]
480 E. Town St.
Columbus, OH 43215
Art Galleries in Columbus, Ohio
Hammond Harkins Gallery
Hammond Harkins Gallery is a small art gallery in the Short North open free to the public. I greatly enjoyed discovering this quality art gallery during my Columbus visit back in September.
While I was there, Hammond Harkins Gallery featured an exhibition on Aminah Robinson's art.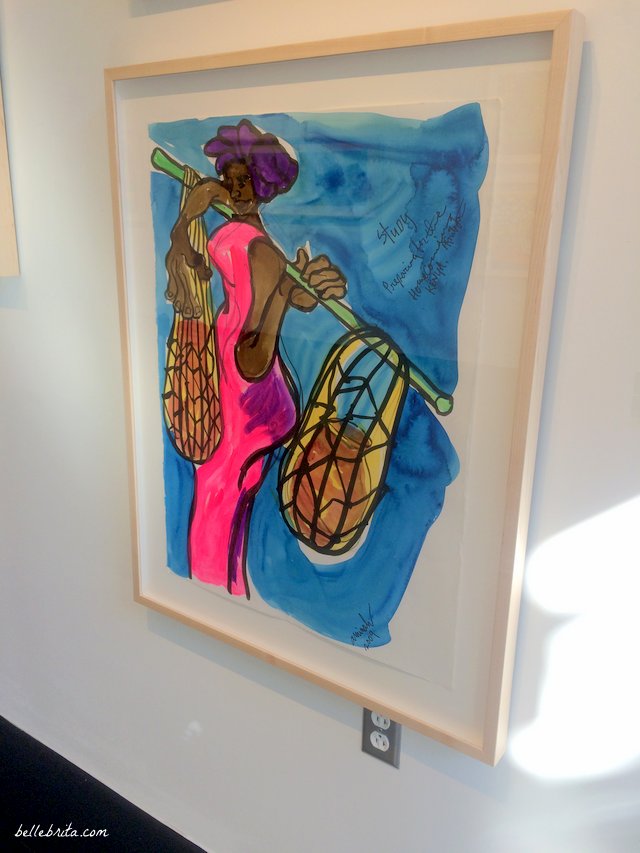 The current exhibition begins a year-long celebration of Hammond Harkins Gallery's 20th anniversary. 3 Artists: Griffith, Hamilton, and Robinson pay tribute to the art gallery's roots. When they first opened in 1997, their artists were Dennison Griffith, Paul Hamilton, and Aminah Robinson. This special exhibition features previously unseen works by Griffith and Robinson and new works by Paul Hamilton.
Hammond Harkins Gallery Visitor Information
Hours:
Monday: Closed
Tuesday to Saturday: 10:00 AM – 6:00 PM
Sunday: 1:00 PM – 5:00 PM
Contact:
614-238-3000
[email protected]
641 North High Street
Columbus, OH 43215
Wexner Center for the Arts
The Wexner Center for the Arts only includes a single art gallery, but the center also includes a cinema for independent films/documentaries/etc., a performing arts series, and public programs for the community.
The most recent exhibition at the Wexner Center, which I was able to see, was called Leap Before You Look: Black Mountain College 1933-1957. From the website:
Leap Before You Look chronicles how, over a relatively brief period of time, this rural college became a crucial incubator and gathering place for future giants of the midcentury avant-garde…

While the traditional arts of sculpture and painting are amply represented, they're given equal billing with weaving, metalwork, jewelry design, and furniture produced at the school.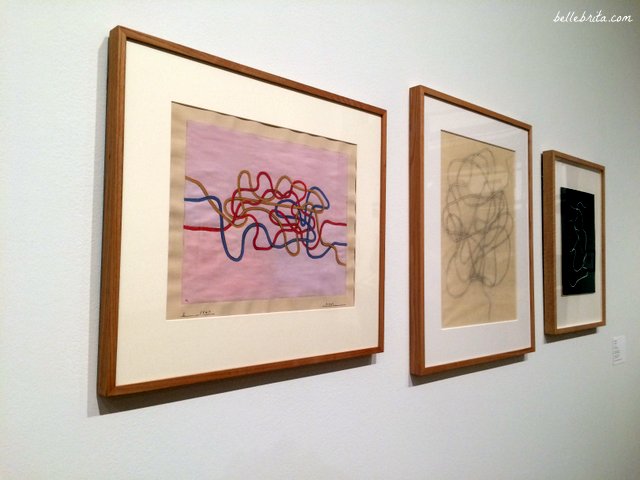 While the gallery space is small, the Wexner Center makes good use of the space. I greatly enjoyed discovering the work of Black Mountain College.
The Wexner Center describes two upcoming exhibitions on their website. Both Sarah Oppenheimer: S-337473 and Carmen Herrera: Lines of Sight debut February 4, 2017 and can be seen until April 16, 2017.
Wexner Center for the Arts Visitor Information
Ticket Prices:
Members: FREE
Adults: $8
Seniors (65+) and Ohio State faculty/staff with BUCK ID: $6
College students with ID: FREE
Children (17 and under): FREE
First Sunday of the month: FREE
Thursdays (after 4:00PM): FREE
Hours:
Monday: Closed
Tuesday to Wednesday: 11:00 AM – 6:00 PM
Thursday to Saturday: 11:00 AM – 8:00 PM
Sunday: 11:00 AM – 6:00 PM
The galleries are also closed between exhibitions. Check the website for more details and holiday closures.
Contact:
614-292-0330
Contact form
1871 North High Street
Columbus, OH 43210
Located at the corner of High Street & 15th Street.
Discover the Columbus, Ohio Art Scene
Gallery Hop
Considering how long I lived in Columbus, I cannot believe I only did Gallery Hop once. What is Gallery Hop, you ask?
The Short North is filled with art galleries (and amazing local restaurants). During the warmer months, they all band together one Saturday per month for Gallery Hop. Everything stays open until at least 10pm! (That's late for art). Street performers and vendors also show up for the evening.
Performing Arts
The Wexner Center for the Arts is just one venue for performing arts series in Columbus.
The Columbus Association for the Performing Arts lists six unique theatres on their website.
One of these is the historic Ohio Theatre, with its famous "Mighty Morton" Organ. During the summer, you can buy inexpensive tickets to classic films that play at the Ohio Theatre. An organist performs before and after the movie.
Back in 2013, Dan and I saw Wicked at the Ohio Theatre! Columbus brings several Broadway shows each year.
Columbus even has its own professional ballet company, BalletMet!
If you enjoy the performing arts, Columbus boasts many options to enjoy.
Columbus Arts Festival
One of the very first things I did in Columbus as an intern was visit the Columbus Arts Festival. It's held every year in June.
The 2016 festival was actually the 55th Annual Columbus Arts Festival! That's pretty cool!
All weekend long you can eat good food, enjoy live entertainment, and meet incredible artists showcasing their work. Plus there's a family-friendly area to make your own art.
---
Did you know Columbus, Ohio art was so diverse and prolific?! Whether you're an Ohio native or a weekend visitor, you can easily find art to admire all over the city.
What's the art scene like where you live?