Before I jump into my goal-setting, I want to thank everyone who commented on my post last week. I'm obviously going through a hard time right now, but your kindness truly does encourage me. I will be less active online in the next few months as I focus on healing. Please know that I always read and appreciate your comments, even when I don't reply to them.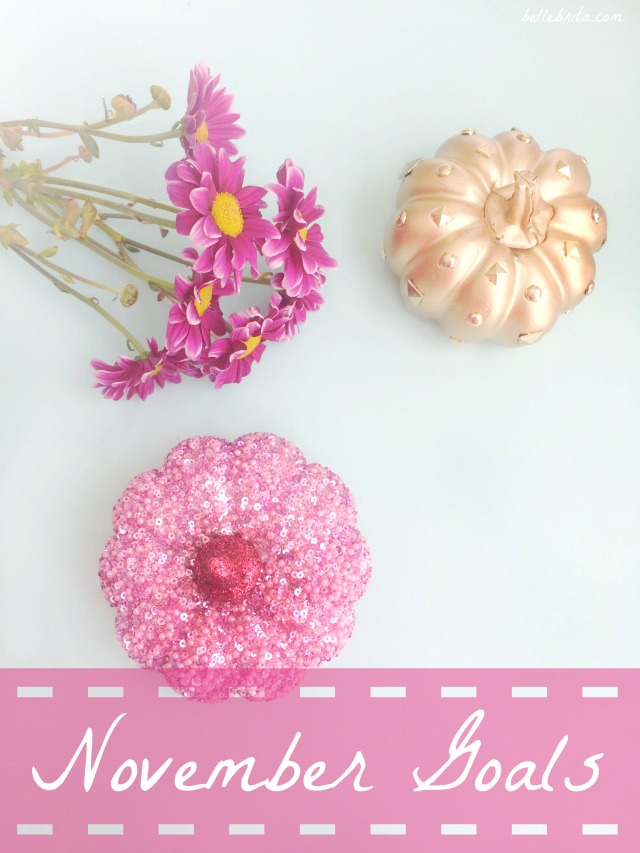 November 2016 marks a pretty special moment in goal-setting. I started my monthly goals two years ago!!! And except for when my mom died last year, I have posted every single month with a recap of the previous month, plus a new set of goals.
Related: November 2014 Goals // October Recap
Last year I shared how much I had progressed in creating good habits. I still keep a good sleep schedule and do the laundry so often that it never backs up. But I've also created new good habits since last year, and accomplished some major career goals.
Related: November 2015 Goals // October Recap
A year ago, I set the goal of having 700 Instagram followers and 700 Twitter followers. I now have over 19,000 Instagram followers and over 5,000 Twitter followers.
A year ago, I set several fitness goals. While my type of physical activity has changed, I continue to be physically active every week. (Confession: Pokémon Go gets some credit).
The most consistent change I've accomplished in the last year is simply getting more done each month. My goals are more ambitious each month, and even when I don't complete them, I still do more than I was doing a year ago.
Although, I can't totally compare this year to last year, since my grief was so raw a year ago. And two years ago, I was working a full-time job on top of starting a new blog! Regardless, seeing how much I progress overall, even if each month feels so slow, reminds me that I keep moving forward.
How I Set Monthly Goals
My series on Monthly Goals is surprisingly popular with search. I guess people are interested in goal-setting? So in honor of my two years of monthly goal-setting, I thought I'd share a few general tips.
Organize goals by category. What are your Big Picture priorities or challenges? Mine are Career, Health, Marriage, Household, and 30×30. Yours could be School, Garden, Kids, or something else. When you decide what areas of your life need improvement, then you can focus on small goals within those areas.
Set specific goals. I don't set the goal "exercise more." I set the goal "exercise X times per week." Not all goals can be super-specific, but whenever possible, try to set specific goals. It's easier to accomplish a specific, narrow goal than a vague, broad one.
Remain realistic. My goals for this month will be pretty minimal because Dan and I are going to France. You're not going to run a marathon your first month of working out. If you have a big, long-term goal, break it down into chunks. You can especially see how I'm doing this with my 30×30 goals. My overall list is long-term, but my monthly goals are mini-goals.
Why I'm Changing My Monthly Goals
I love setting goals each month. They help me stay focused. Several times throughout the month, I pull up my blog post to see what I still need to accomplish.
But I've been so focused on the present that I've forgotten to plan for the future.
Blogging 3x per week, or commenting daily on 100+ Instagram posts, or working with brands is great… If I want to stay where I am. But that consistency doesn't help me move forward to what I truly want to do as a blogger.
My blog and social media have helped me build an audience, but an audience doesn't matter much if I have nothing to give them.
I am a writer. I have been a writer for as long as I can remember. Obviously I write on my blog, and on Instagram, but my long-term goals have always been greater.
I want to publish books. And for my first book, I want to publish the second edition of my mother's self-published book of prayers.
I am also a learner. I hope never to stop learning! But I feel so caught up in the day-to-day tasks of running a blog that I barely have any time to work on all the courses I've bought to be better at blogging and social media and marketing and writing.
How I'm Changing My Monthly Goals
Honestly, I'm not making a huge change. I'm just adding one category of what I want to accomplish long-term, and not necessarily in one month. I will attempt to break down the steps to obtain my long-term goals into monthly goals.
I'm also setting less monthly goals for my career. Right now I need to focus on my health. More time prioritizing my health means less time working on the day-to-day career tasks. Besides, to accomplish my long-term goals as a writer, I need to cute back on the short-term work as a blogger.
Related: October 2016 Goals // September Recap
October Recap:
For my career:
I've finished my editorial calendar through December, with a few posts even planned into January!
That includes my guest bloggers for this month.
I have over 5,200 Twitter followers!
Instagram continues to be a struggle. I realized last week that my settings on MassPlanner were too stringent, so I was only following about 100 people per day. I'm at 19,500 followers, but I didn't meet my goal of 20,000.
I did not pitch any brands for collaboration.
Ugh, I so failed on all my Instagram goals. I didn't schedule posts in advance, or organize hashtags, or anything special, honestly. I have done a lot more work on my test account, and a really big account (over 200k followers!) featured me!
Alas, I did not work on a new spreadsheet of content to feed into MassPlanner.
For my health:
I scheduled 3 out of 4 medical appointments! Woohoo! I saw my dentist, optometrist, and gastroenterologist last month, but I still need to schedule an appointment with my dermatologist.
I've been much more consistent about my vitamins.
I did workout regularly, but I didn't always mix up my routines. Mostly Dan and I walked a lot. While I did a few abs workouts and several yoga routines, I didn't do as many as I had hoped. Still, consistent physical activity every single week is a positive step forward in my fitness journey!
While I didn't always wash my face twice daily (or even daily), I took much better care of my skin last month. It definitely feels soft and looks healthy!
For my marriage:
Dan and I loved our Epic Date Weekend. Six Flags and Sippin' Safari were both a blast. Plus we visited a new (to us) park that Sunday.
We still have a few things left to finalize for France, but our itinerary is almost completely set!
For our household:
I didn't actually clean the guest bathrooms at the beginning of the month like I usually do. So I cleaned them thoroughly right before my in-laws arrived.
Dan and I both cleaned the guest bedroom. Dan did more than I had anticipated because I was sick. Again.
I didn't weed the garden at all. FAIL.
I did get a mum (I think) for the front porch, but it has been pretty sad. Maybe I didn't water it often enough, or something else, but it has not thrived at all.
I replanted some of my bulbs, and I also planted a few petunias in the same pot. Those have done surprisingly well!
My desk is still a total mess.
Ha, I did call my health insurance company, multiple times, and the bullshit continues.
30×30:
I made great progress on Muddling Through Again!
I didn't send out a single handwritten letter. Oops.
I planted cilantro, which we've used a few times for tacos!
Bonus: I'm almost done with another nonfiction book, Searching for Sunday by Rachel Held Evans (affiliate link).
November Goals:
Long-term:
Self-publish my mom's book of prayers.
Market this book:

Blog posts about prayer
My first opt-in freebies!
An email series on prayer
For my career:
Long-term: go through Blog Boss Babe (affiliate link) for opt-in training.
Reach 5,500 Twitter followers.
Reach 21,000 Instagram followers.
Schedule all guest posts before I leave for France!
Schedule tweets for when I'm in France.
Plan editorial calendar through February. (Psst, #LoveBlog will be back!)
For my health:
Schedule my medical appointments.

Allergist
Dermatologist
Remicade infusion

Workout at least 15 minutes, at least 3 times per week.
Practice self-care. If you missed my post last week, my health is really not good right now. I need to focus more on my health. That means cutting back on things that cause me stress while adding in more ways to relax.

Stop checking my phone by 9:30pm.
Do a facial mask once a week, including in France.
Take hot baths with Dan.
Read a book or do my nails during my Remicade infusion.
For my marriage:
Try not to dominate our trip to France! Obviously I'm excited to return back to where I once lived, but the point of this trip is to share everything I love with Dan, not just do everything I love and drag him along with me.
Skype with Dan this week while I'm in Greenwood.
For our household:
I already cleaned our bathroom! Since I'm in Greenwood this week, I cleaned our bathroom top to bottom before I left Duluth last week. So my goal is just a quick clean of all the bathrooms before we leave for France.
Organize my desk.
Clean off my dresser and put away all my stuff from our bedroom floor.
Handle ongoing health insurance bullshit.
Call credit card companies with dates for when we'll be in France.
Weed the garden a bit.
Put together a preliminary list of recipients for holiday cards.
Book the last hotels for France.
Brush up on my French.
30×30:
Finish typing up the printed and handwritten prayers for Muddling Through Again.
Go to France!
Drink real champagne!
Send at least 5 postcards from Paris!
Obviously November will be a short month of working on goals since Dan and I are headed to France! Still, I'm excited to start focusing long-term. While I'm not thrilled about my physical limitations, I am grateful for the opportunity to improve my health.
Do you set monthly goals? Why or why not? If you write a Monthly Goals post, share a link!