This is a sponsored post by Tessemae's, through Mom It Forward. All opinions are my own. 
Dan and I just spent the weekend with my dad, where we enjoyed a few lazy days of summer at the pool. Luckily we live in Georgia (and my dad lives in South Carolina), so we have at least another month of warm summer weather!
Still, I can't believe how quickly this summer has gone by. Before I know it, I'll need to switch out my flip-flops for ankle boots and my shorts for jeans.
Dan and I are celebrating the end of summer with a mini vacation for Labor Day weekend. But if we were staying home, I would host a big end-of-summer party!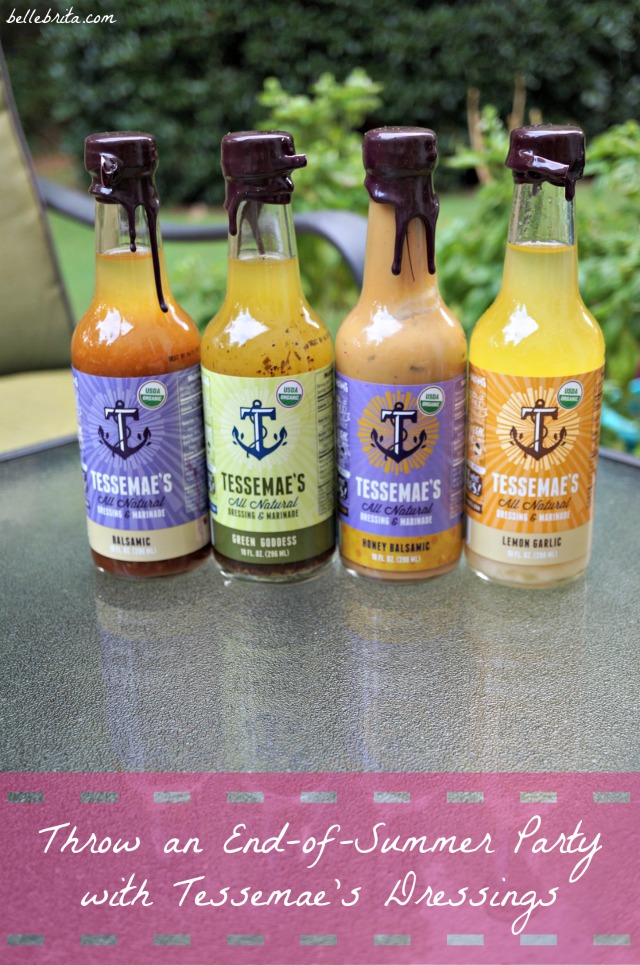 Dan and I both love to entertain. He's an expert at last-minute parties. I'm more inclined to plan parties months in advance! Luckily we manage to do both.
Regardless of what kind of party we throw, we're always conscious of our friends' food allergies and dietary restrictions. We have a few friends with Celiac Disease and few vegetarian friends.
I've been on a restricted diet before, and like my friends, I always showed up to parties with food I could eat to share. Even so, I always appreciated when friends made the extra effort to make safe food for me. I try to do the same for my friends!
One of the easiest ways to do this is with a pizza bar and salad bar!
The Perks of Your Own Pizza Bar and Salad Bar
Everyone loves a good pizza bar or salad bar. Customized meals satisfy even the pickiest of eaters! They're also quite the boon to anyone on a restricted diet.
Plus a pizza bar and salad bar are so easy to prepare ahead of time. Then during your party, you can relax with your guests.
Best of all? If you're short on serving space, just create a combined pizza-salad bar. So many pizza toppings and salad toppings overlap.
How to Make Your Own Pizza Bar and Salad Bar
Gather all of your ingredients. Put toppings in their own bowls, with their own serving utensils, to minimize cross-contamination. Arrange the ingredients in a logical order. Have the pizza crusts and lettuce on the same end so guests can choose which to make.
Pizza Bar Ingredient Ideas
Individual pizza crusts, English muffins, tortillas
Olive oil
Pizza sauce
Pesto
Pizza cheese blend or shredded mozzerella
Pepperoni
Chicken
Bacon
Sun-dried tomatoes
Olives
Artichoke hearts
Bell peppers
Mushrooms
Spinach
Basil
Feta cheese
Goat cheese
Obviously there's almost unlimited potential with pizza ingredients. These are just a few of my personal favorites to get started!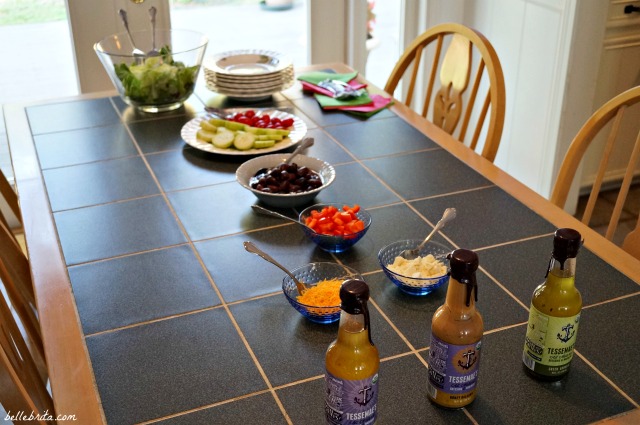 Salad Bar Ingredient Ideas
Shredded lettuce
Carrots
Tomatoes
Cucumbers
Bell peppers
Avocados
Olives
Raisins
Dried cranberries
Apples
Strawberries
Hard-boiled eggs
Feta cheese
Goat cheese
Parmesan cheese
Any cheese, all the cheese!
Chicken
Bacon
A variety of salad dressings, like the ones offered by Tessemae's
Of course there's overlap between the two ingredient lists, and I'm sure some creative eaters would want to try a pizza with avocado and strawberries or a salad with artichoke hearts and pepperoni.
Use Tessemae's to Improve Your Pizza Bar and Salad Bar
You'll need to cook your chicken in advance for both the pizza bar and salad bar. To kick up the flavor, marinate the chicken for a few hours with one of Tessemae's All Natural Dressings & Marinades. The Honey Balsamic is particularly flavorful for chicken. Then just toss it on the grill or fry it up in a cast iron skillet.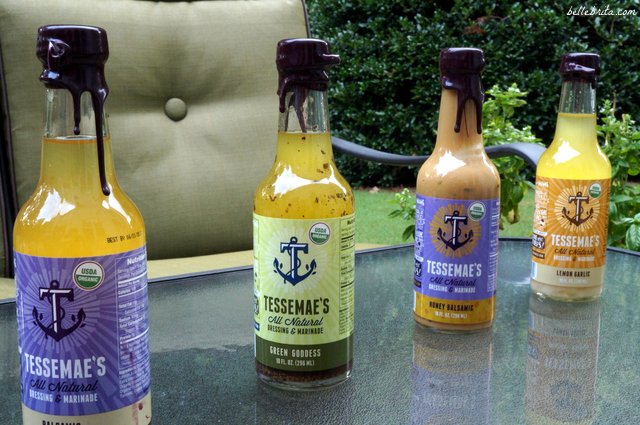 The best part about Tessemae's All Natural Dressings & Marinades is that you can buy just one to do double-duty. Use it first to marinate the chicken and then as a salad dressing!
Tessemae's makes 25 different dressings, marinades, and condiments. Their products are USDA organic certified and Whole30-approved. They contain no added sugar, thickeners, or additives – unlike most salad dressings on the market. (Obviously the honey varieties are not Whole30-approved, but they're still organic and delicious!)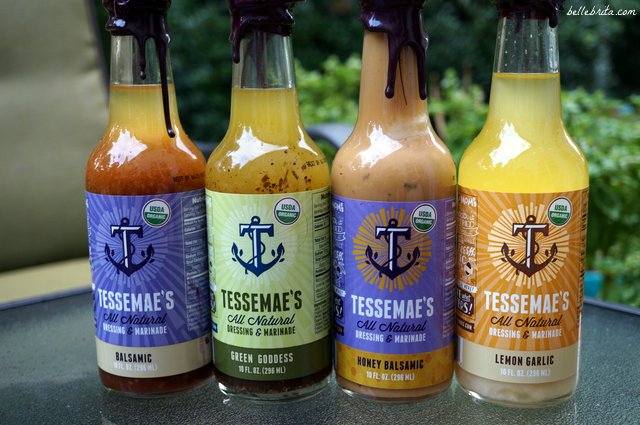 Tessemae's dressings taste a lot like the dressings I've made at home, but without all the work. While I enjoy making my own salad dressing just for myself, I prefer to offer a selection of salad dressings for my guests. With Tessemae's All Natural Dressings & Marinades, I know I'm only sharing the tastiest dressings of the highest quality.
With a bit of creativity, you might find even more ways to use Tessemae's in your pizza bar and salad bar. I took Tessemae's Lemon Garlic dressing & marinade to create a fresh new twist on pesto.
Fresh Basil Pesto without Nuts
I grow fresh basil in my garden. All summer I've enjoyed homemade pesto! I try a new recipe almost every time I make it. This is a deliciously tart version without nuts.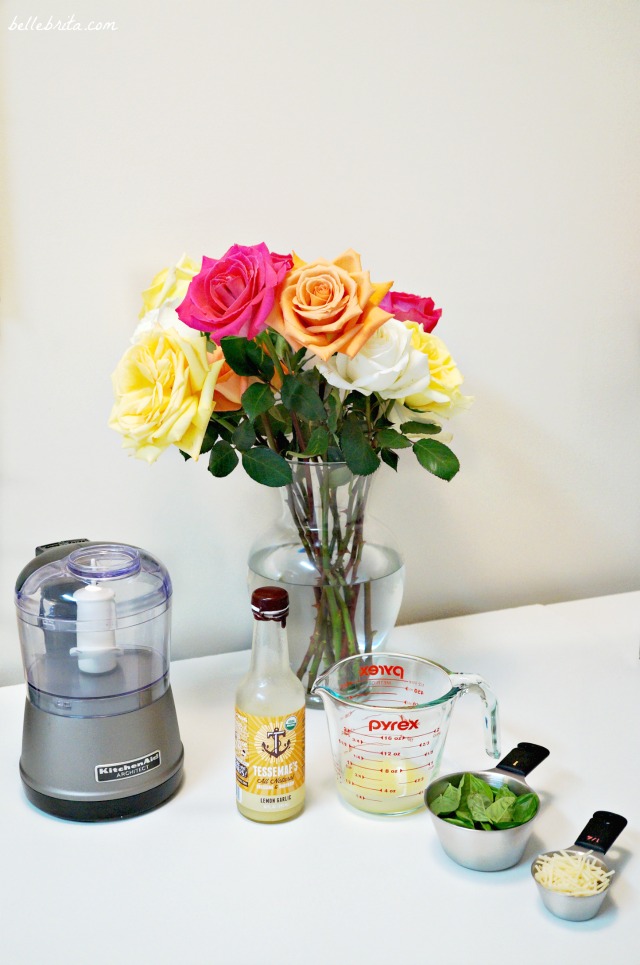 Pesto Ingredients
1 cup packed fresh basil (if picking from your garden rinse thoroughly and pat dry)
1/4 cup grated Parmesan cheese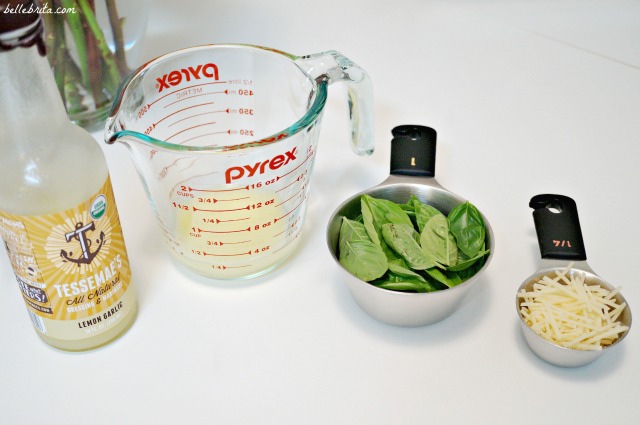 Put the basil in a food processor or blender. Pulse until the basil is roughly chopped. Add the salad dressing. Pulse until combined. As necessary, scrape the sides of the food processor or blender with a spoon. Add the cheese. Blend until well-combined.
This recipe makes enough pesto for 2-3 individual pizzas.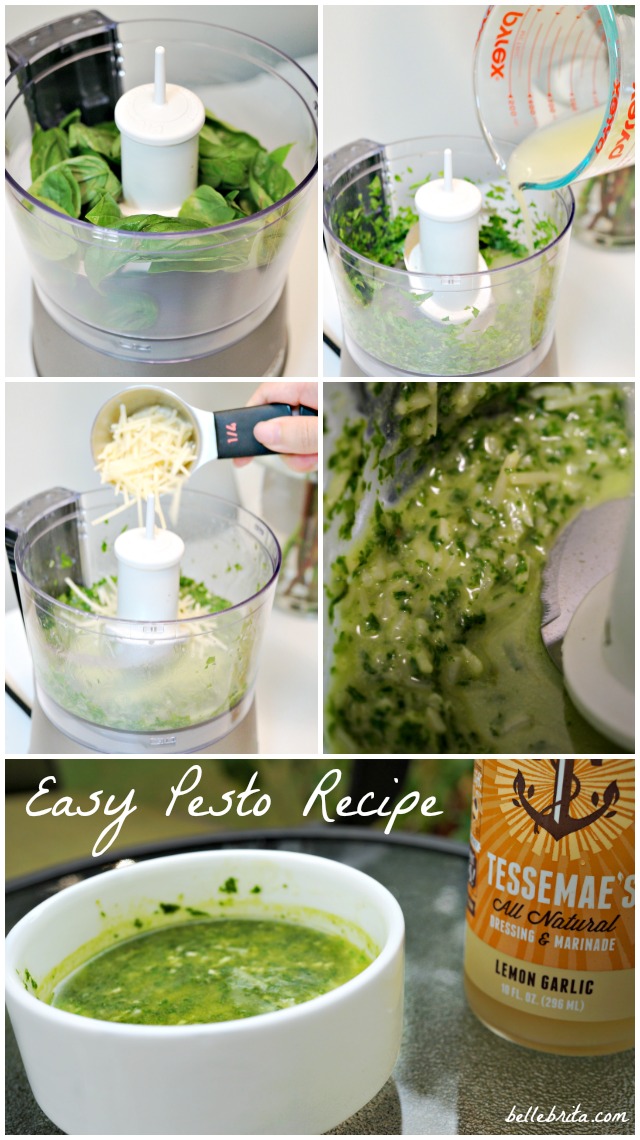 What's your favorite summer recipe or summer entertaining idea?
If this easy pesto recipe looks yummy, please share with your friends and family on social media! You can get 10% off your Tessemae's purchase with the code TesseLove on their website.