This is a sponsored post through Adproval with Get Bullish. All opinions are my own.
I'm a little over "Fashion Tips for Teens" and "How to Dress in Your 30s." I'm writing this in the middle of the afternoon while wearing polka dot pajama pants and a glitter tank that says "Just Married" on it. Just let me wear whatever I want, no matter how old I am. I think as long as my bits are covered according to local laws, and I don't wear white to someone else's wedding, I'm good to go.
Then again, I'm a feminist, and we like to do things our own way. Feminism is all about empowering women to make the best choices for ourselves, from the big decisions to the small ones. While picking out a new pair of shoes might not be as life-changing as picking a new job offer, you should still have the freedom to make the right choice for you.
That said, I do have a few style tips for the feminist fashionista.
Heels to Smash the Patriarchy
Not just any shoes will suit the feminist hell-bent on smashing the patriarchy. You need feminist heels to show the world you mean business. A well-placed kick will shatter any glass ceiling standing in your way.
Anything with Cats
I might be too allergic to my feline friends to become a full-fledged cat lady, but I stand by my feminist friends with their cute cats. Get Bullish offers an extensive Cat Lady Collection, with cat socks, a cat scarf, and even a cute cat lady tote bag.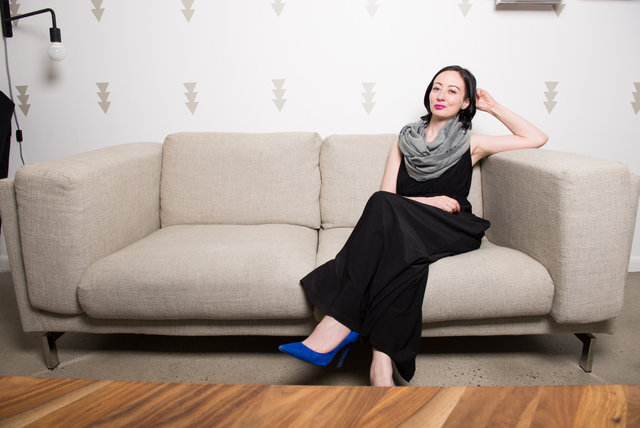 Short Skirts or Dresses to Highlight Hairy Legs
Feminists don't shave their legs or under their arms, right? Because none of us ever experience internalized sexism or feel the need to conform to American beauty standards. Right? Furthermore, none of us could possibly prefer the feel of hairless skin. Right? So let's rock those mini skirts and short dresses with our soft & fuzzy legs poking out!
Feminist Accessories
No accessory screams, "I'm a feminist!" then one that literally spells out the word, "feminist." I would love my arm candy to include this Feminist Unicorn brass cuff. I wouldn't say no to these feminist socks either! After all, while feminists are never hesitant about gender equality, sometimes we do get cold feet… literally.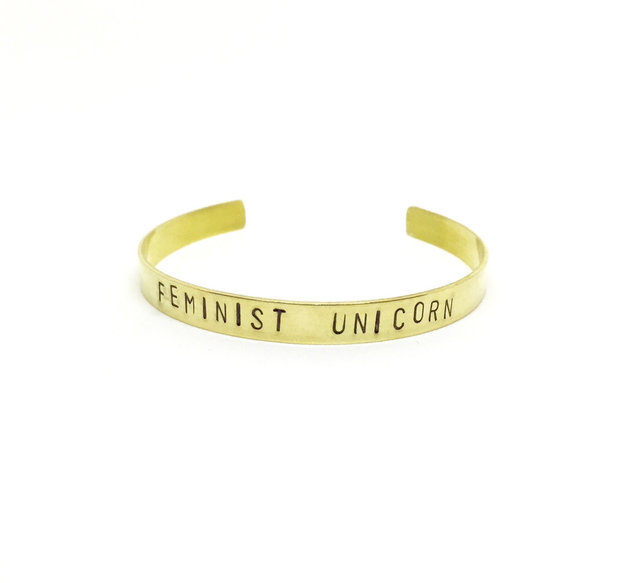 ---
Obviously this blog post is a little tongue-in-cheek. Truthfully, just like there's no one way to be a feminist, there's no one way to dress like a feminist. Sometimes my feminist wardrobe is little more than a bikini. Other times I dress like a feminist when I rock jeans and a hoodie. Being a feminist means having the freedom to make my own choices about my life.
If you are looking for some feminist-friendly accessories, though, I do genuinely love all the products offered by Get Bullish. If you'd rather makeover your skills than your wardrobe, check out the Get Bullish coaching and courses.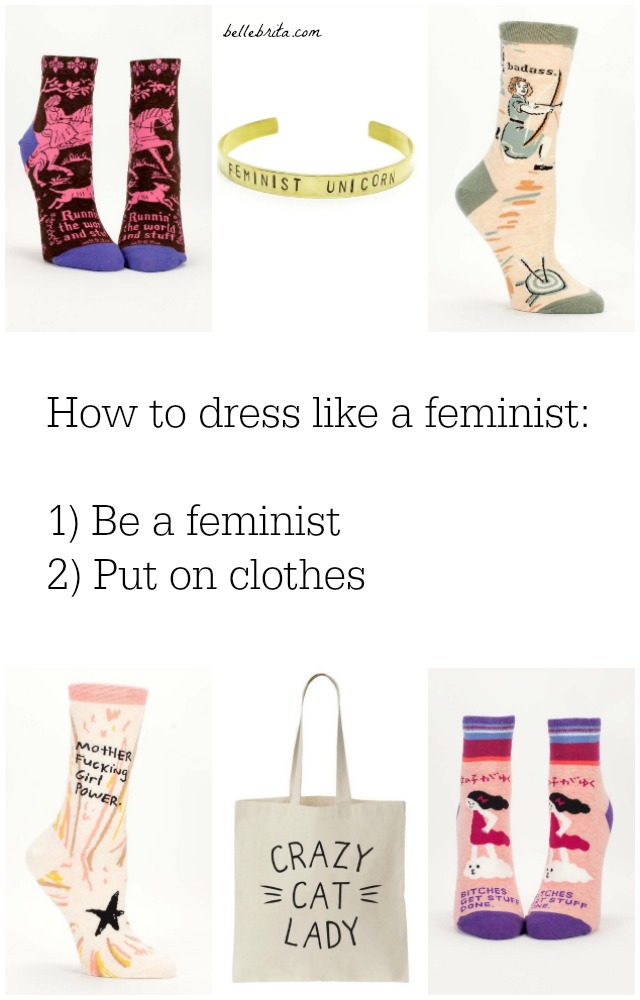 How do you dress like a feminist?