This is a sponsored post through Brandbacker for DERMA E. All opinions are my own. This is my honest DERMA E review.
I love self-care. I own a shit ton of candles, and bubbles baths are a regular indulgence of mine. But I think sometimes we treat self-care like this fancy package all tied up in ribbon. We get distracted by the prettiness of doing lovely things and forget about why self-care is so important.
Self-care is about taking care of yourself. Yes, sometimes that does look like a new manicure or a trip to Starbucks. Your mental health and emotional health matter, and the occasional treat absolutely can be part of self-care. But taking care of yourself isn't just about indulgence.
Sometimes taking care of yourself means making the hard choice to go to the gym when all you want to do is veg out and watch Netflix.
Sometimes taking care of yourself means packing a salad for lunch instead of dining out with your co-workers. That's true regardless of whether you make that choice for your wallet or your waistline!
My self-care has bounced around a lot in the last six months. Sometimes my self-care was letting myself cry a lot while eating soy ice cream and watching Netflix. Other times my self-care was working out five days a week. This month, my self-care has been my first Whole30 journey.
How else do I practice self-care? By taking care of my skin using derma e products.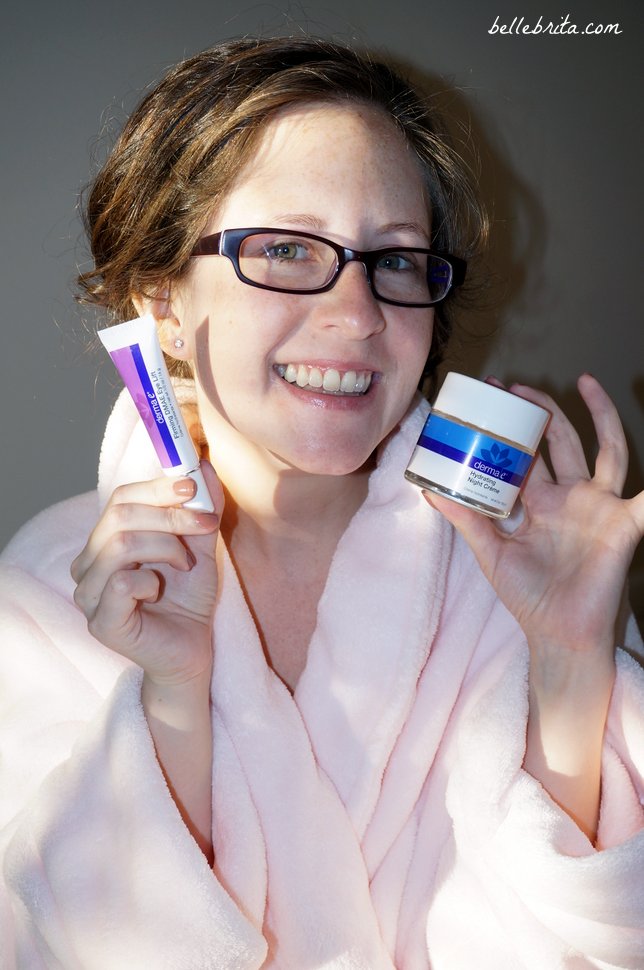 DERMA E Beginnings
Many years ago, people didn't always consider how their internal health affected their outward appearance. And those folks definitely didn't understand that what you put on your skin matters too. No one talked about "superfoods," "holistic health," or "sustainable choices." Had kale even been discovered yet?
Then DERMA E got started.
The founders of DERMA E have always prioritized healthy choices, even before the modern popularity of health trends like Whole30. In fact, you can actually think of the DERMA E skincare line as a Whole30 for your face!
In 1984, co-founder Linda Miles said, "One day, mainstream skincare formulas will look like the healthy formulas we make today." While not all companies have followed suit, DERMA E today still upholds the values envisioned over 30 years ago.
The hipster of skincare companies, DERMA E pushed skincare forward in an eco-friendly direction before it was cool to be eco-friendly. Not only fusing powerful vitamins and plants together with modern science, DERMA E also adheres to the highest of ethical standards when it comes to animal welfare and their impact on the planet.
I love DERMA E products, and I'm so excited that Target has started carrying some of their most popular moisturizers and eye creams.
Target makes it easy for me to nourish my body, inside and out. This month they've started selling DERMA E products in their stores! It's so convenient that I can buy my healthy snacks–raisins, pistachios, applesauce, La Croix water–while also restocking my DERMA E skincare products.
DERMA E's Firming Eye Lift Review
This month I've tried out a different DERMA E eye cream. If you recall from my DERMA E review back in September, I'm obsessed with DERMA E's Hydrating Eye Crème. For the last few weeks, I've been using DERMA E's Firming DMAE Eye Lift. Check out the product description!
Visibly lift, firm and tighten the delicate eye area while smoothing crow's feet with this doctor-developed, multi-action eye treatment crème that contains advanced, clinically proven natural ingredients. DMAE, a widely-acclaimed skin-firming nutrient, is clinically proven to boost collagen for firmer, more resilient skin. InstaLift® Goji Berry glycopeptides add further firming, lifting and tightening antioxidant power. Advanced peptides Argireline® and Matrixyl® synthe'6® work together to soften facial muscles and synthesize new key components such as collagen, helping smooth wrinkles and discourage new lines from forming. Hyaluronic Acid, also known as nature's moisture magnet, infuses a surge of cooling eye moisture helping leave skin soft, smooth, tone and rehydrated. With continued use, this pro-collagen and pro-elastin blend leaves the delicate eye area firmer, smoother and younger-looking. 100% vegan, cruelty-free, paraben-free, sulfate-free, mineral oil-free, lanolin-free, gluten-free, GMO-free.
At only 28, I don't have crow's feet yet or any wrinkles around my eyes. I have not noticed a difference in the appearance of my eyes since using DERMA E's Firming DMAE Eye Lift. However, it does not irritate my eyes, and it works almost as well as the Hydrating Eye Crème for keeping my eyes happy. I haven't had an allergic reaction to it, nor have my eyes been itchy or flaky.
My face continues to feel happy and cared for as I keep using the DERMA E Hydrating Night Crème with Hyaluronic Acid. It's honestly such a luxurious face cream. I feel like I'm having a self-care spa day every night when I wash my face!
---
How do you take care of yourself? Have you tried DERMA E products? I'd love to hear your thoughts!