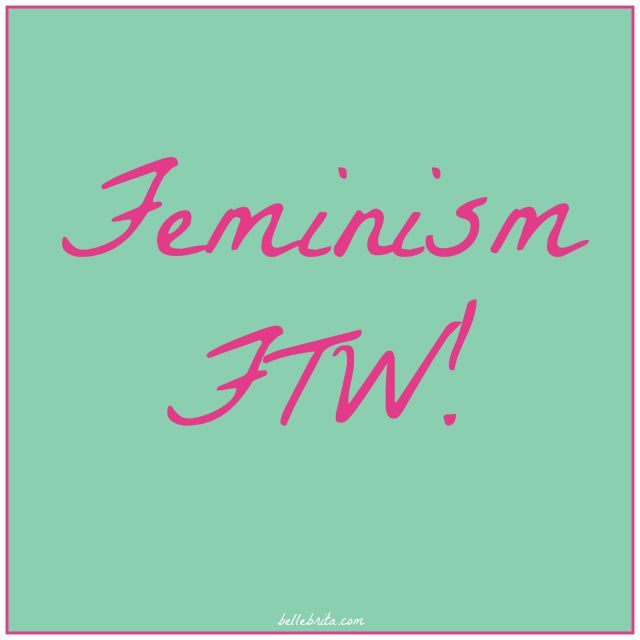 If you've been a feminist for a long time, sometimes the battle for gender equality feels like the song that never ends.
Seriously, the United States didn't pass the 19th Amendment until 1920–less than 100 years ago.
The Seneca Falls Convention was in 1848. That's how long it took for women nationwide to earn the legal right to vote.
Even that mostly just applied to white women. Jim Crow laws and other discrimination often prevented Native Americans, Chinese immigrants, and other people of color from voting.
So, yeah, sometimes the quest for equality feels a little overwhelming.
But today, I want to focus on the positive! I want to share feminist wins! As an eternal-optimist, I tend to be upbeat and hopeful! Our future is bright! Both domestically and internationally, we have so many feminist wins to celebrate.
US Feminism FTW!
1. More Women & Minorities in Congress
In January of this year, the 114th U.S. Congress convened with a record number of both women and minorities. Currently Congress includes 104 female representatives and senators, up from 100 women in the 113th Congress, plus 4 non-voting delegates are also women. Currently Congress includes 96 minority representatives and senators, up from 91 minorities in the 113th Congress, plus 5 delegates and the Resident Commissioner of Puerto Rico.
While white men are still the overwhelming majority of Congress, I can't help but cheer at the progress! (Which is normally the opposite of Congress, amirite?)
In case numbers don't match up in articles you read regarding Congressional demographics, note that some articles only include representatives and senators. Other articles combine delegates and the Resident Commissioner in their totals. I received my data from the Federation of American Scientists.
2. So Many Feminist Celebrities
More and more celebrities have proudly embraced feminism. Taylor Swift still isn't perfect, but she has totally evolved as a feminist.
Name a fiercer feminist celebrity than Beyoncé. She might have initially hesitated to call herself a feminist, but her music has always suggested otherwise.
Both Laverne Cox and Caitlyn Jenner have introduced transgender issues to Americans across the political spectrum.
3. Same-Sex Marriage is a Constitutional Right
This summer, the Supreme Court of the United States ruled 5-4 that same-sex marriage is a constitutional right. That's a MAJOR feminist win. Does our country (and the world) have a lot more to do in granting rights and protections to LGBTQ+ individuals? Absolutely. But let's celebrate the progress we've made so far.
Feminist Wins Worldwide!
4. Malala Yousafzai Won the 2014 Nobel Peace Prize
At age 11, Malala gave a speech entitled "How dare the Taliban take away my basic right to education?" Thus began her activism. The Taliban considered Malala to be such a threat that they tried to kill her. She was only 15. Since then she has written a book, become the youngest person ever to win the Nobel Peace Prize, and continued to promote women's education.
5. Emma Watson's UN Speech
Emma Watson started a conversation about feminism new to many young people. While she herself said nothing new about feminism's goals, her international fame spread feminism to new people. HeForShe is an international movement for gender equality.
---
Feminists have more to celebrate than just these 5 feminist wins. What would you add to my list? If you're a feminist blogger, I encourage you to join my monthly link-up! This month's optional topic is feminist wins. (Shocking, I know).
One of the founders of The F-Word, Kiersten has temporarily stepped back from blogging. Next month, Kelly and I will be the only ones hosting The F-Word. Also, Kelly is about to get married (woot!). So she might not participate in feminist wins this month. With any luck, she'll be back post-honeymoon!
---