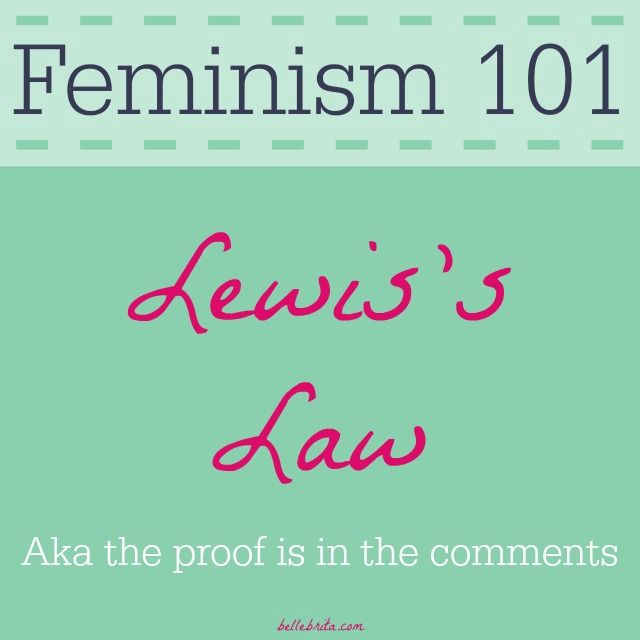 Have you ever heard of Lewis's Law?
First articulated by Helen Lewis, this Internet rule explains the phenomenon of the comment sections on articles about feminism.
As I've just told @alicetiara, the comments on any article about feminism justify feminism. That is Lewis's Law.

— Helen Lewis (@helenlewis) August 9, 2012
The tweet above reads:
"As I've just told Alice Tiara, the comments on any article about feminism justify feminism. That is Lewis's Law."
For June's The F-Word link-up with Kelly and Kiersten, the optional prompt is "What kind of backlash (if any) have you faced for speaking out about feminism?"
Lewis's Law is certainly true in my experience.
Lewis's Law on The Huffington Post
My most recent syndicated piece for The Huffington Post was a condensed version of "The Question No One Asks My Husband." If you don't feel like reading the original or the HuffPo copy, just read the selected passage below.
Frequently, the problem isn't so much the question itself (but it's still sexist), but how the question is asked. Rarely is it a standalone question. Usually it is followed by one of the following:

Do you not love your husband?
Are you planning a future divorce?
Why did you even get married if you didn't want to change your name?
The comments on my original piece are mostly supportive. Alas, The Huffington Post attracts some of the most ignorant people on the Internet. The comments roughly divide pretty evenly into three groups.
People who agree with me, many of whom have similar experiences by not changing their last names upon marriage.
People who think I'm either whining about nothing or just completely making things up.
People who insult my husband's masculinity, predict our impending divorce, and suggest feminists "like me" are the cause of all of society's ills.
Just so we're clear here, I literally stated in my blog post that some people assume Dan and I are doomed for divorce because I didn't take his last name. The response to that was people accusing me of lying WHILE other people said Dan and I will get divorced.
That is only the most recent example of how the comments on any article about feminism prove the need for feminism.
There were also the responses to my bikini post, which were again evenly mixed between:
Women who had similar experiences.
Men who thought I was creating an issue out of nothing.
Men and women who said I couldn't possibly be a Christian and wear a bikini, that I was sinning by causing men to lust after me, that I was just trying to show off my body by writing that piece and including pictures, and that the Bible is super-duper specific about women not wearing bikinis you evil harlot.
Group #2 always cracks me up.
Remember ladies, if it doesn't happen to a man, it never actually happened.
(You'll need to read the HuffPo version again if you want the ridiculous comments).
---
One reaction that I find to be both amusing and pessimistic is when people tell me there are bigger things to worry about.
I can't complain about sexism because I'm American, and women have it worse in other countries.
I can't be upset by certain forms of sexual assault because they aren't rape.
If I talk about women's problems, then I must talk about men's problems an equal amount of the time, or else feminism isn't really about gender equality.
I can't change the world by myself in a day, so why should I even bother.
Real talk here.
By myself, I probably cannot do anything about the vast majority of intimate partner violence, against men or women, that will happen during my lifetime.
But by myself, I have been the advocate and confidante of rape survivors. By myself, I have convinced several people to stop using gendered slurs. By myself, I have convinced multiple people that Christianity and feminism can co-exist. By myself, I have encouraged and inspired several individual women who didn't want to change their names upon marriage.
By myself, and with others, I certainly aspire to accomplish even more in my lifetime. But my own individual contributions to this world are pretty darn good for someone not yet 28, with Crohn's Disease often limiting my free time.
Just because I write about issues that don't matter to everyone doesn't mean they don't matter to someone.
---