For the entire month of June, my hometown of Greenwood, SC celebrates the Festival of Flowers. Highlights include live music, art showings, a musical at the Greenwood Community Theatre, and–my personal favorite–topiaries! The last weekend in June features all the main events.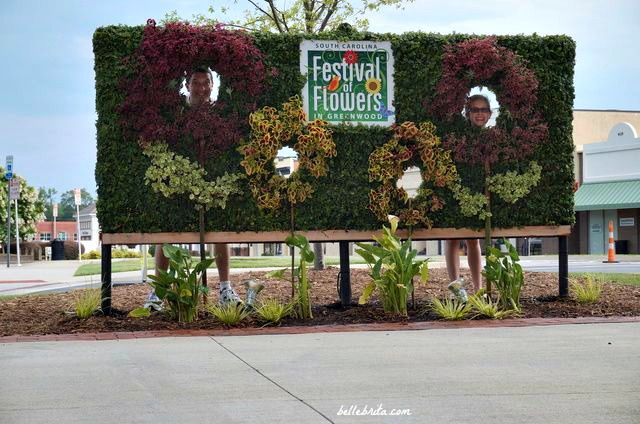 I've spent most of the month with my parents, but my in-laws also visited recently. They spent about a week in Duluth, and then they came with Dan to Greenwood. Their timing was perfect! I loved showing them Greenwood at its best–during the last weekend of the Festival of Flowers.
Friday night was the Wine Walk. This was my first time participating, and I'm so glad I did! Dan was the designated driver for his parents and me. We had so much fun sampling wines and noshing on all the snacks.
On Saturday, Dan, my in-laws, and I stopped by The Museum. Dan wanted to see the new electricity exhibit. I can never resist the chance to visit where I interned, the same museum where Dan and I held our wedding reception last April.
Dan's parents treated us to lunch at The Mill House, a local pizza place. We finished just in time to make the 2pm matinee for Shrek the Musical. My sweet husband then indulged me with a quick photo shoot for today's blog post!
If my black skirt looks familiar, you have sharp eyes! I wore it last summer in a similar outfit and last fall in a cold-weather version of this ensemble.
This black skirt is yet another purchase from when I worked at JC Penney. While most of the juniors' clothing is not my style, I do like the brand l'Amour, especially this skirt.
I had so much fun posing with the topiaries. The Festival of Flowers features so many of them each June that Dan couldn't photograph all of them. Some of my favorites that are not pictured include an adult giraffe with a baby giraffe, a Clemson tiger, and a Carolina Gamecock.
Our photo shoot was so much fun that I forgot to ask Dan to take close-up pictures of my accessories. Take my word for it that I'm wearing pink ruby floral earrings, an Eiffel Tower necklace, and a pink & white hair bow.
Technically my flip-flops are brown and cream, not black and white, but neutrals are neutrals! They're close enough to match. I bought them at Payless in Canada when my beloved Kappa flip-flops broke.
---
Maybe my next fashion series will be about plain black skirts. I wear mine almost as often as I wear my basic white t-shirt!
I'm not sure if I have more fun putting together outfits or coming up with new locations for my pictures. If you've missed the previous posts:
Black & White Scarf with Black Pants
Just four more weeks of White Tee Tuesdays! What kind of outfits would you like to see this summer?