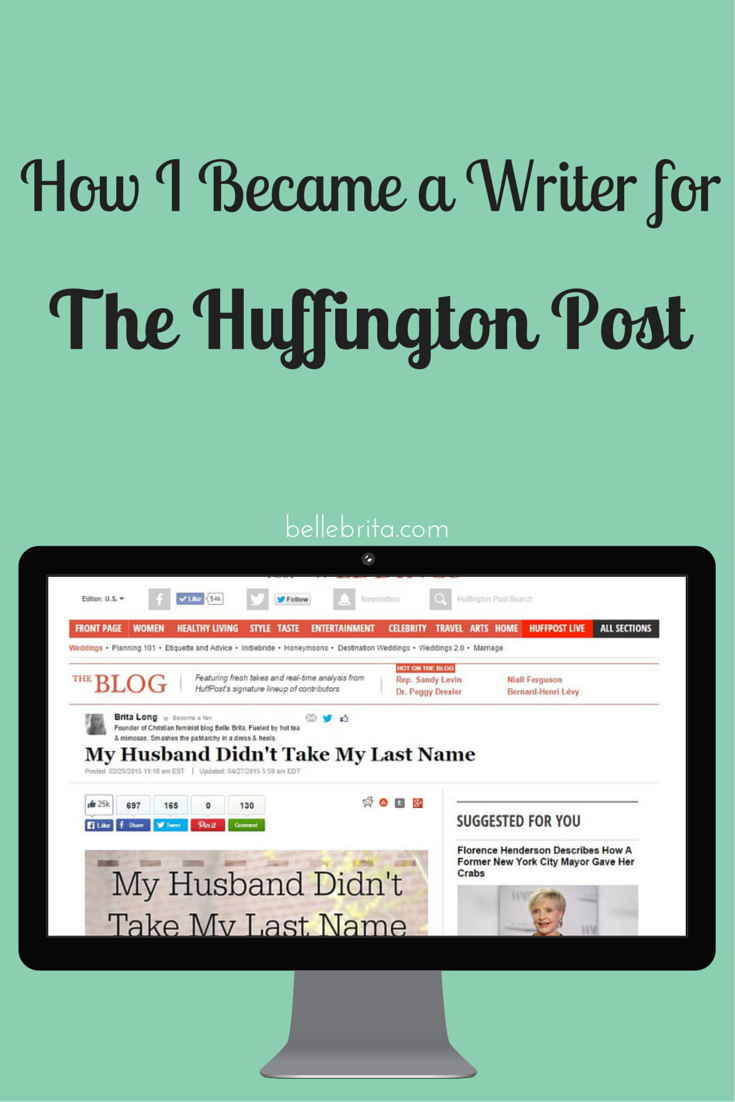 Before I ever wrote my first piece for The Huffington Post, I read about the experiences of other bloggers who became HuffPo writers. Here are just a few of the articles I read.
Pitching The Huffington Post was actually on my to-do list. I knew I needed a really popular piece, though, so I was waiting for the perfect moment.
When "My Husband Didn't Take My Last Name" brought in an unprecedented number of page views, I first pitched it to BlogHer for syndication. I'm not sure if their audience is as big as The Huffington Post, but they pay for content, even previously-published content.
My plan was to wait two weeks, and then, if I didn't hear back, I would pitch it to The Huffington Post.
Except the editors of HuffPost Wedding beat me to the punch.
Someone saw my feminist satire and shared it under "Links We Love."
I saw my opportunity, and I went for it.
I looked up the email address for the HuffPost Wedding section, plus the names of its editors. I sent a quick email, thanking them for the link and offering my post for syndication.
Hello Taryn, Ashley, and Kelsey,

I am the founder of the blog Belle Brita and the author of the post "My Husband Didn't Take My Last Name."

I just discovered a snippet of this post with a link to the original on The Huffington Post.

If you're interested in syndicating the whole thing, I'm open to that possibility. Otherwise, thank you for sharing my work with your audience.
Ashley emailed me back.
Hi Brita,

Thanks for writing — we'd love to run your piece! Please be on the lookout for an e-mail from the blog team with instructions on how to set up a blogger account. Once you do that, please go ahead and upload this piece.

Best,
Ashley
The rest, as they say, is history.
---
If you want to write for The Huffington Post, I have a few tips that are both useful and aggravating.
Write good content. This should be obvious, so I know this advice is aggravating for some of you. What is good content? Who defines good content? Unfortunately, "good" is subjective. Just keep writing your best, and get some trusted readers to provide honest feedback for improvement. Oh, and don't make any of these common writing mistakes.
Read the section for which you want to write. I actually planned on pitching to HuffPost Women. I skimmed the main page frequently and read posts that overlapped with the ideas I wanted to write. I started to build an idea of their preferred content so that I could pitch my own.
Connect with the editors and writers of that section. I liked the Facebook page and followed the Twitter account for HuffPost Women. I tweeted their links. I commented on their Facebook posts. I created a presence in the HuffPost Women spaces online.
Be lucky. It turns out, I didn't need to do #2 and #3 on the list. Someone at HuffPost Wedding saw my piece and liked it. Yeah, I wrote a really good blog post. I created good content. But it's not like I'd never written good, original material before. I just finally happened to catch the eye of someone with clout.
---
How has luck influenced your success, either as a blogger or in another area? Inquiring minds need to know!