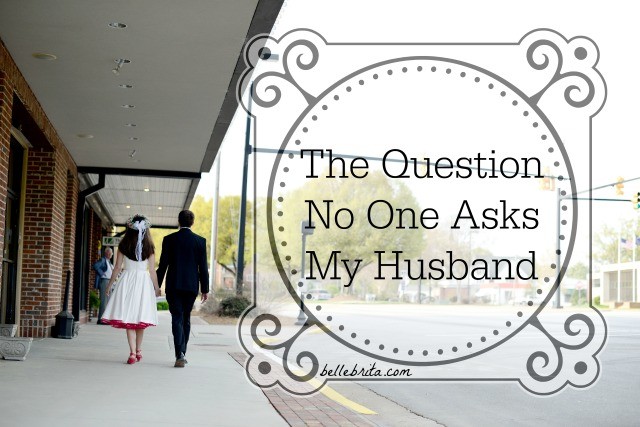 I am finally ready to answer the question y'all keep thinking, but don't know how to ask.
Or rather, Dan is finally ready to answer your unasked question, over on Twitter.
YES, Dan is on Twitter too!
Just follow him @danbert8 along with me @belle_brita, and you finally ask him the question I just KNOW y'all are dying to ask.
I can just see the tweets now…
Dan, why didn't you change your name?
Dan, why didn't you want to take your wife's last  name?
Dan, how does your wife feel about your decision to keep your last name?
---
Ha, I'm just kidding.
No one has thought to ask Dan about his decision to keep his last name when we got married.
Not a single person has asked him any of those questions above. But strangers are quick to ask him why I kept my last name!
Yes, strangers.
Not intimate friends or immediately family members. Strangers.
Strangers feel entitled to know why I made a choice that doesn't affect them in the slightest.
I know what some of you are thinking…
Um, Brita? Didn't you start the conversation with your satire? Don't you always ask for comments and questions?
Surprisingly, not that many people responded to my satire by asking me why I kept my last name. If anyone did, that didn't bother me, because it was relevant to the post.
But people have been asking me this question long before I had my 15 minutes of fame, and they still ask me, even without having read my satire. Like I said, even strangers feel comfortable asking Dan why I didn't take his last name.
Remember back when I explained that sexism and misogyny are not the same thing? That you can have the best of intentions and still be sexist?
Asking me why I didn't change my last name is sexist.
Period.
You are asking me a question that you would never ask my husband. That's practically the textbook-definition of sexism.
But that's not the only reason why asking me about my last name is sexist.
There is an awful lot of entitlement in asking an individual to explain a personal choice that does not affect you. This entitlement pops up a lot when a person with privilege demands an explanation from a person without privilege.
Frequently, the problem isn't so much the question itself (but it's still sexist), but how the question is asked. Rarely is it a standalone question. Usually it is followed by one of the following:
Do you not love your husband?
Are you planning a future divorce?
Why did you even get married if you didn't want to change your name?
These questions just drip with condescension.
Apparently my personal and individual choice to ignore a tradition steeped in patriarchy could possibly tear apart the social fabric holding America together. Or something. Can that be my superpower?
Surprisingly, I even face negative reactions from other feminists and within feminist spaces. I was pretty hurt a few years ago when I made a joke about my last name and marriage on my Facebook profile only to have people accuse me of judging women who changed their last names. At least I had the written record right there to ask those people where, exactly, did I ever say anything negative about women who change their last names.
The following is an exchange I had in an explicitly feminist space online. Like, in order to post there, you must apply during certain open periods throughout the year, during which the mods will consider your application and your commenting history to vet your feminism. You can post about whatever you want, including stuff totally unrelated to feminism, but it's a feminist forum.
I vented about some of the hurtful words and actions people took last year when I got married and kept my last name. In this vent, I linked to some other places online where I had written out in excruciating detail why I wanted to keep my last name. I didn't just include those links, but I wrote out very clearly that you could read all my thoughts on name changes by following those links.
And yet, a dude felt like he could make this comment.
Why do you care so much about keeping your original name? Are you just really proud of your family? Don't want to conform to norms? Can't stand your husbands name? There must be a reason other than "because it's my name."
I face-palmed so hard. And replied.
I don't think you read my post very closely, or you would have noticed my link to a detailed essay in which I explain why I'm keeping my last name.

And it's VERY male-privilegy to ask me that question, followed by a list of negative reasons for keeping your last name, a question you would NEVER ask a man.
At which point dude freaked the fuck OUT. Apparently I jumped down his throat, leaped to conclusions, and attacked him. Eventually some other feminists got him to calm down and to realize that pointing out male privilege isn't an attack on his character.
---
I do feel like feminism has made some progress here. Like Kelly pointed out in her own post on the subject, the fact that people ask her if she's changing her name or not is a win for feminism… Even if they're not asking her fiancé the same question.
And while I received my share fair of stupid comments on my satire, and I sadly received stories of commiseration as well, its sheer popularity indicates this topic resonates with people.
---
For the record, I will eventually write a blog post outlining all my reasons for keeping my last name. I'll give you a hint for one of them, though.
Google "galaxy Brita Long," and yes, you need to use the quotation marks. Edit 6/3/2015: Apparently my own blog posts are now ranking for "galaxy Brita Long," so here's the website you'll want to scan.
So, to my straight married male readers, while I know at least one of you changed your name, what about the rest of you? Why didn't you take your wife's name?