There is a reason my day job includes copywriting and copyediting.
I have magical grammatical powers.
I might have loosened up over the years about split infinitives, but I can still spot a dangling modifier or a subject-verb agreement error from a mile away. And don't get me started on our generation's inability to use hyphens!
I don't expect all blog posts to ace a college-level English final, but I do cringe at the most grievous grammatical mistakes. I have even unfollowed blogs for making these 7 grammatical mistakes too often.
I know we're all in a hurry to create create create MORE MORE MORE, but before you hit publish, do a quick read-through of your blog post to make sure you haven't made any of the following grammatical mistakes.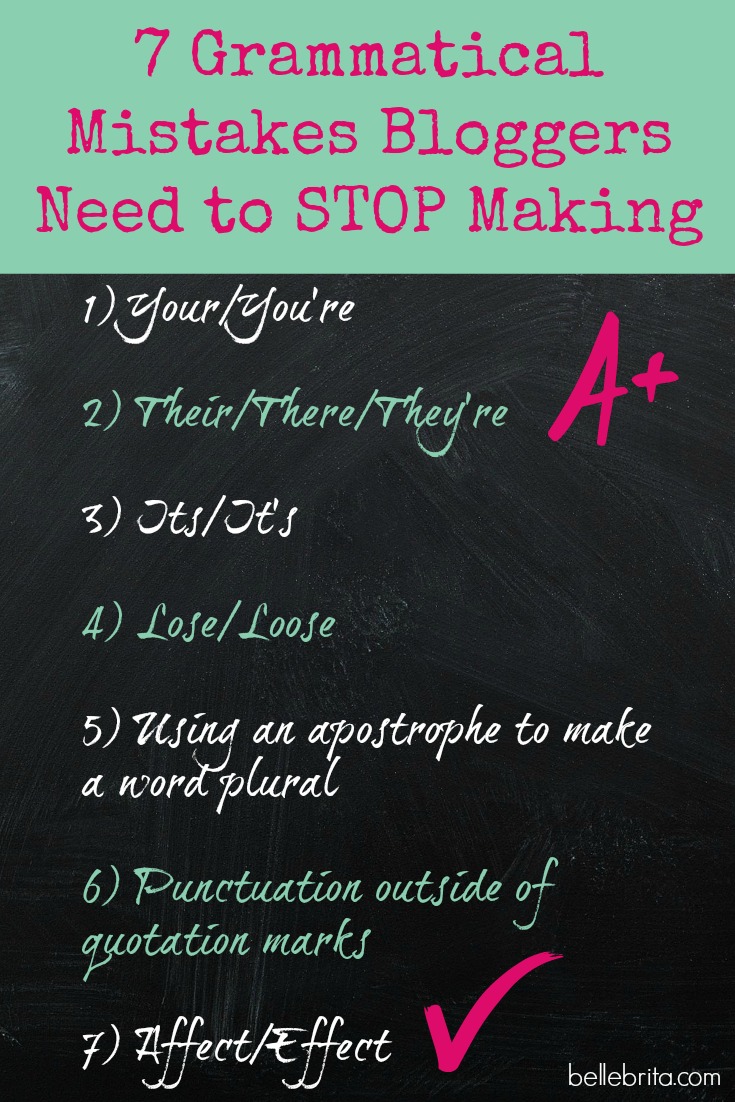 1) Your/You're
Real talk here. I learned the difference between your and you're in the second grade. I was 7 years old. I can excuse the occasional mistyped tweet, since I too have fallen victim to thinking faster than I can type. But in a blog post? A well-written, carefully-crafted, beautifully-formatted blog post? If you have time to make a "pinnable" image, you have time to double-check your writing, or else you're just a careless writer.
Your = possessive. Your writing is the writing that belongs to you.
You're = contraction of "you are." You're a careless writer can be rewritten as you are a careless writer.
2) Their/There/They're
Same deal here. Adults should know their homophones already. There is a problem when they're still mixing up these words.
Their = possessive. Their homophones belong to them.
There = a place or an indication of something. There is a problem in blogs over there.
They're = contraction of "they are." They are still mixing up these words.
3) Its/It's
This is another common error I see too many bloggers make. It's really annoying. When a blog post has too many mistakes, its message can be lost.
Its = possessive. You hurt grammar's feelings when you mess up its rules.
It's = contraction of "it is." It is common to mix up "its" and "it's."
4) Lose/Loose
I asked Dan what errors he sees consistently, and this was one of his responses. When you're loose with your grammar, I lose my mind.
Lose = opposite of find. You lose your blogging credibility when you make this mistake.
Loose = opposite of tight. Stop playing fast and loose with the rules of grammar.
5) Using an apostrophe to make a word plural
Seriously, this is possibly the easiest thing to do correctly in your writing. To make most nouns plural, add an -s. Sometimes, add an -es. Do NOT, for the love of GOD, add an -'s. I read lots of blogs, not lots of blog's. I love a blog's good grammar!
's = possessive. A blogger's credibility is connected to her grammar.
s/es = plural. Bloggers throw great bashes.
6) Punctuation outside of quotation marks
"When you're quoting someone, punctuation goes INSIDE the quotation marks," my English teacher said. Fellow bloggers, do you understand her words, "punctuation goes INSIDE the quotation marks"? The exception is when the punctuation relates to the whole sentence, but is not specific to the quoted text. When in doubt, just keep the punctuation inside the quotation marks.
7) Affect/Effect
This one is a bit trickier, and it doesn't bother me too much to see it. But it's another grammatical mistake that Dan mentioned among his pet peeves, so I have to include it! Your blog affects me. These 7 grammatical mistakes have a negative effect on me.
Affect = verb. Grammatical mistakes affect everyone.
Effect = noun. The effect of good grammar is a happy readership.
---
I hope everyone learned a little something in today's grammar lesson! What grammatical mistakes annoy you the most? Let me know in the comments!